Hetrick Looks to Close Deficit in Points
MORGANTOWN, W.Va. (July 26, 2016) – The 31st Annual ProX ATV Motocross National Championship (ATVMX) presented by CST Tires, an AMA National Championship, moves to Buchanan, Michigan for the tenth round of the season. With only three rounds remaining this year, Wienen Motorsports/Yamaha/Maxxis/SSi Decals/Walsh Racecraft/FLY Racing's Chad Wienen holds a comfortable points lead over the rest of the pro field and will look to extend his lead this Saturday, July 30, when the riders take to the RedBud MX track.
After a pair of overall wins at the last two rounds, Wienen seems to be well on his way to earning his fifth straight National title, but Maxxis/Elka Suspension/Liquid Wrench's Joel Hetrick isn't ready to settle for second and still remains Wienen's biggest competition. In 2015, the duo each came away with a moto win at RedBud, but Hetrick vaulted to the top when he took the second moto victory ultimately claiming the overall win. Throughout the 2016 season, fans have witnessed much of the same outcomes take place.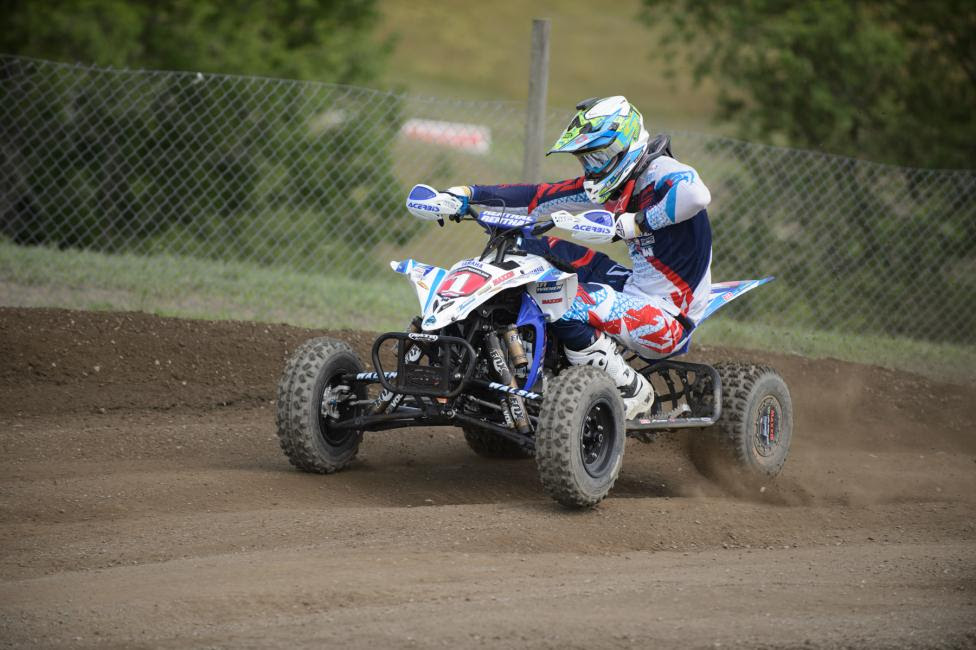 Chad Wienen heads into the RedBud ATVMX National
with a 22-point lead over the rest of the field.
Photo: Ken Hill
The biggest challenge Hetrick faces in his continued effort to catch Wienen is the unmatched consistency of the series champion. Through 18 motos this season, Wienen has not finished outside the top three and has finished worse than second only once. Alternatively, Hetrick has had to endure through a tough opening round, where he finished outside the top 10. This finish could prove to be the difference maker in the final championship standings.
While Wienen and Hetrick are the only two riders to emerge victorious this year, JB Racing/Root River Racing/Gold Speed Tires' Jeffrey Rastrelli is on the verge of changing that statistic. After leading majority of the first moto at the previous Unadilla round, Rastrelli knows that his training is beginning to show. With an additional two full weeks under his belt, the Florida native will come out swinging in an attempt to claim his first ever professional overall win.
After having his fair share of issues this year, Rastrelli is back
and stronger than ever as he looks to secure his first professional win.
Photo: Ken Hill
Maxxis/Liquid Wrench/Elka Suspension/Honda's David Haagsma may have been absent from the overall podium in New York, but definitely did not miss any of the racing action where he secured another top-five finish. Haagsma will look to maneuver his machine around the dynamic and demanding layout of RedBud MX to return back to the podium and contend for his first moto victory.
RedBud is one of the most anticipated rounds of the year thanks to the illustrious history of the iconic track. The facility offers racers and attendees the opportunity to experience something truly special thanks to a track layout that winds around three distinct areas, each offering incredible views for spectators and incredible challenges for competitors.
The soil consistency at RedBud can vary greatly, from hard-pack, to deep loam, to sand, and it all gets brutally rough. The jumps here are famous for a reason; big air is the name of the game, as riders fearlessly set sail to give spectators some of the best action of the year. The opportunity to see a 400-pound ATV soar through the air and tear it up in the legendary RedBud dirt makes for a truly remarkable experience.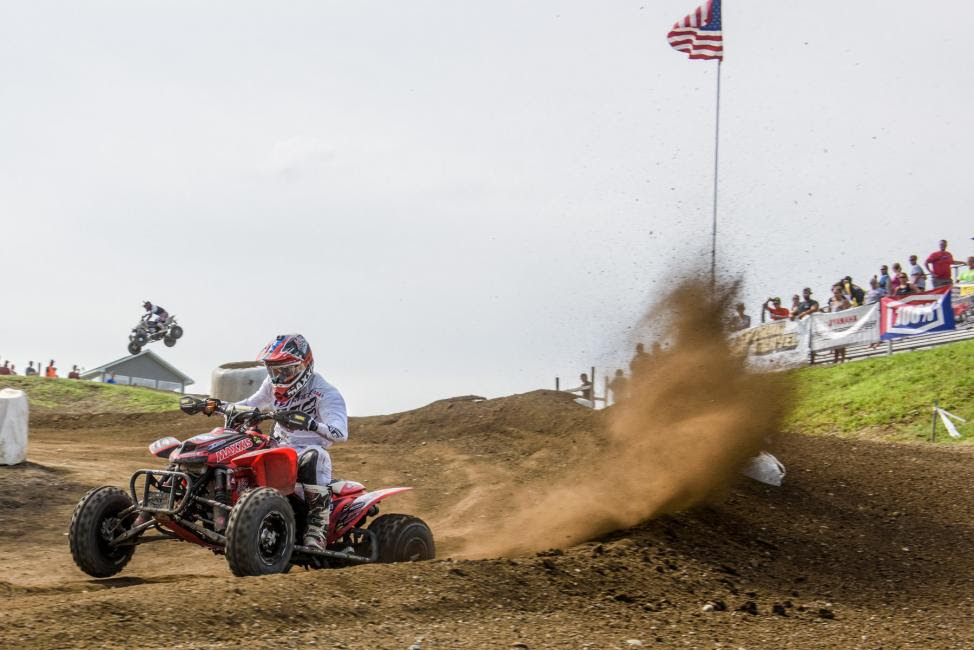 Joel Hetrick took the overall win at RedBud last year,
and will aim to repeat his success this weekend. 
Photo: Ken Hill
Saturday's race schedule is as follows: practice at 10 a.m. followed by a timed qualifying session at 11:30 a.m. Pro motos are at 2 and 4 p.m. with an autograph session taking place at 4:30 p.m. For a complete schedule of the weekend's activities, please visit the RedBud ATV National event page on the series website by clicking HERE.
Saturday spectator passes run $20 for adults and $10 for children (6-11), with kids five and under getting in for free. Each pass includes pro pit access and pro autographs at no additional charge.
Amateur racing will take place throughout the weekend alongside the AMA Pro class, and local riders are invited and encouraged to compete in the event, as ATVMX offers classes for riders of all skill and experience levels. The amateur race entry fee is only $40 and riders can sign up at the event.
Local racers expected to compete this weekend will be: Cole Sepesi (Pro-Am/Pro Sport), Kierstin Keane (WMX/Schoolgirl 13-17), Ryan Korody (450 A/Production A), James Hardy (Senior 40+), and siblings Mason (90 Open Jr. 8-11/90 Shifter 8-11) and Natalie Jackson (Girls 8-13/50 Open 5-8).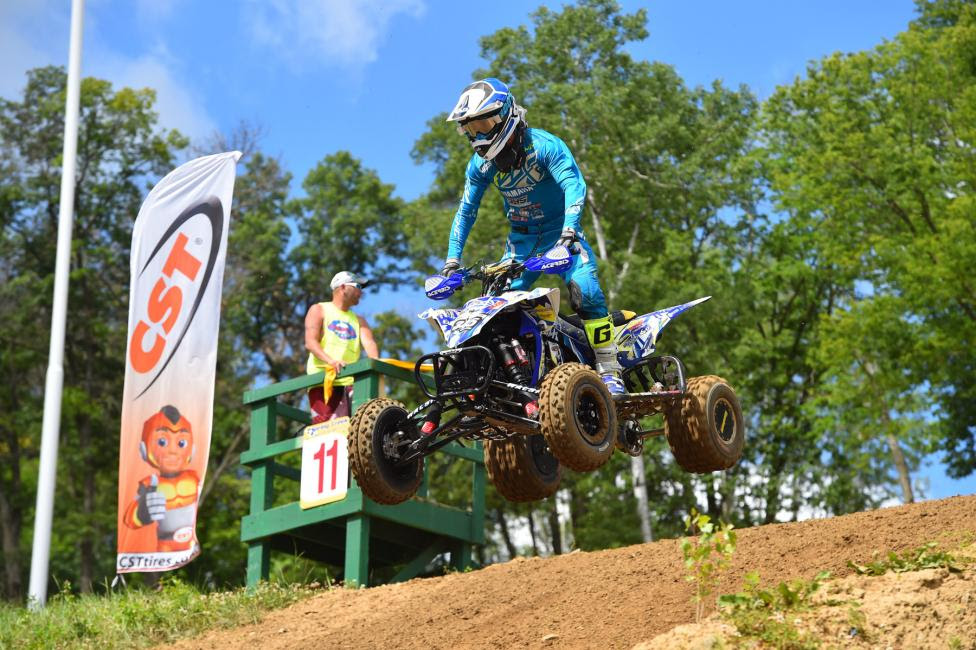 Local racer, Cole Sepesi, will make the three-hour trip to RedBud MX
in an attempt to extend his points lead in the Pro Sport division.
Photo: Ken Hill
For more information on the 2016 ProX ATV Motocross National Championship, visit the official series website at www.atvmotocross.com. Join the conversation on the series Facebook page, follow on Twitter and Instagram, and be sure to always hashtag #ATVMX.
Previous Round Results and Points Standings
Unadilla MX
New Berlin, New York
Round 9 of 12
Saturday, July 16
2016 AMA Pro Class Event Results:
Chad Wienen (2-1)
Joel Hetrick (1-2)
Jeffrey Rastrelli (3-3)
John Natalie (5-4)
David Haagsma (4-5)
Nick Gennusa (6-6)
Brett Musick (8-9)
Sam Rowe (7-10)
Josh Upperman (11-7)
Ronnie Higgerson (10-8)
Overall National Championship Standings:
Chad Wienen (399)
Joel Hetrick (377)
Jeffrey Rastrelli (263)
Josh Upperman (255)
David Haagsma (248)
Nick Gennusa (246)
John Natalie (244)
Thomas Brown (215)
Ronnie Higgerson (192)
Brett Musick (190)
SSi Decals Holeshot Award Standings:
Chad Wienen (10)
John Natalie (6)
Joel Hetrick (5)
Brett Musick (3)
David Haagsma (1)
Jeffrey Rastrelli (1)
ATVriders.com Top Qualifier Award Standings:
Joel Hetrick (6)
Chad Wienen (3)
About the ProX ATV Motocross National Championship
The ProX ATV Motocross National Championship presented by CST Tires, an AMA National Championship, is the nation's premier amateur and professional ATV motocross series, hosted at top motocross facilities nationwide. The 12-round series features the Nation's best racers, teams and sponsors, and is America's largest and longest-running ATV national motocross program. Since 1985, the series continues to expand and produce top talent from the amateur ranks, while premiering the professional class. For more information, please visit www.atvmotocross.com.