10 KOA CAMPGROUNDS YOU CAN RIDE RIGHT TO THE TRAILS
Where To Ride
One of Americas favorite activities is camping and of course riding. We have put together a list of ten KOA campgrounds you can stay at and while you are there hit the trails all in one trip. We will add to this list as we discover more KOA properties that are OHV friendly. What sets KOA's apart from other campgrounds or RV parks is the extra amenities they typically offer like pools, showers and laundry. Furthermore, they are very kid and pet friendly which we also like. Enjoy your vacation and send us a postcard or tag us #utvactionmag @utvactionmagazine in your photos. 
Take our 2022 Readers Survey for a chance to win a free Garmin Tread Powersports GPS.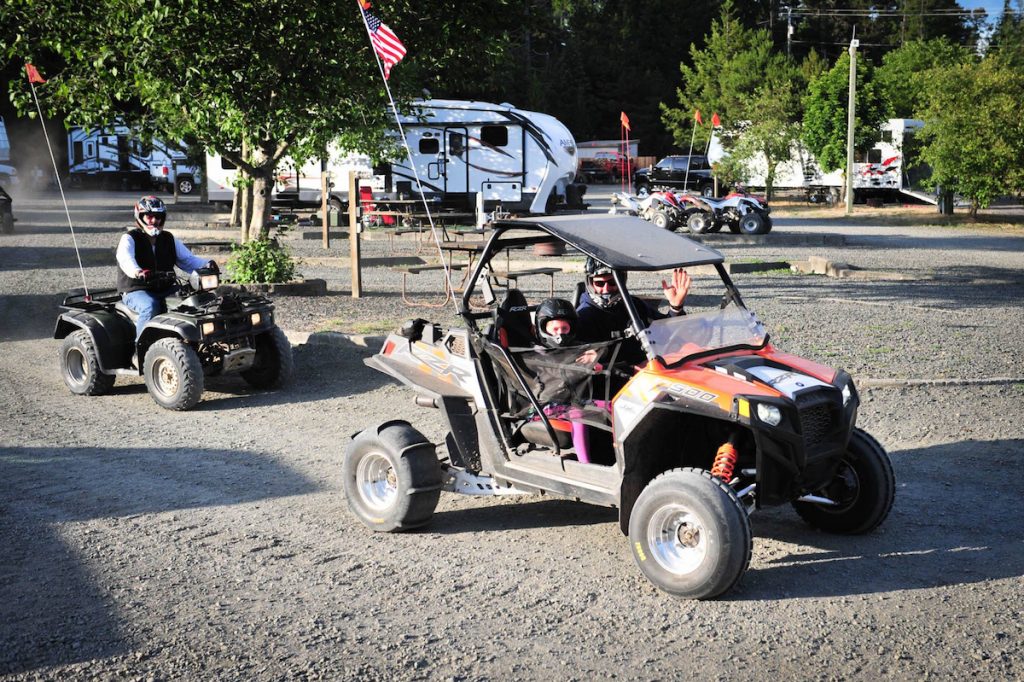 1 OREGON DUNES/ COOSBAY, OR 
From tent sites to RV spaces with full hooks all the way up to deluxe cabins that sleep 10, The Oregon Dunes KOA has your lodging covered. As far as riding, there is direct access to the Coos Bay portion of the Oregon Dunes. Furthermore, located on the same property, Steve's ATV Rentals  can set you and your family up with any type of ATV or UTV you want. Non riding activities include a  bounce pad, playground, paddle boats and fishing. Don't miss the 2019 UTV Takeover at Coosbay this June.
CONTACT:  (541) 756.4851
68632 Oregon Coast HWY
North Bend, Oregon 97459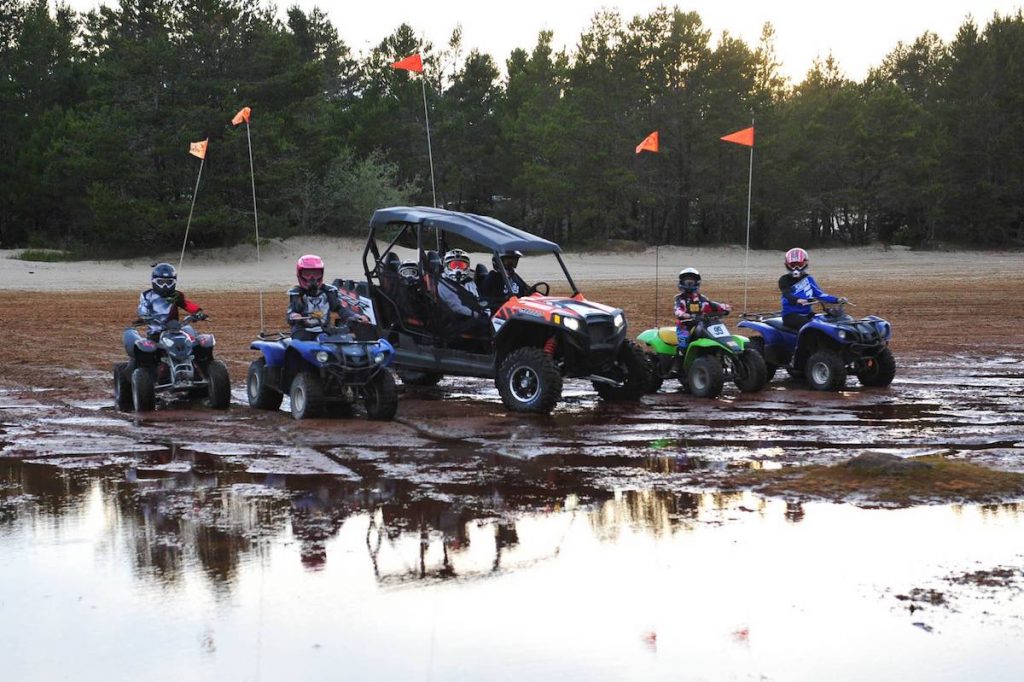 2 CALICO/ BARSTOW, CALIFORNIA
Located right smack dab in the middle of the Mojave desert, the Calico KOA can be a perfect staging area to head to Las Vegas to the North, the Colorado River to the East or hundreds of miles of trails to the West in Jawbone, Canyon, California City, Dove Spring and Spangler Hills. Or if you want to stay closer to camp, you can explore the trails in and around the old Calico ghost town. From cabins, and big pull through RV sites to on site Safari tents to your own tent camping you will find or make a comfortable bed. There is a pool, club house and tons of outdoor activities all year long.
CONTACT: (760) 904-3069
 35250 Outer Highway 15 North
Yermo, CA 92398, 760-904-3069
3 West Yellowstone, Montana
Technically, there are two KOA's right at the West entrance of the National Park. Both have access to the trails that head south of the area and get you to a cool trail known as the Railroad Right Of Way, an old unused railroad route. You can actually ride into Island Park, Idaho from this location and see sights such as Big Springs, Mount  Two Top and Reas Pass. The Yellowstone KOA's are open from May 20th to October 1st.
CONTACTS:
West Gate (406)-646-7606
3305 Targhee Pass Hwy
West Yellowstone, MT 59758
Mountainside 406-646-7662
1545 Targhee Pass Hwy
West Yellowstone, MT 59758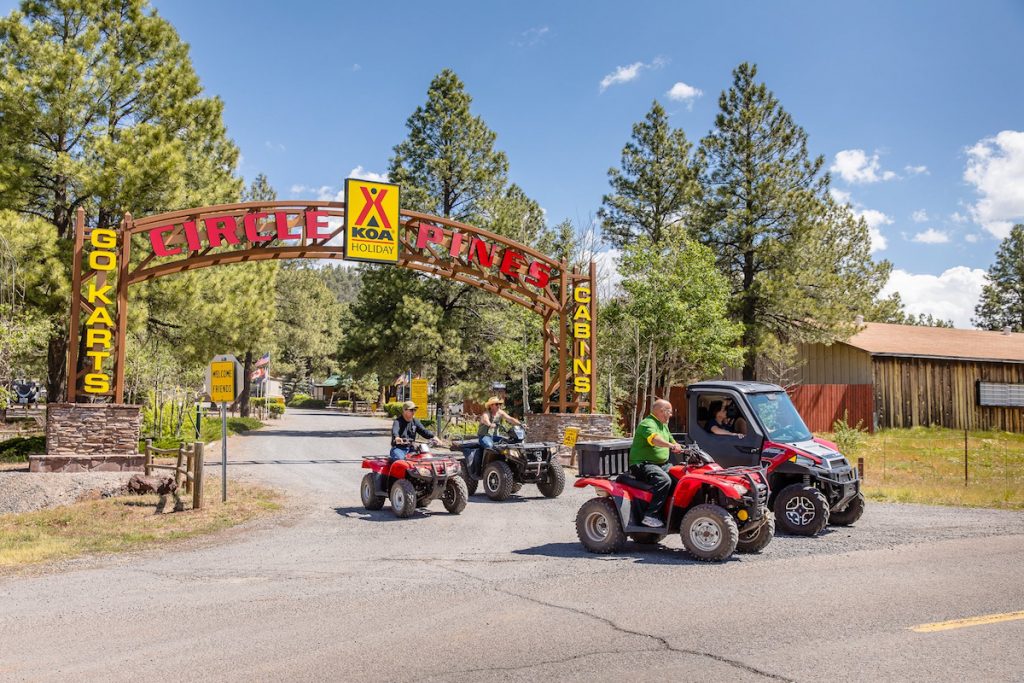 4 CIRCLE PINES / WILLIAMS, ARIZONA
Williams is know as the entrance to the Grand Canyon. But for off roaders, the Circle Pines KOA is an off road adventure staging area. From the property you can hit hundreds of miles of trails south of the National Park. The trail riding ranges from forest logging roads down to high desert trails and beyond depending how far you want to venture out. Back at camp, you can enjoy go karts, horseback rides, a pool and mini golf. RV spots, cabins and tent spots offer any budget a place to sleep. There is a snack shop and hot tub on site as well.
CONTACT: (928) 635-2626
1000 Circle Pines Road
Williams, AZ 86046
5 SALOME, ARIZONA
If you want to tackle the Arizona Peace Trail, a stay overnight at the Salome KOA should be on the schedule. Salome is right in the middle of the trail and a good starting and stopping point if you want to split the trail up into north and south portions. The campground has a pool, hut tub, mini golf, clubhouse and a chuck wagon mess hall. Tons of RV spaces and tent sites are available for short or long term stays.
CONTACT: (928) 859-4639
64812 Harcuvar Drive
Salome, AZ 85348-0831
6 LAUGHLIN, NEVADA
Situated on the banks of the Colorado River, the Laughlin KOA, is a desert Oasis with access to great BLM desert trails stretching West to California. Or cross the river and be in the very OHV friendly state of Arizona and explore Oatman or catch the Arizona Peace Trail. For accommodations, the campground has plenty of RV spots for all sized rigs and some are surrounded by the Mojave River Golf Course. If you want a little more comfort or test your luck, you can grab a hotel room and play at the AVI Resort and casino right across the street. 
CONTACT: (702) 535-5450
10000 Aha Macav Parkway
Laughlin, NV 89029-7001
7 FILLMORE, UTAH
This is our favorite KOA since you can access the Paiute Trail to the east or desert trails to the west. Enjoy scenic hiking, fishing, golf, rockhounding and sightseeing.  All RV Sites at the Fillmore KOA  are in parklike settings with mature trees and landscaping. Some satellite and 50-amp sites are available as well. Tent and cabin areas are set apart from RV Sites, with landscaping that offers seclusion. The town of Fillmore for good food, ATV/UTV rentals, gas stations and shopping. Campground amenities include a pool and a spa, a game room, a playground and a fenced pet area. 
CONTACT: (435) 743-4420
410 West 900 South
Fillmore, UT 84631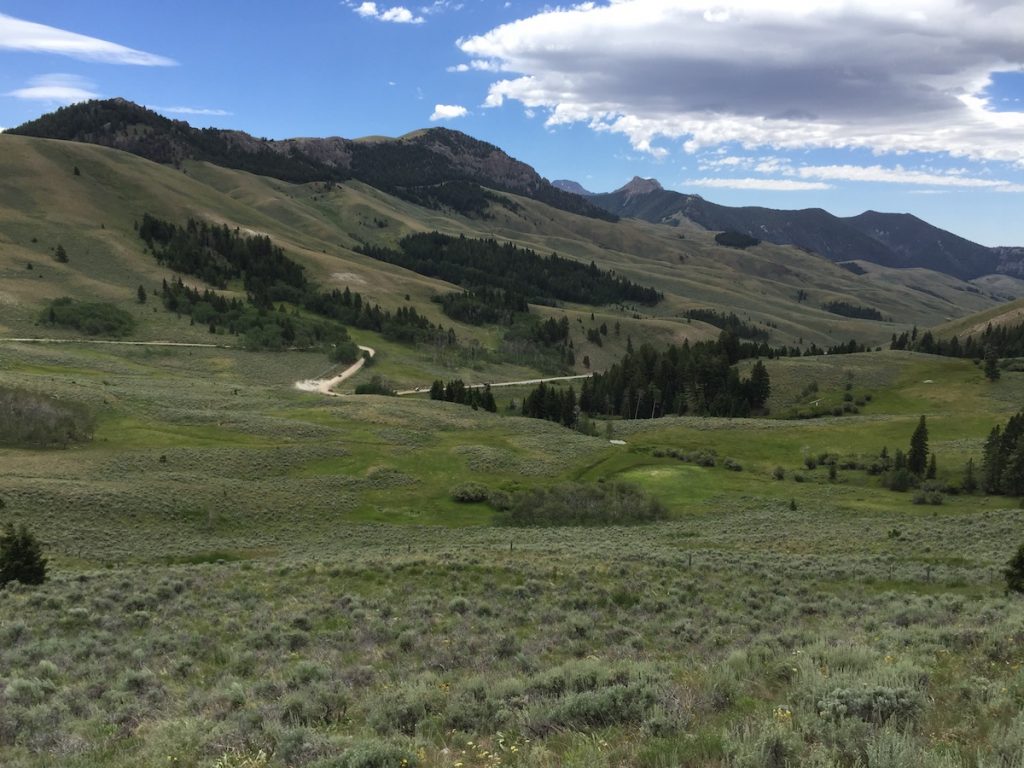 8 CRATERS OF THE MOON/ ARCO, IDAHO
The Arco KOA has great access to the trails of the Lost River Valley. This section of Idaho has the least population and the trails are virtually empty. However on some of the higher elevation trails, you can get breathtaking views of the area in every direction. It's a must see trail system. The campground has a pool, snack bar, cable TV and Wifi. Tent spaces and RV spots are available. 
CONTACT: (208) 527-8513
2424 North 3000 West
Arco, ID 83213
9 CUSTER, SOUTH DAKOTA
Right in the heart of the Black Hills, the Mount Rushmore KOA at Palmer Gulch is great for history lessons as well as off roading. Machine rentals are available as well as access to a great trail system right out of the campground. Plus, a few miles down the road, you can access hundreds of more offroad trails throughout the Black Hills. This summer you can take part and new ATV Festivals around Sturgis as well.  When your done riding for the day, you can swim, go on the water slides, take in a cowboy show, fish or go on a horse or bike ride. Lots of cabins and lodges are available for rent as well as large RV spots and tent camping can be found. It's only a 10 minute ride by car to visit Mt Rushmore.
CONTACT: (605) 574-2525
12620 Highway 244
Hill City, SD 57745
10 LAKE OKLAWAHA/ FT MCCOY, FLORIDA
The biggest OHV area to ride in the state of Florida is at the top of Ocala National Forest and this KOA is right at the Hog Valley Trailhead. The forest area is 600 square miles located just North of Orlando and West of Daytona Beach. There are over 200 miles of sandy wooded trails at a dozen different trailheads throughout the forest and one KOA campgrounds. If you need an extra machine, https://atvoffroadadventuretours.com is located right next door and they can set you up. Other activities, include world class fishing, hiking and wildlife viewing. As for lodging, the FT McCoy KOA has hundreds of RV spots, RV rentals and a few cabins. There is a pool, rec room, volleyball and our favorite Corn Hole.
CONTACT: (352) 546-5500
15991 NE 243rd Place Road
Fort McCoy, FL 32134
For reservations nationwide at any KOA campgrounds call (800) 562-7591 or click www.koa.com