— As awesome as the new Can-Am Maverick X3s and X3 Maxs are, they're 64 to 72 inches wide, way too wide for Forest Service trails. So, BRP morphed the existing Maverick 1000R into a 50-inch-wide UTV with some X3 innovations. The all-new Maverick Trail will come in four versions—the Maverick Trail 800, MT 800 DPS, MT 1000 and MT 1000 DPS—and they sport Can-Am's CVT Quick Response System (QRS) transmission, Visco-Lok QE front diff and Dynamic Power Steering (DPS) with three levels of assist. The 800cc Maverick Trails sport a 51-horsepower V-twin, while the Trail 1000s utilize the Maverick 1000R 976cc, 75-horsepower V-twin, and all Trails get an updated cockpit with heavy Maverick X3 influence.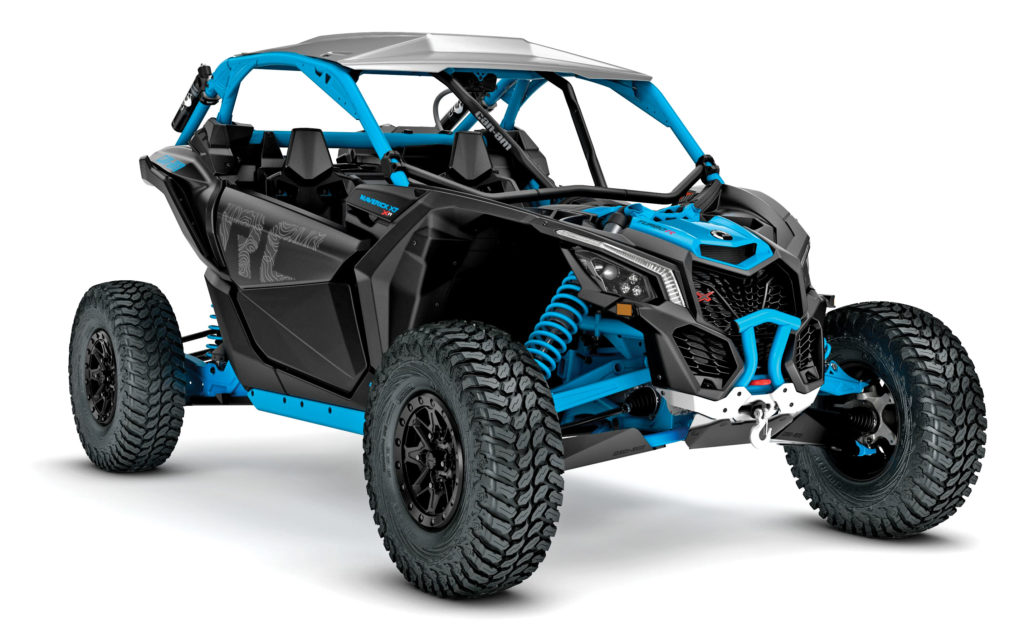 When shrinking to a 50-inch width, the Maverick Trails got shorter Torsional Trailing Arms (TTA) and double front A-arms to yield 10 inches of front and 10.5 inches of rear travel (same as a Polaris RZR 900) and 10 inches of ground clearance. Maverick X3 styling also went into the design with solid half doors, swept lines and LED eyebrows. A durable, lightweight chassis; reduced maintenance schedule; and do-it-yourself-friendly design are Trail attributes. Also, the Trails come with front and rear torsion bars and gas-charged twin-tube shocks. Wheelbase is 90.6 inches, and the Trail 800 weighs 1,314 pounds dry, while the Trail 1000 weighs 1,349 pounds dry.
More than 100 accessories are available for Maverick Trails, including cool exoskeleton fender guards. The Maverick Trail 800 comes in white for $10,999, the MT 800 DPS and 1000 DPS come in Sunburst Yellow paint, and the MT 1000 is also white or MOBUC Camo.
ROCK-CRAWLER MAVERICK X3S
Knowing that enthusiasts across the country encounter serious rocks on rides, BRP unleashes the 172-horsepower Maverick X3 X rc Turbo R and economical 120-horsepower Maverick X3 X rc Turbo without an intercooler. And why not? Can-Am is the title sponsor of the King of the Hammers Ultra-4 races. The two X3 X rc models sport an all-new Smart-Lok front differential system. Smart-Lok monitors speed of both front wheels, steering angle, throttle, gear position, engine torque and vehicle speed to select the proper diff mode. Depending on the setting and these parameters, Smart-Lok instantly locks up the front diff, or unlocks it to free up the steering to accurately conquer obstacles and maintain momentum. The driver chooses between 2×4, 4×4 Locked, 4×4 Rock and 4X4 Trail.
Also unique to the X3 X rc Turbos, there is Electronic Braking System (EBS) and hill-descent control, UHMW rock sliders, UHMW suspension protection with front diff guard, 4500-pound winch and rock-specific 30-inch Maxxis Liberty tires. The 72-inch X3 X rc Turbo R sports Fox 2.5/3.0 Podium RC2 IBP shocks with dual-speed compression and rebound adjusters, 22 inches of front travel and 24 inches of rear travel. They also have true beadlock wheels, while the 64-inch X3 X rc Turbo sports faux beadlock-looking aluminum rims.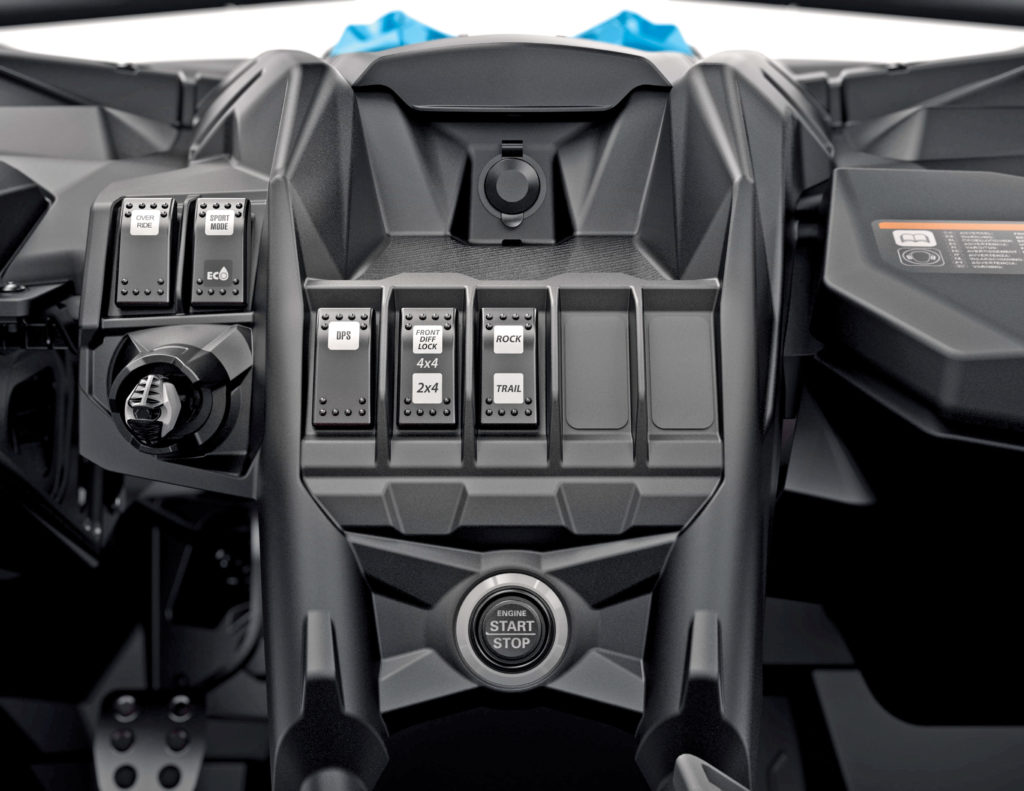 DEFENDERS WITH NEW TWISTS
Can-Am introduces the Defender X mr HD10 with the state-of-the-art Smart-Lok front diff, Pro-Torq transmission and 30-inch ITP Cryptid mud tires, which the 72-horsepower twin has no trouble turning. The Defender X mr HD10 starts at $18,999 with Carbon Black and Sunburst Yellow paint or Mossy Oak Break-Up Country Camo wrap. The Defender XT-P HD10 upgrades trail comfort with the usual XT-P package and Fox 2.0 Podium piggyback shocks, cast-aluminum wheels, integrated protective gear, three drive modes, Pro-Torq transmission and EPS, all for $18,499.
They say everything is bigger in Texas, so Can-Am offers the Defender Max Lone Star HD10 to "match the swagger and grit of the modern Texas rancher and outdoorsman." Besides the Lone Star badging, the new Defender has arched high-clearance A-arms, a sway bar, larger 28-inch Bighorn 2.0 tires on 14-inch aluminum wheels, hard roof, heavy-duty front bumper, custom seat trim, and Deep Metallic Black paint for $19,499.