Can-Am introduced the Defender utility UTV line five years ago, and the line grew to 17 models of HD5, HD8 and HD10 three- and six-seat UTVs by 2018. For 2020 there are 26 Defender models to choose from, and we got to check out three new HD10 Defenders at west Texas' Y O Ranch: the all-new Defender Pro, Defender HD10 Limited and the HD10 6×6. All three new three-seat Defender HD10s show five years of upgrades and refinements, and we decided to feature the Defender Pro first, as it's the first three-seat, 4×4, long-wheelbase utility UTV.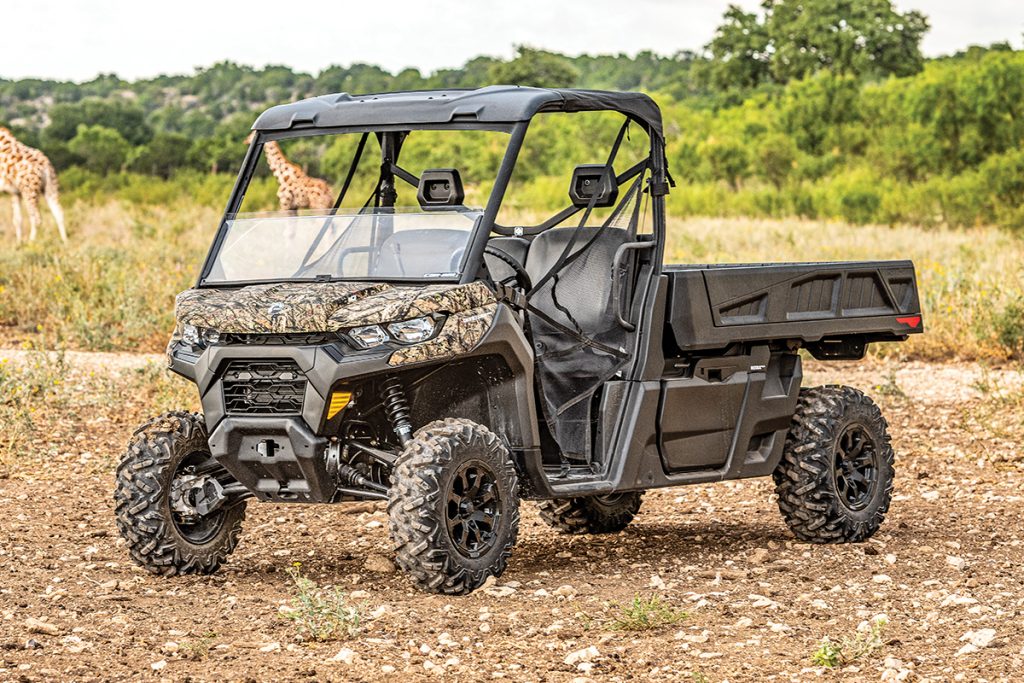 WHAT IS NEW FOR 2020?
Can-Am Defender HD10 and HD8 models got 2,500-pound towing and a one-year limited warranty for 2019. For 2020, Defender HD10 models got several more upgrades, and new head work boosted power from 72 horsepower to 82 horsepower, along with 69 pound-foot of torque and reduced vibration. Additionally, HD10s got improved CVT tuning, a new drive mode and a new muffler combined with a new rear firewall to reduce engine noise in the cabin.
The new Pro HD10 got a new frame that's 5 pounds lighter yet 30-percent more rigid, with an extra 32.5 inches of wheelbase, 2.0 inches of ground clearance, 1.0 inch of travel and 28-inch Maxxis Bighorn 2.0 tires. The 2020 HD10 6×6 is also new and designed for 30-inch mud tires, but comes with the Pro's 28-inch Bighorn 2.0s stock. Both the new Pro and 6×6 have an unlocking rear diff and Visco-Lok QE front diff for extra traction when needed, and both come in DPS and XT trims. There is so much to go over, we'll save the 2020 Defender HD10 Limited features for a future test.
HOW DOES COST COMPARE?
The Defender Pro HD10 DPS is $17,899, and the Pro HD10 XT is $20,099. Three-seat Defenders start at $10,299 for the HD5 and jump to $18,999 for the HD10 XT-P. The Mossy Oak Edition HD10 is $19,699, while the HD10 X MR is $19,999, and the HD10 Limited with HVAC is $25,199.  The HD10 6×6 DPS is $17,999. The Defender Max DPS starts at $14,999 with the HD8 engine, while the HD10 Max Lone Star is $20,599 and the Max X MR is $21,499. The HD10 Max Limited is $27,899.
HOW FAST IS THE PRO HD10?
It's sporty! Being lighter than either the HD10 Limited or 6×6, the Pro moves out with authority, and it will easily drift the rear end out for sporty turning. We got 62 mph in high (57 mph in eco) and 27 mph in low range, and it gets there in a hurry. It's as sporty-feeling, power-wise, as the base Maverick Sport 1000!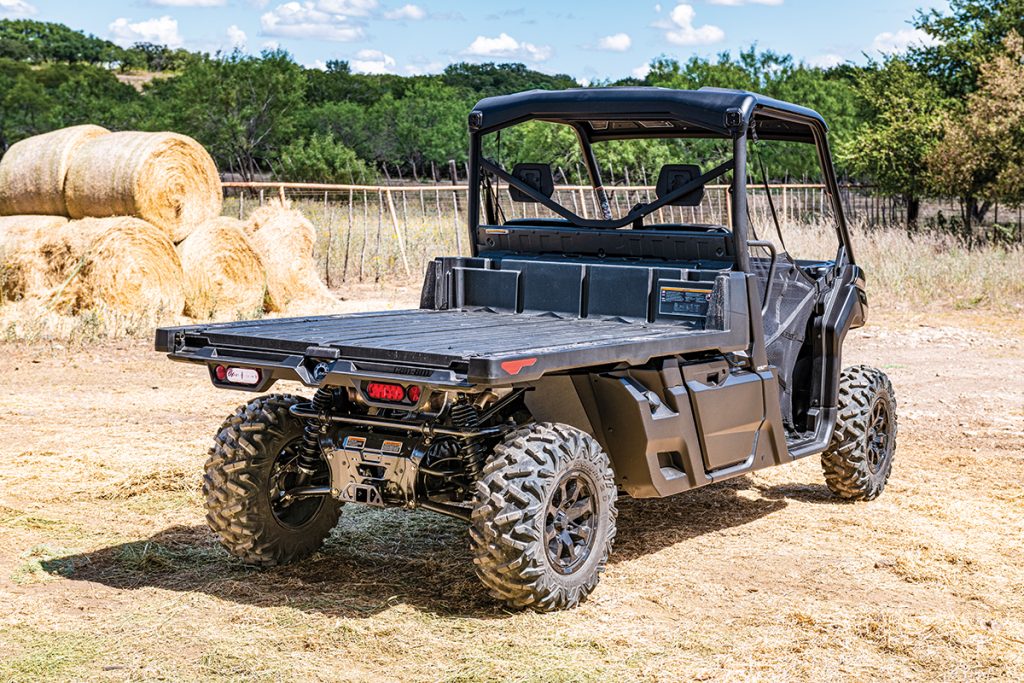 HOW IS THE HD10 DELIVERY?
It's refined and super smooth. The HD10 Pro's recalibrated CVT and EFI tuning make it sure-footed in rock-crawling situations, and it doesn't do anything weird when you mat the throttle. We did an entire loop of extreme 4×4 trails with the rear diff unlocked, then locked it for the next lap. It climbed everything with no problem unlocked, as the Visco-Lok QE front diff provided plenty of climbing traction. We did notice a slight decrease in turning prowess with the rear diff locked. We did experience the occasional balk at going from low to high with the gated on-dash range selector; going through to neutral then back to high helped. The Pro also has very good engine braking. It will literally crawl down steep, technical hills at a walking pace.
HOW IS THE DEFENDER PRO SUSPENSION?
It's very well-tuned. Can-Am engineers tuned the high-pressure gas shocks for a plush ride with the oversized bed fully loaded. With it empty, the ride over rocks, roots and other trail garbage is on the firm side, and bottoming resistance is excellent. For preload-adjustable shocks, they work well in a wide range of conditions.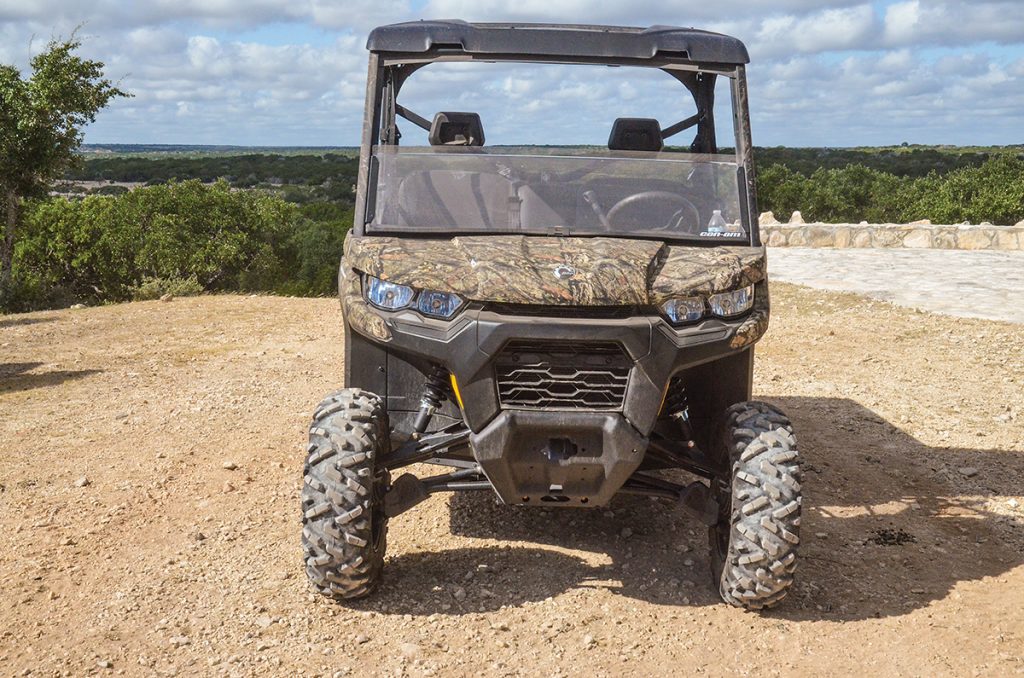 HOW DOES IT HANDLE?
Surprisingly well. The Pro has the same wheelbase as a Defender Max at 115.5 inches, so it's not the sharpest knife in the drawer when in tight situations. That said, it is semi-agile, and the unlocking rear diff helps it bend around tight turns. On faster fire or mountain roads, the ample engine braking helps it drift into turns, and it has the power to continue the slide. It is super predictable, sure-footed and very stable. Front and rear torsion bars help with body roll but don't eliminate it. The Pro HD10 weighs 77 pounds less than the Defender Max Lone Star Edition.
HOW IS IT IN CHALLENGING TERRAIN?
As sure-footed as the exotic deer, antelopes and gazelles on the Y O Ranch. The long wheelbase helps it step up and down ledges, and it articulates well on uneven rocks and off-camber hills. EBS and ADC let it crawl at a walking pace down hills, and it climbs with superb footing. The Pro also snakes through twisty switchback and turns very well.
HOW STRONG ARE THE BRAKES?
Really strong! All four 28-inch Bighorn 2.0 tires are slowed by two-piston hydraulic calipers squeezing 220mm perforated rotors, and they're backed up by an engine braking system and electronic hill-descent control. There is also a cool mechanical parking brake with release under the tilting steering wheel.
HOW ARE THE DETAILS?
They're superb! HD10 Pros sport a 650-watt magneto; 10-amp, 12-volt DC port plus two USB ports; and XTs sport a 4.5-inch-wide digital display with speedo, odo, trip, hour, fuel gear, seat belt, diagnostics, clock, battery, engine temp and eco/work mode icons.
HD10s also have Versa-Pro seating for three and fold-up passenger seats, and the center seat-back folds down for cup holders/arm rest with two people aboard. There are two dash cup holders, a cool glove/removable tool box with the folding handle locking into the dash, lower cubby holes and a dash-mounted range selector in a gated slot.
Pro HD10s (and 6x6s) are workhorses with a 4.5 x 6.0-foot dumping bed with removable sides and Torx anchor bolts to prevent rattling, slots for wood-slat sides, and pilot holes for LinQ accessories like tool-box holder, gun racks, etc. Pros also have lower-side storage bins in front of the engine, which sits where the center 6×6 tires would go. The bins go all the way through for storing guns, fishing poles, compound bows or fence posts. The 1000-pound bed also has a tailgate with 250-pound rating and two stout, spring-loaded steel latches.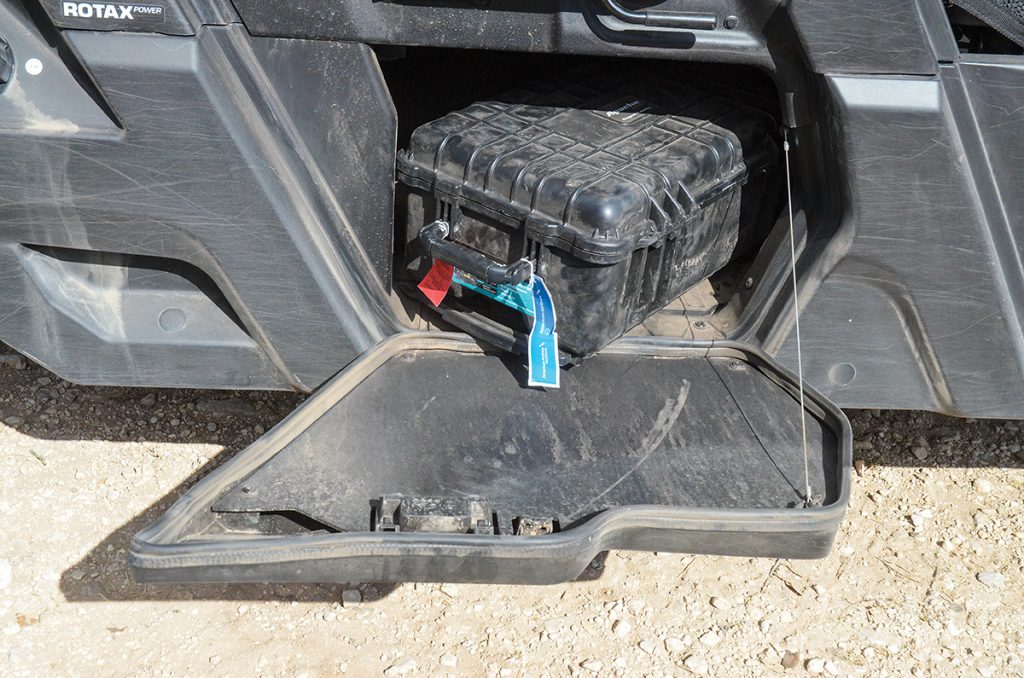 WHAT IS OUR FINAL ANSWER?
We're impressed with the Defender HD10 Pro, as it is very a very capable and sure-footed workhorse that's also fun when the workday is done. It's fast and fun to drive hard, and it works hard via the convertible bed with 1000-pound cargo capacity and 2,500-pound towing. The engine, CVT and drivetrain are potent and effective, making for a very refined package, and the cabin is comfortable and quiet.
SPECS:
2020 CAN-AM DEFENDER PRO HD10
ENGINE/TRANSMISSION
Engine type Liquid-cooled, 8-valve, SOHC 4-stroke
V-twin
Displacement 976cc
Bore x stroke 91mmx75mm (2)
Compression ratio 12:1
Lubrication system Wet sump
Induction iTC 54mm throttle body, 2 VDO injectors
Starting/back-up Electric turnkey/none
Starting procedure In any range, brake engaged
Air filter:
  Type Paper mesh/screen
  Transmission Dual-range CVT w/ EBS
Drive system Selectable 2WD/4WD
Final drive: f/r Shaft/shaft
DIMENSIONS/CAPACITIES/WEIGHTS
Fuel capacity 10.6 gal.
Wheelbase 115.5"
Overall length/width/height 153"/64"/78"
Ground clearance 13.0"
Claimed dry weight 1,833 lb.
Rear Rack capacity 1,000 lb.
Towing capacity 2,500 lb.
ROLLING CHASSIS
Frame 2-inch, high-strength steel, ROPS-approved
Suspension/wheel travel:
  Front Dual A-arms & shocks w/ adj. prel./11.0"
  Rear TTA trailing-arms & shocks w/ adj. prel./11.0"
Brakes:
  Front Twin-piston hydraulic 220 mm discs
  Rear Twin-piston hydraulic 220mm discs
Tires:
  Front 28×9-14 Maxxis Bighorn 2.0
  Rear 28×11-14 Maxxis Bighorn 2.0
DETAILS
DC outlet Auto-style waterproof plug, USBs
Lighting:
  Front Four 35W (144W) headlights
  Rear Two LED tail/brake lights
Instrumentation Digital speedo/odo/tach/trip/hour/fuel/
gear position/diagnostics/clock
Colors White, Mossy Oak Break-Up Camo
Minimum recommended operator age 16
Suggested retail price DPS, $17,899; XT, $20,099
Contact .Bombardier, (877)4-MY-RIDE or www.brp.com