2020 X3 Xrs TURBO-RR
Can-Am not only has the largest lineup of high-performance UTVs, the company lays claim to the highest horsepower numbers as well. Whether we need 195 horsepower or not, there are plenty who just want it. Surprisingly, there are many more who want even more than that; however, the machine with the highest showroom stock horsepower number with a warranty from your local dealer is Can-Am's 2020 X3 X rs Turbo-RR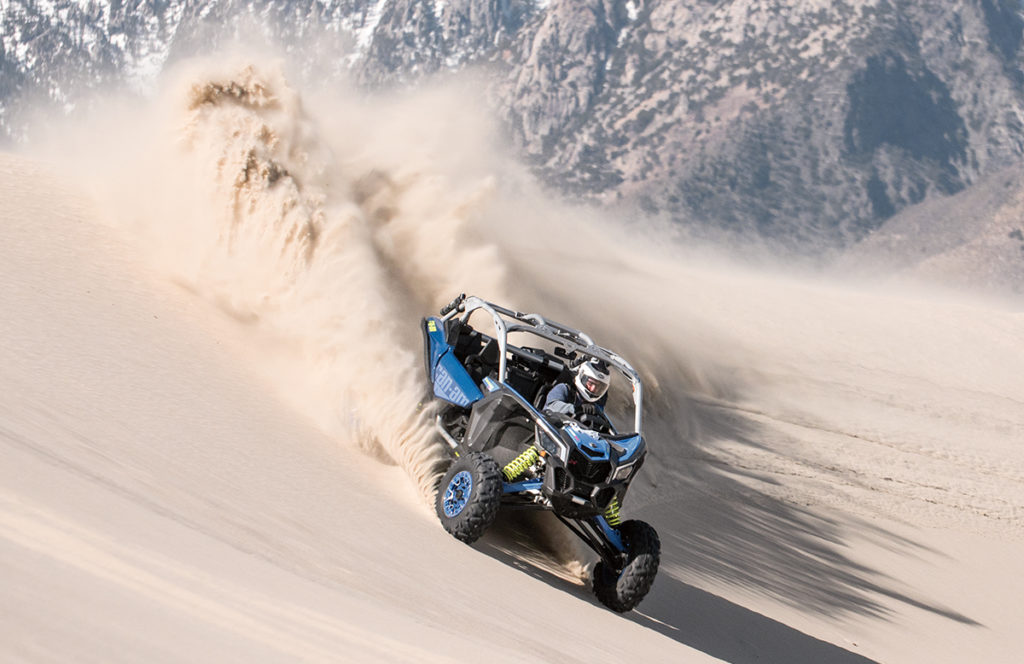 WHAT'S NEW FOR 2020?
The 2020 X3 X rs Turbo-RR  has the 195-horsepower tune, along with long-travel, fully adjustable suspension. In the cockpit, four-point seat belts sit under a plastic roof surrounded by blue painted bodywork to show off the RR moniker. Silver and black round out this year's color choices. Color-matched beadlock wheels help dress it up even more. In the drivetrain, the Smart-Lok front differential is standard and comes in handy in the rocks and mud.
HOW DOES COST COMPARE?
Polaris has yet to come out with a competing machine for this beast. The only long-travel, turbocharged 2-seater available is the RZR Turbo S ($22,499), which is on the old platform. The new Pro XP platform is only available in a 64-inch-wide version. The RZR Pro XP version with dynamic Fox suspension sells for $28,499. So, at $27,499, the only machines in that price, suspension and power range are other X3s or the yet-to-be-released Speed SxS cars from Robby Gordon.
HOW FAST IS THE X3 2020 X3 Xrs TURBO-RR ?
As fast as they get. It gets up to 80 mph in about 10 seconds with perfect traction. We've removed the speed limiter electronically and reached over 100 mph. We will bring you the details of that adventure another time, but in stock trim, this X3 rips. Under normal trail-riding conditions, there's no way a sane person would ask for more power. When you stab the throttle, the front end lifts almost into a wheelie. At 50 mph, the car levels out, then screams along until it hits the 84-mph speed limiter.
WHAT ABOUT THE DELIVERY?
It all depends on the size of your right shoe. Being conservative, you could drive the 2020 X3 X rs Turbo-RR as smoothly as a golf cart. It works fine at slower speeds and is a blast on all trails. Roll on the throttle a little harder and you feel the turbo kick in and push the machine forward at a good clip. Honestly, we drove this X3 at 1/4–1/2 throttle 90 percent of the time, and that's all we needed to have a good time. When you go full maniac and floor it, you get pinned to the seat back and instantly hit warp speed. It's exhilarating as long as the trail is smooth and wide, and it's downright rocket-like on a tight trail.
HOW DOES THE X RS TURBO RR HANDLE?
With the shock clickers set in a neutral position, the car is a bit choppy at slow speeds over bumps. That can surely be dialed out with the slow-speed compression dial. But, for all-around comfort, it's great everywhere else. It's the widest production car made and has a perfect wheelbase to match, so it corners like it's on rails in berm turns. If sliding is more your thing, it does that, too. On tight trails, you sort of do both while driving it. We would set the car up for turns with a bit of brake, a flick of the steering wheel and throttle out. On flat turns with no berms, it does push if you try to accelerate out of the corners. We prefer steering with the throttle to solve this.
HOW IS THE HIGH-END SUSPENSION?
You can dial the shocks in for your terrain for sure. There are adjusters for high- and low-speed compression and rebound. You can also tune the springs to your liking with preload and cross-over rings that tell the shock when to go into the stiffer main spring. So, if you ride a lot of whoops or high-speed chop aggressively, you should make the main springs come in early. If you are a dune guy or slower trail rider, you might want to have a smoother ride and use all of the top spring for more plushness. Fox helps you dial in the suspension for your ride area with a setup chart at www.foxshox.com.
HOW STRONG ARE THE BRAKES?
There are two hydraulic fluid reservoirs hooked to the brake pedal of this X3. One operates the rear brake and one is for the front. This keeps fluid temperatures lower for better pedal feel. Can-Am is the only UTV manufacturer that has a braking system like it. So, the brakes are strong. The few days we had this machine out for aggressive testing, we never felt fading, and at the speeds the X3 is capable of, you need good brakes.
HOW IS IT IN DESERT AND DUNES?
The rougher the trail and the faster you drive the X3, the better it is. It likes to be abused in rough terrain. With a 102-inch wheelbase and 2 feet of travel, the car soaks up ditches and whoops like a Baja Trophy Truck.
There is so much horsepower on tap, whether you want to fly down an open trail or climb a dune in deep sand, the X3 does it faster than you are ready for. This is one of those cars that you can't just jump into and pin the throttle. You need to know the trail and your skill level before letting loose.
HOW IS IT IN MUD AND ROCKS?
Still pretty good. The laid-back seating position and the long hood out front make it a little hard to navigate rock piles and mud holes, but technically the car does great. A smart-lock locking differential gives full locking capabilities up front, and the low range in the gear box allows the X3 to climb anything. This car comes with a thick UHMW skid plate that can take a lot of abuse.
WHAT ABOUT TRAIL COMFORT?
The signature laid-back seating position is great for dunes and high-speed roads. If you want a more upright position, that is available at no charge. All you have to do is unbolt the front seat mounts and move a spacer, which will allow you to tilt the seat forward a couple of inches. This gets you closer to the steering wheel and provides a better view of the long hood. Adjustment in the shocks will give you exactly what you want—it's just not on the fly. The slow-speed compression clickers soften the little bumps but add to body roll at high speed. Spring collars on the shock bodies fine-tune the spring rate even more. If you can't find a comfortable setting with these shocks, companies like Shock Therapy and Fox can dial them in precisely the way you want. The steering wheel has good ergonomics, and the EPS assist makes it light and fun to flick around. The 2020 Can-Am Maverick X3 X rs Turbo RR comes with a plastic roof connected with quick-turn fasteners, making it easy to remove. We took ours off for the test shoot day.
WHAT'S OUR FINAL ANSWER?
Right now this 2-seater has the most power, wheel travel, width and wheelbase of all the competition. Accordingly, it's the fastest, best over the bumps and most capable UTV you can buy. So, for the guy who wants to walk into the dealer, sign a check and come out with the most complete stock machine, this is it. He'll surely have bragging rights in the stock category. Is it the best? We think it would be close after installing a set of high-performance lower A-arms and a set of tires more purpose-built for where you ride. Even if you just leave it stock, though, you will still have the time of your life behind the wheel of the 2020 Can-Am Maverick X3 X rs Turbo RR.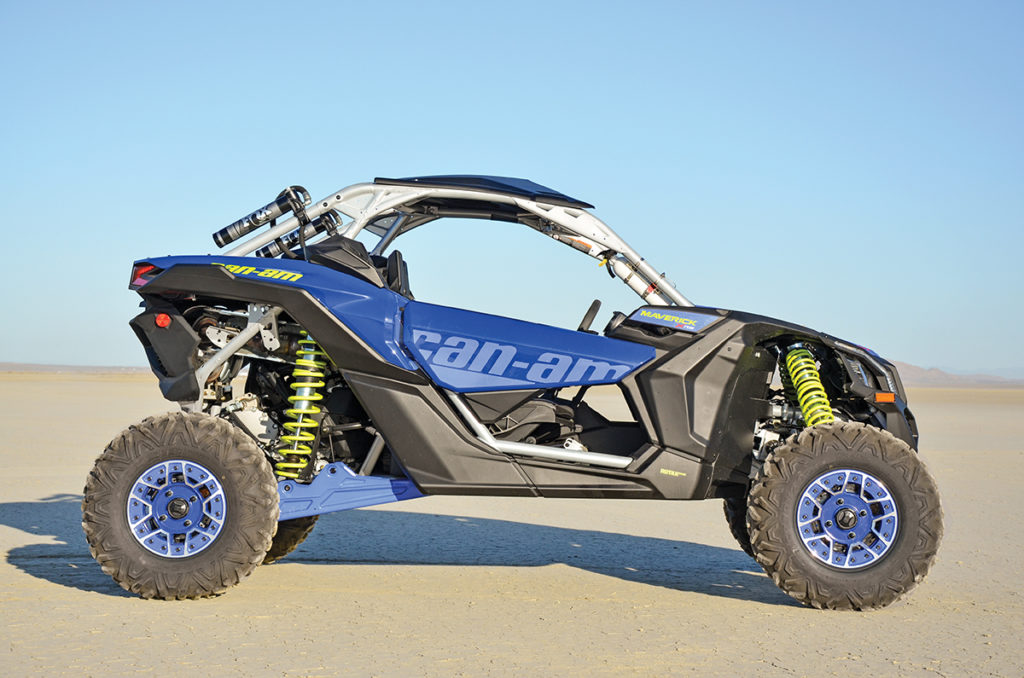 SPECS:
2020 CAN-AM MAVERICK X3 X rs TURBO RR
ENGINE/TRANSMISSION
Engine type Turbocharged, liquid-cooled, 12-valve,
inline triple
Displacement 900cc
Bore x stroke 74mm x 67.9mm (3)
Compression ratio 9.1:1
Lubrication system Wet sump
Induction 46mm EFI
Starting/back-up Electric push-button/none
Starting procedure In any range, brake engaged
Air filter:
  Type Paper mesh/screen
Transmission Dual-range CVT
Drive system Selectable 2WD/4WD/lock
Final drive: f/r Shaft/gear
DIMENSIONS/CAPACITIES/WEIGHTS
Fuel capacity 10.5 gal.
Wheelbase 102"
Overall length/width/height 133"/72"/67"
Ground clearance 16"
Dry weight 1,627 lb.
Rear Rack capacity 200 lb.
Storage capacity 2.5 gal.
ROLLING CHASSIS
Frame Dual-Phase 980 steel tube
Suspension/wheel travel:
  Front Dual A-arms & shocks w/ adj. IBP DSC/reb./
prel./22"
  Rear Trailing arms & shocks w/ adj. IBP DSC/reb./
prel./24"
Brakes:
  Front Twin-piston hydraulic/262mm discs
  Rear Twin-piston hydraulic/248mm discs
Tires:
  Front 30×9-14 Maxxis Bighorn 2.0
  Rear 30×11-14 Maxxis Bighorn 2.0
DETAILS
DC outlet Auto-style waterproof plug
Lighting:
  Front LED headlights
  Rear LED tail/brake lights
Instrumentation Speedo/odo/tach/trip/hour/fuel/
gear position/diagnostics/clock
Colors Blue
Minimum recommended operator age 16
Suggested retail price $27,499
Contact www.can-am.brp.com, (877)4-MY-RIDE
See the new 2021 X3 with Smart-Shox here: https://utvactionmag.com/can-am-2021-x3-x-rs-turbo-rr-with-smart-shox/