2021 CAN-AM X3 MAX X RS SMART-SHOX TEST
2021 CAN-AM X3 MAX X RS SMART-SHOX TEST
Can-Am revolutionized the extreme-sport UTV market with the Maverick X3 Turbo line first introduced in 2017, and made significant upgrades in 2018, 2019 and now 2021 with the introduction of Smart-Shox Dynamic Damping Adjustment (DDA), the first on-the-fly shock-tuning system to alter both compression and rebound to improve handling and performance. This was developed with input from Fox, Bosch, and Can-Am athletes, including Casey Currie, who will be defending his Dakar Rally UTV championship in the Maverick. Testing was done in Plaster City, so this Maverick is set up for rough desert. Shock Therapy and Adrenalin Motorsports in Casa Grande, Arizona helped with UTV Action's 2021 Can-Am X3 Max X rs Smart-Shox test

WHAT'S NEW FOR 2021?
In 2018, Can-Am released a Smart-Lok Edition Maverick X3 Max X rs Turbo R with an all-new locking front diff, designed in conjunction with Team Industries. A front-diff module controls the Smart-Lok diff and coordinates with the DPS to select EPS-assist maps for four drive modes, including Trail and Trail Active. For 2019, Can-Am introduced the Turbo RR with 195 horsepower via a larger turbo and intercooler, upgraded pistons and CVT, and a less-restrictive intake. The Smart-Shox system joins Smart-Lok Turbo RRs for 2021, and larger CVT and intake ducts increase cooling. There is also a new Desert Tan color for X3s and the Sport X xc, while RC models get Magma Red with Chalk Grey.
HOW DOES COST COMPARE?
The 2021 Maverick X3 Max X rs Turbo RR with Smart-Shox is $32,099, while the RC2-equipped version is $30,399. The Max X rs Turbo R is $25,199, while the 64-inch X ds Turbo RR is $27,599. The Turbo R is $23,699, and the Turbo is $21,999. The mud Max X mr Turbo RR is $29,099, and there is no Max X Rock Crawler. The 2021 Polaris RZR Pro XP 4 Ultimate with Dynamix 2.0 is $32,299. The Premium with WER 2.5 needle shocks is $30,299, and the Sport is $25,699. The RZR Turbo S4 starts at $25,199 and goes up to $31,299 for the Lifted Lime LE, while the RZR XP4 Turbo is $22,699.
WHAT IS SMART-SHOX DDA?
X3 X rs Turbo RR models with Smart-Shox retain the 2.5 front and 3.0 rear Fox Podium IBP shocks, but add Dynamic Damping Adjustment (DDA) for on-the-fly compression and rebound damping adjustments, giving 22 inches of front and rear travel on the four-seater. The two-seater has 24 inches of rear suspension travel. Where RZR Dynamix and Talon Live Valve potentiometers are on the reservoirs, Smart-Shox adjusters are inline with the shaft and piston with sensor wires on the bottom shock mounts. Two sensors per shock measure speed and position 200 times per second and feed information to the ECU. Smart-Shox stiffens valving as needed, and the system levels the chassis during hard acceleration, braking and turning by stiffening compression on the two loaded shocks and rebound on the others. The dash toggle controls DDA modes (Comfort, Sport and Sport+) via a Bosch ECU.
Spring rates are exactly the same on Smart-Shox RS models as RS models with the standard 2.5/3.0 Fox Podium RC2 IBPs; X3s started out with two IBP ports on two-seat models and four ports on four-seat RS models, but now there are five IBP ports with blow-off reed valves. Can-Am had three main goals with Smart-Shox: the fastest valve adjustments, electronic compression and rebound control, and the most powerful algorithm. It also adjusts for tire size and for widths up to 80 inches. Smart-Shox costs $1700, and the DDA mode is displayed on the 7.6-inch digital display.
HOW FAST IS THE X3 MAX TURBO RR?
Pin-you-to-the-seat fast. The 195-horsepower triple accelerates hard, and the Smart-Lok front diff and Smart-Shox put more of that awesome power to the ground. It gets to 80 mph in a hurry if you've got the room to top it out, and we have gotten our 2020 Turbo RR well above 100 mph with clutch and ECU work.
WHAT ABOUT THE DELIVERY?
That's top-shelf as well. The Quick Response System X (QRS-X) CVT transmission spools up aggressively for holeshot power, and the Smart-Lok front diff allows you to tune traction and steering. Now Smart-Shox improves traction further by stiffening compression on the loaded shocks and rebound on the other two to keep the chassis level. Smart-Lok and Smart-Shox toggles are easily reachable by driver and navigator for on-the-fly tuning as needed. The gated range selector is slick and positive, and the Sport/Eco toggle further tunes the engine ECU. When the fuel level gets low, we go to Eco mode for better fuel economy. Good stuff.
HOW DOES THE FOUR-SEAT TURBO RR HANDLE?
It's smooth and super stable, especially in Trophy Truck whoops. The 135-inch wheelbase keeps the X3 Max more stable than the two-seat X3 over extremely rough terrain, yet it drifts predictably in corners for tighter turns. Smart-Shox and front and rear torsion bars fight body roll, and Smart-Shox stiffens rear shocks under hard acceleration and front shocks under hard braking. Whereas the 2019 Max Turbo R and 2020 Turbo RR have 30×10-14 Bighorn 2.0s on all four corners, the 2021 Turbo RR has returned to 30×9-14 fronts and 30×11-14 rears on bead-lock aluminum wheels. We tested at 12 psi all around.
HOW IS THE SMART-SHOX SUSPENSION?
It's stiff for speed. Comfort provides the smoothest ride over choppy terrain, but it firms up on the second half of travel to prevent bottoming. Sport is considerably stiffer for desert whoops and duning, while Sport+ is super stiff for short-course racing and jumping in dunes. The tuning puts more "race" in the "Racing Special," and it's a great starting point. Where the RC2 dual-speed compression adjusters sit on non-Smart-Shox X rs models, there are #224 fixed valve stacks metering fluid passing between the reservoirs and shock bodies. Aftermarket tuners can improve on the factory settings for better ride quality, and the #224 caps can be replaced with QS3, RC2 or even Fox/Shock Therapy iQS adjusters for even more tuning options. The IBP ports and reeds can be tuned as well.
HOW STRONG ARE THE BRAKES?
Really strong. All four calipers are twin-piston hydraulic, and they squeeze 262mm front and 248mm rear perforated rotors. All X3s also have separate front and rear master cylinders, and our Max has great feel at the pedal. A car this fast needs great brakes, and they're backed up by EBS and Hill Descent.
HOW IS IT IN DESERT AND DUNES?
It's designed specifically for both, so we did plenty of driving in both conditions for the 2021 Can-Am X3 Max X rs Smart-Shox test Top desert racers prefer to start with a four-seat UTV for race builds, so the X3 Max Smart-Shox is the weapon of choice. Big whoops, big air and big G-outs are all smoothed out by the Fox IBP DDA shocks and ECU. The Max is also big fun in fast sand washes. It fulfills the need for speed, for sure.
WHAT ABOUT TRAIL COMFORT?
Also top gun. The Ergo-Lok seats and cockpit make you feel like you're in a fighter jet. The seating position is low and laid back, and both front seats are adjustable. Rear seats offer adjustments and great comfort for full-sized adults, with twin grab handles and face-plant pads on the front seat-backs. The retracting four-point harnesses are comfortable and have chest/shoulder padding. The standard plastic roof and rear-view mirror are awesome, as are the quarter doors with grab handles built into the frames. We're not fans of the nylon-strap door latches, but HMF and Hess offer excellent billet upgrades for $134.95 and $100, respectively. The tilting, D-shaped steering wheel with over-molding and thumb nubs is really nice, and the 7.6-inch digital instrument panel tilts with the wheel and is easy to read. A four-way toggle tunes the digital display, three-level EPS and drive mode.
WHAT'S OUR FINAL ANSWER?
Can-Am has the baddest and fastest four-seat extreme-performance UTV on the market, and Smart-Shox transfers more of those 195 Turbo RR horsepower to the ground. The Maverick X3 Max X rs Turbo RR has great handling, suspension, brakes, creature comforts, and, most of all, adjustability with Smart-Shox, Smart-Lok and Sport/Eco drive modes. It has Trophy Truck-like performance with a great cockpit for up to four adults. Special thanks to Shock Therapy, which let us be in on the first day of testing the 2021 Smart-Shox Max. We'll report on ST's upgrades as soon as they're finalized.
See the all new 2021 Can-Am Commanders here:  https://utvactionmag.com/new-can-am-commander/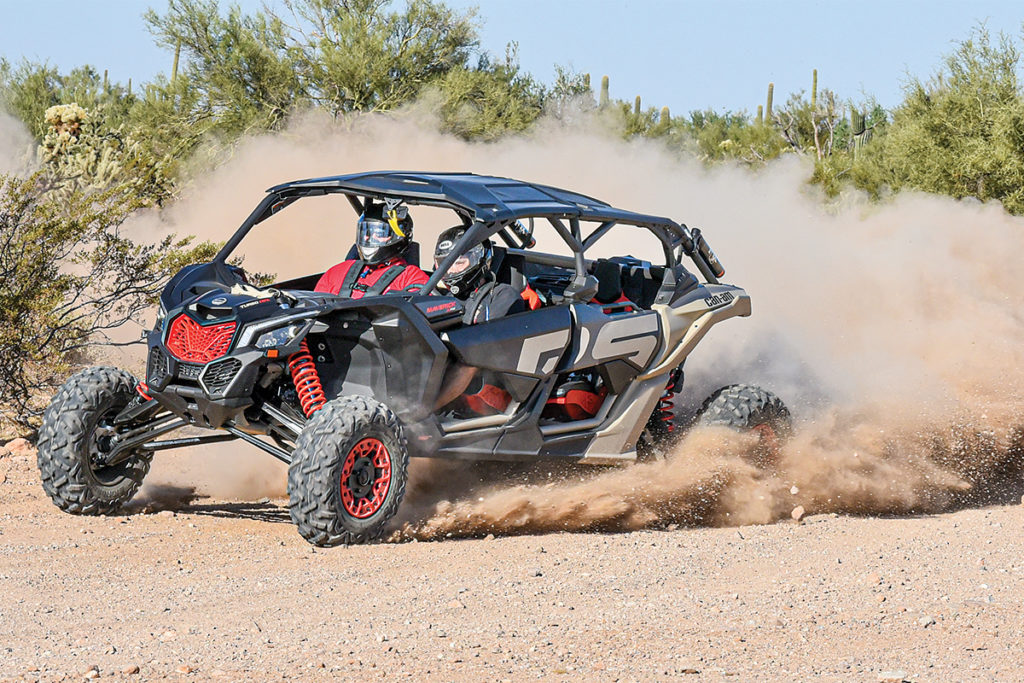 SPECS:
2021 CAN-AM MAVERICK X3 MAX X RS TURBO RR
ENGINE/TRANSMISSION
Engine type Turbocharged, liquid-cooled, 12-valve,
inline triple
Displacement 900cc
Bore x stroke 74mm x 67.9mm (3)
Compression ratio 9.1:1
Lubrication system Wet sump
Induction 46mm EFI
Starting/back-up Electric push-button/none
Starting procedure In any range, brake engaged
Air filter:
  Type Paper mesh/screen
Transmission Dual-range CVT
Drive system Selectable 2WD/4WD
Final drive: f/r Shaft/gear
DIMENSIONS/CAPACITIES/WEIGHTS
Fuel capacity 10.5 gal.
Wheelbase 135"
Overall length/width/height 165"/72.7"/68.5"
Ground clearance 16"
Dry weight 1,877 lbs
Rear Rack capacity 150 lbs
Storage capacity 3.0 gals
ROLLING CHASSIS
Frame Dual-Phase 980 steel tube
Suspension/wheel travel:
  Front Dual A-arms & 2.5 Fox Podiums
w/DDA/X-over./ prel./22"
  Rear Trailing arms & 3.0 Fox Podiums w/
DDA/X-over./prel./22"
Brakes:
  Front Twin-piston hydraulic/262mm discs
  Rear Twin-piston hydraulic/248mm discs
Tires:
  Front 30×9-14 Maxxis Bighorn 2.0
  Rear 30×11-14 Maxxis Bighorn 2.0
DETAILS
DC outlet Auto-style waterproof plug
Lighting:
  Front LED headlights
  Rear LED tail/brake lights
Instrumentation Speedo/odo/tach/trip/hour/fuel/
gear position/diagnostics/clock
Colors Triple Black, Desert Tan/Carbon Black/
Can-Am Red
Minimum recommended operator age 16
Suggested retail price $32,099
Contact Bombardier, (877)4-MY-RIDE or