2021 HONDA PIONEER 520 TEST
2021 HONDA PIONEER 520 TEST
Honda's Pioneer 500 stands out in the herd of small recreation utility UTVs because it has Honda quality, a low price, and a reliable automatic transmission with manual shifting and no drive belt. It's also extra compact, just 50 inches wide. You get all that with the new 2021 Pioneer 520, plus a tilting cargo bed, more power and some added refinements. Our 2021 Honda Pioneer 520 test tells how it performs.
HOW DOES COST COMPARE?
The 2021 Honda Pioneer 520 starts at $9499 or $9799 in camo. Honda dropped the Pioneer 500's price to $8499 when it introduced the 520. Can-Am's Defender HD5 is $10,399. The Polaris Ranger 500 is $9499. Massimo's T-Boss 550F is $9495.
WHAT'S NEW?
The new Pioneer 520 is based on the 500, but it has many upgrades. For more power, the 518cc, two-valve pushrod engine is 43cc larger than the 500's. The tilting cargo bed measures 25.9 inches by 38.7 inches by 9.8 inches and can carry 450 pounds. D-ring anchors and cutouts in the bed accept buckets, milk crates, wood dividers and even cups. The bed is also compatible with Honda's extensive line of Pro-Connect accessories, including racks, cargo boxes, chainsaw mounts and more. The transmission's shift points and clutch engagement have been adjusted for smoother shifts, and the suspension has been tuned for a smoother ride. Longer-wearing, quieter-riding Vee Rubber tires replace the 500's Maxxis tires.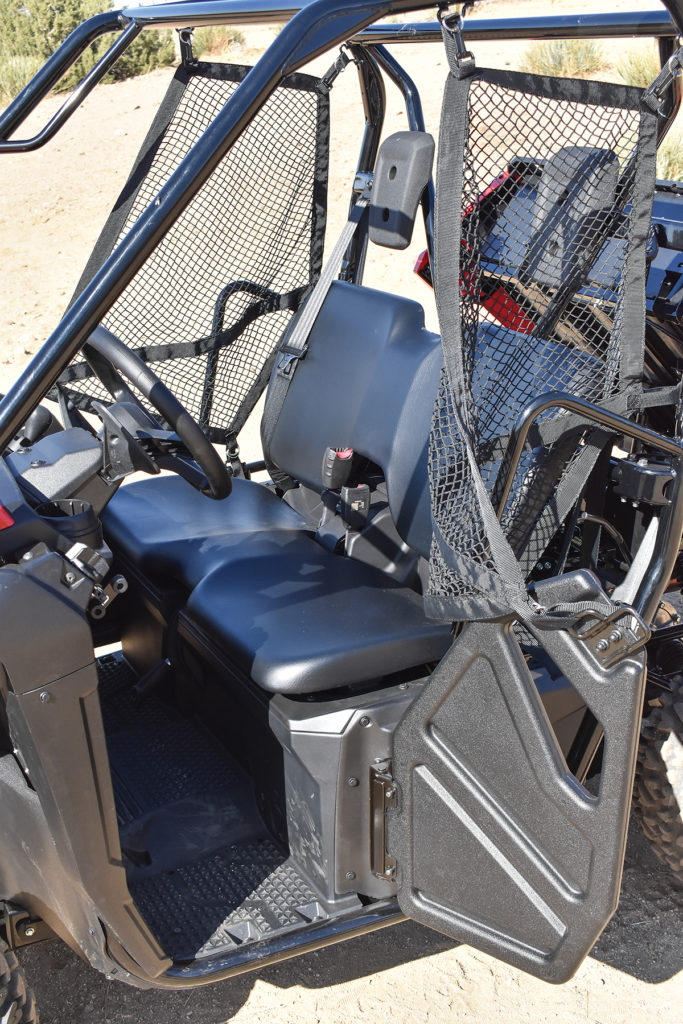 WHAT POWERS IT?
A longitudinally mounted 518cc, single cylinder, 2-valve, pushrod engine. Longitudinal mounting puts the crankshaft in line with the drive shafts, eliminating power robbing 90 degree turns in the driveline that are common with transverse engine mounting.
WHAT KIND OF TRANSMISSION DOES IT HAVE?
A geared, fully automatic five-speed transmission with manual shift mode. Manual shifting is done with sports car-like paddle shifters behind the steering wheel. The Honda downshifts automatically in manual mode when you come to a stop, and you can shift manually in automatic mode. There's no drive belt to wear or replace.
WHAT KIND OF 4WD SYSTEM DOES IT USE?
The 520 has selectable 2WD/4WD, but no front differential lock. Since the 520 has manual steering, it has an open front differential to minimize steering effort. This type of differential doesn't provide the traction limited slip or locking front differentials can, but we had no problem during the 2021 Honda Pioneer 520 test , even in challenging terrain. If you tow, plow or trail ride in snow, a locking front differential can be a big help.
HOW POWERFUL IS IT?
It's surprisingly strong for a 500cc-class machine. Longitudinal engine mounting, along with the geared transmission's added efficiency and direct response, gives the 520 quick acceleration when you want it. Top speed is 37 mph, which is fine for a small utility-focused recreation machine.
HOW IS THE POWER DELIVERY?
It's perfect for a work-focused recreation UTV, and it's fun, too. First gear is extra low for heavy low-speed work, and the 520 makes plenty of low and midrange power. Manually shifting the five speed transmission lets you pick the perfect gear for the conditions and gives the 520 a more sporty feel. Automatic mode is good for times when you just want to ride without thinking about shifting. The transmission chooses gears well and rarely hunts between gears. Shifting is smooth but not buttery, and you will feel the shifts whether you like to or not. Some drivers like it; some prefer the seamless ratio changes of a continuously variable transmission.
WHAT KIND OF SUSPENSION DOES IT HAVE?
Double-A-arm suspension with spring preload-adjustable shocks front and rear. There's just 5.8 inches of travel up front and 5.9 in the rear. Unlike the Pioneer 500, there is no rear sway bar.
HOW DOES THE SUSPENSION WORK?
We rode in a variety of terrains during the 2021 Honda Pioneer 520 test and we found itrides smoothly at sensible speeds, even on fairly rough terrain. When you're in a hurry, it can handle bumpy dirt roads at a pace you wouldn't use in your pickup. Drive it like a sport UTV on rough trails, and you'll find the suspension's limits pretty often on rocky trails, deep ruts and G-outs.
HOW DOES IT HANDLE?
It's a pleasure to drive. The 520 is one of the smallest, lightest UTVs made, and it handles like it. It's also 50 inches wide, which does great things for its maneuverability. Fifty-inch-wide machines aren't usually known for their stability, but Honda did a lot to make the Pioneer one that is. The short-travel suspension and short, compact engine keeps the Pioneer's tires stuck to the ground in corners and off-camber trails. It even slides around slippery turns with impressive security. The 520 doesn't have power steering, but the machine is so light you may not notice until you're stopped or on pavement. Even then it's not hard to steer. There's no uncomfortable feedback through the wheel in bumps, and steering effort is low even in 4WD, thanks to the open front differential.
HOW IS IT IN CHALLENGING TERRAIN?
Thanks to the 5-speed transmission and light weight, the 520 has great climbing ability for its size, and the natural engine braking the transmission provides makes downhills easy to deal with. The Honda's brakes are strong and have good feel, even though a single driveshaft-mounted disc slows both rear wheels.
The 520 can conquer rocks and mud, and it's remarkable where you can go without even engaging four-wheel drive, but you need to consider its 8.5 inches of ground clearance, turf-like tires and open front differential before you head into anything too hairy.
HOW DOES IT WORK?
The 520 can tow 1000 pounds, and its tilting bed can carry 450. The Pioneer's power, small size and maneuverability are really what make it a great helper. Honda durability and dependability also mean you can expect to work with it, not on it.
HOW ARE THE DETAILS?
Honda did its usual great job with the build quality on the 520, and the fit and finish is excellent. Getting in and out of the Pioneer 500 is simple, thanks to the doors with attached nets, the surprisingly spacious cabin and the sculpted seats. Six-foot-tall adults fit without feeling cramped. The seat is a bench, but with a supportive, comfortable shape that holds you more like a sport seat. There are drink holders for the driver and passenger. The Pioneer lacks a few things that some other inexpensive recreation machines have, like a glove box, additional storage, tilt-adjustable wheel, a limited slip or locking front differential and power steering.
WHAT IS OUR FINAL ANSWER?
With the bed many users wanted, more power and other refinements, the Pioneer 520 is definitely more Pioneer than the 500, but with all the things that make the 500 so easy to like.
SPECS:
HONDA PIONEER 520
ENGINE/TRANSMISSION
Engine type Liquid-cooled, push-rod 2-valve,
four-stroke single
Displacement 518cc
Bore and Stroke 96mm x 71.5mm
Compression ratio 9.5:1
Lubrication Dry sump
Induction 36mm EFI
Starting/back-up Electric/none
Choke Location N/A
Starting procedure Turn ignition key
Air Filter
   Type Reusable oiled foam
   Access Remove airbox lid (four clips)
Transmission Automatic/manual paddle shift
5-speed w/ automatic clutch
Final drive Shaft
DIMENSIONS/CAPACITIES/WEIGHTS
Fuel capacity 4.1 gal.
Wheelbase 73"
Overall length/width/height 105"/50"/71.2"
Ground clearance 8.5"
Wet weight 1065 lb.
ROLLING CHASSIS
Frame Steel round and square tube
Suspension/wheel travel:
   Front Dual A-arms w/prel.-adj. shocks/5.8"
   Rear Dual A-arms w/ prel.-adj. shocks/5.9"
Brakes/actuation:
   Front Dual 200mm hydraulic discs/left pedal
   Rear Single 170mm hydraulic discs/left pedal
Parking brake mechanical/hydraulic
Tires:
   Front 24×8-12
   Rear 24×10-12
Bed capacity 450 lb.
Towing capacity 1000 lb.
DETAILS
Lighting:
   Front (2) 37.5W headlights
   Rear Tail/brake lights
Instruments Fuel gauge, speedometer,
indicator lights (4WD, etc.)
Colors Red, Olive, Reactor Blue,
Honda Phantom Camo
Minimum operator age 16
Suggested retail price $9499
See UTV Action's full test on the Honda Pioneer 500 here: TEST: 2017 HONDA PIONEER 500 | UTV Action Magazine
Contact American Honda, (310) 532-9811,