UTV Action predicted Honda would reveal 2021 Honda Talon Live Valve two-seaters at UTVActionMag.com, and they're here already! First seen on the four-seat Talon, Honda's added its computer-controlled, self-adjusting Fox Live Valve suspension to the Talon 1000R and Talon 1000X. The 2021 Honda Talon Live Valve two-seaters also come with launch mode, which allows full throttle acceleration from a dead stop. Here are the technical details you need to know about Honda's newest sport UTVs.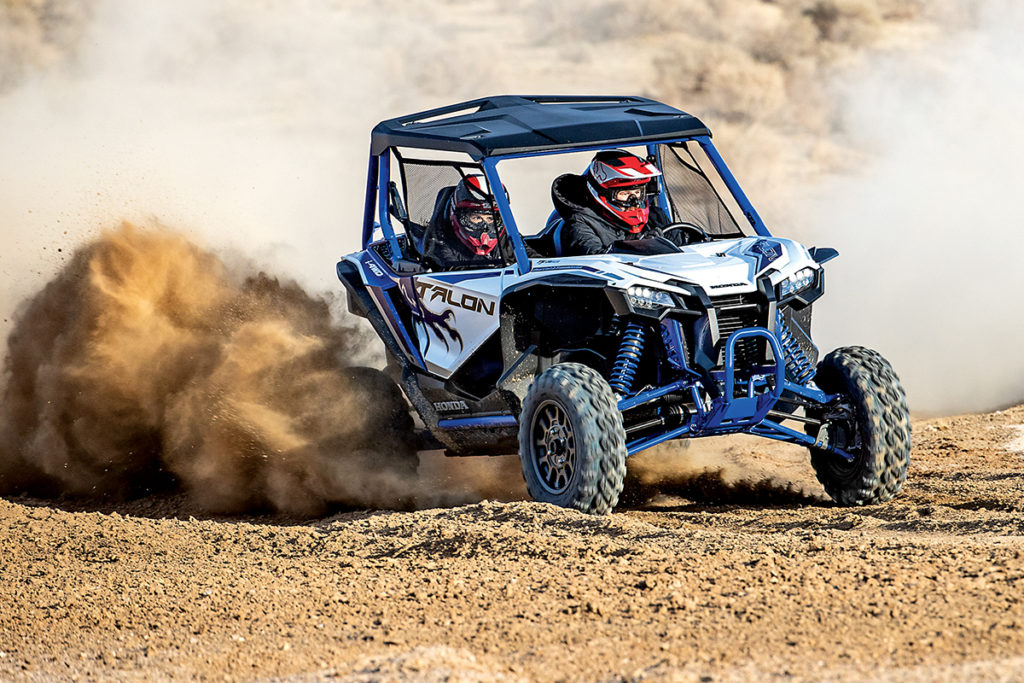 WHAT MAKES THE LIVE VALVE TALONS BETTER?
The manually adjustable suspension on Honda Talons works well for aggressive driving but it can be harsh for cruising and low speeds even on the softest setting. Honda may update the suspension tuning for 2021, but we're not sure yet. We've tested Honda's Live Valve suspension on the 1000X-4 Live Valve and it delivers a smoother ride in slow and fast driving, and the system also offers better control and stability because it's so aware and responds so quickly. Sensors monitor the engine, transmission, steering, brakes, G-forces and the vehicle's angle and continuously adjust the suspension accordingly. The system firms the outside shocks during cornering, firms the front shocks during braking, and it even sets the suspension for smooth jump landings. In addition to instant automatic adjustability, Honda's Live Valve suspension also offers two dashboard button-selectable modes, a comfort focused standard mode and sport mode for fast driving.
WHAT'S FAMILIAR ON THE NEW LIVE VALVE TALONS?
The Live Valve two-seaters share the same dimensions, engine, transmission and 4WD system as the other two-seat Talons. The engine is a naturally aspirated, single-overhead-cam, 8-valve parallel twin. It makes 104 horsepower, but it feels like more because the Honda's geared transmission gets power to the wheels more instantly and efficiently than belt-type automatic transmissions.
The belt-less, dual-clutch, 6-speed transmission has automatic and manual shift modes. You shift with sports-car-type paddle shifters behind the steering wheel. The transmission also has high and low range and sport and normal shift programs. You can also shift manually in automatic mode. The new Live Valve two-seaters and the 1000X-4 Live Valve are the only Talons with launch mode.
The new Talons also have Honda's unique I-4WD system, which provides traction like a locking differential without extra steering effort. It also offers electronic brake force distribution and hill start assist, for easy, secure starts on hills.
TALON 1000R LIVE VALVE
The 1000R Live Valve has a 92.7-inch wheelbase and is 68.4 inches wide with 17.7 inches of front suspension travel and 20.1 inches in the rear. The rear suspension uses Honda's 4+ Link system. It's available in Metallic Grey with a blue frame and shock springs.
TALON 1000X LIVE VALVE
Sized for tighter trails and more agility, the 1000X Live Valve has a more compact 87.6-inch wheelbase and is 64 inches wide with 14.4 inches of travel up front and 15 inches in the rear from its three-link trailing-arm rear suspension. It comes in Pearl White/Metallic Blue with a blue frame and shock springs.
See UTV Action's full test of the Talon 1000X Live Valve  here: https://utvactionmag.com/honda-talon-1000x-4-live-valve/
See how to win free Obor tires here! WIN FREE OBOR TIRES | UTV Action Magazine
See more Honda UTVs here: https://powersports.honda.com/talon?cid=main_reprise/google/Brand_Model_Sport+SXS_Talon_Exact/Brand+-+Talon/honda%20talon