2021 POLARIS RANGER XP 1000 NORTHSTAR ULTIMATE TEST
2021 POLARIS RANGER XP 1000 NORTHSTAR ULTIMATE TEST
A few months back we brought you a test of the 2021 Polaris Ranger XP 1000 Trail Boss edition. This Ranger has noticeable differences from a standard Ranger XP 1000, such as larger tires, arched A-arms, an upgraded clutch, active descent control and self-leveling rear suspension. It is available in a Northstar closed-cab edition as well. This month we bring you the 2021 Polaris Ranger XP 1000 Northstar Ultimate test.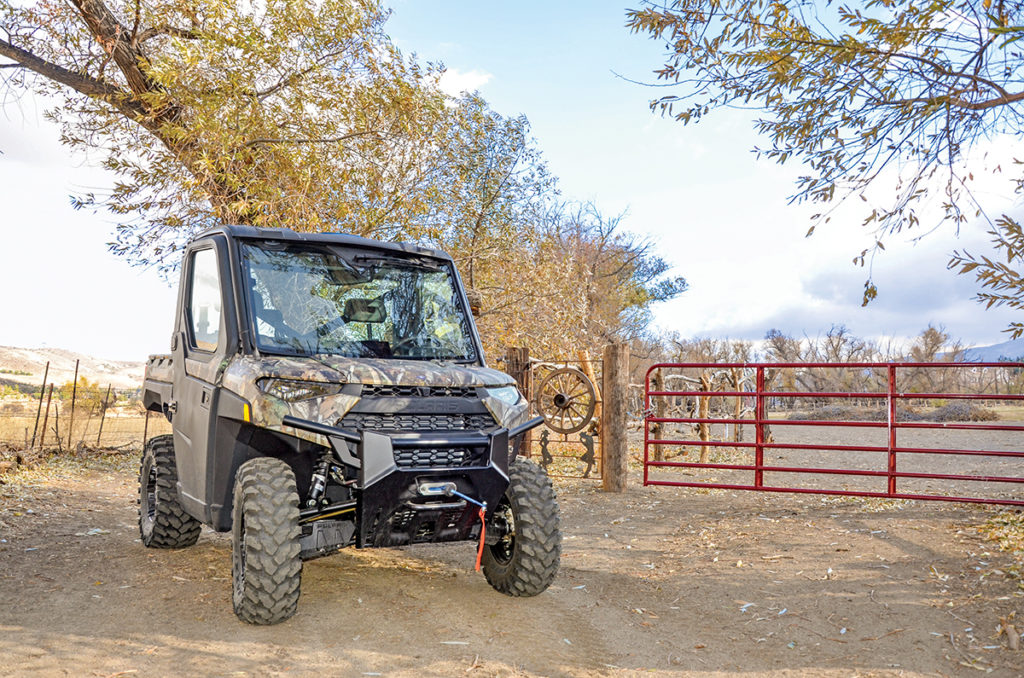 WHAT MAKES IT ULTIMATE?
This Ranger has the larger 29-inch tires, 4500-pound winch, LED headlights, Pro Shield cab, power windows, Ride Command with front and rear cameras, a soft-lined roof with dome light, and in-dash speakers. Our test unit is also outfitted with an accessory, overhead, MB Quart sound system.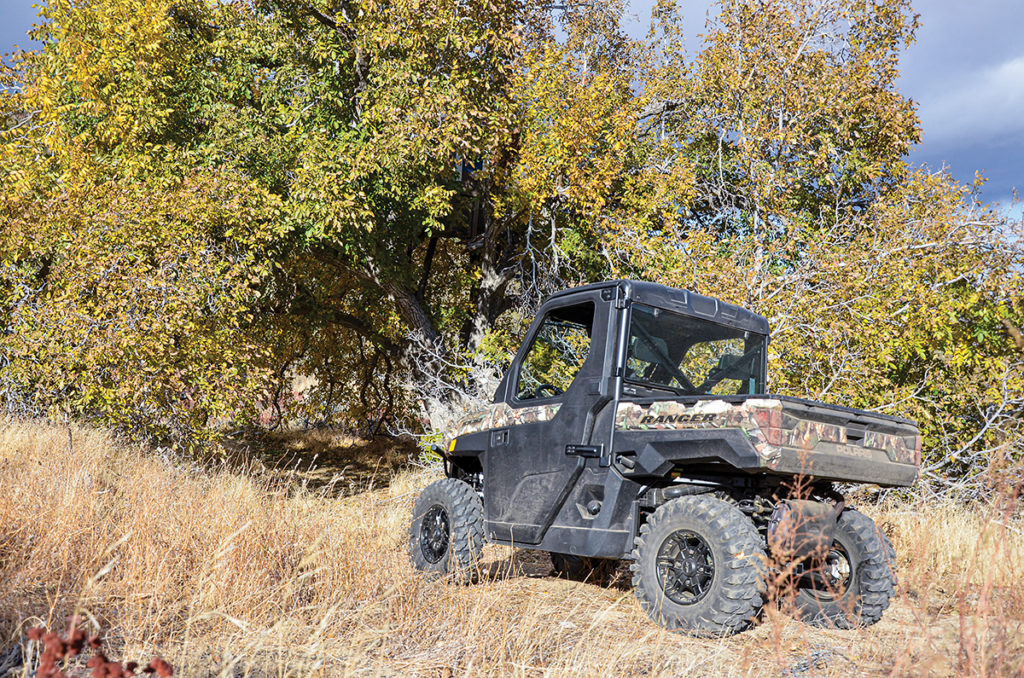 HOW DOES COST COMPARE?
The Ranger XP 1000 Northstar starts at $23,999. The Ultimate is $26,999, and the Polaris Pursuit Camo version is $27,199. Can-Am's Defender Limited HD10 sells for $25,499. However, it does not have 29-inch-tall tires, a sound system, navigation or front and rear cameras.
WHAT POWERS THE NORTHSTAR ULTIMATE?
The Polaris Pro Star twin-cylinder engine sports 999cc, two overhead cams, eight valves and 82 horsepower. It has a fully automatic CVT transmission with low gear and an unlocking rear differential. Polaris gives this Ranger three power modes that can be accessed with the flip of a switch. "Work" is a cruise mode that allows for smooth takeoffs and better control in tight places or when backing up. "Standard" is our favorite, providing plenty of power to run around on trails or forest gravel roads but still smooth at the gas pedal. "Performance" gives all 82 ponies to you at the crack of the throttle. The extra weight of this Northstar car actually tames the power some so the throttle doesn't feel like a light switch; however, it's still not as controllable. Top speed is just a tick over 65 mph.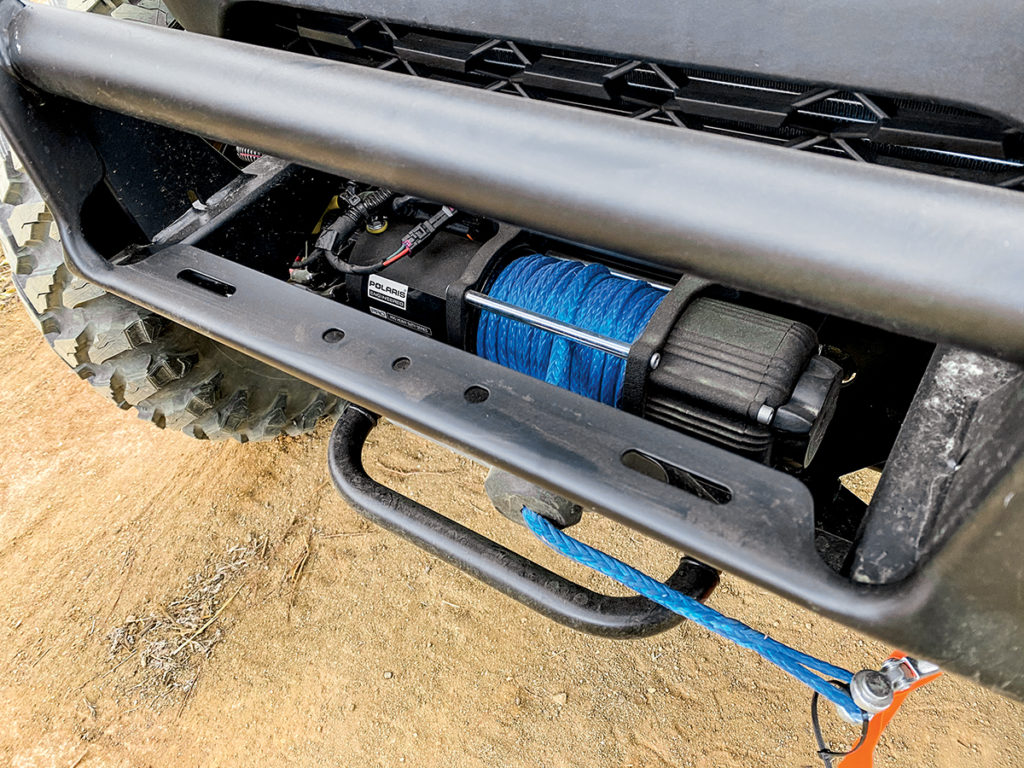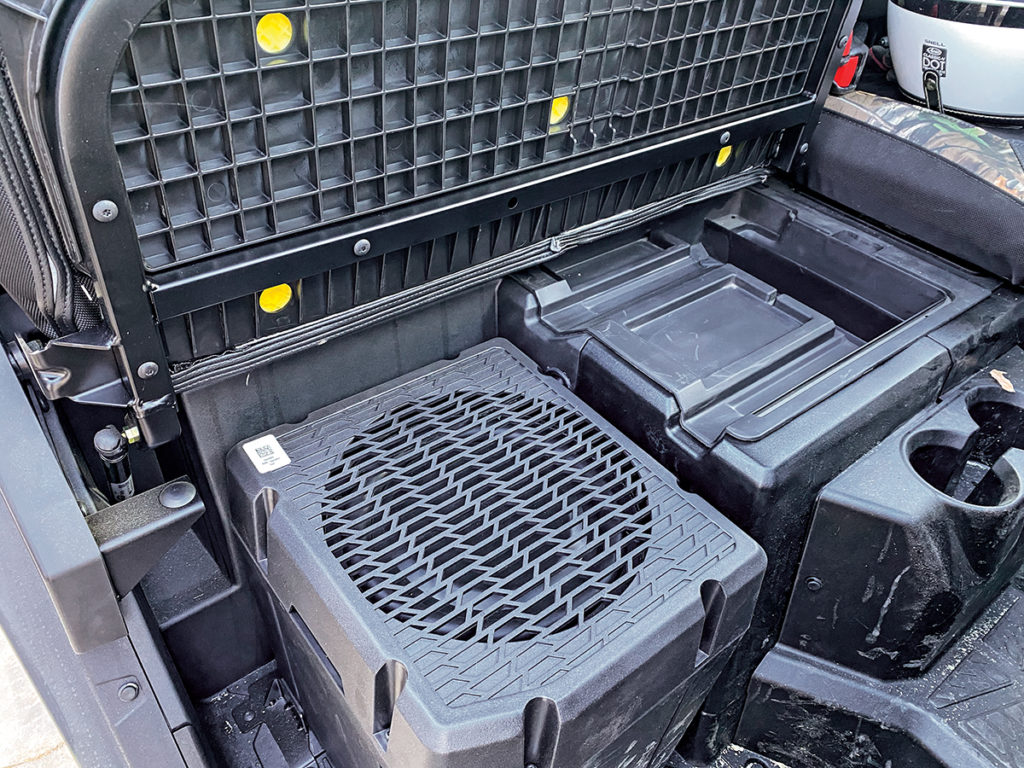 WHAT KIND OF SUSPENSION DOES IT HAVE?
Polaris gave this Ranger 10 inches of travel on all four corners with dual A-arms. These A-arms are not arched. There are spring preload-adjustable shocks set on full soft from the factory. We added two notches of preload and run the tires at 12 psi up front and 15 out back to reduce body roll a bit. The enclosed cab adds over 300 pounds and definitely makes the body roll more apparent. Suspension action is still super smooth over choppy terrain. It floats over small bumps and holes and never bottoms out unexpectedly. On a rough trail, you can feel the extra weight of the cab, but the shocks do a great job if you stay driving at a sane pace and don't get abusive.
IN-CAB COMFORT
Our primary goal in this test was to see how well the cab system and heat/AC worked. We have driven tons of Rangers before but never extensively with this setup. We used it around a local ranch, on a few trails and put it to work around the house. The power windows got the biggest workout at first. We could have gotten by with window cranks, but the power button was a very nice touch. The front windshield does open by hand and can be cranked open a few inches for a dose of fresh air, or tilted all the way forward for a full open-air effect. The hinges and springs do a good job holding the windshield in the up (open) position. We never had it slam shut on the trail.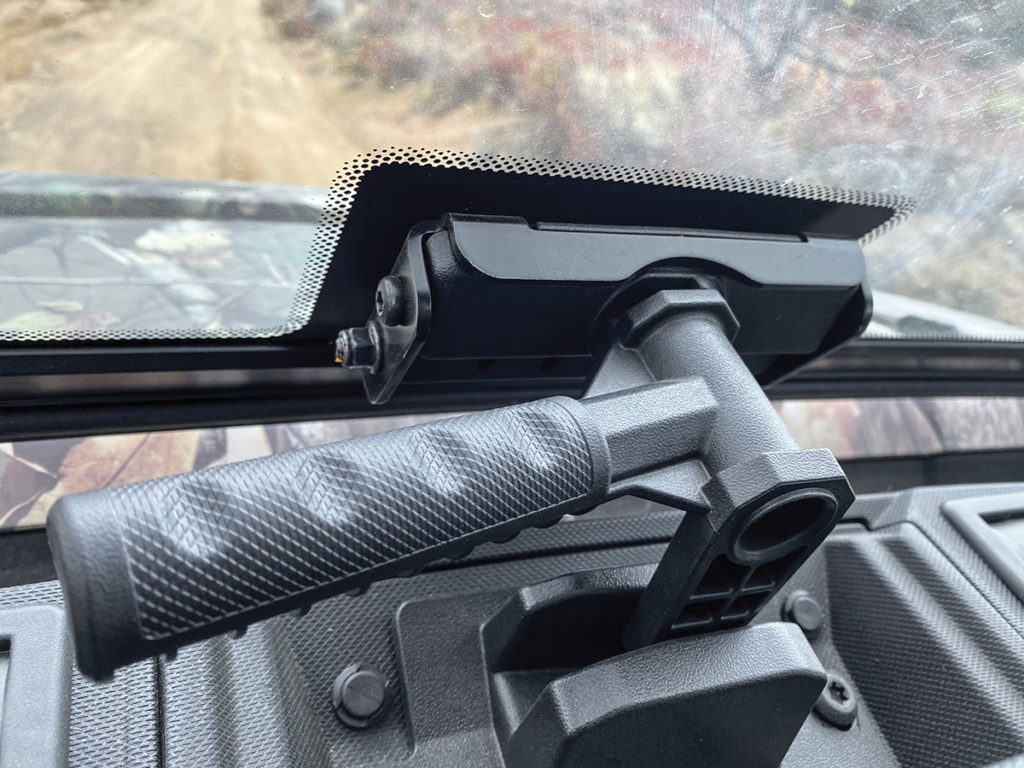 With everything closed, we were pleasantly surprised at how well the cab is sealed. There is no wind or road noise coming through the cab. Seams at all sides were secure and tight. There was no jiggling, rattling or vibrating associated with the cab pieces. Having a glass cockpit does take a little getting used to. We had to be careful not to fling seatbelt metal against the glass, as well as be careful when loading cargo in the bed.
In bad weather, it was nice driving around in complete comfort. The heater warms up in about three minutes as the engine temperature goes up, and the AC gets to cooling almost instantly. There are several vents across the dash to direct airflow, including defroster vents up by the windshield. Polaris designed the HVAC system correctly. We couldn't ask it to work any better. Same goes for the audio system. It sounded good and tied into the Ride Command system.
WHAT IS OUR FINAL ANSWER?
During the winter months, the Ranger XP 1000 Northstar Ultimate was our go-to machine for sure. As with your pickup, you can go out and warm up the Ranger for a few minutes and have a nice warm cab to get into. We were able to take the machine to a few ride spots that we typically avoid in the winter. Using it for anything from cold-weather chores such as hauling firewood to fun activities such as towing kids on a sled, the 2021 Polaris Ranger XP 1000 Northstar Ultimate was great. We expect it to be as productive in the summer when using the AC. If you are more of a rough trail explorer, you might want to look at the Trail Boss HVAC model instead, as it has better ground clearance and handling when full of cargo. We like both, but we may not be able to give up this machine; it's that good.
See UTV Action's full test on the Ranger XP 1000 Trail Boss here: https://utvactionmag.com/2021-polaris-ranger-xp-1000-trail-boss/
SPECS:
2021 POLARIS RANGER XP 1000 NORTHSTAR ULTIMATE
ENGINE/TRANSMISSION
Engine type Liquid-cooled, 8-valve, DOHC inline twin
Displacement 999cc
Bore x stroke 93mmx73.5mm (2)
Compression ratio 10.5:1
Lubrication system Wet sump
Induction EFI 48mm throttle body
Starting/back-up Electric/none
Starting procedure In any range, brake engaged
Air filter:
  Type Paper mesh/screen
Transmission Dual-range CVT
Drive system 2WD/4WD w/locking diffs
Final drive f/r Shaft/shaft
DIMENSIONS/CAPACITIES/WEIGHTS
Fuel capacity 11.5 gal.
Wheelbase 81"
Overall length/width/height 120"/62.5"/78"
Ground clearance 14"
Dry weight 1937 lb.
Bed capacity 1000 lb.
Hitch 2-inch receiver
Towing capacity 2500 lb.
ROLLING CHASSIS
Frame Round steel tube
Suspension/wheel travel:
  Front Dual A-arms/10"
  Rear Dual A-arms /10"
Brakes:
  Front Hydraulic discs
  Rear Hydraulic discs
Tires:
  Front 29×9-14 Maxxis MU511
  Rear 29×11-14 Maxxis MU521
DETAILS
DC outlet Auto-style waterproof plug
Lighting:
  Front 55W low/60W high headlights
  Rear LED tail lights
Instrumentation Speedo/odo/tach/trip/hour/fuel/
gear position/diagnostics/clock
Colors Ghost White
Minimum recommended operator age 16
Suggested retail price $26,999
Contact .Polaris, www.polaris.com