2021 POLARIS RZR TURBO-S TEST
This and the four-seat version Turbo S are the only long-travel (72-inch-wide) RZR's you can get from the dealer. For some reason Polaris still does not offer the new Pro XP platform with long travel or a wide stance. So, if you want speed as well as great suspension in a showroom-stock RZR, then this is it. This model also has the Dynamix feature from Fox Shox, which allows you to control the compression side of the suspension stroke in the cab at the flick of a switch. UTV Action's 2021 Polaris RZR Turbo-S test tells you how it all works.
HOW DOES PRICE COMPARE?
The retail price of this Turbo S is up there at $28,199. You can get a lower-cost version with standard shocks, no roof and no Ride Command for $22,499. For 2021, Can-Am sells their 72-inch-wide X3s starting at $27,599, and their Smart Shox version goes for $29,299. If you want this power and ride quality for less money, consider the 64-inch-wide Turbo RZR for $20,000, then add a long-travel kit from someone such as Lonestar Racing ($4205) or SuperATV ($3900). Also, consider a standard-width, four-seat Turbo RZR for $22K. The extra 2 feet of wheelbase gives you almost the same advantage as adding long travel.
HOW'S THE POWER?
The RZR is fast with a 168-horsepower, twin-cylinder engine. The power is manageable if you have a conservative right foot. If you like to flat-foot it everywhere you go, you better be on a wide road or in the sand dunes.  The RZR has a big step in the floor right below the pedals that you can wedge your heel against for greater throttle control. At full throttle the ride is exhilarating. While the ITP Coyote tires have a lot more grip than older Maxxis Big Horns, you can still break the tires loose on any surface. In a drag race, this is one of the quickest UTVs you can buy.
HOW'S THE RIDE?
It's adjustable at the flick of a switch. The 2.5-inch front and 3-inch Fox Shox out back soak up the big bumps. Large 32-inch ITP Coyote tires help roll over the square edges and rocks. You can feel that these tires are heavier than older Big Horns, but they grip so much better and help contribute to a huge 16-inch ground-clearance measurement. That's one thing that handicaps the new Pro XP, as it bottoms in the rear often; the Turbo S does not. Even in Comfort mode you can hammer 2–3-foot whoops with total control. The shocks handle flat landings and G-outs just as well. Honestly, we haven't found anything this RZR can't hammer through.
HOW'S THE COCKPIT?
When Polaris redesigned its original cabin, they made room for a larger Ride Command screen, as well as a new gauge cluster. There is still the compartment forward of the shifter, as well as a glove box below the passenger grab-handle and another cubbyhole above. Over on the driver's side, this RZR gets a leather-wrapped, aluminum Grant steering wheel. Both occupants get six-point harnesses as standard equipment, and an aluminum roof keeps the sun and rain at bay. The only complaint about the cockpit in this model is that the speakers in the door reduce shoulder and elbow room.
MAINTENANCE & CARGO
When changing the oil on a RZR we are always a bit messier, as it doesn't have the filter placed in a good area for drainage. The air filter is easier to get to behind the cargo-box cover, and it doesn't require tools. The deep box on the RZR holds all sorts of items within and is the best out of any high-performance UTV primarily because it has four sides. Furthermore, this Polaris has a cargo-capacity limit of 300 pounds, which is way more weight than a spare tire and a cooler.
OUR THOUGHTS
We like this RZR. It has two of the best components Polaris has ever installed in a UTV—Ride Command and a rear-facing camera. Furthermore, we feel the suspension arms on this car are better than any other RZR and certainly stronger than what Can-Am offers. Its only downfall is if you are taller than 6-foot-5, you would need more leg room. It has more power than anyone needs, and the suspension will soak up bumps as well as any other car of this size will. If this car is on your short list of wants, it should be at the top.
See UTV Actions report on more 2021 Polaris UTVs here: https://utvactionmag.com/2021-polaris-utvs-2/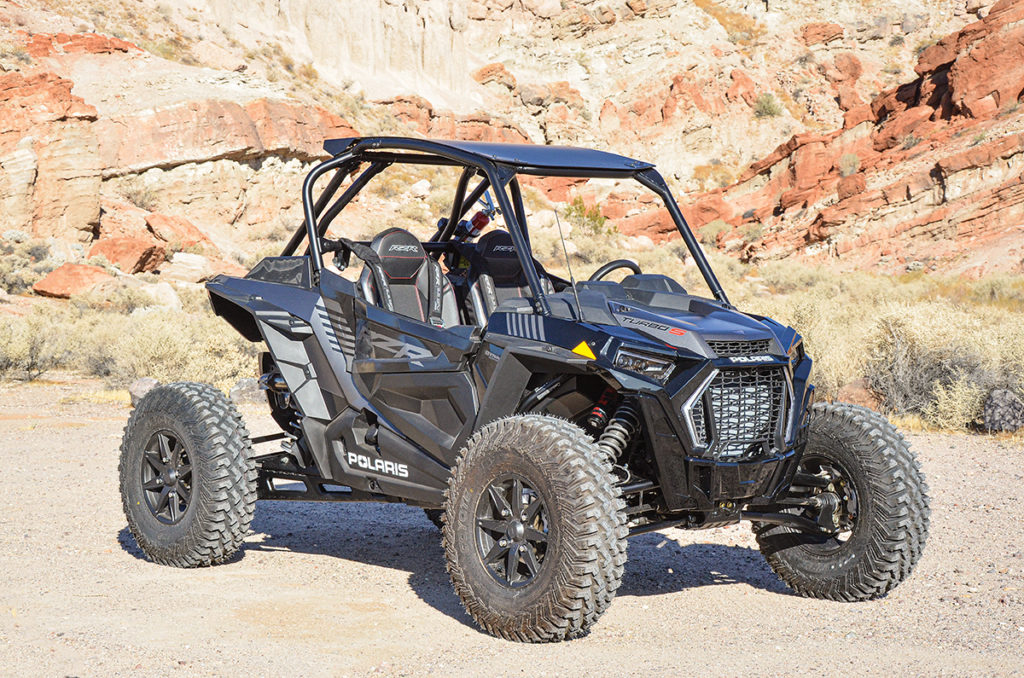 SPECS:
2021 POLARIS RZR TURBO S
ENGINE/TRANSMISSION
Engine type 2 cylinder
Displacement 925cc
Horsepower 168hp
Suspension/wheel travel:
  Front Double A-arms w/ 19" with 2.5" Podium
Fox Shox
  Rear Trailing arm w/ 21" with 3.0" Podium
Fox Shox
Tires/wheels:
  Front 32×10-15; ITP Coyote (8-ply-rated)
  Rear 32×10-15; ITP Coyote (8-ply-rated)
Brakes:
  Front Twin-piston caliper
  Rear Twin-piston caliper
Length/width/height 122"/72"/75"
Wheelbase 90"
Ground Clearance 16"
Dry Weight 1779 lb.
Cargo box capacity 300 lb.
Fuel Capacity 9 gal.
Price Starting at $22,499; $28,199 as tested
Contact: https://rzr.polaris.com/