2022 POLARIS GENERAL XP 4 DELUXE
Best-equipped crossover UTVs for the whole family
2022 POLARIS GENERAL XP 4 DELUXE
For 2016, Polaris shook up the UTV world with the General, which combined the sporty performance and suspension of the RZR S 1000 with the comfort and utility of the Ranger XP, but with RZR bucket seats instead of a bench seat. It was an instant hit, and the long-travel General XP 1000 with Walker Evans Velocity shocks was introduced for 2020. The XP was based on the 2019 General Deluxe but had 14 inches of travel, a 64-inch width and a new one-piece chassis with thicker-walled tubes. The XP also had revised clutching for smoothness, twin-puck calipers and larger brake rotors riding inside 15-inch rims. A Stage 1 Rockford Fosgate audio system was also standard on the most capable cross-over UTV for 2020. Well, hold on tight, because Polaris raises the bar again with the 2022 General XP 1000 and XP 4 Trailhead Editions. We got to test the 2022 Polaris General XP 4 Deluxe and XP 4 Trailhead and first.
WHAT COMES ON THE RIDE COMMAND & TRAILHEAD EDITIONS?
Start with the Ride Command Deluxe with a new Plow mode that automatically lifts the plow when shifting to reverse. The 4500-pound winch has Auto Stop, a blacked-out fairlead, a forged hook and synthetic rope. Ride Command controls the Stage 3 Rockford Fosgate audio system with front and rear pairs of speakers, plus a $550 subwoofer. Ride Command automatically increases volume as speeds increase and decreases volume as speeds drop. A 400-watt amp powers the five speakers. Ride Command Generals also have Walker Evans Velocity shocks and high-clearance A-arms with 14 inches of travel, plus 30-inch Pro Armor Crawler XG tires. They come with a low-profile sport front bumper, poly sport roof, four Premium half doors, and rider-optimized seats.
Trailhead Editions have all that plus an 11-inch Pro Armor LED light bar on the bumper, a two-level Adventure rear rack and headache bar, a Matte Burnt Orange color-matched hood, suspension arms, shock springs, graphics and seats. Side body panels are Matte Slate Blue, and Trailhead Editions have 3D-embossed topographic lines depicting Wickenburg, Arizona's Crown King Mine. They also have a convex rear-view mirror.
HOW DOES COST COMPARE?
The base 60-inch 2022 General 4 1000's MSRP is $22,699, and the Deluxe Ride Command Edition goes for $25,699. The 64-inch General XP 4 1000 is $25,899, while the XP 4 Deluxe Ride Command Edition is $27,899. The XP 4 1000 Trailhead Edition is $28,899. Can-Am's 100-horsepower Commander Max 1000 DPS is $19,699. XTs start at $22,299, and the top-shelf Max XT-P is $24,699. Yamaha's 2021 RMAX4 1000 Limited Edition is $25,799. Arctic Cat dropped Havoc 1000s for 2022, but the Prowler Pro Crew Limited is $19,099. There are no other comparable cross-over four-seat UTVs, but the 2021 Honda Talon 1000X-4 Special Edition is $26,999.
HOW FAST IS THE GENERAL XP 4?
Plenty fast! Although Generals have much longer intake tracts and different EFI and CVT tuning than the RZR S4 1000 (last produced in 2020), they're very quick from corner to corner. They even get the same transmission whine when you stand on the throttle as an RZR XP1K. The 999cc, 100-horsepower ProStar twin has plenty of power and torque to turn taller tires than the OEM Pro Armor Crawlers. Low range is great for tight, technical trails and is good for 37 mph, and we got more than 60 mph in high.
WHAT ABOUT THE DELIVERY?
Top-shelf. Polaris' power and CVT engineers worked together to give the 2020 XPs quick yet smooth clutching and EFI throttle maps, and the 2022 XP 4s have RZR-quick and Ranger-smooth delivery. The AWD system also works smoothly and flawlessly for drifting into turns in 2WD and powering out in 4WD. Generals also have Engine Braking Systems with a new Engine Deceleration Assist (EDA) helix and VersaTrac unlocking rear diff for tight woods work. The range selector is a bit stiff and notchy, though.
HOW DOES IT HANDLE?
Like a full-on sport UTV. We did laps on ERX's off-road loop, and the XP 4 was fun to flick into turns and powerslide out. Slides on gravel sections were totally predictable, and it tracked well in sand sections. Only on the tightest switchbacks did we even notice the 115-inch wheelbase, and it was super stable on rough high-speed sections. Front and rear sway bars fight body roll, and both the Deluxe and Trailhead were steady on off-camber turns, even with the shocks on full-soft compression.
HOW ABOUT THE XP 4 SUSPENSION?
It's excellent but not class-leading. With 14 inches of travel all around via Walker Evans Velocity 2.5 shocks, General XP 4s have more adjustments than the Commander Max's QS3 shocks, and travel is equal. The Yamaha RMAX4 Limited has 14.2 inches of front travel and only 13.3 inches in back, but it sports Fox Live Valve 2.0 iQS shocks with on-the-fly adjustments. Despite the lack of cross-over rings on the Velocity shocks, they have great damping and spring rates for bottoming resistance and a plush ride on chop.
HOW STRONG ARE THE BRAKES?
Army strong, sir! Not only are there dual-piston calipers on all four corners, 15-inch rims leave more room for larger rotors. We found a couple of steep hills to test the brakes and new Engine Deceleration Assist, and the General XP 4s were impressive. The brakes are strong with minimal pressure at the pedal.
WHAT ABOUT ROCKS, MUD AND SNOW?
The General XP 4 can court martial all three. ERX Park has rock sections and rocky soil, but we have rock-crawled previous Generals at Moab with great control. General XPs have 13.5 inches of ground clearance with OEM 30-inch tires, and there is plenty of power for turning larger meats. The curved half doors and roof keep flung mud out of the cabin, and full fenders catch roost. Polaris' introduction of the original General was up in the snow in New Mexico, and we had a blast playing in powder.
WHAT ABOUT CREATURE COMFORTS?
They're five-star. Bolstered bucket seats are comfortable and secure, and the T-Rail adjustable seat belts prevent neck chafing. We like the seating position and view over the hood, too. The driver's seat adjusts, and the tilt wheel has great over-molding and thumb nubs. The curved doors increase elbow room, and they have rubber seals to keep out roost and inner liners with elbow shelves. The front passenger has a molded D-shaped grab bar on the center console, which also sports an elbow pad on the storage lid, in front and back. Dash cubbies have removable rubber bases, and the glove box is large. Intake and exhaust noise in the cabin aren't obtrusive.
WHAT'S OUR FINAL ANSWER?
We've been General fans since the beginning, and the General XPs are even more impressive from a performance and comfort standpoint. The 2022 General XP 4 Deluxe Ride Command Edition has even more impressive features and winch controls, and the Velocity 2.5 shocks add comfort and control to an awesome cross-over UTV package. Power, delivery, ride quality, handling and creature comforts are top-notch. The Trailhead Edition adds overland versatility with the LED light bar and adventure storage rack, and it's the best-looking General XP 4 yet.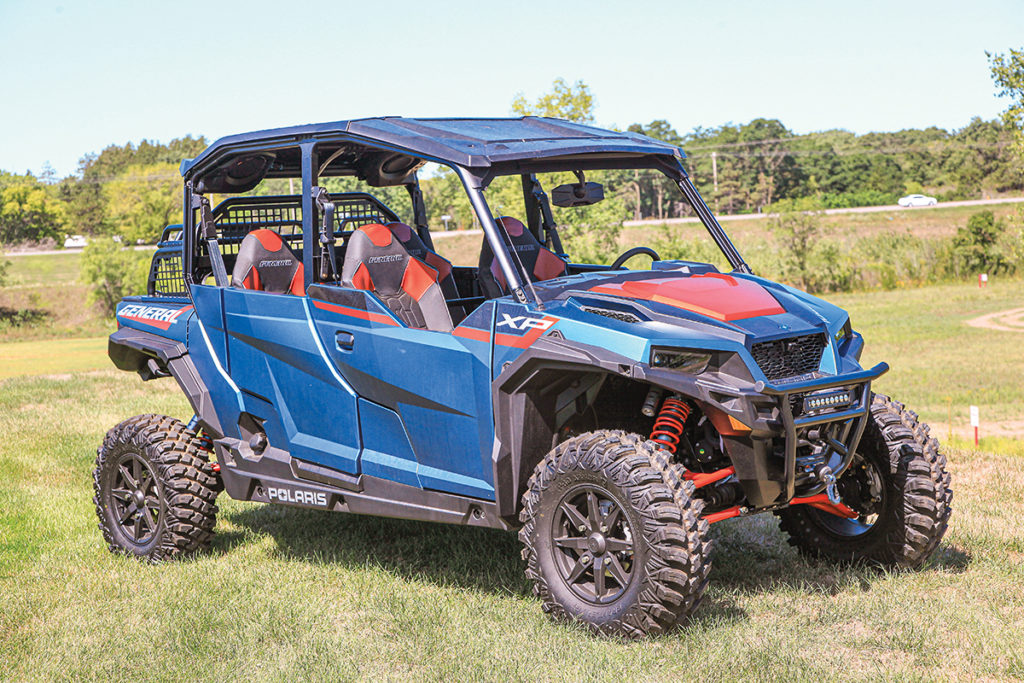 SPECS:
2022 POLARIS GENERAL XP 4 1000 DELUXE EDITION
ENGINE/TRANSMISSION
Engine type Liquid-cooled, 8-valve, DOHC
4-stroke twin
Displacement 999cc
Bore x stroke 93mm x 73.5mm (x2)
Compression ratio 11:1
Lubrication system Wet sump
Additional cooling Auto fan
Carburetion 48mm EFI (x2)
Starting/back-up Electric/none
Starting procedure Turn ignition switch
Air filter:
  Type Paper pleat
  Access Toolless; lift bed, undo two straps
Transmission Dual-range CVT w/ rev. & EBS
Reverse procedure Move range selector to "R"
Drive system Selectable 2WD/4WD w/auto diff-lock
Final drives Shafts
DIMENSIONS/CAPACITIES/WEIGHTS
Fuel capacity 9.5 gal.
Wheelbase 115.0"
Overall length/width/height 150.2"/64.0"/77.0"
Ground clearance 13.5"
Claimed dry weight 2, 008-1,544 lb.
Bed weight limit 600 lb.
Hitch 2" receiver
Towing limit 1,500 lb.
ROLLING CHASSIS
Frame Steel round/square tube
Suspension/wheel travel:
   Front Dual A-arm w/prel- & comp-adj. shocks/14/0"
  Rear IRS Dual A-arms w/prel- & comp-adj.
shocks/14.0"
Brakes/actuation:
  Front Hydraulic discs/left-side pedal
  Rear Hydraulic discs/left-side pedal
Parking Mode in transmission
Tires:
  Front 30×10-15 Pro Armor Crawler XGF
  Rear 30×10-15 Pro Armor Crawler XG
ELECTRICAL
DC Outlet Console & dash
Lighting:
Front 2 LED hi/lo headlights
Rear Dual LED brake/tail lights
DETAILS
Instrumentation Speed/odo/trip/hour/rpm/fuel/
gear/clock/2WD-4WD
Colors Deluxe: Matte Ghost White Metallic,
Black Crystal; Ride Command adds
Stealth Black Pursuit; Trailhead Matte Blue Slate/
Matte Orange Rust
Minimum recommended operator age 16
MSRP XP 4, $25,899; Deluxe, $27,899;
Trailhead Edition, $28,899
Contact Polaris, (800) POLARIS
See UTV Action's full shootout between the Can-Am Commander and the Yamaha Rmax here: CAN-AM COMMANDER XT-P VS YAMAHA RMAX2 XT-R – UTV Action Magazine