2022 POLARIS RZR PRO R AND RZR TURBO R
More power and suspension
2022 POLARIS RZR PRO R AND RZR TURBO R
As it turns out, the worst-kept secret in the UTV game was actually two secret new cars. Recently unveiled, the all-new 2022 Polaris RZR Pro R and RZR Turbo R in two- and four-seat versions available in a variety of trims. The big news within the announcement was that the Pro R has an all-new, four-cylinder, 225-horsepower powerplant. While this is exciting, we are more interested in the new front and rear suspension on both offerings.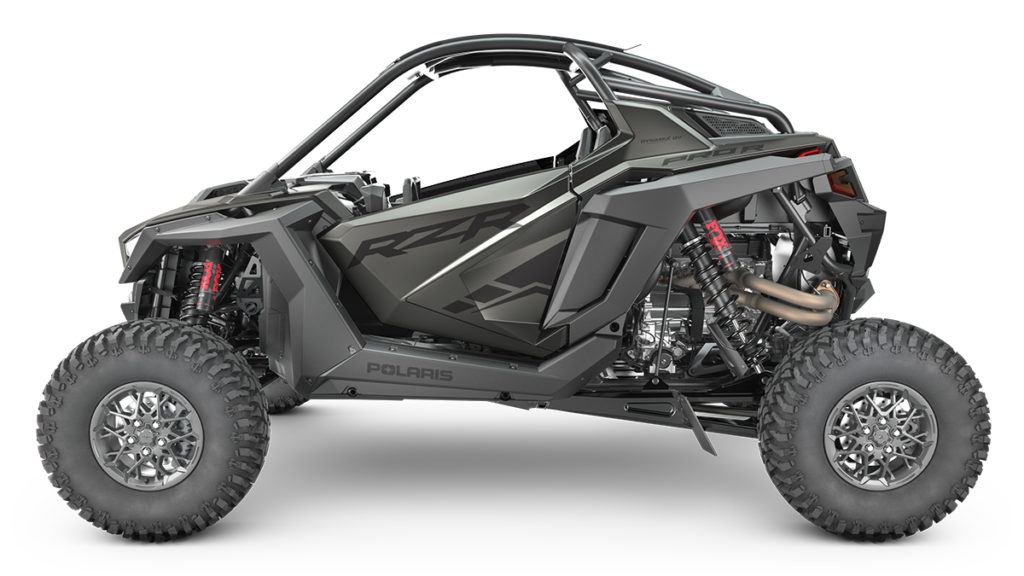 MORE MOTOR
The motor in the Pro R is a very large object placed in the rear of the car. In fact, the chassis had to be stretched 8.5 inches to fit the two extra cylinders and a CVT system that is now positioned behind the seats and firewall. This is a similar powerplant to what's found in a Polaris Slingshot and what powers most compact cars made by Chevrolet. You see, when Polaris first brought the Slingshot roadster to market, it was powered by a four-cylinder Chevrolet Ecotech engine. A couple years into production, Polaris built its own version of this engine to power the Slingshot and now the 2022 Polaris RZR Pro R. The RZR version has a few modifications, such as a lighter crankshaft. Its 1997cc, 16-valve top end produces 225 horsepower and just over 150 pound-feet of torque. Polaris claims the powerful new mill will push this RZR to a top speed of 90 mph. Three separate throttle modes can be chosen, depending on what kind of driving you are doing. A mild setting is available for the rocks all the way up to a Race or Baja setting for higher speeds. That power is transferred out to the wheels through a transverse-mounted CVT system that is now found behind the seats. To access or change the belt, you will have to remove the seats, a plastic firewall, then the CVT cover.
To go along with the stronger drivetrain, Polaris has also equipped the Pro R with a new rack-mounted power-steering system and true locking front differential. We hope this technology trickles down to other models in the future.
For power inside the other new RZR, the Turbo R, Polaris is using the same 181-horsepower, twin-cylinder turbo engine that is found in the Pro XP. This has all of the latest Polaris durability, such as a self-burping coolant system and improved air flow for the CVT. This engine has been wildly popular in the Polaris XPT and Turbo S models for years.
SUPER NEW SUSPENSION
While the body lines of the new cars look like a Pro XP, the suspension arms are entirely new and much wider than before. Overall, the new width of these cars will be 74 inches. Up front, the A-arms have an airfoil look to them, or you could call them clamshell. Polaris calls them boxed, but they are not squared off like an HCR or Super ATV A-arm. Sport (base) and Premium models will get 2.5-inch Walker Evans shocks with 22.25 inches of wheel travel. These front shocks will now be mounted down on the lower A-arm with a unique lower clevis that surrounds the front axle. It's a very strange set up but will allow for the additional travel, and this stronger A-arm shouldn't bend like the older XPT lower A-arms were known to do.
Out back, the shocks have 3-inch canisters and 24.5 inches of travel. Ultimate trims for both models will get Fox Dynamix DV shocks with electronically controlled compression and rebound technology. Front and rear shocks will have 3-inch canisters. Also out back, a new toe link will keep the rear toe change to under 1 degree throughout its travel, translating into a more stable ride. All of this will result in great high-speed bump absorption and a super-plush ride at slow speeds.
The 32-inch Maxxis Rampage Fury tires are new and will add to the comfort and control. Another new item to note is that the 15-inch cast wheels will now use five lugs instead of four. This hub is called Unitized and is a hub and bearing assembly. The same assembly is used on all four corners and can still keep the car as a roller, even if the axle is broken and removed from the car.
MORE PACKAGE DETAILS
By the time you read this, the Pro Rs should be in dealerships if they are not sold out. The Turbo R will be showing up in spring. We calculated the Turbo R will have nearly the same power-to-weight ratio (10 pounds per horsepower) as the Pro R, so power-wise, they could be similar; however, based on preliminary reports from guys who have been in the new Pro R, the torque is amazing and the ride is much different from the turbo car. The back end of the heavier Pro R tends to stay planted and powering forward even better than the Turbo S cars did beforehand. The new Maxxis Rampage Fury tires look to have as much grip and traction as the ITP Coyotes found on the older Turbo S; however, these tires have a rounded shoulder that should help them slide and drift much better. We get behind the wheel of this machine mid-January and will tell you for sure. Until then, here's a lowdown on the prices of each of the different versions of this new class of RZR. Keep in mind, these prices do not include freight, destination and setup fees, which could add another grand to these prices. See detailed RZR Turbo R specs here: 2022 POLARIS RZR TURBO R SPORT/PREMIUM/ULTIMATE – UTV Action Magazine
Turbo R Sport: $25,999
Turbo R Premium: $29,999
Turbo R Ultimate: $32,99
Turbo R4 Sport: $29,999
Turbo R4 Premium $ 33,999
Turbo R4: $36,999
Pro R Sport: $31,999
Pro R Premium: $34,999
Pro R Ultimate: $37,999
Pro R Ultimate Launch Edition: $40,999
Pro R4 Sport: $35,999
Pro R4 Premium: $38,999
Pro R4 Ultimate: $41,999
Pro R4 Ultimate Launch Edition: $44,999