2023 KAWASAKI TERYX KRX 1000 4 SEATER FIRST TEST
Room for the entire family
What has two more seats, is two feet longer, five inches taller and less than 200 pounds heavier than the original Kawasaki KRX1000? The answer is the all new 2023 Kawasaki Teryx KRX4 1000 family wagon.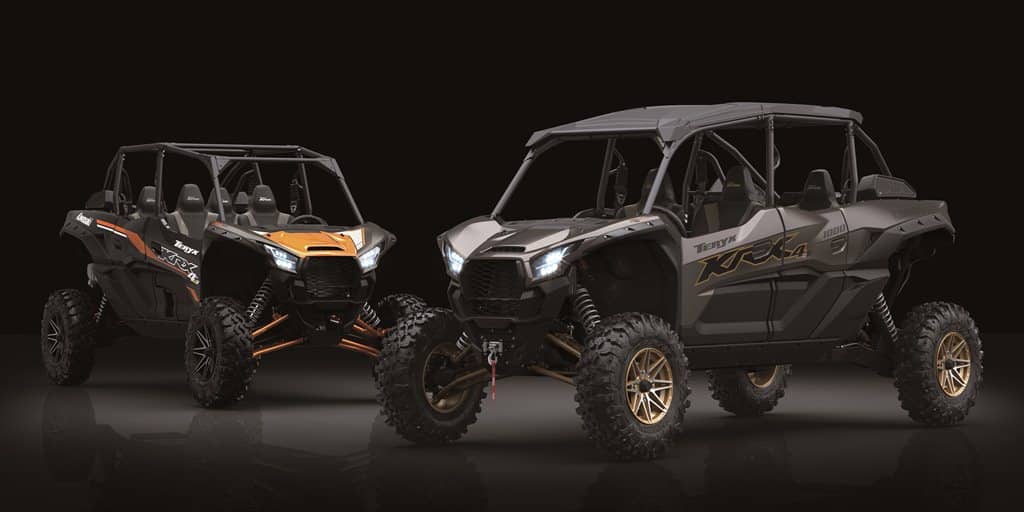 HOW DOES COST COMPARE?
The Teryx KRX4 1000 can be found in three different trim packages; the Teryx KRX4 1000 SE ($27,499) that comes equipped with a  roof, WARN VRX450 winch, FOX 2.5 Podium LSC shocks, and multi-function all-digital instrumentation; Teryx KRX4 1000 eS ($28,499), which features FOX 2.5 Live Valve Internal Bypass shocks; and the Teryx KRX4 1000 eS Special Edition ($29,999) that includes a roof, WARN® VRX45 winch, and high-grade Hifonics  audio system.
As for long wheelbase competition with 4-seats and a naturally aspirated engine, you have the Polaris RZR 4, the Honda Talon 4X and two Can-Ams the Maverick Sport Max and new Commander Max. All four are narrower, have slightly less horsepower but are lighter. The Honda Talon X4 starts at $5000 less but its a narrower car with less travel. The Polaris is $2000 less and again narrower with slightly less travel. The two more compact Commander and Maverick Sport from Can-Am have less travel and use A-arm suspension like a Polaris General ($29,599) start at just over $20K. However those last three mentioned more closely compare to the Kawasaki Teryx S which is also sells for right around $20,000. 
WHAT POWERS THE KRX4?
  The same compact, twin cylinder, normally aspirated mill that is found in the first gen KRX's.  It has 112 horsepower and a 70 MPH top speed. Acceleration feels nearly identical to the two seater. Kawasaki achieved this by ditching the heavier bead lock wheels for non bead lock versions reducing rotating mass.  The 4 seater is less than 200 pounds heavier than the 2 seater, so it's like having an extra passenger on board when you drive the KRX4. It has more than enough power to get down a trail at a decent clip and have a good time. It works decent in sand but this is not the vehicle we would recommend for the dunes. It will be fine everywhere else. Our test drive took place with two and three occupants on board. In slow technical terrain, we didn't find the need to use low gear more than normal, but when we did, it helped. 
WHAT ABOUT THE CVT?
  According to Kawasaki nothing in the CVT system has been changed. The weight and springs are the same as the two seater. They did make a part number change last year and we believe it was because stronger material was used on the clutch weights as those have been known to wear out prematurely. Response and acceleration seams to match what the two seater put out.
HOW DOES THE BIG 4-SEATER HANDLE?
   In our initial test it seams that the springs are a set tad stiff to keep the ride height up. So slow speed comfort wasn't as good as we expected. However, if you've paid close attention to our tests of the two seater, the springs sag and take a set after about 700-miles. We were only able to put 35-miles on the KRX4 so far, so we haven't seen this happen yet. If you were to put a two seat KRX back to back with a KRX4, the 4 is about 1.5-2" taller even though the specs claim the ground clearance is nearly the same at around 15 inches.  
  On the trail, the vehicle doesn't seam too big. It corners well and the rear end doesn't hit things unexpectedly. Steering is light although the front end seamed to push some on the sand trails we tested on. The Maxxis Carnivores tires are more suited for hand pack or loamy terrain. Kawasaki says the brakes are unchanged on this heavier 4 seater. They worked fine, but we have found a sintered brake pad from someone like DP Brakes will improve the overall stopping power.
   Our two test vehicles were the eS models so we played around with the soft/medium/firm Fox Live Valve suspension switch a lot. For this particular ride, we preferred medium more often, where in the two seater we could leave it in firm and the internal bypass shocks would be plush as slow speeds and offer great bottom our protection for more aggressive driving. The vehicle worked awesome in big rolling whoops and we never felt the suspension or skid plate bottom out.
IS THE COCKPIT COMFORTABLE?
   Yes, the front is exactly the same as before. Both riders up front have adjustable seats, great foot positions and the doors are the perfect height to rest your arm on. The rear passengers also have plenty of leg and shoulder room, however, the seats are not stadium style, so to see out, those back passengers have to lean to the center to look around the front seats.  Also, to keep the body lines looking good, the back passenger doors are higher so the view out of them is not as good as it is up front.
MORE DIFFERENCES
In the rear, the seat bases and backs can be removed quickly without tools. There's a little bit of storage under the right side rear passenger seat and the drivers side front seat. These areas are big enough for a small jack, a tow rope or some tools. You can also remove the seat back on the passenger side in the rear to access the fuses and air filter. You cant do that with the two seat model. On the floor, Kawasaki replaced the funky rubber drain hole covers with twist lock plastic ones. They will be easier to replace but harder to keep from jiggling loose.
EXTRAS
   All KRX's come with a few features that are not very common on other brand machines. In the cargo area, you can lay flat, up to a 32" tire, then put your lighter cargo on top of that. The CVT belt is super strong and in 3000+ miles of driving KRX's we have yet to see one break. Additionally, there is a CVT temperature gauge on the dash and if you have the ES or LE model, you can see what degrees the belt is at. During our test drive of the KRX4, 160-degrees was the highest we saw and it was a hot day of over 100 degrees of ambient temperature. The KRX has a true locking front differential if needed. 
WHAT IS OUR FINAL ANSWER?
  Kawasaki's KRX4 1000 is a great option for people who want to take friends along on a comfortable ride. There's a ton of leg and shoulder room so any sized rider can fit. It's a vehicle that stays planted on the ground, will crawl over anything and never leave you stranded.  It soaks up big whoops just as good as little choppy bumps. From desert driving to high mountain fire roads, this would be a great machine to take on that kind of adventure. The only change we would want to make, is a change of scenery and ride it on our favorite trails. 
2023 KAWASAKI TERYX KRX4 1000 SPECS
Engine..DOHC, 8-Valve four stroke
Transmission: Fully automatic CVT
Displacement:: 999cc 
Horsepower/Torque:112/76 ftlb
Fuel System: EFI
Fuel Capacity: 10.6 Gallons
Overall Measurements
Length/width/height…157.3"/68.1"/79.3"
Wheelbase…126"
Ground Clearance…15.2"
Curb Weight (eS model) 2107lbs
Cargo bed…14.6" x 33.1" x 9.1"
Suspension/wheel travel:
Front…Double A-arms w/18.6", 2.5 FOX SHOX
Rear…Trailing arms w/21.1", 2.5" FOX SHOX
Tires…31×10-15 Maxxis Carnivore, 8-ply
Brakes… Hydraulic discs
Colors…Green, black, gray, orange
Price…$27,499 (SE), $28,499 (eS), $29,999 (eS SE)
Contact…www.kawasaki.com
KRX4 1000 HIGHS
Stabile and comfortable 
Lots of leg and shoulder room
Strong chassis and drivetrain
KRX4 1000 LOWS
No Power Upgrades or turbo option
Back seat visibility
Cup holders are not insulated