— From then to now, by Joe Kosch —
If you have a passion for motorized performance, you've probably seen and enjoyed one of Kawasaki's messages celebrating its 50th anniversary in America, and like me, you've probably experienced and enjoyed some Kawasaki performance at some point, even if you're very new to UTVs.  Kawasaki calls themselves "The Good Times People," an expression that goes back to an advertising slogan Kawasaki first used in 1972, and it really does capture the spirit of Kawasaki people–the corporation's leaders, Kawasaki's many employees, their dealers and the enthusiasts who enjoy Kawasaki's huge range of products.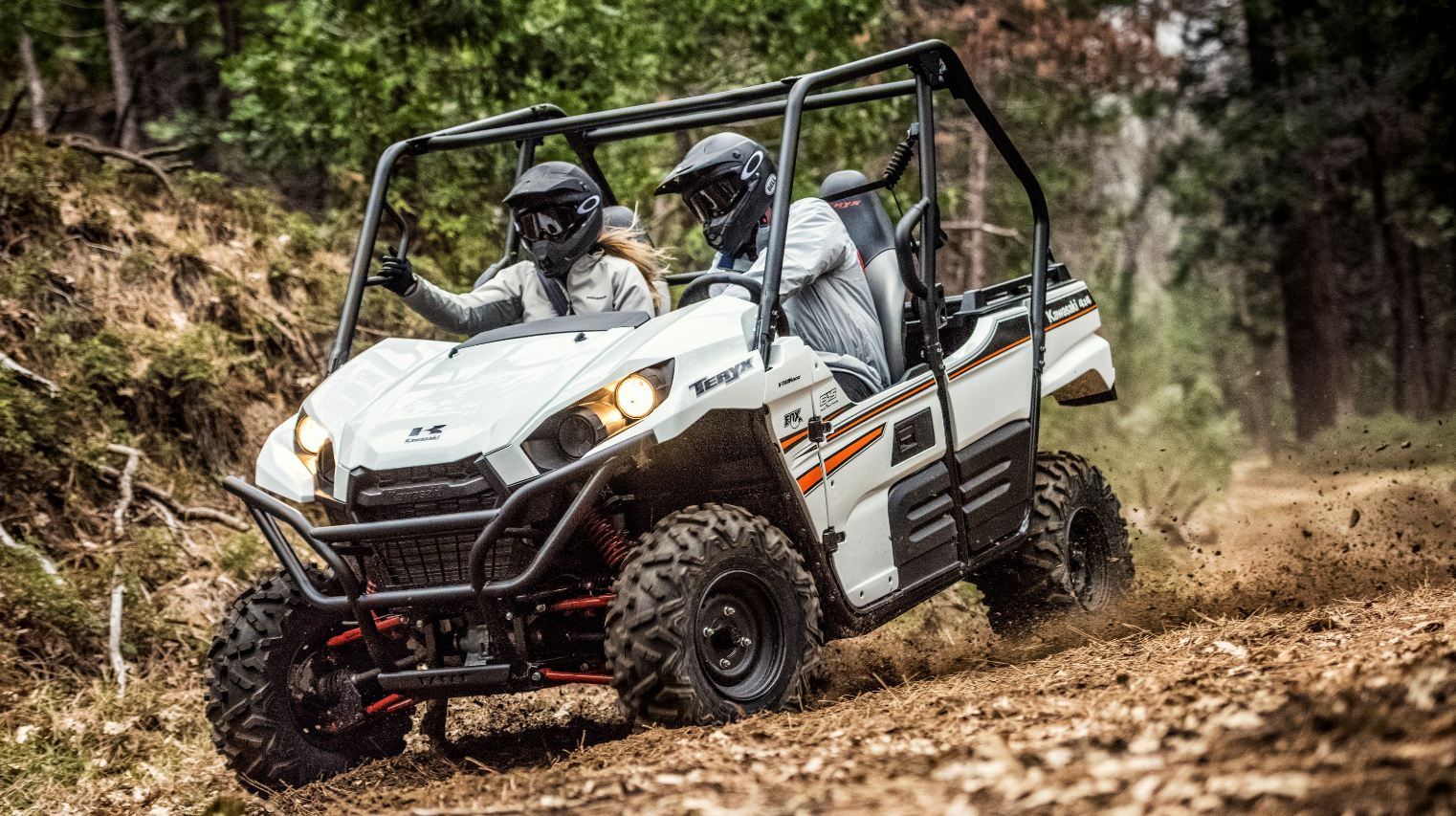 Kawasaki Motors Corp., USA is a division of Kawasaki Heavy Industries of Japan, an industrial giant that began in 1878 when Shozo Kawasaki, the founder, opened a shipyard to build ocean-going steel ships. Today, Kawasaki Heavy Industries is a world leader in ship building, railroad engine and car manufacturing, jet and helicopter production, bridge building, powerplant production, tunnel-boring machinery and more. For example, Kawasaki tunnel-boring machines carved the passages for the Eurotunnel beneath the English Channel, one of the world's largest tunnel projects. The world's fastest bullet train, which will be able to travel at 240 mph, will be a Kawasaki.
Kawasaki's massive factories in Lincoln, Nebraska, and Marysville, Missouri, have been employing Americans since 1974—that's 43 years. Beginning with motorcycles, the Lincoln plant now also makes Teryx sport utility UTVs, Mule Pro-FX and Mule utility UTVs, Brute Force ATVs, jet-ski watercraft, railroad cars and power products. The Maryville plant specializes in general-purpose engines.
It takes work to create good times, and I've been lucky enough to enjoy the fruits of Kawasaki's labor, some of its many great products. Some I've been delighted to own, and some I only dreamed of. The first Kawasaki that crossed my path was a 175cc two-stroke dual-sport bike, by far the fastest machine in my little group of childhood dirt bike riding buddies. I was 11 and had a four-stroke Honda 70 at the time, so to me, the Kawasaki was like a roost-throwing bullet train with knobbies. After college, I was doing freelance work for ATV and motorcycle magazines and working at a Kawasaki/Yamaha dealership. A friend let me borrow his then-brand-new Ninja 900 for the weekend, and the power, acceleration and handling floored me. I never looked at street bikes the same again. I got hooked on Kawasaki's performance heritage in street bikes and vowed to ride and hopefully own all the greats even if I couldn't own them at the same time. Ten years later I found my first—an early H1, the legendary 500 two-stroke triple—and it was as amazing as the old magazine articles I read said it was. Some years later I bought a rough 175 like my childhood pal Bob "Fent" Fenstermacher rode, and it was every bit as impressive as I recalled as a kid. Not long ago I got a rough '77 Kawasaki 650 non-runner that I rehabilitated, a bike that Kawasaki introduced to beat the 750cc street superbikes of its era. It did what it was supposed to in '77, and it's still a thoroughly impressive bike to me today.
As much as I admire Kawasaki's performance legacy, the most memorable Kawasaki rides I've had have all been with relatively recent machines. There just isn't space here for every story, and you have another new issue of UTV Action you want to get to anyway, but I have to mention a couple. I'll never forget how far and away beyond the performance of all other 2003 4×4 ATVs the V-twin, eight-valve Prairie 650 was. The 2013 Teryx4 UTV's balanced feel and comfort made a chilling high-elevation ride in snow and rain on Utah's Paiute trail pure joy.
Kawasaki Motors Corp. has had 50 amazing years in America, and I'm looking forward to another 50. I can't wait to see if they introduce a high-performance UTV that will top the world's best and then some. It's completely within their power; they just have to get in the mood to really let the good times roll.