BROOKLYN SINGLETON'S HISUN STRIKE 250
And, Kennedy's #71 250 Limited Strike 250
BROOKLYN SINGLETON'S HISUN STRIKE 250
Brooklyn Singleton is the defending MidAmerica Outdoors Short-Course 250 Mod champion with three wins and podium finishes in every round. She has moved up to the Women's NA 1000 class for 2022, and her sister, Kennedy, is racing Brooklyn's hand-me-down Hisun Strike 250 Mod and her 2021 runner-up #71 Limited Strike 250. Brooklyn is 14 and Kennedy is 12. Their father, John, maintains both youth UTVs, and they came to Texas from Oklahoma for the last 2021 Texas Outlaw round and to visit the Hisun factory celebrating Brooklyn's championship.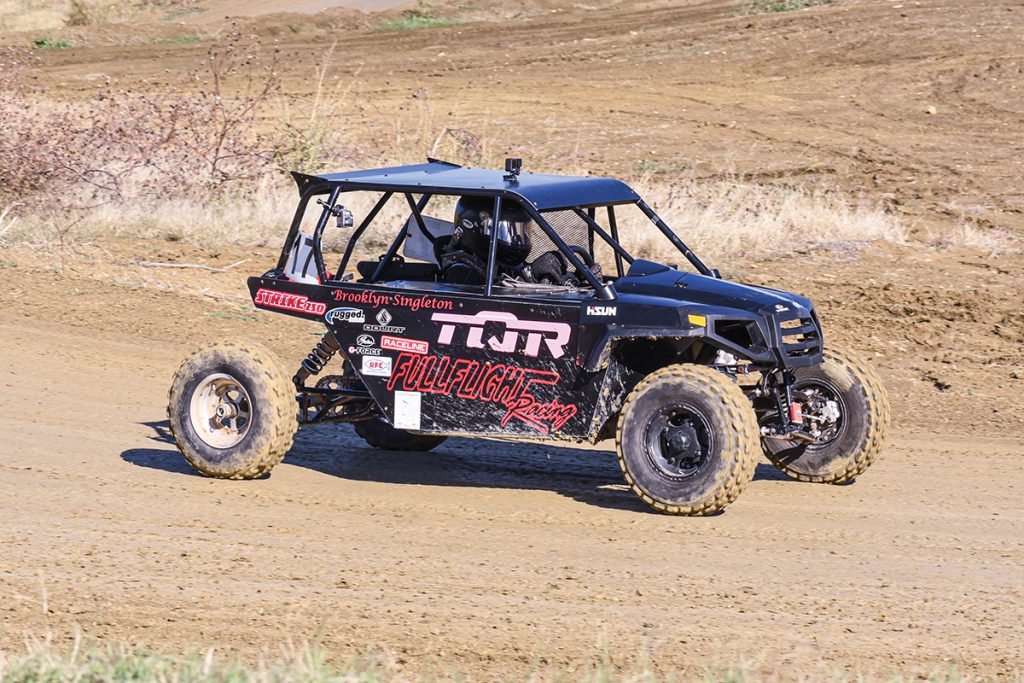 INSIDE THE MAO #1 250 MOD
TQR in Diamond, Missouri, built Brooklyn Singleton's Hisun Strike 250, which has 7 inches more wheelbase, a TIG-welded chromoly cage, swingarm stretch, and plus-6-inch A-arms by Full Flight out of Owasso, Oklahoma. Those put the width at 55 inches, and the YFZ450R shocks are used on all four corners. Full Flight's RZR 170 Racing arms are 4130 chromoly DOM tubing with extra gussets and supports, and they're camber and caster adjustable for $739. An adjustable front torsion bar by HBS fights body roll, and it's set on the softest of five settings. The shocks have adjustable compression and rebound damping, and the swingarm rear end is stretched for more travel and connected to a Hyper sprint-car racing axle. The build weighs 515 pounds, whereas Kennedy's #71 is 650 pounds. A rear strap limits travel, and the Hisun rear sprocket guard and brakes are removed.
John also went to the sprint car store for a 1.5:1 quick-steer rack, and Brooklyn races with 22×7-10 GBC XC-Master rears and 22×7-10 Wandas in front with Raceline aluminum wheels. Power is in the 20-horsepower range with Queen Racing engine mods, a high-compression piston and a Schoenfeld Competition exhaust. Clutching mods are by UTV Thing with Gates G-Force belts. The EFI throttle body is stock, but the intake is protected by a K&N air filter.
The radiator is relocated to where the passenger seat sat and ducted with a tin shroud, and Brooklyn uses a 3-gallon fuel cell with the OEM Hisun EFI pump. Brooklyn straps into a Kirkey racing seat with an aluminum back shield and a Crow harness. Father John spots for her with Rugged Radios. She uses a stock Hisun 250 steering wheel, and the front brakes have a Wilwood master cylinder for more power. The sisters race in RaceQuip fire suits and Zamp Racing helmets. Brooklyn's 250 Mod is a 2019, while Kennedy's Limited car is a 2020.
KENNEDY'S LIMITED HISUN 250
Kennedy finished second in 2021 MAO 170 Limited points, and her Strike 250 has stronger TQR A-arms and a stock-length swingarm, front torsion bar, chromoly cage, and YFZ450R shocks like Brooklyn's but with Outerwear Shockwear covers on the front. The #71 Strike also sports a sprint-car rear axle, but Kennedy's 250 has the OEM steering column and rack. She runs 22×7-10 Mass FX tires on DWT aluminum rims. Engine and clutch mods are the same on both Strikes, and both use Dynojet programmers and Sprocket Specialists gearing.
Kennedy straps into an Ultra-Shield racing seat with Crow harness, and she races with a JBC helmet. Her Strike has an OEM dash with speedometer, switches and steering wheel with horn button. Her doors and roof are thicker for more protection, and she runs the OEM center console and shifter. Her Strike also has the Hisun sprocket guard and rear brake caliper removed, along with the passenger seat. She runs the OEM air box and filter as well.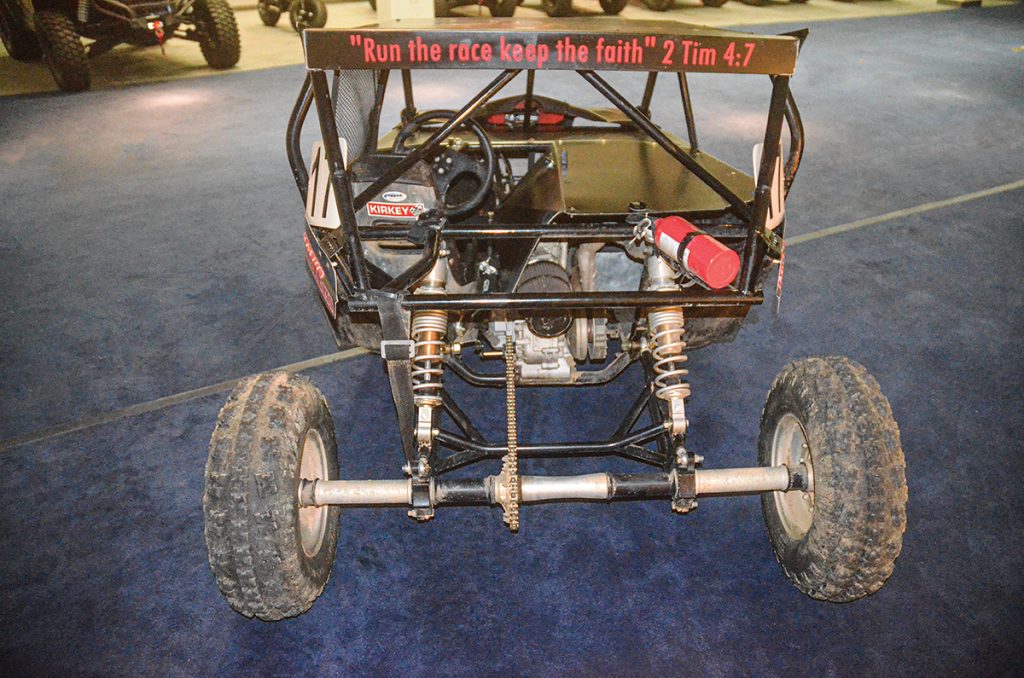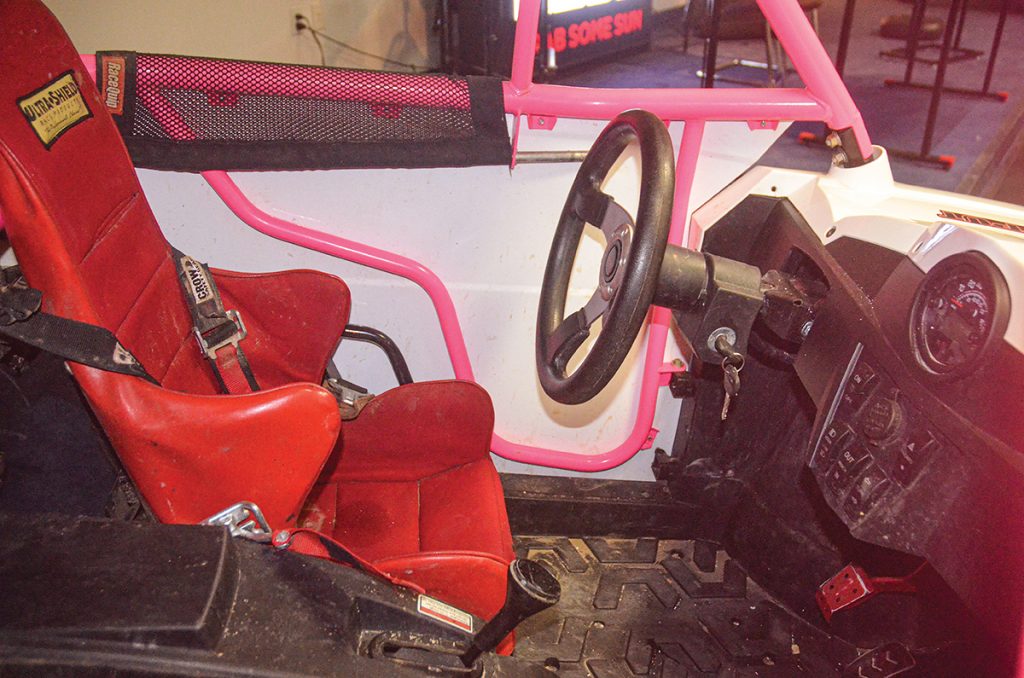 STARTING THE 2022 SEASON
At the first MidAmerica Outdoors short-course-series round, Kennedy took her Limited Strike to the 170 9-12 Limited win with a 1-1 score, and she went 1-3 in 250 Mod for third overall. Brooklyn and Kennedy are both in school but miss a lot of days racing, and both are in a band. Brooklyn started out in an e-Barbie Jeep and was soon building ramps. Kennedy loves pit bikes and did 24 races in 2020. Brooklyn was 8 and Kennedy was 6 when they first started racing, and Brooklyn won the Jay Off-Road Racing events her first year. She broke her hand afterwards and has had many surgeries, but she returned to go 1-2-1 in her last three seasons. She went 2-6 for sixth overall at the first Women's NA 1000 round. 
CONTACTS:
TQR ATV/UTV Service & Accessories
17962 Elder Road
Diamond, MO 64840
(417) 439-0684
Full Flight Racing
Owasso, OK
www.fullflightracing.com
Queen Racing
2543 Kiowa Blvd.
Lake Havasu City, AZ 86403
(928) 302-0986
www.queenracing.com
See UTV Action's full test on the Hisun Strike 250 here: HISUN STRIKE 250 EFI – UTV Action Magazine