UTV COMMUNICATION SYSTEMS
BUYER'S GUIDE
— The right communication system can make a huge difference in the overall enjoyment factor of a day out on the trail. With UTV popularity soaring, a handful of communication companies have been constantly improving the way passengers can communicate with each other, as well as other vehicles out on the trail. For the most part, there are two different main types of systems that are ideal for the UTV crowd. The first are self-contained, helmet-mounted, Bluetooth-type systems that were first developed for the street motorcycle crowd and then optimized for off-road. The second-style setup has been borrowed from the off-road racing world and includes a full-on intercom system that integrates with a two-way radio and sometimes even your phone or MP3 player. We put together this guide to showcase the latest and greatest options for both. Either style will definitely improve your UTV riding experience, and you won't believe you ever went without one in the past.
BLUETOOTH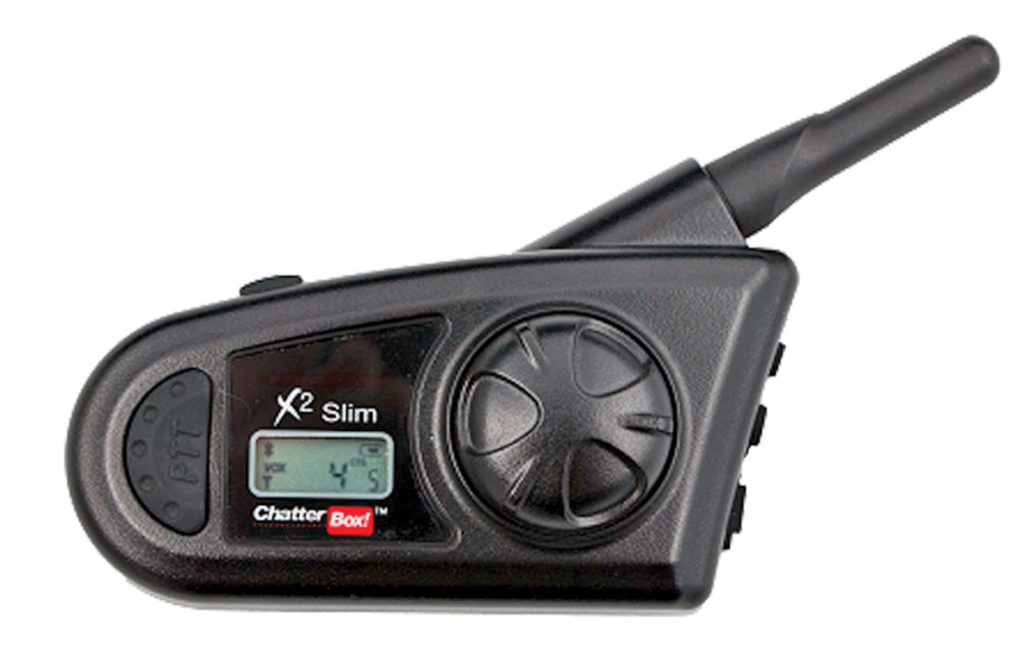 CHATTERBOX X2-SLIM
The X2-Slim is Chatterbox's latest in GMRS and FRS communication, with an extended range covering a two- to five-mile radius. The X2-Slim uses Bluetooth technology to pair with smartphones and GPS devices. The simplified "slim" model operates with a single control knob and allows for clear communication with Hi-Fidelity speakers and noise-suppressing microphones. Lithium-ion battery gives it 8–10 hours of use and 20 hours of standby time. The X2-Slim also allows for an unlimited number of users to communicate freely.
Price: $249
Contact: www.chatterboxusa.com  or 714-880-6100
SCALA RIDER FREECOM 4
The FreeCom 4 provides perfect communication and Bluetooth connectivity between groups of two, three or four people. Share your riding experience with your passenger with the same music streaming, as well as GPS directions and cell-phone-calling ability. The FreeCom is both waterproof and dustproof and suitable for any riding condition you may throw at it. FreeComm 4 has a working range of 1.2 kilometers.
Price: $389 for a pre-paired 2-pack
Contact: www.cardosystems.com
SENA 20S MOTORCYCLE BLUETOOTH COMM SYSTEM
The Sena 20S can connect you with up to eight of your riding buddies at distances up to 1.2 miles through its Group Intercom. The Sena 20S claims to be the ideal universal Bluetooth headset, as its Universal Intercom protocol can be used to connect with all Sena and non-Sena Bluetooth headsets on the market.
The 20S delivers HD-quality audio that claims to be clear, precise and comfortable in every condition. Sena's Advanced Noise Control ensures ambient noise doesn't interfere with incoming and outgoing audio. Bluetooth 4.1 technology, high-quality stereo Bluetooth speakers and dual-module architecture create a smooth, crisp and responsive user experience. The 20S also has the ability for Audio Multitasking, allowing for intercom conversation while simultaneously listening to music, FM radio or GPS. Sena 20S will simply overlay these features instead of interrupting like they have in the past.
Price: $299 single
Contact: www.sena.com
SENA 30K
The latest and greatest, Sena 30K features Sena Mesh Intercom technology. A simple button push gets you Public mode for instant connection to anyone else with a 30K within a mile range. In Private mode, the Sena 30K can connect with up to 16 riders at a range of 1.2 miles. The Sena 30K is designed with an innovative dual antenna and separate processors for both Bluetooth and Mesh Intercom technology. The 30K can connect to each processor simultaneously with the new multi-operation feature.
Features Sena's RideConnected app and a new quick-charge option. With quick charge, just 20 minutes of charge time will give you five hours of Bluetooth intercom or three hours of Mesh Intercom. Complete control of the 30K is also available via voice command for true hands-free operation while you're on the trail.
Price: $579, dual pack; $329, single
Contact: www.sena.com
UClear DIGITAL AMP PRO BLUETOOTH AUDIO KIT
The AMP Pro is UClear Digital's premium Bluetooth helmet and audio communication system, and it is paired with what they claim to be the industry's best Pulse Pro speakers. The system features hi-fi studio sound that delivers a warm, natural voice, powerful bass and clean highs. The AMP Pro can connect an unlimited number of riders with their full-duplex intercom technology. Based on UClear's popular HBC series, yet upgraded with faster and more powerful processing. Advanced Bluetooth 4.2 connectivity provides a stronger and more stable connection. The AMP Pro also features UClear's exclusive noise-canceling ABF technology, which eliminates virtually all background noise for crystal-clear conversation.
Price: $499, dual kit
Contact: www.ucleardigital.com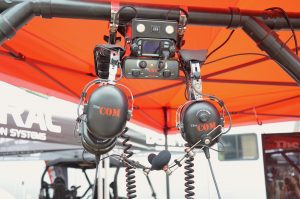 SIMPLE & AFFORDABLE UTV COMMS
  We have discovered the most affordable and simple to install intercom/car to car communication system yet. The Com, is a compact pairing of an intercom and VHF radio that clamps quickly (without tools) anywhere on your UTV's roll bar. The builder of "The Com" claims its 25 watt radio will reach up to 10 miles. The unit comes pre programed with every used and available race frequency as well as FRS channels so you can talk to basic walkie talkies or listen to chatter from top race teams.  Separately, the components include a intercom system for two or four seats, the 25 Watt VHF radio, FM Radio, a control switch box that also has two cabin lights and a rear facing cargo light, push to talk button, an antenna, audio in and out ports and two helmet hooks. After clamping the unit to your roll bar, all you have to do is run a pair of wires to your 12-Volt supply or better yet straight to the battery. The entire package including two helmet wiring kits sells for $749 ($849 w/headsets) only at www.utvcom.com or by calling (208) 779-2891. In dash kits are also available for RZR's only.
Price: $749 ($849 w/headsets)
Contact: www.utvcom.com
PCI RACE RADIO CALIFORNIA ULTIMATE 2 & 4
The California Ultimate is a complete in-car and two-way radio communication system that includes race-quality helmet-wiring kits. The heart of this system is PCI's 4 Link
Pro Elite intercom using 12-foot mil-spec-
connection helmet cables. The Pro Elite can even be upgraded for Bluetooth connectivity with your phone and digital signal processing that eliminates any and all road/engine noise.
The CA Ultimate system also includes and integrates with a 50-watt Icom F5021 mobile radio with an alphanumeric display. Two
push-to-talk buttons, an antenna and high-quality, race-proven helmet-wiring kits are
also included in the kit.
Price: $1199, 2 place; $1449, 4 place
Contact: www.pciraceradios.com

PCI ICOM F1000 handheld RADIO
An improvement on the original motorcycle, ATV and chase-crew handheld radio, the 5-watt, handheld F1000 features a lithium-ion battery with 14 hours of battery life. This convenient handheld radio announces the channel number as you scroll through the dial and can easily be adapted to most intercom systems or headsets.
Price: $249
Contact: www.pciracradios.com
PCI TRAX CALIFORNIA ULTIMATE 2 & 4
Look no further if the best option in communications with amazing, "true stereo" sound quality is what you're looking for. The all-new PCI proprietary five-pin cables allow for left and right separate audio channels delivering sound quality never experienced before in an intercom system. The Trax kits also include larger, louder, full-range, high-fidelity speakers.
Price: $1569, 2 place; $1839, 4 place
Contact: www.pciraceradios.com
RUGGED RADIOS RRP660 & 660 PLUS 2 & 4 PLACE INTERCOM/RADIO KITS
Rugged offers complete all-in-one kits with their tried-and-true RRP660 intercom or the new 660 Plus intercom with Bluetooth connectivity. The RRP660 offers seamless in-car communication between two to four passengers and can be expanded to up to 8 places. The Rugged kits include their Alpha Audio helmet kits and a radio. Rugged offers kits with a 25-watt RM-25R with up to a 10-mile range or a 60-watt RM-60 VHF radio that can reach out closer to 20–30 miles.
Price: $980 for 2 Place 660 25-watt or $1256 for 2 Place 660 25-watt. $1351 for 4 Place 660 60 watt or $1670 for 4 Place 660 Plus
Contact: www.ruggedradios.com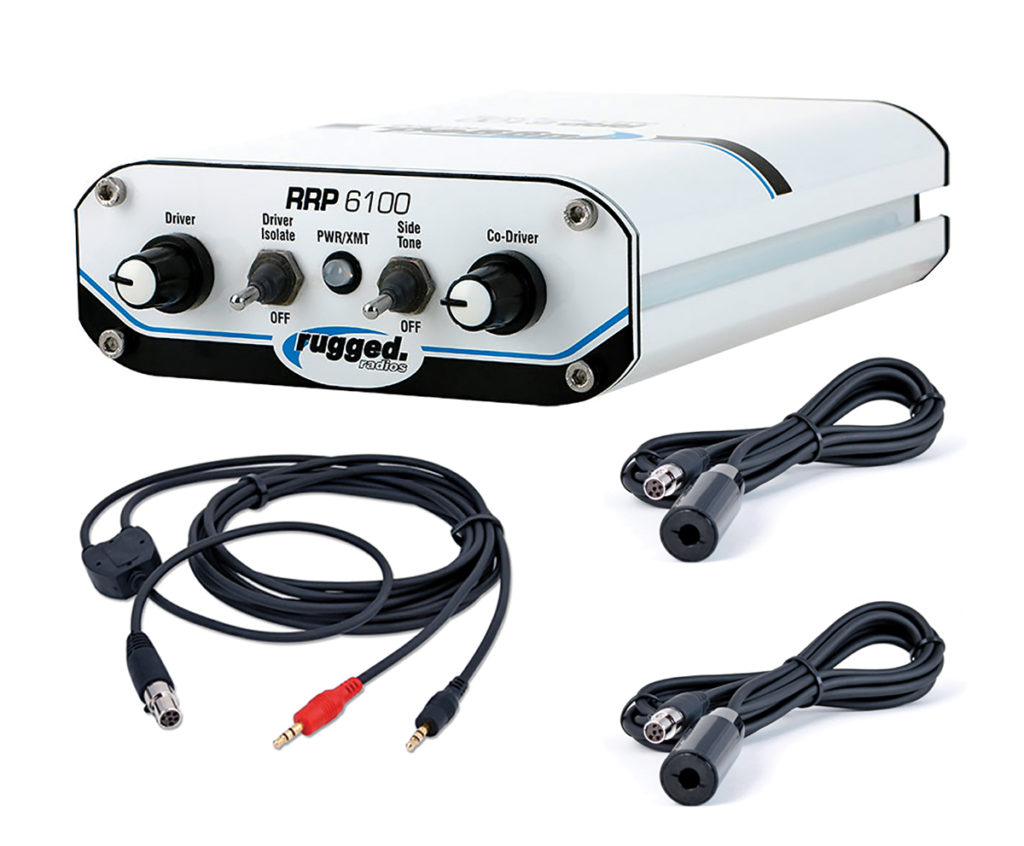 RACE READY 2-PERSON KITS W/ 50-, 100- & 110-WATT RADIOS
Racers will appreciate Rugged Radios' race-ready two-person communication kits with an upgraded RRP6100 intercom and your choice of a 50-, 100- or 110-watt radios. The key difference in the 6100 is the ability to turn the side tone on or off, dramatically reducing background noise. It also allows for Driver Isolate mode and features dual-volume controls for the driver and co-driver.
Price: $1126, 50-watt; $1489, 100-watt; $3254, 110-watt Remote Face
Contact: www.ruggedradios.com
OFF-ROAD SHORT COURSE SYSTEM W/RUGGED RH-5R DUAL BAND RADIOS
An entry-level kit that includes everything you need for spotter/driver communication for short-course racing. The 5-watt Rugged Radios Short Course System works in both UHF and VHF, and the kit includes two handheld radios, earbuds, mic and PTT for the driver, and behind-the-head headset for the crew. The entire kit can be had for $660, or the full professional kit with upgraded radios can bump it upwards of 1000 bucks.
Price: $660, RH-5R; $962,   RH5X-V2; $1244, EVX-531
Contact: www.ruggedradios.com