CAN-AM X3 DRAG RACER
It seems like every month we have to choose which stock, project or really tricked-out Can-Am Maverick X3 we are going to feature in the magazine. After laying eyes on Midwest Performance & Power's Can-Am X3 drag racer and then hearing it fire up, the choice was easy this time around. It's only fitting that Iowa-based builder and shop owner Jason Smith made a street racer out of the flagship Can-Am, as street racing is big in the area.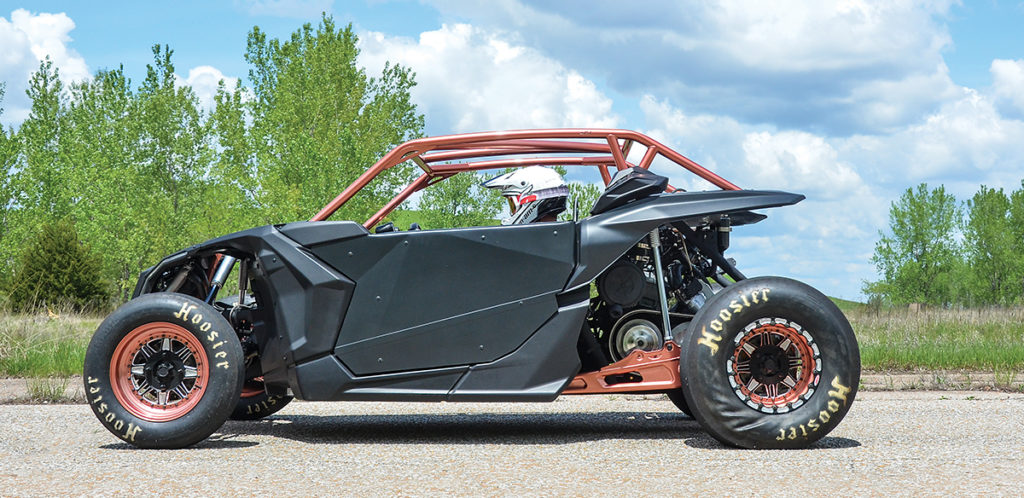 MIDWEST PERFORMANCE
Smith, who is also a Can-Am, Yamaha and Honda dealer, has dabbled in all kinds of machines in the past. From mud-running Mavericks to screaming vintage Honda two-stroke ATVs, all of them have enjoyed meticulous attention to detail, and this X3 is no different. While selling utility machines to the local corn and soybean farmers is the dealership's bread and butter, it's builds like the Can-Am X3 drag racer that keep the town talking and customers from around the world spending their dough.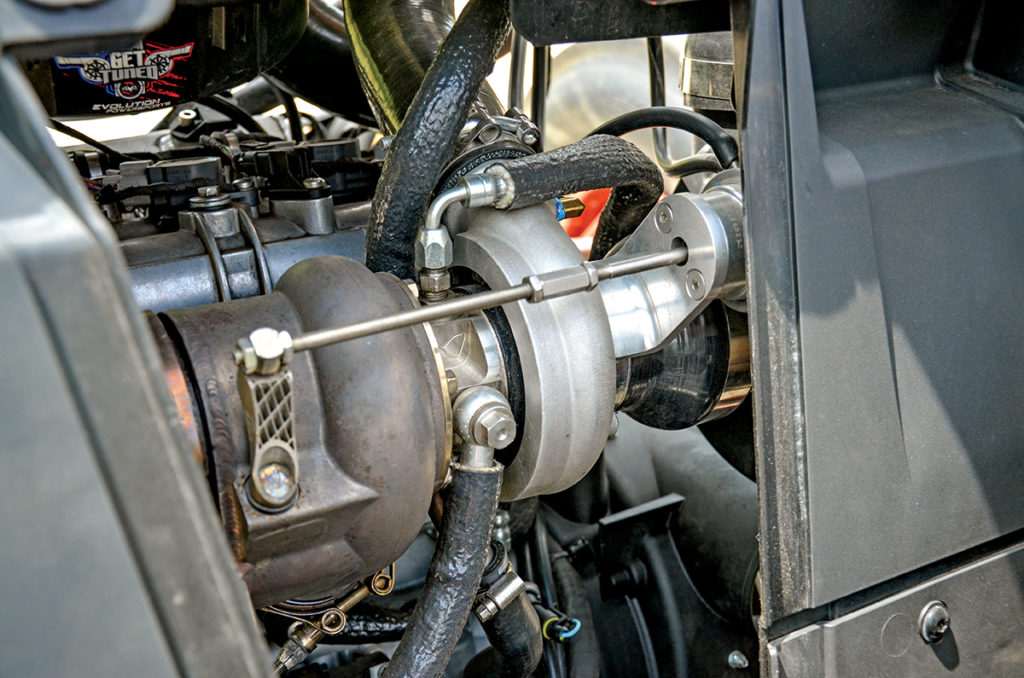 EXOTIC X3
To start the build, the machine was basically stripped. The chassis, motor and transmission were sent up to Evolution Powersports (EVP) in Somerset, Wisconsin. The stock A-arms and trailing arms went to powdercoat for a copper treatment. S3 Powersports built a cage, and it was coated to match. S3 also supplied the billet radius rods. The stock shocks were replaced with lighter and much stiffer air shocks from Marvin Shaw. The shocks basically are there to hold the car off the ground. They provide only a little damping, as their pressures were set at 800 psi. Additionally, the sway bar and mounts were removed. Up front, an S3 shock tower brace was added.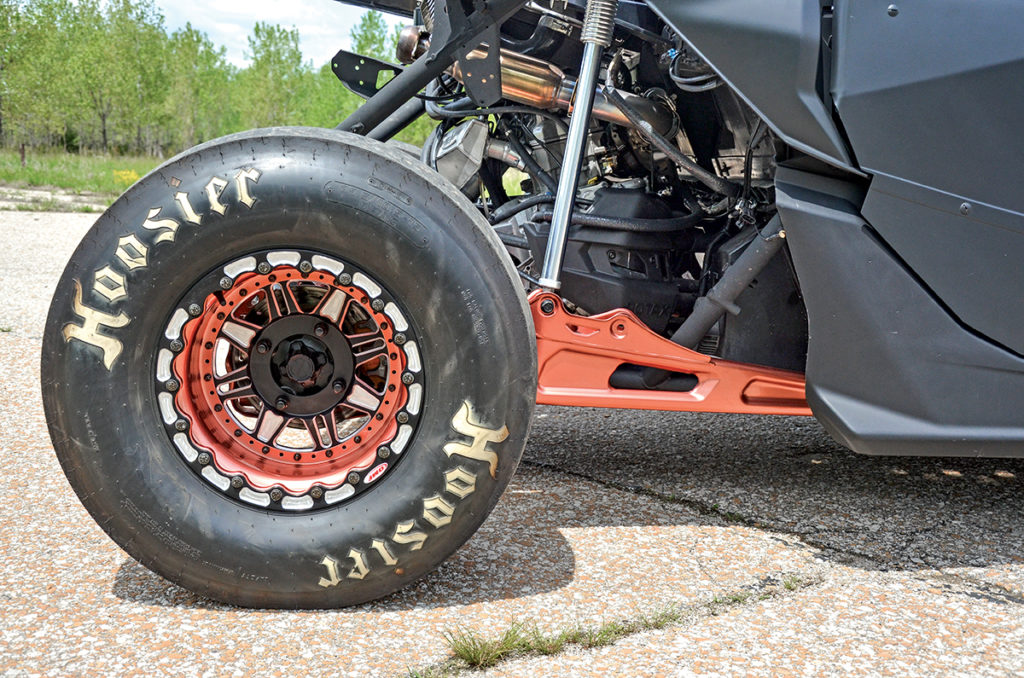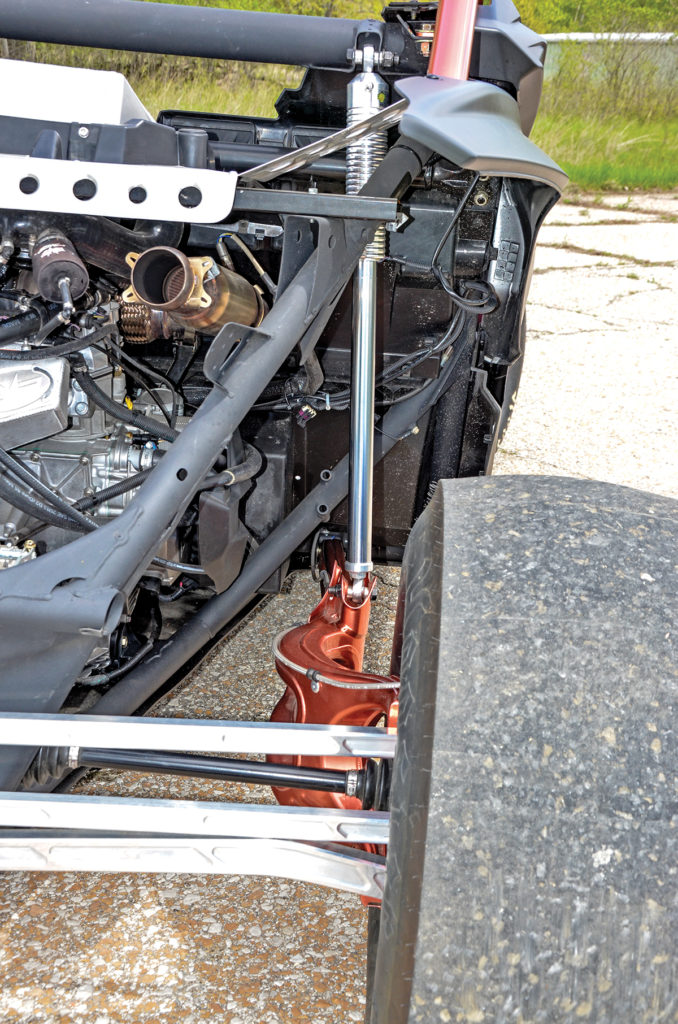 MODIFIED MOTOR
As we noted in last month's test of the 195-horsepower X3 Turbo RR, https://utvactionmag.com/2020-x3-xrs-turbo-rr/  we didn't think any sane person would need more power out of the triple-cylinder Rotax engine. Well, we were wrong. Jason Smith plans to use this X3 to set an ET record for a UTV under 9 seconds in the 1/4 mile, so he needs more power.
Evolution Powersports tore down the Rotax Ace engine and gave it the full Stage 7 package for an incredible 437 horsepower. At the bottom end, Carrillo connecting rods were outfitted, then high-compression, CP-forged, big-bore, 950cc pistons; head porting; cams; gaskets; and head studs were installed.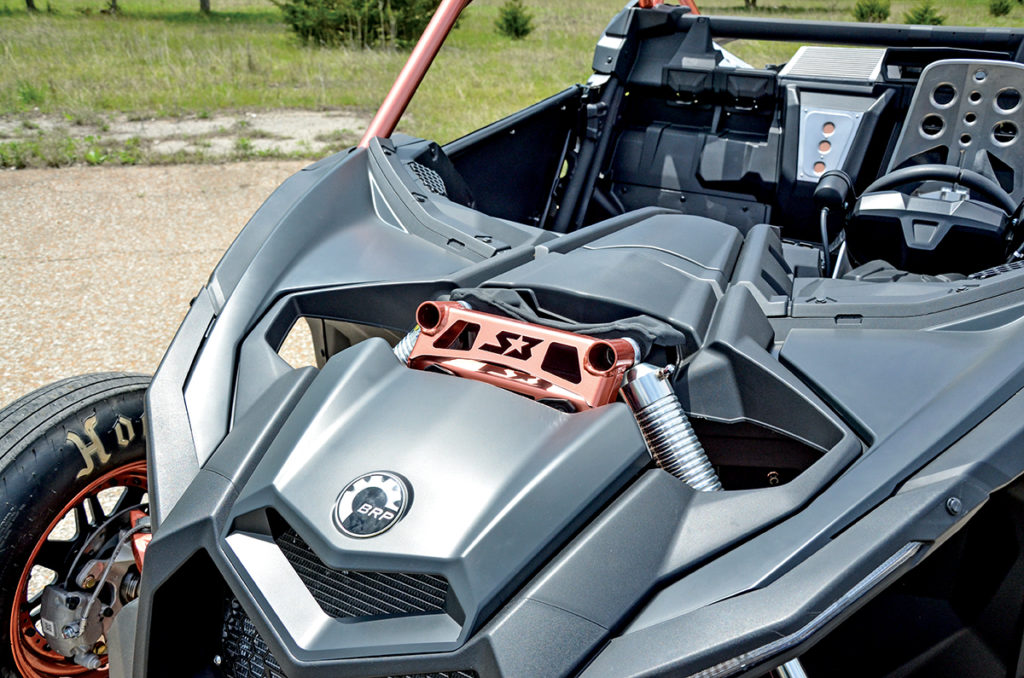 On the intake side, a Torrent billet intake plenum will take the high-boost pressures and flow more air than stock through the special race-spec intercooler. The stock charge tube was swapped out with a stronger silicone unit.
To take advantage of all that EVP power, low gear was removed, freeing up some rotating mass as part of its high-speed upgrade. STM was commissioned to build special primary and secondary clutches that would allow the belt to ride higher and achieve the quick 100+ mph speeds he was looking for. After assembly, a tranny seal protector was added, as well as a clutch housing liner that keeps the brittle plastic housing from shattering when you break a belt. In all, about $20,000 was spent on the motor and transmission. And to keep track of it all, EVP has a gauge mount that will display the aftermarket air-fuel ratio and Boost pressures up on the stock steering column.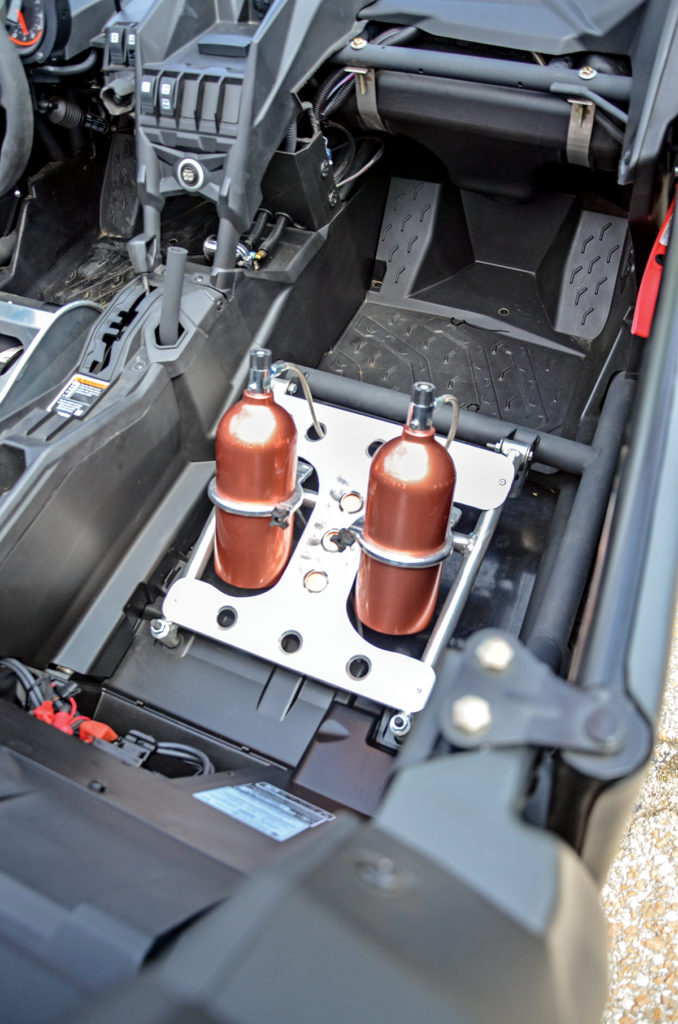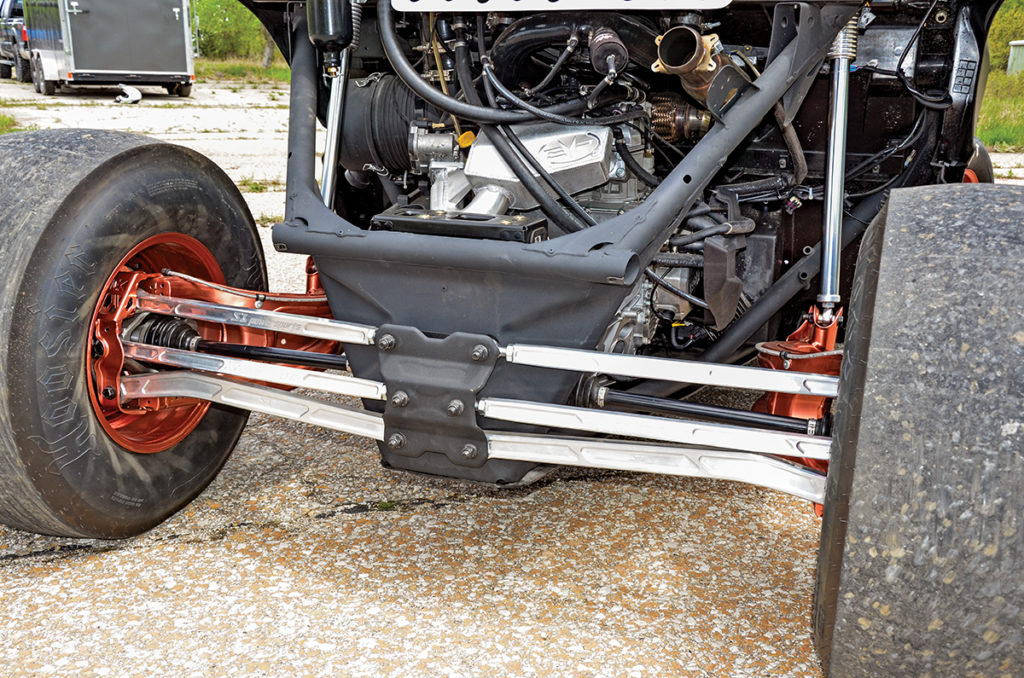 COCKPIT
The driver's compartment had some components that were as trick as the rest of the build. The pilot sits in an aluminum shell of a seat made by Blitz, and two nitrous bottles take up the passenger side. The nitrous plumbing is installed but has not been deployed yet. RaceQuip harnesses replaced the stock 3-point harnesses, and custom aluminum doors enclosed the cabin.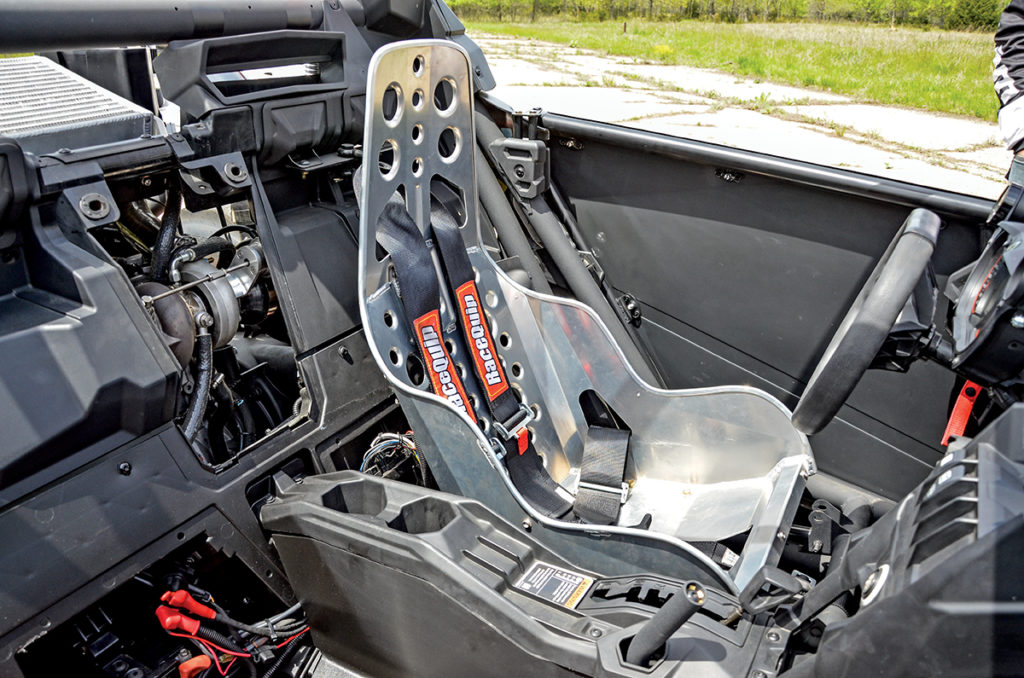 Underneath, OMF made a set of custom, 15×10, three-piece beadlocks for the rear, and 15x4s went in front. Hoosier 29.5 slicks provide the traction, while 27-inch Hoosiers steer the car. By the way, the front diff, driveshaft and axles were all removed to save weight.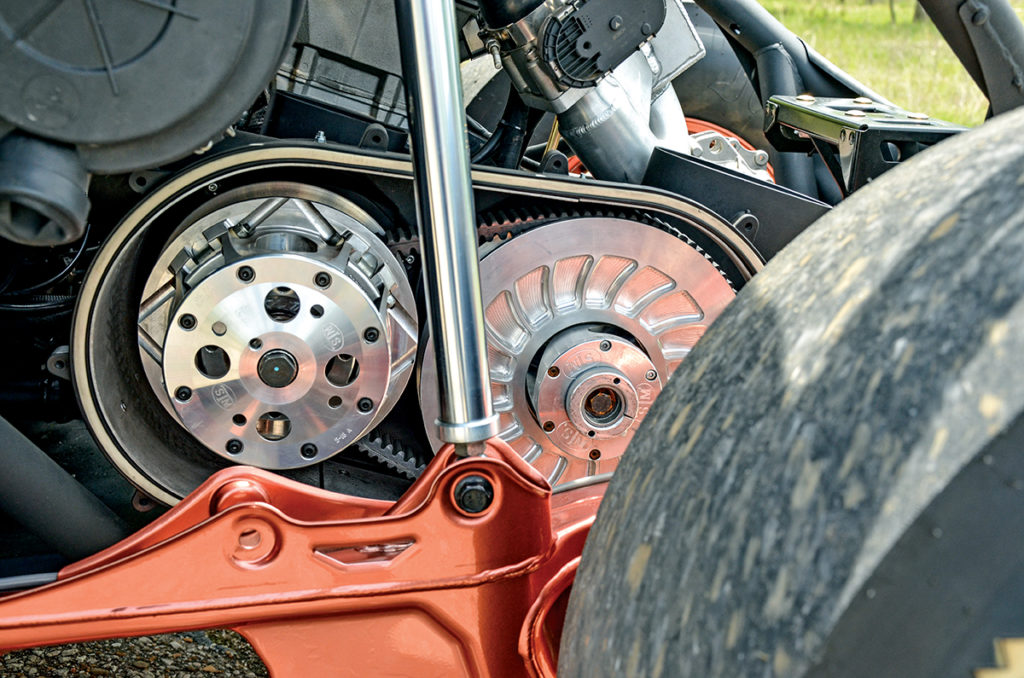 TO BE CONTINUED…
As of press time, Jason is still working with the local track promoter to let him take a run and set an official time. We saw him burn a tank of gas, making about 15 runs for our camera, and we are confident he can do it. Hopefully, by the time you read this, we will be able to share the news of him achieving his goal. We will certainly add the info to this article when it is available online: www.utvactionmag.com. If you can't wait that long and want to start a wild build like this, you can get the X3 from Midwest Performance & Power https://midwesthonda.com/ in Keokuk, Iowa, and Jason will deliver it to Evolution Powersports up in Wisconsin himself. Give him a call at (319) 524-2604. If you already have an X3, schedule your build at EVP by calling (970) 680-3861 and tell them you want the X3 Stage 7 engine seen in UTV Action magazine.