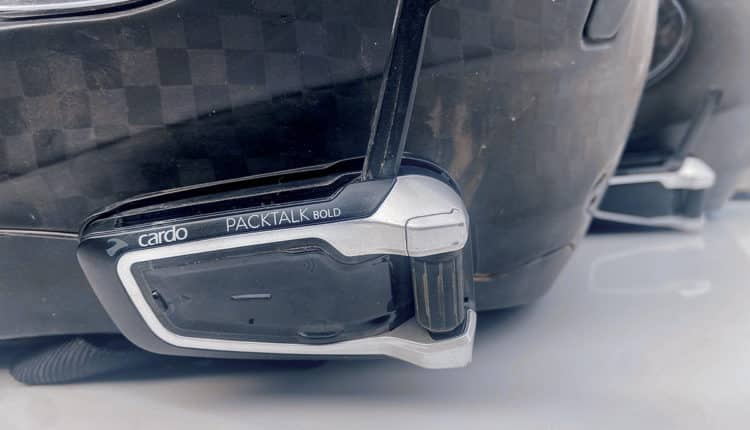 CARDO PACKTALK BOLD WIRELESS HELMET COMMS
The beauty of a UTV is being able to share the off-road experience with others. Unfortunately, talking to your passengers while moving requires a lot of yelling, unless you opt for some sort of in-car communication setup. The simplest and most cost-effective way to go about that is by using Bluetooth helmet communicators adopted from the two-wheel world.
WHAT IT IS:
The Cardo Packtalk Bold is a communication device that allows you to talk to one or more passengers in your vehicle or other riders on different machines riding in close proximity. The system gets installed directly into each user's helmet and does not take up any real estate on the dash or require wiring to the car's electrical system like a Rugged or PCI unit does. 
FEATURES:
Each Packtalk is installed into the rider's helmet by clipping a small plate cradle on the shell of the helmet, then running a speaker wire under the liner and into the ear sockets. Everything stays in place with supplied adhesive-backed Velcro. You can also use a dab of hot glue for extra adhesion. Depending on your helmet, you can choose a boom microphone for half, open-face or modular helmets, or a standard wired mic for full-face helmets. Each communicator pairs to others using Bluetooth and the latest DMC mesh technology, which is a step above normal Bluetooth. The latest Packtalk can be used hands-free once it's powered on. For example, voice commands can control functions like "connect to phone," "play music" or "volume up." All these functions can be controlled by pushing buttons as well. Even more features can be accessed through Cardo's smartphone app; however, we go off-roading to get away from our phones, so we haven't tried that feature yet.
PERFORMANCE:
We installed two Packtalk Bold communicators into a pair of Solid brand helmets. Installation was simple, and the recessed speaker pockets provided in the helmet's Styrofoam made it so we couldn't even feel the speakers in the helmet. If you have the need, Cardo supplies speaker risers to get both speakers closer to your ears. We used the wired microphone by cutting a small slit in the helmet's liner by the chin. This location worked perfectly.
When both riders were in our test UTV, they could hear each other perfectly. In the past, we have tested systems that yielded a lot of static at high speeds, especially when the helmet was turned to the side. The Cardo product provided crystal-clear audio, whether it came from a passenger or music streamed from a phone. To test range, we separated the riders into two different UTVs and went on a trail ride. Again, audio was clear until it wasn't. The connection was perfect up to a 1/2 mile away, then it cut out. Sometimes, with a clear view from car to car, we could be a full mile away and still communicate; however, if there was a small hill or trees between us, a 1/2 mile was the standard range. On the good side, the distance was just long enough that we could stay out of each other's dust.
VERDICT:
For driver-to-passenger and even close car-to-car communication, the Cargo Packtalk Bold worked perfectly. In the dunes and rock crawling, we never found the range limits between cars. Inside the car we like being able to speak to each other without screaming or having to slow down. If you don't like the expense of a wired system like you get from Rugged or PCI, the Packtalk Bold setup will get the conversation started among your riding group. Since we jump from car to car so often, using a Bluetooth setup like this is our number-one choice.
Cardo claims the Packtalk will sync up with other brands' Bluetooth helmet communicators, but we haven't tried that feature yet. By the time we put out a video on this product, we will let you know how that feature worked as well. See www.utvactionmag.com for that portion of the test. If the $600 price tag of the Packtalk Bold is still too steep, Cardo also has a system called Spirit that works great for driver-to-passenger communication only for $100 per unit. It operates using standard Bluetooth, so it won't "mesh" with other brands' systems, but it's a great lower-cost option.
CONTACT: www.cardosystems.com
RATING: ★★★★
PRICE: $339.95 (single), $599.95 (pair)