CFMoto is a massive Chinese ATV/UTV and motorcycle manufacturer that has been hard at it for more than 25 years. They operate out of an incredible 1.6 million square-foot facility with the capacity to manufacture 800,000 of their own engines a year. What sets them apart from the rest of the Chinese manufacturers is their focus towards incredible customer service and dealer network. In fact, in their relatively short existence, they've gone from a parts manufacturer to a true market-share contender in the powersports world. As for the CFMoto product line, it's come a long way in a short time too. A few years ago, if we had gotten an invite to come race test a CFMoto or any other Chinese UTV, we would have laughed it off. The new ZForce 800EX might be the exception, as we jumped at the chance and boarded a plane to go race one at the 12 Hours of La Tuque.
WHAT'S A CFMOTO ZFORCE 800EX?
The ZForce 800EX is CFMoto's latest UTV offering, with a 59-inch track width and an 800cc power plant. It's designed to fit the sport UTV market, but is more than capable in the field or on the farm with a Class II hitch and 1100-pound tow rating. The new ZForce's fuel-injected V-twin puts out an impressive 63 horsepower and 53 foot-pounds of torque. The ZForce also features a proven double A-arm suspension setup with 10 1/2 inches of travel and quality, fully adjustable shocks.
HOW DOES COST COMPARE?
The ZForce 800EX lists for $10,499, with the EPS model costing an extra $800. In looking for a direct competitor, Polaris' slightly smaller RZR 570 starts at $10,299 and the bigger and faster RZR S 900 costs $14,699. Yamaha's closest offering is the Wolverine R-Spec at $12,199, or the slightly less feature rich Wolverine at $10,999. A Wolverine R-Spec with EPS will set you back $13,199. Arctic Cat's well-equipped Wildcat Sport is $13,399, and the narrower Trail version can be had for $11,899.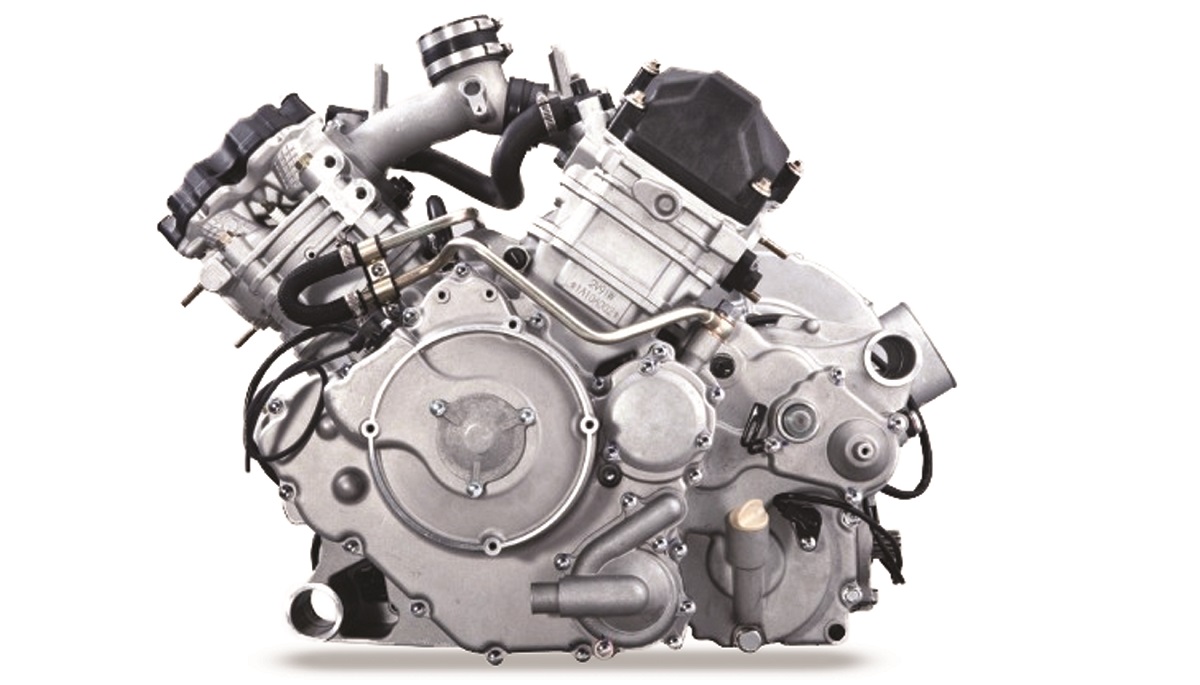 HOW IS THE ZFORCE POWER?
The ZForce 800EX runs pretty darn good. While the La Tuque racecourse consists entirely of deep, power robbing, riverbed-type sand, we were still able to see close to 50 mph in the longest straightaways. Coming out of a corner with a Maverick or XP 1000 made you feel a little inadequate, but you really got to remember that you're drag racing a completely different animal. It seemed slightly slower than the Wildcat Sports that were on course, but definitely faster than a Rhino or one of the new Wolverines. Thinking back, it felt really close in overall power to the original RZR/RZR S 800 models— maybe a little slower out of the hole but overall really close. Shifting the ZForce is pretty straightforward and simple; the shifter features a lockout button, but we noticed it would still shift without it activated.
WHAT ABOUT 4X4 DELIVERY?
With a few years of UTV racing under our belts, we have come to be very dependent on 4WD or AWD. With EPS, you rarely even notice it until you're in a situation where it's an asset. With our race machine being a non-EPS unit, there was some worry about stiffer or busier steering. After a few laps of testing, though, we realized that the steering was still plenty light, and it would be a huge advantage with the deep sand and even deeper ruts developing in the turns. The ZForce also has electronic diff-lock that is activated just like a Rhino/Viking or Wolverine; we had no use for it on the racecourse, but did play with it a little in the wooded practice area. Like most other diff-lock systems, it will pull you up or out of just about any situation, but steering is drastically affected, and you would definitely appreciate the optional EPS system.
HOW IS THE SUSPENSION?
The 800EX suspension was more than impressive. It's doesn't have a massive, desert-whoop-eating longtravel system, but it works. The ZForce ride is very predictable and stable. The 10.5 inches of travel is controlled by decent-quality piggyback shocks that feature compression, rebound and threaded preload adjustment. What's even more impressive than the available adjustments is that the stock settings and valving were really good. The ZForce eats big braking bumps with authority and isn't afraid to be wooded through a couple of deep whoop-dedos. The practice/tuning track had a handful of deep, sandy whoops, and if you stayed committed, the ZForce would surprise you by staying straight, level and in control. Overall, we were overly impressed with the suspension, overly impressed with the suspension, especially when comparing it to especially when comparing it to previous CFMoto models or previous CFMoto models or especially anything else especially anything else produced in China. produced in China.
WHAT ABOUT THE HANDLING?
Overall, the ZForce handles pretty well. The reasonably long-travel suspension doesn't provide too much body roll, and it turns pretty well. On hardpack, front-end push is slightly noticeable, but it really hooks up and turns in sand or anywhere else that it can get a little bite. Tracking through a rutted berm is also very predictable and wellmannered. Pretty much every turn in La Tuque was rutted after a few laps, and you could really lay the ZForce into it trustingly. Handling is probably close to that of a RZR 800 and base-model 570/900, but a little behind the RZR S.
IS IT A MUD MONSTER?
We didn't have any real mud to test in, but they did over-water the track, and it rained during one moto. As for deep mud action, it would be a guess, but the protection from fling-off was pretty good, especially as our unit was equipped with full Kimpex aluminum doors. The locking diff, decent horsepower and good tires will definitely be an asset in the mud, but that's all we could really say with certainty. It also comes equipped with a pretty nicelooking 3000-pound winch right from the factory.
HOW IS IT IN BIG BOULDERS?
The La Tuque course didn't have a single rock, other than the buried asphalt chunks that were surfacing in the infield U-turn. Twelve inches of ground clearance will undoubtedly be an asset in the rocks, as will the winch. Taking a look underneath, the skid plates looked a little skimpy, and they didn't really cover the rear differential. This might pose a durability issue worth looking at if rock crawling is your thing.
HOW ABOUT THE BRAKES?
The brakes were decent. It features a four-wheel hydraulic disc brake system like most of the competition, but the pedal feel was not really what we would call consistent or over-the-top good. Don't get us wrong, they will definitely stop it in a hurry, and holding on an incline wasn't an issue, either; they just didn't have that great feel that some of the other UTVs really leave you with. It also has the ability of four-wheel engine braking when picking down technical hills in 4WD where the RZR 570 only has rear-wheel braking.
HOW ABOUT TRAIL COMFORT?
The completely digital dash is nice, and there are rocker switches to operate all the ZForce functions, like turn signals, hazards and the horn. High-/low-beam headlights are also a cool standard feature for a UTV. The stock seat belts are similar to a four-point race harness, but they completely missed the boat on proper mounting location. By design, a four point harness needs to run over your shoulders and then down through the seat to a mounting point. The CFMoto belts mount 3 inches above your shoulders, leaving the occupant floating around, truly unrestrained. In an effort to feel safe while motoing the ZForce at race speed, we realized the upper mount could be unbolted and then run under the lower bar and remounted. This essentially lowered the pull point by about 4 inches, which is much more effective, but could still use another 2–3 inches. The harness is also not padded and could chafe your neck if not perfectly adjusted. The adjustable driver's seat is comfortable and will accommodate anyone from 5 to 6 1/2 feet tall, but it requires removal and tools for adjustment.
HOW DID IT HOLD UP? WHAT ABOUT DURABILITY?
Getting on a plane to fly three thousand miles across the continent and race definitely brought up the issue of durability. While we were a little worried at first, the ZForce proved overall to be pretty reliable. I did have a front differential failure in my first moto, and one other racer experienced the same thing, but overall, they were really good. With eight stock CFMotos entered in the two-hour, extreme-terrain race, the two differentials were the only real failures. One of the three highly modified units threw a belt, but it was making a lot more horsepower than the stocker, and it had larger, heavier, more aggressive tires.
WHAT'S OUR FINAL ANSWER?
The 800EX is definitely a solid option if you're looking for a fun, reliable, allaround sport UTV. The ZForce makes even more sense when you factor in price. At just over $10K, it is one heck of a deal. What makes the CFMoto deal more attractive is its practically unheard of five-year warranty. If that is not a good faith move towards great customer service, we don't know what is.
SPECS
CFMOTO ZFORCE 800EX 4X4
ENGINE/TRANSMISSION
Engine type Liquid-cooled, 4-valve, 4-stroke,
8-valve head V-Twin
Displacement ………………………………………… 800cc
Bore x stroke ………………………….. 91mm x 61.5mm
Compression ratio …………………………………..10.3:1
Lubrication system ……………………………..Wet sump
Additional cooling …………………………………..Auto fan
Induction ………………………. Electronic Delphi injection
Starting/back-up …………………………….. Electric/none
Starting procedure …………………..Turn ignition switch
Air filter type …………………………………… Paper pleat
Access ……………………………..Tool-less, undo 6 clips
Transmission CV-TECH variable L/H/N/R/P
(lock shift system)
Reverse procedure………… Move range selector to "R"
Drive system Selectable 2WD/4WD w/ electronic
diff-lock
Final drives …………………………………………….Shafts
DIMENSIONS/CAPACITIES/WEIGHTS
Fuel capacity ……………………………………….. 7.1 gal.
Wheelbase ………………………………………………80.3"
Overall length/width/height …………….. 113"/59.5"/72"
Ground clearance …………………………………………12"
Claimed dry weight ……………………………… 1,166 lb.
Bed weight limit…………………………………….. 220 lb.
Hitch mount ……………………………………………… Yes
Towing limit………………………………………… 1100 lb.
ROLLING CHASSIS
Frame …………………………………… Steel square tube
Suspension/wheel travel:
Front …..Dual A-arm w/ comp. & rebound & prel.-adj.
piggyback shocks/10.63"
Rear ……. IRS A-arm w/ comp. & rebound & prel.-adj.
shocks/10.24"
Tires:
Front ……………………… AT26x9-14 CST Abuzz 6-ply
Rear …………………….. AT26x11-14 CST Abuzz 6-ply
Wheels:
Front ……………………………….Black aluminum 14×7
Rear ………………………………. .Black aluminum 14×8
ELECTRICAL
DC outlet ……………………………………………..Console
Lighting:
Front ………………………………………… LED headlights
Rear ……………Dual brake/tail lights, hazards, flashers
DETAILS
Instrumentation ……………..Speedo/odo/trip/hour/rpm/
fuel/gear/clock/2WD-4WD, temp/low voltage &
oil level indicator lights
Colors …… Painted Red/White or Painted Black/White
Minimum recommended operator age ………………..16
Suggested retail price ……………………………$10,499
Contact ………. www.cfmoto-us.com, (888) 823-6686