CHANCE HAUGEN'S RZR PRO XP
CHANCE HAUGEN'S RZR PRO XP
Multi-time short-course winner and champion Chance Haugen has a new ride for the 2021 Great American Short-Course (GAS) series—a Polaris RZR Turbo Pro XP. The #718 Pro XP won both GAS Pro Production Turbo mains over the series' opening weekend, and Chance was also the top qualifier at round two. In this article, we'll see what makes Chance Haugen's RZR Pro XP so fast. Haugen also had his Champ Off-Road Tour RZR Turbo S on hand in California for some testing and tuning.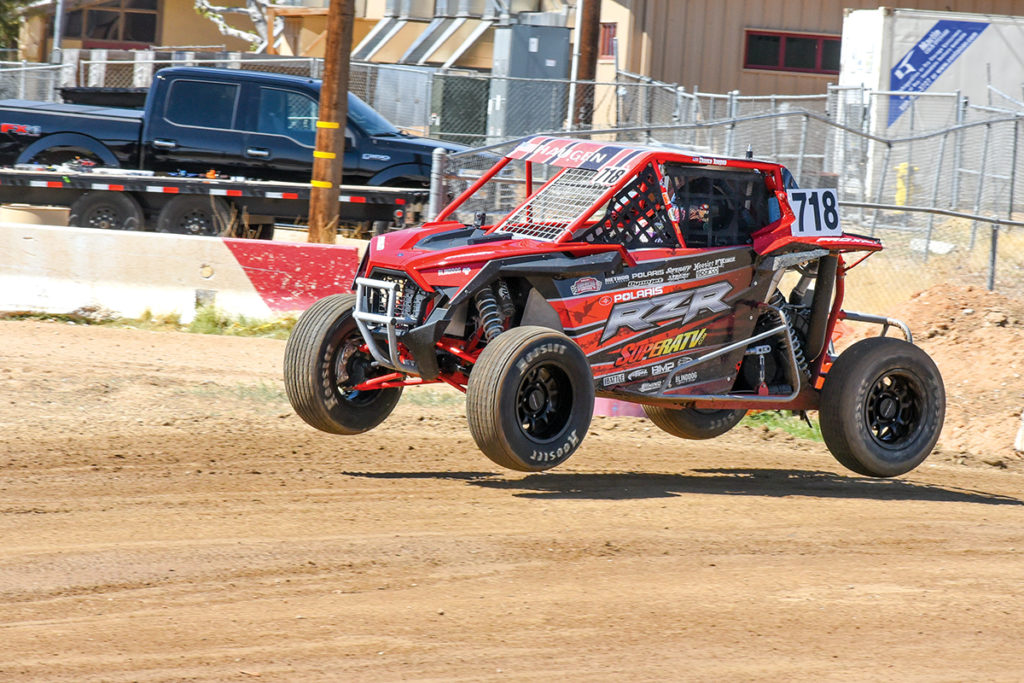 The Haugens, Joe Chapman and Jimmy Owens at Xtreme Machine & Fabrication (XMF) did the race build, including the cage, roof, doors and bodywork. XMF has long been fielding trophy kart teams and has Mia Chapman as a team member. With GAS having strict engine-modification rules like LOORRS did, engines are spec and sealed. Only intake, exhaust and ECU modifications are allowed, and the Haugens built the straight-pipe exhaust and intake. A Dynojet ECU Power Commander is tuned by Owens. The Haugens also fabricated the Turbo intercooler and bed delete, and the relocated radiator is a large Ron Davis Racing (www.rondavisradiators.com, [800] 842-5166) cooler with two large fans. They also fabricated the front and rear push-bumpers and nerf bars.
Chance blew a front diff in practice and had to change it out. He runs an HCR Racing bolt-in front RZR diff gusset kit ($249.99), which ties the upper and lower A-arm mounts together for strength.
RZR PRO XP PERFORMANCE
Chance runs the stock Pro XP front and rear suspension arms for a 64-inch width, but he runs the Fox Factory 2.5 Podium RC2 shocks with separate HSC and LSC adjusters with remote-reservoir rears and piggyback fronts ($4795). Fox Factory RC2 shocks are position-sensitive units with bottom-out control (BOC) that stiffens the last 25 percent of travel. The 2.5-inch 6061-T6 aluminum shock bodies have Kashima coating, anodized high-flow pistons on 5/8-inch hardened shafts, aerospace-grade PTFE-lined spherical bearings, and 3-inch dual-rate Eibach springs. Rebound is also adjustable, and Chance has Jimmy Owens do the shock tuning.
Haugen sharpens the handling with Shock Therapy's front and rear Pro XP torsion bars. Shock Therapy's adjustable rear torsion bar is $549.95 and comes with adjustable links featuring Teflon-lined rod ends. Chance ran the links in the middle position for the first GAS rounds. Chance Haugen's RZR Pro XP also runs ST's billet sway-bar clamps ($39.95) with Zerk grease fittings and polyurethane bushings. ST's front torsion bar is $349.95 with adjustable links, and the two torsion bars fight body roll, especially with Chance running ride height at the lower limit.
SHORT-COURSE QUICKNESS
Haugen runs SuperATV's EZ-Steer EPS unit ($799.95) with steering shaft and mounting hardware, and a Hess Quick-Steer 2:1 unit ($650) with quick-release steering-wheel hub ($90) and dished steering wheel ($90). Steering is further quickened and armed with SuperATV's heavy-duty tie-rod kit ($149.95) with swaged 4142 chromoly alloy rods and hardened 4130 mono-ball rod ends with bigger 14mm threads. Pins are also heavy duty with cotter pins on both ends. Haugen also runs Turbo S front rotors and three-piston calipers to decrease stopping distance and help turn-in. He also runs SuperATV hex-aluminum radius rods ($379.95) constructed of 7075 billet. They're 32mm instead of the 19mm OEM rods.
SuperATV Rhino 2.0 axles ($229.95 each) drive all four wheels; they're 4mm larger than stock and made of 4340 chromoly with stronger CV joints. Rhino prop shafts are $689.95 with a billet bearing carrier and 4140 chromoly thick-wall construction. Chance switched to Method Race wheels for 2021 and runs 15×7 409 Bead Grips ($182.52 each), which are made of A356 aluminum with T6 heat treatment and have Bead Grip technology for running low pressures without the weight of beadlocks. They're rated at 1600 pounds each. He runs Hoosier UTV/SxS 27.5×8-15 race tires with the M500 compound.
STEP INTO HAUGEN'S OFFICE
The entire Pro XP cabin is gutted of the new dash and all bodywork; the door skins, center console, race dash and fire wall are completely custom. The doors are attached with Dzus fasteners for getting to the safety fuel cell, fuel pump and filter. Haugen sits securely in a Sparco seat with aluminum neck restraint and Simpson safety harness. He sits behind a CNC-machined mesh screen and in front of a wire-mesh radiator screen. On top of the Hess quickener rides an Aim Solo 2 DL, a motorsports GPS/Glonass lap timer with a 2000-track database. It goes into learning mode when it realizes it's at a track not in the database. Connected to the ECU, the Solo records rpm and has a configurable backlight and side LEDs to tell you what the last lap gap was from your best lap. It also uses Wi-Fi to download to a PC and can mate with a SmartyCam HD camera. The Aim Solo 2 DL is $767.75.
All frame, cage and tilt-wheel tubes are covered with foam within reach of Chance, and he runs Rugged hand-held radios for instructions from race control and input from his spotter. He also runs Rugged's carbon-fiber-bodied MAC3.2 two-person air-pumper system ($381) with a MAC-X expandable hose to keep cool and collected in the heat of battle.
See UTV Action's report on the 2022 RZR Pro XP here: 2022 POLARIS RZR PRO XP | UTV Action Magazine
CONTACTS:
SuperATV
(855) 743-3427
https://www.superatv.com/contact-us
Xtreme Machine & Fabrication
515 Carefree Hwy, P.O. Box 570
Phoenix, AZ 85085
(623) 465-9689
Shock Therapy
23011 N. 16th Lane
Phoenix, AZ 85027
(623) 217-4959
Hess Motorsports
202 N. Mesquite St.
Muenster, TX 76252
(940) 759-4597
Rugged Radios
951 E. Grand Ave.
Arroyo Grande, CA93420
(805) 541-1696
(888) 541-7223