MACHINE TEST: Cub Cadet Challenger 700
As we announced in the June issue, Cub Cadet has a new line of UTVs, the Challenger series, which includes 500 and 700 EFI-fed 4x4s. Cub Cadet showcased the new Challengers at Moab's Rally on the Rocks and tested their durability and capability on increasingly difficult trails. We jumped at the chance to try out the Challenger 700 at Picture Frame/Tip-Toe Behind the Rocks. Here's what we found out about the Challenger 700. Challenger Crew models are coming too.
WHAT'S A CUB CADET CHALLENGER?
Cub Cadet is best known for its lawn and garden tractors, mowers and Volunteer 4×2 and 4×4 utility vehicles. It's based in Cleveland, Ohio. The Challenger 500 and 700 lineups were introduced this spring to provide a better platform for playing after the work day is done. They feature improved performance, versatility and standard features like a 3500-pound winch with a remote, hard roof, quick-release two-piece windshield, turn signals, horn, halogen headlights, mirrors, over-fenders, alloy wheels with 26-inch Carlisle Trail Wolf tires and digital instrument display. Challengers are assembled in America and built for durability with dual-row wheel bearings, heavy-duty frames and reinforcements, Delphi EFI, four-wheel disc brakes, and a one-year powertrain and limited vehicle warranty.
HOW DOES PRICE COMPARE?
The Cub Cadet Challenger 700 is $9499 and the 500 is $8499. The Bennche Bighorn 700 is $9199. It's $10,049 for the EPS 700 and $10,299 for the 700 HD. Hisun's Sector 750 is $9999, and the Massimo Knight 700 is $10,495. The Yamaha Wolverine 700 is $10,999, and the Wolverine R-Spec is $12,199 without EPS and $13,199– $13,799 with it. Arctic Cat's Wildcat Sport 700 starts at $13,399.
HOW FAST IS THE CHALLENGER 700?
Faster than the old Rhino 700, which was limited to 41–42 mph. We got the Challenger past that mark in low range, and high range is good for around 60 mph, which is faster than the new Yamaha Wolverine. The 686cc single takes a while to get up to those speeds, but it's sporty from turn to turn. The intake tract is very short, compared to the Rhino 700's, as the Cub Cadet draws air directly from the center console's air scoop.
WHAT ABOUT THE CVT/4X4 DELIVERY?
It's very good. The continuously variable transmission has a smooth engagement for delicate rock-crawling situations, and it spools up quickly when you hammer the throttle. Selecting a range is fairly smooth, and low range has plenty of top speed for various trail obstacles. The 2WD/4WD/ diff-lock switch is a two-button affair like the Rhino's, so it's positive, and servos quickly engage 4WD and lock up the front differential.
HOW DOES IT HANDLE?
Very well, although steering gets progressively heavier in 4WD and difflock, since the Challenger doesn't sport EPS. It turns in well and corners predictably in 2WD on loose surfaces, but like most 4x4s, it'll push in 4WD. More experienced drivers can pull the parking brake lever with the release button pushed to drift out the rear end (in 2WD), as it has a fifth brake on the rear transfer case. The wheelbase is shorter than many UTVs, and it has front and rear torsion bars, so it's good on tight trails.
HOW GOOD IS THE SUSPENSION?
It's rudimentary. With 7.3 inches of travel on all four corners, the Challenger isn't a whoop-gobbler, but the ride on trail junk is decent. Our demo unit had the five-position preload adjusters set on the second softest setting, but the ride on the rock ripples of TipToe BTR was pretty stiff. Slamming bigger rock faces and jumping it in the dunes would bottom the suspension, but the heavy-duty suspension arms and spherical bearings took a beating without drama.
HOW IS IT IN ROCKS AND MUD?
Excellent in rocks and good in mud. Ground clearance and articulation are good, despite two torsion bars, and the locking diff makes it sure-footed for rock crawling. The over-fenders, doors, roof and windscreen provide a lot of splash protection in water crossings and mud. The CVT is ducted high in the frame, but the engine air intake is lower than most at hip level.
HOW STRONG ARE THE BRAKES?
Very strong. Four-wheel hydraulic calipers squeeze large, perforated rotors, and they're backed up by the fifth hand brake. It's confidence inspiring on steep rock faces.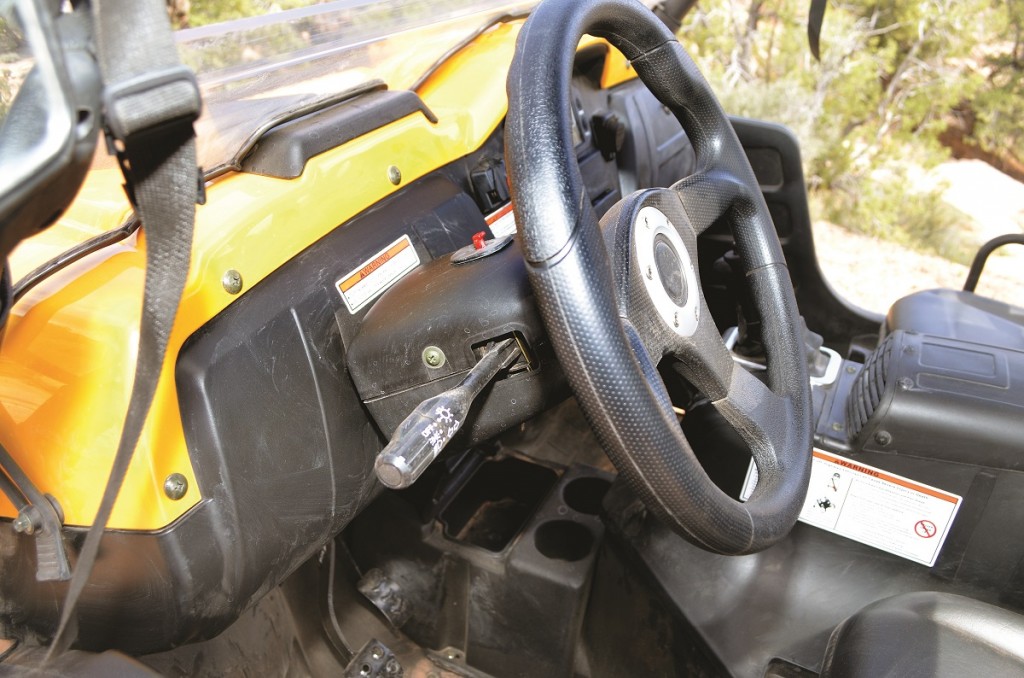 WHAT ABOUT CREATURE COMFORTS?
They're excellent. The steering wheel is well-shaped and comfortable, and the controls are really nice. The seats don't have pockets to speak of, but side rails and shoulder belts hold you in place. Doors and nets provide security, and the Challenger has a large glovebox with a latching lid. The winch has a remote for easy use, and the turn signals, side mirrors, horn and windshield make it easier to get it street-legalized. The two cup holders and cubbyhole in front of the engine console are nice too.
WHAT'S OUR FINAL ANSWER?
At $9499, the Cub Cadet Challenger 700 EFI has a lot of standard features and performance bang-for-the-buck, and it's a lot of fun to wheel after the work day is done. Cub Cadet's dealer network and the one-year warranty make it very attractive to those who would otherwise buy a used Rhino. We came away from a long day in the saddle impressed with the Challenger and its engine, driveline, handling, creature comforts, brakes, overall performance and durability as we punished the 700 mercilessly.
SPECS
2015 CUB CADET CHALLENGER 700 EFI 4X4
ENGINE/TRANSMISSION
Engine type . Liquid/oil-cooled, 4-valve, SOHC 4-stroke
Displacement ………………………………………..686cc
Bore x stroke ………………………….102.0 x 84.0mm
Compression ratio ………………………………….. 9.2:1
Lubrication system …………………………… Wet sump
Additional cooling ………………………………… Auto fan
Induction …………………….. Delphi EFI w/ 41mm body
Starting/back-up …………………………….Electric/none
Starting procedure …………………….. Turn ignition key
Choke location …………………………………………..N/A
Air filter:
Type ………………………………………Washable foam
Access …………… Tool-less, lift hood and undo clips
Transmission ………………..Dual-range CVT w/reverse
Reverse procedure………. Move range selector to "R"
Drive system Selectable 2WD/4WD w/diff-lock & EBS
Final drives ………………………………………….. Shafts
DIMENSIONS/CAPACITIES/WEIGHTS
Fuel capacity ……………………………………….7.6 gal.
Wheelbase ……………………………………………. 75.2"
Overall length/width/height ………..118"/65.75"/76.3"
Ground clearance ………………………………………. 11"
Claimed wet weight ……………………………..1,197 lb.
Bed weight limit…………………………………….350 lb.
Hitch ……………………………………………..2" receiver
Towing limit………………………………………..1200 lb.
ROLLING CHASSIS
Frame …………………………………… Steel round tube
Suspension/wheel travel:
Front Dual A-arms w/prel./comp./reb. adj. shocks/7.3"
Rear Dual A-arms w/prel./comp./reb. adj. shocks/7.3"
Brakes/actuation:
Front …….Twin-piston hydraulic discs/left-side pedal
Rear ………Two-piston hydraulic discs/left-side pedal
Parking ………………………………….. Lever on console
Tires:
Front ……………………………….. AT26x9-12 Carlisle
Rear ………………………………. AT26x10-12 Carlisle
ELECTRICAL
DC outlet …………………………………………… Console
Lighting:
Front ……………………………….. 2 Halogen headlights
Rear ………………………. Dual 21/5W brake/tail lights
DETAILS
Instrumentation Fuel sight gauge, 4WD indicator lights
Colors …………………………… Yellow, Vista G2 Camo
Minimum recommended operator age ……………… 16
Suggested retail price ……………………………. $9499
Contact ………. www.cubcadet.com, (877) 428-2349