— Testing the GYTR version in the dunes —
For 2019, we did something different with our new model-year test of Yamaha's YXZ1000R by driving it in three different environments. We started the year off with a test in tight East Coast woods to feel changes to the gearing, tire size and radiator relocation. You can read that test at www.utvactionmag.com. Next, we brought the 2019 Yamaha YXZ1000R SS out west to the desert to test the new suspension settings, tire durability, brakes and top speed. You can read that test at www.utvactionmag.com. Finally, we were able to bring the Yamaha YXZ1000R SS to the Glamis sand dunes and test it with paddles and a GYTR Turbo kit.
HOW'S THE POWER?
The changes Yamaha made to the drivetrain helped the power output, even in stock trim. Primarily, first gear was lowered so takeoffs weren't so challenging. No longer do you have to rev the engine past 7500 rpm to get the machine rolling like you did with the first production models in the sand. Now, just roll on the throttle and the machine takes off without any chugging or lugging. The normally aspirated 999cc, three-cylinder powerplant is still exciting to drive around the sand. It's racy and makes a sound that no CVT transmission can give you. The paddle shift model still shifts quicker than lightning. All you have to do is think if you need to shift—your brain sends a pulse to a right or left finger tip and you're shifting. There is no noticeable lag when shifting up or down. You can shift either direction without even taking your foot off the wide-open throttle. It makes riding up or down dunes way more exciting than when driving a CVT-equipped car.
When you compare the turbo-equipped YXZ to a stocker, it's pretty easy to see the 60-percent power gain. From takeoff, the difference is not huge but noticeable. Once you get around 5000 rpm, you can feel it pushing the car forward fast. The sweet spot is between 6000 and 9000 rpm. Here, you can pick a gear and go with it. There is plenty of low-end torque, so you can reduce shifting if you want and just power up dunes or hold it around huge bowls. Again, the great thing about the YXZ is that you can hold the throttle wide open without worrying about a belt failure. Especially in the dunes, the experience is about giving your machine full power and yourself a thrill ride. While the stock Yamaha engine can get you around the dunes, the GYTR turbo provides the thrills a true dune addict deserves.
HOW ARE THE TIRES?
For the first time, Yamaha is offering sand tires in its accessory lineup. It's not that the YXZ needs a paddle tire; the market demands it. If you go to the dunes often, you either appreciate the flotation a paddle tire gives when cruising the dunes or the hook up the ribs provide on takeoff. Yamaha test drivers recommend a 28-inch tall EFX Sand Slinger for a normally aspirated car and 29-inch-tall slingers for cars running a turbo. Each tire package comes on a wider KMC XD Addict wheel that is available with or without beadlocks. Both tire choices were spot-on and didn't affect the gearing or steering in a negative way at all. The tire/wheel package widened the car about 6 inches overall, adding to the cool new look of the 2019 YXZ1000R. Performance-wise, the car acts about the same in the dunes, so if you are a fan of paddles, they work. If you don't want to bother changing your tires just for a dune trip, the stock tires work great as well. In fact, the eight-ply Maxxis puts on this tire makes it the strongest Big Horn in its line. In our testing, the paddle only had a small advantage. So, Polaris owners, remember: Yamaha uses a Polaris 4/156 bolt pattern, so this tire or tire/wheel package will fit your ride, too.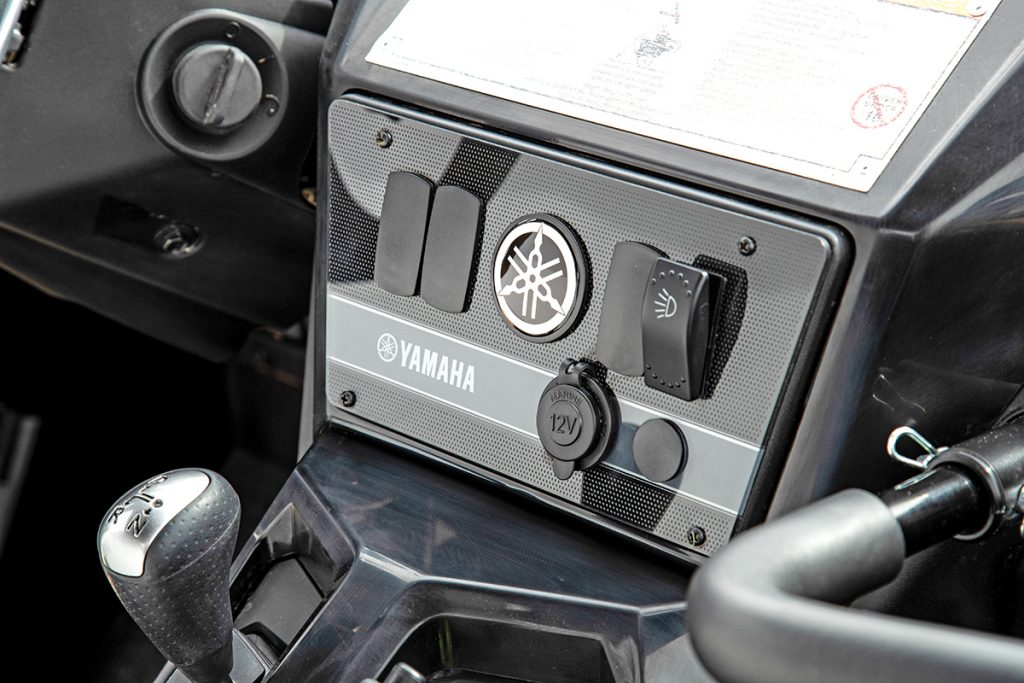 HOW'S THE SUSPENSION?
Yamaha delivers all YXZ1000Rs with high-end suspension. They now feature upgraded Fox shocks with two springs with different rates that go into action through the stroke and crossovers to set them up for any terrain. High- and low-speed compression clickers, as well as rebound settings, can be tweaked by using the tools found in the tool kit. Fox has great tutorials on how to properly tune its shocks www.utv
actionmag.com. The YXZ pretty much floats over rough dune chop. No matter where you are in the powerband and how the car is squatting, you barely notice ruts and carved lines when you cross over them. There is no chatter when accelerating, and the Maxxis Big Horns hook up nearly as well as paddle tires. The larger 29-inch size helps keep the front or rear end from dragging under the loads of a big G-out. Now you can slam hard transitions with more speed than ever. In this environment, you can still abuse the YXZ harder than any other SxS and not worry about radius rods bending or A-arms folding, as we have seen far too often on other brand's machines.
HOW'S THE COCKPIT?
One of Yamaha's major improvements to the 2019 YXZ was relocating the radiator. For East Coast guys this was huge in terms of cleaning it or keeping it from packing full of mud that might be roosted from a car in front of them. The same thing goes for the WORCS, MX and desert racers out west. By moving the radiator to the rear of the car, Yamaha was able to dramatically cut down on the amount of heat in the cockpit. There is no longer a pair of hot-water lines running in the center driveshaft tunnel. Plus, hot air passing through the radiator doesn't make its way to the riders through the floorboard anymore. Hard driving in the dunes was the perfect way to test this. Our test took place on an over 80-degree day at Glamis, and that's about as warm of a day as dune riders typically experience. Even after revving the YXZ hard across the dunes, heat was a non-issue. We were expecting to still feel some heat coming from the gearbox, which is between the seats, but we didn't.
HOW'S THE FRAME?
Yamaha's roof support has a new look for 2019. Up top, it has a flatter profile, which looks better with or without a top. Tops only come standard on the white SS SE version. The top bar has been raised over an inch, so getting in and out of the 2019 car is noticeably easier.
Out back, the radiator now takes up a good portion of the cargo area, but there is still room for a cooler, and Yamaha's spare tire carrier still fits. Moving the radiator to the rear has left more room up front to install a second battery if you are one of those guys who likes to add extra juice-robbing accessories, such as lights and sound systems.
FINAL THOUGHTS?
After driving the improved YXZ1000R SS in all three types of terrain with stock tires, paddles and the GYTR Turbo kit, we are convinced it is the most driver-active, thrilling UTV you can get behind the wheel of. The manual-shift five-speed transmission gives the driver control over his off-road experience that no other UTV has (before the Honda Talon). The YXZ still gives the driver the ability to shift through steering-shaft-mounted paddles or, even better, a sequential stick shift. Plus, there is no CVT belt to break. Enjoy!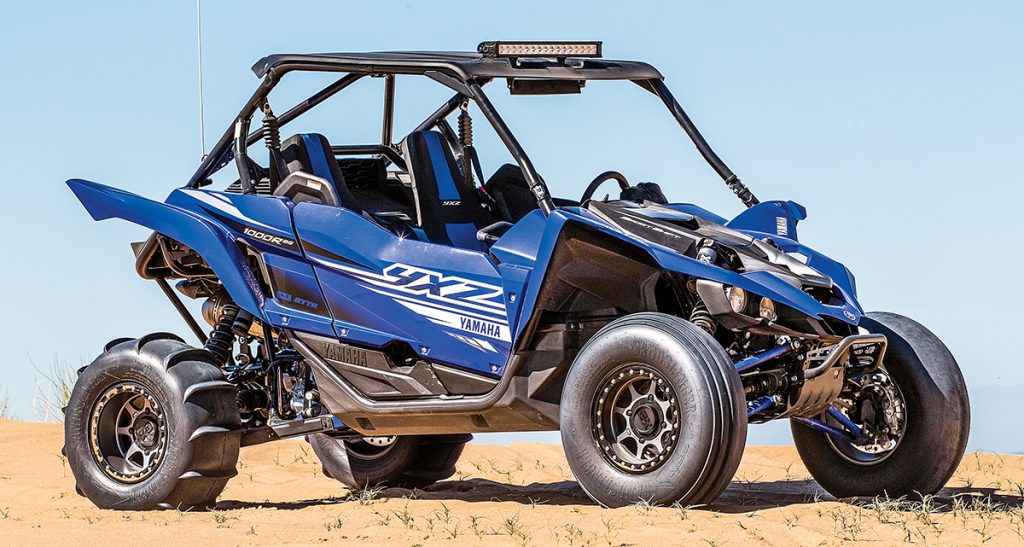 SPECS:
2019 YAMAHA YXZ1000R SS
ENGINE/TRANSMISSION
Engine type Liquid-cooled, triple-cylinder, normally 
aspirated, four-stroke
Displacement 999cc
Bore x stroke 80 x 66.2mm (x3)
Compression ratio 11.3:1
Lubrication system Dry sump
Additional cooling Auto fan
Induction 41mm EFI (x3)
Starting/back-up Electric/none  
Starting procedure Turn ignition switch w/brake on
Air filter:
  Type 2 stage, foam/paper pleat
  Access Under cargo tray behind driver
Transmission Five speed manual shifting w/ stick or 
paddles 
Reverse procedure Brake on, move range selector "R"
Drive system Selectable 2WD/4WD w/ manual 
diff-lock and EPS
Final drives Shafts
DIMENSIONS/CAPACITIES/WEIGHTS
Fuel capacity 9 gal.
Wheelbase 90.6"
Overall length/width/height 123.9"/64"/68.9"
Ground clearance 13.2"
Claimed wet weight 1563 lb.
Bed weight limit 299 lb.
Hitch No
Towing limit N/A
ROLLING CHASSIS
Frame Steel round tube
Suspension/wheel travel:
  Front Dual A-arm w/ prel./comp & reb.-adj. shocks/ 
16.2"
Rear IRS  3-link trailing arms w/prel./comp & reb.-adj. 
shocks/17"
Brakes/actuation:
  Front Hydraulic discs/left-side pedal
  Rear Hydraulic discs/left-side pedal 
Parking Lever on console..Lever on console
Tires:
  Front 29×9-14
  Rear 29×11-14
ELECTRICAL
DC outlet Console
Lighting:
  Front 4 LED headlights
  Rear LED brake/taillights
DETAILS
Instrumentation Digital/analog Speed/odo/trip/hour/
rpm/fuel/gear/clock/2WD-4WD/diff-lock
Colors White, Grey, Metallic Blue 
Minimum recommended operator age 16
Suggested retail price $20,599–$21,799
Contact www.yamaha-motor.com