EVERYTHING you NEED to know about the Can-Am X3 A-Z, PART 3 (I-M)
Not only is the engineering and design on the all-new Maverick X3 line next-level, Can-Am has partnered with LoneStar Racing and Baja Designs for race-ready accessories. Can-Am held the press introduction in Mexico with a two-day Baja ride covering much of the SCORE Tecate Baja 500 course. But Can-Am also has accessories for dune enthusiasts who want the most out of their X3s. Check out these duners with accessory Lit Whips ($249.99) and Dune Bumpers ($299.99-$349.99).
IGNITION INNOVATIONS
* Maverick X3s have a toggle on the dash for Sport or Eco Ignition maps.
* Maverick X3s also have Iridium spark plugs, for more efficient combustion in the ACE heads, and longer life.
* Induction is via a Can-Am Turbo unit placed directly behind the seats and a 46mm EFI throttle body.
* Can-Am's Intelligent Throttle Control (ITC) eliminates throttle cables, and a potentiometer sends electrical signals to the EFI throttle body.
* Instrumentation is a combination analog/digital panel that tilts with the steering wheel and has large analog needles for speed and revs. Digital odometer, trip, and hour meters, fuel-level bars, Sport/Eco mode, seat belt, 2WD/4WD indicator, clock auto-shut-off and diagnostic icons are programmable.
* An Integrated front bumper protects body-woe and the large radiator.
* Industry-leading travel is now the Maverick X3 X rs with 22-inch front and 24-inch rear travel; that title was formerly held by the Arctic Cat Wildcat 1000X.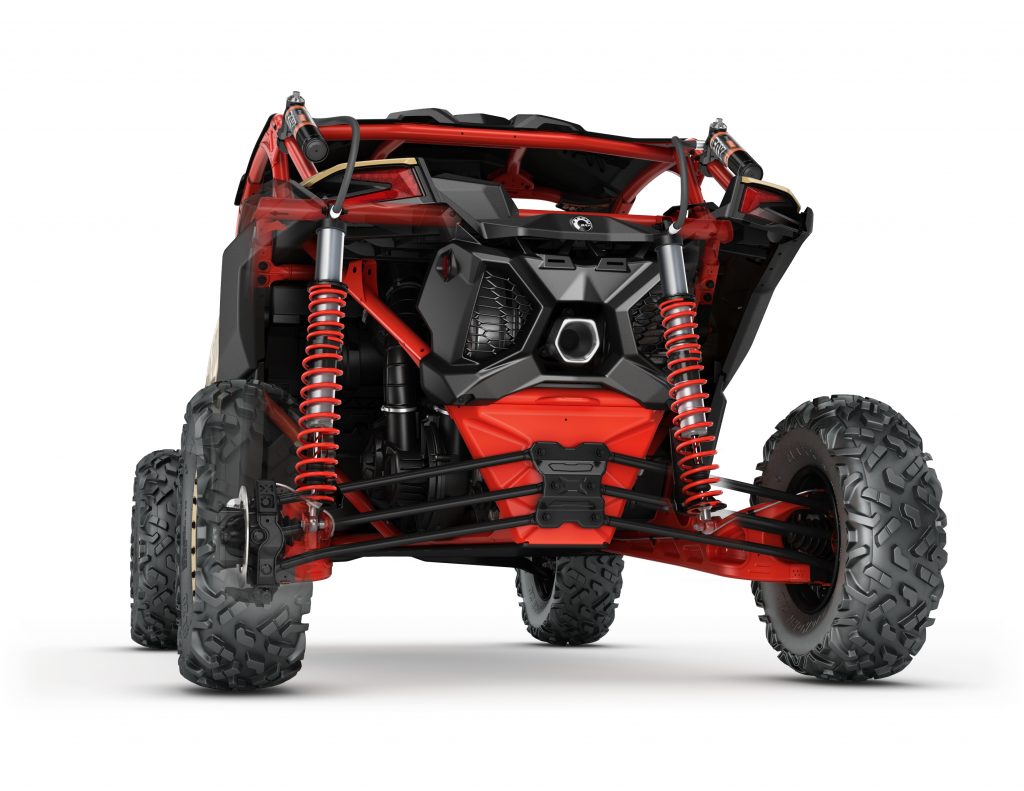 NOT TOO MANY JAYS
* Just to the right of the key sensor rides a switch for a pretty loud horn.
* Just about every component is over-engineered, like the drive shafts, U-Joints, CV-Joints and axles.
* Justin and Ernie at Shock Therapy have developed X3 and X3 X ds shock-spring and valving kits to smooth out the ride over desert chop, and we'll be reporting on those mods soon.
  KEYS TO VICTORY
* Can-Am's Digitally Encoded Security System (DESS) Keys keep its UTVs and ATVs from being stolen; they're encoded with individual radio-frequency chips.
* Green and Grey DESS ignition Keys come with each X3, and either plugs into the dash, and a button in the center of the dash starts and stops the engine. The grey key limits power, while green means go.
* Defender UTVs also come with a yellow work key that limits speeds to 25 mph (40 kph), but not Maverick X3s.
* Latches on the doors are solid, but some drivers didn't like the red-webbed vinyl pull-tabs on the inside of the doors.
* X3s all have LED headlights and taillights plus LED headlight eyebrows for the lean, mean, racing-machine Look.
* Baja Designs' 40-inch OnX6 arc LED light bar is $1,699.99, and there are three Baja Designs quad-LED pod lights – Squadron Sport ($239.99), XL Sport ($409.99) and LX80 ($829.99) – per pair.
* Length is 131 inches for the X3 and X3 X ds and 132 inches for the X3 X rs.
* A Lighter-type 12V DC power plug rides in the center of the dash, above the toggle-switch bank.
* A LinQ rear rack has a 200-pound cargo capacity and has quick-connects for accepting Can-Am accessories like the Pivoting Rack ($449.99) and LinQ 8-Gallon cooler box ($349.99).
* LoneStar Racing (LSR) has a 40-inch LED light bar rack and pod-light rack for X3s; MSRP through Can-Am is $299.99 for either. LSR also has fire-extinguisher mounts ($169.99) and number plates ($174.99).
* LSR also has front intrusion bars ($429.99), rear intrusion bars ($349.99), spare tire holder ($249.99), front ($399.99) and rear ($419.99) bumpers, and rock-slider nerf bars ($349.99) for the all-new Maverick X3. See your Can-Am dealer or the website.
MAVERICK X3 MOJO
* Maverick X3 construction is massively improved over Maverick 1000 models.
* Maxxis Bighorn 2.0s are 6-Ply rated.
* Rear-view Mirrors come standard on all three X3s, and accessory Racing Side Mirrors are $199.99 a pair, but they're not compatible with LSR light racks.
* High Molecular Weight plastic is used for the full-length skid plate and quarter doors.
* Mounts for harnesses are welded to the crossbar frame tube and protrude through the cabin plastic.
* Muffler design in much like a RZR 900/1000 with the oval-shaped body sitting cross-ways and upright behind the transmission, but the single hexagon-shaped exhaust outlet exits at the center of the vehicle.