— 6-wheeler & 8-wheeler amphibious machines —
All new for 2020, Argo's Frontier line of four-seat, six-wheel and six-seat, eight-wheel UTVs match value with the newest technology in amphibious UTVs. Derived from the Aurora line that debuted last year, the six Frontier models offer automotive-inspired bodies, more spacious seating, new controls, the Argo Progressive Steering (APS) steering system, deluxe gauges and more. The result is a new level of comfort and driving confidence on land and water. Prices range from $9999 for the 18-horsepower Frontier 600 6×6 to $20,999 for the 23-horsepower Frontier 700 Scout 8×8. Six- and eight-wheel Frontier Scout Models include camo bodywork, winch and cargo rack.
AURORA FAMILY
The top-of-the-line Aurora family expands to nine models for its second season and is highlighted by new "big block" 850 and 950 V-twin EFI engines that deliver 33 and 40 horsepower. With premium seating, APS for smooth cornering, and extra cargo capacity, an Aurora is the amphibious vehicle for riders who want the highest level of comfort and performance.
The Aurora Bigfoot MX8 brings the fun of amphibious capability to mud riding with all-new 25-inch mud tires with improved propulsion in water. It also features 9-inch aluminum beadlock wheels, 950 EFI engine and smooth-steering APS.
New for 2020, the Aurora SX-R and Responder-R models come standard with a new Roll Over Protection Structure (ROPS). Prices for Aurora models start at $24,999 for the 850 SX and go to $29,499 for the 950 SX-R.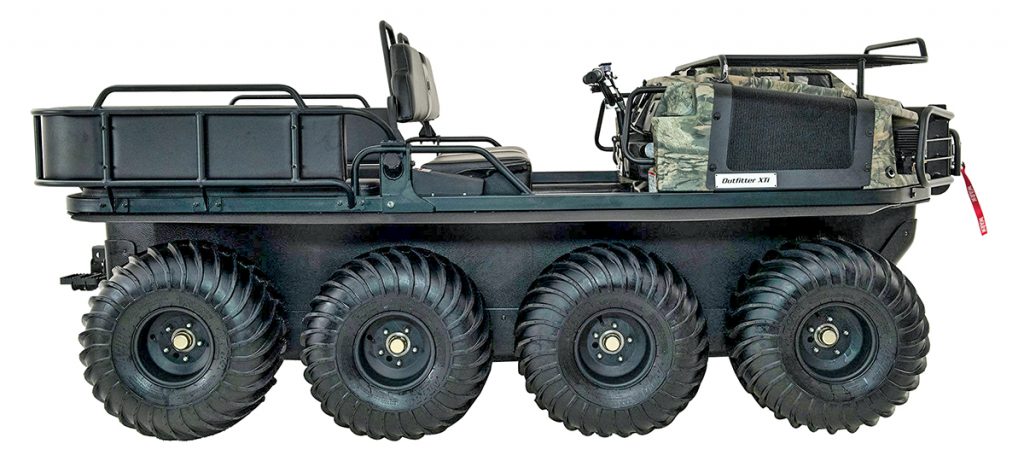 CONQUEST FAMILY
The Frontier and Aurora machines are joined by the Conquest Outfitter and Conquest Pro lineup, which are all powered by a fuel-injected, 30-horsepower, liquid-cooled commercial-duty engine. The Conquest Outfitter is aimed at serious hunters and sportsmen, and includes auto chain lubrication, full skid plate, brush guard, winch, front rack, and two camo color choices. It's $35,999.
Conquest Pro machines come ready to serve in professional work environments. The Conquest Pro 800 XT comes with seating for two, a deep cargo well for bulky items, brush guard and winch for $33,999.
The Conquest Pro 800 XT-L comes with a flat bed, roll-over protection structure with roof and windshield, brush guard and winch for $44,999. The Conquest Pro 800 XT-X comes with a power dump box, roll-over protection structure with roof and windshield, brush guard and winch for $44,999.
.
.