FOUR SEAT YAMAHA YXZ1000R-4!
One-off, four-seat, rock-crawling Yamaha YXZ!
FOUR SEAT YAMAHA YXZ1000R-4!
Yamaha's pure-sport YXZ1000R has racked up multiple racing championships since its 2016 introduction, including both the Pro Mod and Pro Stock in 2020 and Off-Road short-course in 2021. The manual-clutch five-speed is the most driver-connected UTV, but it's the least effective at rock crawling and low-speed exploration. Having raced rock crawlers from 1999 through 2011, Ron Schneider wanted his 2016 YXZ1000R to be both, so he formed Crawl Force and partnered with Weismann Traction Products to create the Crawl Box dual-sport gearbox for YXZs (see "Product Evaluation" on page 84). He also wanted a four seat Yamaha YXZ1000R-4 for family outings, so he built one himself in 2018.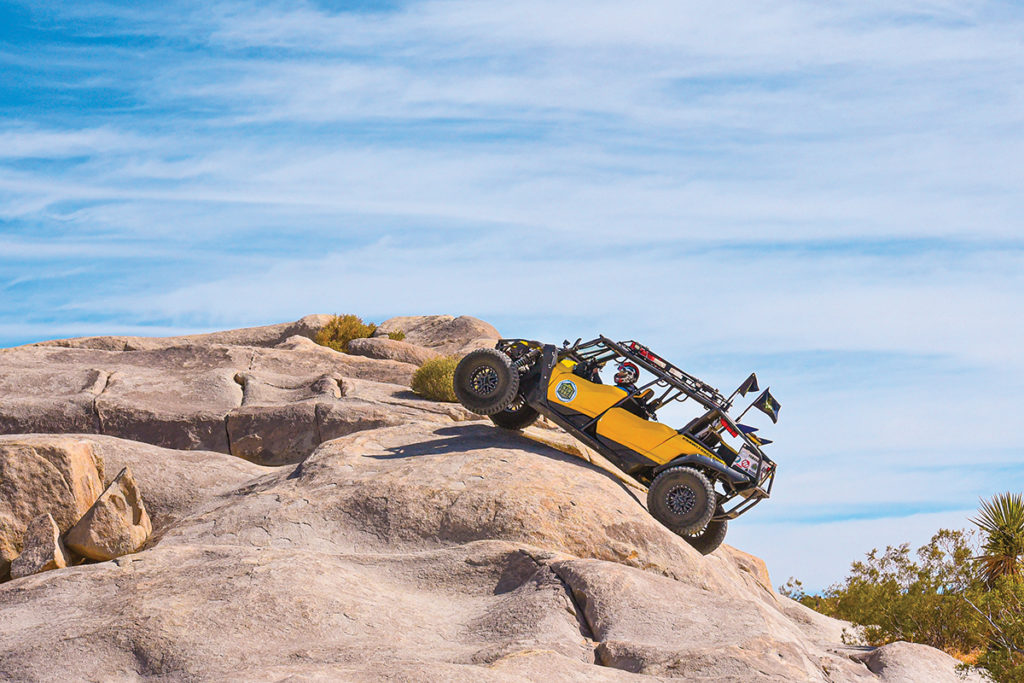 CREATING THE FIRST FOUR-SEAT YAMAHA YXZ1000R-4
Early YXZ1000Rs came with 27-inch Bighorn tires, and now they sport 29-inch 8-Ply Bighorns made in partnership with Maxxis. That's too small for rock crawling, but 32s won't fit because of clearance issues with bodywork. YXZ A-arms are swept rearward, so Ron decided to swap the lower arms side-to-side and fabricate new upper arms. This gave the front end a 3.5-inch wheelbase stretch and clearance for 32s and 33s. The current 35×11-15 BF Goodrich KM3s on Raceline bead-lock wheels sometimes grind on bodywork at full lock and on bumps. Ron also moved the YXZ steering rack 2 inches forward and raised the YXZ's hood 3.5 inches "so it won't look like an elephant sat on the front end."
For added protection, the front end got Houser's YXZ exoskeleton. To make room for the rear seats, Schneider added 27 inches of frame rails and gusseted the new section for strength. He fabricated the drive shaft and extended cage and also made the hydraulic clutch and brake lines. The OEM wiring harness path to the steering wheel was rerouted, but he had to extend the harness for lights. He also removed the YXZ radiator and fabricated mounts behind the cab to mount up a Jeep Cherokee radiator with triple fans. Next to the radiator, he mounted a control switch for the dual-battery setup to run all of the extra lights, PCI radios, navigation, and Warn VRX 45-S winch.
Tubeworks was all over the YXZ1000R early on, and Ron installed the Tubeworks 30/70 Wide-Ratio Trail kit in the build. The $2050 Tubeworks kit lowers first gear by 35 percent and provides 70 percent more torque to the tires and 30 percent more torque in second, third and fourth. A wide-ratio fifth gear set provides a 9-percent taller ratio, and the kit also includes a TW clutch mod, external oil line, 60-Micron magnetic strainer upgrade and a reusable clutch-cover gasket. Yamaha later partnered with Tubeworks to produce Yamaha's GYTR Torque-Assist kit, which is $1299.99. Ron also upgraded to the GYTR YXZ Alternator kit ($661.99); the 35-Amp alternator is required to run big LED lights, and the kit includes the alternator, pulleys, belt, new oil lines, wiring and all mounting hardware. TW's 1000-watt alternator is $767.73.
COMPLETING THE ADVENTURE BUILD
Schneider installed a super charger kit but later removed it. The build got a Graves full titanium exhaust ($1575) with 1mm-thick Ti tubes, and spring tabs are 4mm wide. The silencer is one-piece titanium and has a carbon fiber end cap riveted on and a  6061 T651 aluminum support bracket. Welds are laser and flanges are 7075 hard-anodized aluminum. Pro Shops dyno-tuned the ECU, and the OEM shocks got Eibach dual-rate springs. To deal with the 35s and extra weight, Ron added Hess Motorsports' 360-watt power steering upgrade kit ($1000). Also, the front end got a James Way YXZ Shock Relocation kit ($369); moving the top of the shocks out improves cornering and resists bottoming.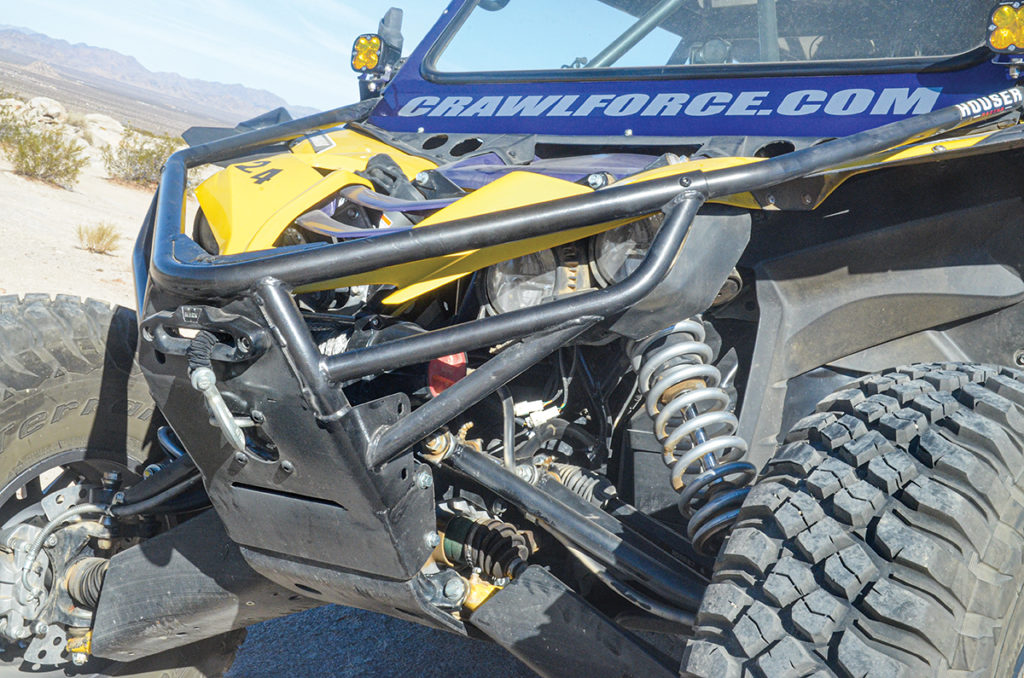 Assault tie-rods ($339.99) beef up steering with heavy-duty 7075 hard-anodized aluminum barrels, and Ron also went with Assault's bed-complete kit and Ballistic D-shaped steering wheel ($189.99). Assault's Quick-Release UTV fire extinguisher kit is $169.99. The stock YXZ seats went in back, and PRP GT3 suspension seats ($1,524.99) went up front with PRP 5.3 harnesses ($149.99). On top of the aluminum roof, Dependable Off-Road's Adventure rack carries the jack, Rotopax cans and LED work lights. Lights are Baja Designs Squadron Pros with amber lenses ($294.95), S8 50-inch LEDs ($1,299.95) and RTL-S safety LEDs ($474.95).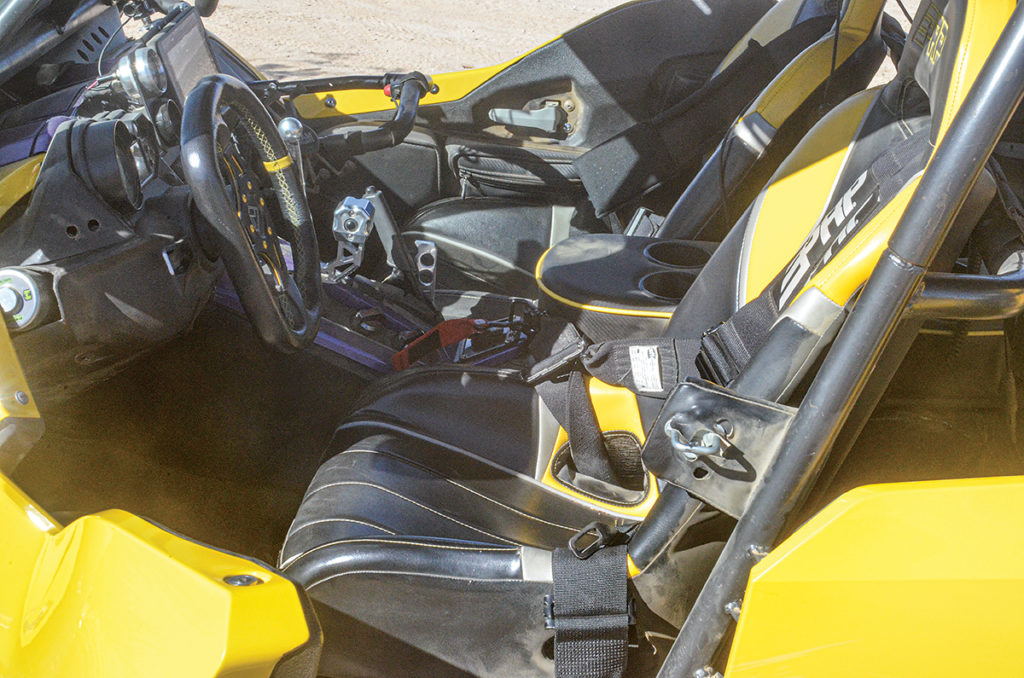 CRAWL FORCE CRAWL BOX
One of the first six prototype Crawl Boxes went into the first four-seat YXZ1000R, and teamed up with the Tubeworks 70/30 gears. This ride literally crawls at a walking pace in Low and first. We did some amazing things with the Crawl Force YXZ-4 at Cougar Bluffs, which is part of the King of the Hammers UTV course, and we also ripped some desert to show that it's faster than stock in High. Ron also built a stretched, two-seat YXZ Sport Shift for his son, Austin, and we'll report on that wild build in an upcoming issue of UTV Action.
See UTV Action's full test on the YXZ1000 Sport Shift here: 2020 YAMAHA YXZ1000R XT-R – UTV Action Magazine
CONTACTS:
Crawl Force
(951) 796-9295
Graves Motorsports
7629 Densmore Ave.
Van Nuys, CA 91406
(800) 867-6480
Tubeworks Race Line Products
1506 Seventh Street
Riverside, CA 92507
(951) 784-7900