— DUX DELUXE TURN SIGNAL, BRAKE LIGHT, HORN KIT —
Several states allow UTVs to be licensed for the street, which is really handy when trying to connect USFS and BLM trails. There are various requirements by state, but Arizona, the Dakotas, Idaho, Montana, Utah and Wyoming require turn signals. Hisun, CFMoto, Assault, Odes and a few other UTV manufacturers have OEM turn signals, as do Polaris UTVs for the international market. The rest of us can convert our UTVs for street use with a kit like Dux's UTV Signal kit. Installing a Dux Deluxe Signal kit is a fun job that allows some creativity. The Dux kit for the Polaris RZR uses the OEM taillights and supplies six amber LED lights, plus a horn, rear license-plate bracket and light, controls, and all of the necessary hardware for installation.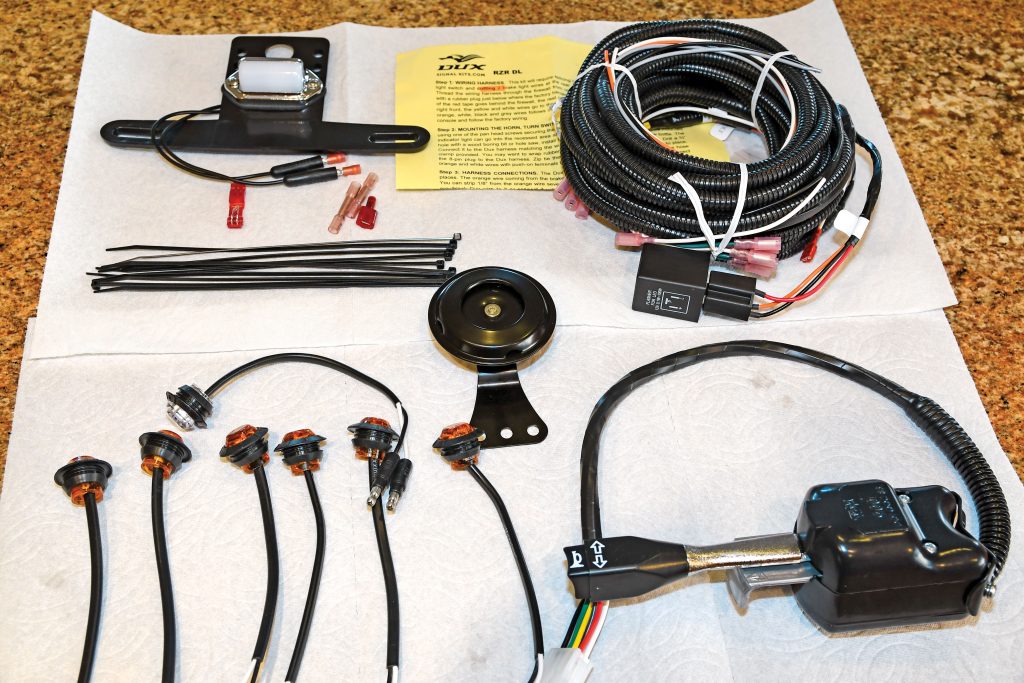 The 2017 Polaris RZR XP Turbo has a new front end to aid cooling the 168-horsepower turbo, and it opens up nice spaces on the outside edges of the bodywork. I chose to place two LEDs on each front corner and one on each side for better visibility. The Dux Deluxe Signal kit is well made, with a high-quality, color-coded wiring harness and turn-signal switch with horn button and emergency flashers. Everything needed for installation is in the kit, except for the tools (e.g., drill, 3/4-inch and 7/16-inch drill bits, electrical pliers/crimper, diagonal cutters, Torx and screwdrivers, etc). Dux kits can be found at Rocky Mountain ATV/MC, WPS, MTA and more.