We don't expect much from pure-utility UTVs. We expect them to get the job done, but we also expect them to be slow with suspension that can be overwhelmed by anything beyond mild speeds or terrain, and we don't expect them to be very comfortable or quiet. Like some other modern utility UTVs, Kawasaki's new Mule Pro-FX is all about changing the utility UTV concept, like fast, quiet, comfortable, modern pickups changed everybody's expectations for trucks.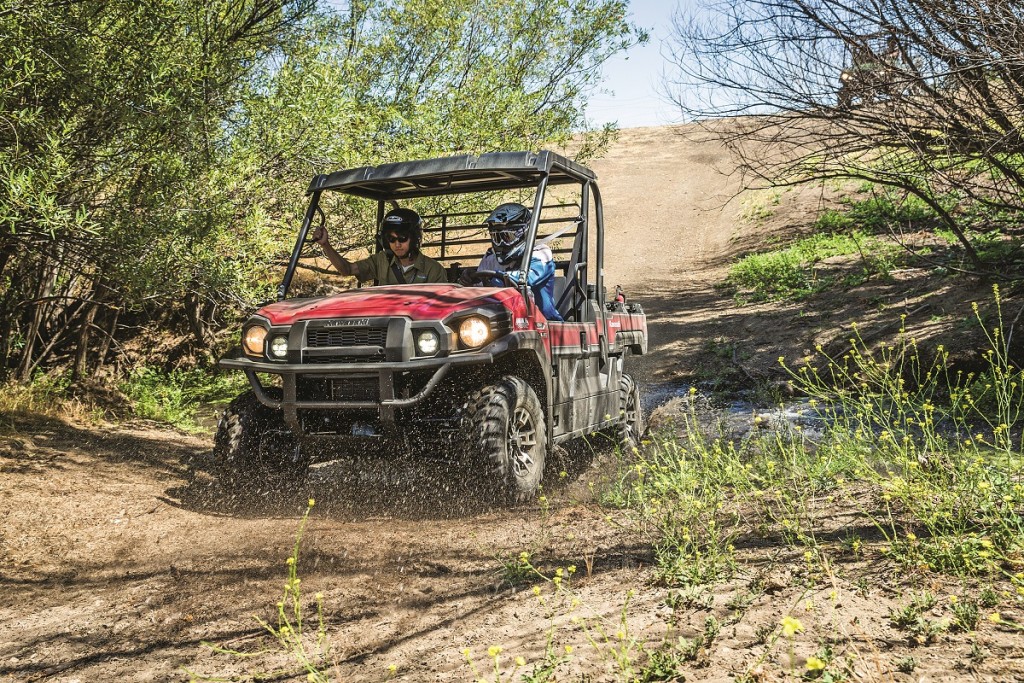 WHAT'S A MULE PRO-FX?
It's the new three-seat version of the Mule Pro-FXT, with a huge 54.1 by 53.3-inch tilting bed that can hold a standard-size pallet and carry 1000 pounds. The Mule Pro-FXT can seat six, or be converted to three-seat capacity to expose its 42.7 by 53.7inch bed. The Pro-FX can also tow a ton. Impressive capacity is only part of what separates Kawasaki's Pro-series Mules from traditional pure-utility UTVs; they also offer more power, suspension and refinement.
HOW DOES COST COMPARE?
The Mule Pro-FX starts at $11,999. The next step up is the $12,999 Mule Pro-FX EPS, and there's a Mule Pro-FX EPS Camo for $14,199. Our test unit, the Mule Pro-FX EPS LE, with power steering, aluminum wheels and roof is also $14,199. The Mule Pro-FXT starts at $12,999 and ranges to $16,899. Honda's Pioneer 700 starts at $10,299. The full-size Polaris Ranger 570 starts at $9999. Prices for Yamaha's Viking begin at $11,799.
WHAT POWERS IT?
An inline, three-cylinder, double overhead-cam, 12-valve, 812cc engine. It's the same mill that powers the heavier Mule Pro-FXT, so there's plenty of power, and the triple's smoothness and silence are almost car-like. If you're used to utility UTVs that have a crude farm-equipment feel, you won't want to go back.
HOW FAST IS IT?
It doesn't just haul cargo. Top speed is about 45 mph on dirt, and the acceleration is strong but not necksnapping. Compared to utility vehicles that are limited to 25 mph, it feels like one of Kawasaki's bullet trains.
HOW DOES THE POWER WORK ON THE TRAIL?
The Pro-FX is all about low-end power, which makes steep terrain simple to conquer. This machine's clutching and power delivery are tuned for smoothness, so you don't have to be a master of throttle control to maintain traction on slippery trails. The Pro-FX's steadiness also helps keep passengers calm and cargo in place when the trail gets ugly.
WHAT KIND OF 4WD SYSTEM DOES IT HAVE?
Selectable 2WD/4WD with a lockable rear differential. The rear differential unlocks to make tight turns easier and to protect delicate turf. There's no front differential-lock feature, but the Pro-FX can go anywhere a utility UTV should need to go.
HOW IS THE SUSPENSION?
With double-A-arms front and rear, spring preload-adjustable shocks and 8.7 inches of travel at both ends, the Pro-FX's suspension is more sport utility than utility. The deep travel does an amazing job of ironing out bumpy trails, and it can handle a reasonably quick pace and good-sized holes and ruts without bottoming.
HOW DOES IT HANDLE?
There's no front or rear sway bar on the Pro-FX, so there's more body roll in fast corners than you'll feel on sportier UTVs. On many pure-utility UTVs you don't get to feel fast cornering, so it's hardly a problem. In normal driving the Kawasaki feels remarkably stable thanks to its wide 64-inch stance—the same width that keeps tall, long-travel machines like the RZR 1000 securely stuck to the ground. The power steering keeps effort at the wheel light and delivers excellent feel while it dampens jolts that bumps try to send through the steering wheel.
HOW DOES IT HANDLE HILLS?
Like a pro. We climbed some steep, dry, bumpy, traction-less hills so easily with the Pro-FX, we went looking for even scarier climbs. Smooth, naturalfeeling engine braking and four-wheel disc brakes make long, steep downhills a piece of cake.
HOW IS IT IN DEEP MUD AND WATER?
Less adventurous than some UTVs. The Pro-FX has the power for deep crossings, 10.4 inches of ground clearance, an effective 4WD system and good tires for slippery conditions. The only thing that might hold you up is the air intake, which is lower than the floor of the bed. It's well-shielded under an access cover.
HOW ABOUT THE DETAILS?
They're very impressive. The Mule Pro-FX is so smooth and quiet, it's easy to carry on a conversation with passengers while you're on the move. That smoothness extends to the suspension's plush ride and the quality feel of the shift lever and the door latches. Doors are always nicer than nets, and the Mule's are very good. The service-access cover that gets you to the oil dipstick, air filter and battery without tilting the bed is very handy. There are a few things that could be better. The cab is roomy, but more room in the left footwell wouldn't hurt. The bench seats are comfortable, but something more supportive would keep the driver and passengers in place better during aggressive driving.
WHAT IS OUR FINAL ANSWER?
Kawasaki's Mule Pro-FX changed how we think about pure-utility UTVs. Its hauling ability is amazing, but it pampers the driver and passengers instead of treating them like part of the cargo. This isn't a sport UTV, but for sensible driving, it's more comfortable than sport machines in many ways, and it's a great way to get around big job sites, ranches or hunting areas.
SPECS
KAWASAKI MULE PRO-FX EPS LE
ENGINE/TRANSMISSION
Engine type ………… Liquid-cooled, DOHC, 12-valve,
4-stroke, inline 3-cylinder
Displacement …………………………………….. 812cc
Bore x stroke ……………………….72mm x 66.5mm
Compression ratio …………………………………9.5:1
Lubrication system ………………………… Wet sump
Fuel metering ………………………..34mm Mikuni EFI
Starting/back-up …………………………. Electric/none
Starting procedure ……….. In neutral or any gear w/
brake engaged
Choke ………………………………………………….. N/A
Air filter access… Remove access cover and
4 clips on airbox lid
Transmission ………. Dual range fully automatic CVT
w/ reverse and EBS
Reverse procedure……..Move range selector to "R"
Drive system …Selectable 2WD/4WD w/ lockable rear
diff
Final drives f/r ………………………………. Shaft/shaft
DIMENSIONS/CAPACITIES/WEIGHTS
Fuel capacity ……………………………………. 7.9 gal.
Wheelbase …………………………………………. 92.3"
Overall length/width/height ………. 133.3"/64"/79.7"
Ground clearance …………………………………. 10.4"
Dry weight …………………………………… 1801.5 lb.
Hitch …………………………………………………… Yes
Towing limit…………………………………….. 2000 lb.
Bed capacity …………………………………… 1000 lb.
ROLLING CHASSIS
Frame ……………………………….. Square steel tube
Suspension/wheel travel:
Front . Double A-arms w/ preload-adj. shocks/ 8.7"
Rear … Double A-arms w/ preload-adj. shocks/8.7"
Brakes:
Front …………………………………… Hydraulic discs
Rear ………………………………………Hydraulic disc
Parking brake …………….. Dash-mounted hand lever
Tires:
Front ………………………….. 26x9R12 Duro Radial
Rear ………………………….. 26x9R12 Duro Radial
ELECTRICAL
DC outlet …………Waterproof automotive-style plug
Lighting
Front ………………………..Two 55/60W headlights
Rear …………………………….. Dual tail/brake lights
DETAILS
Instruments Multi function digital meter w/ indicators
Colors …. Timberline Green, Dark Royal Red, Camo
Suggested retail price ………………………..$14,199
Contact ………………….. Kawasaki, (800) 661-RIDE