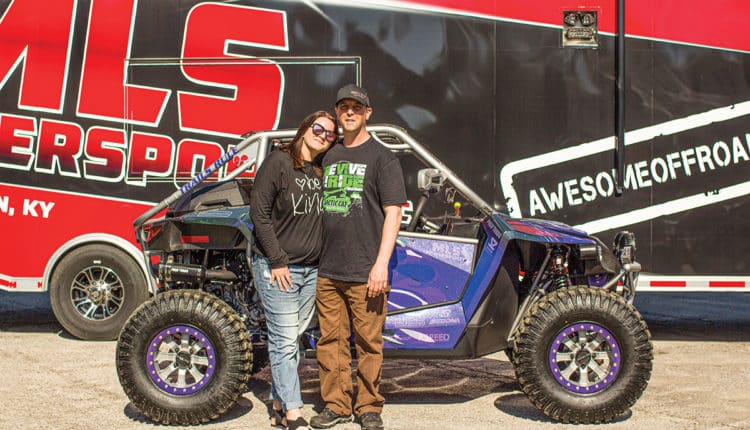 MLS POWERSPORTS ARCTIC CAT WILDCAT TRAIL
The more you enjoy riding, the more you use your UTV, and those hours of fun can take a toll. Glen Kehr put more than 6000 hard miles on his 2016 Arctic Cat Wildcat Trail and never had a problem with it, but in his own words, it was getting beaten up. He entered MLS Powersports' Revive My Ride contest and won a complete customization and reconditioning for his UTV! MLS Powersports of Georgetown, Kentucky, has held the Revive My Ride contest for years, and each year they turn one lucky entrant's machine into a show-quality custom build. Here's what went into Glen Kehr's MLS Powersports Arctic Cat Wildcat Trail.
DOWN TO BARE METAL
Before MLS added a single custom touch to Glen's Trail, the machine was fully disassembled and sandblasted. Then, the frame was braced, as MLS does with Wildcat Trails for racing. MLS fabricated a custom cage, and the structure was powdercoated. The chassis was fully rebuilt with all-new bushings, bearings and steering components, and HCR Boxed A-arms were installed with Elka Stage 5 shocks. The machine also got new 30-inch Sedona Rockabilly radials on custom powdercoated Raceline beadlock wheels.
TURBO TRAIL
To make Glen's Wildcat run way better than new, Arctic Cat supplied a new engine, trans-axle and front differential, and MLS installed an inter-cooled turbo kit from Push Turbo. The Turbo Trail's 700cc twin produces more than 100 horsepower!
THE FINER THINGS
With a solid foundation in place, MLS sourced premium-quality parts to finish the build and tailor it to the kind of riding Glen Kehr does in and around Michigan. Custom-heated PRP XC seats and four-point harnesses add support and cold-weather comfort. A Three-Star Industries custom windshield and roof keep the cold out in winter and the sun off in summer. A Moto Alliance Firestorm heater kit keeps the Michigan winter outside the cab. There's a Rugged Radios comm system with steering-wheel controls for keeping in touch with friends on the trail, and a 3000-pound Moto Alliance winch in case Glen or a friend needs help.
DETAILS, DETAILS
Everywhere you look on the machine, MLS upgraded the details of Glen's Wildcat Trail. Sezmik Pursuit Night Vision mirrors and a Halo rear-view mirror increase day-and-night visibility. Awesome Offroad's driving lights and backup lights light up the trail for night rides.
A K-Aus Design Works custom dash and Awesome Offroad's Switch Pro control panel system provide a clean installation for all the accessory controls.
Look closer and you will see Speed's stylish shift knob, gas cap and fire-extinguisher mount. You can't miss the striking custom graphics from Octane Ink that set the whole car off, even from a distance.
DREAMS COME TRUE
Glen Kehr had "nothing but good times" as the miles piled up on his Wildcat Trail, but he wished he could take care of the wear and trail-riding scars on the machine. Winning MLS Powersports' Revive My Ride contest did that and much more; it turned Glen's Trail into his dream UTV.
See UTV Action's full test on the Wildcat Trail here: Arctic Cat Wildcat Trail 700 XT EPS TEST! | UTV Action Magazine