If you're thinking that ODES' Dominator X4 LT is a fourseat version of the company's X2 two-seater, you're in for a surprise, because it seats five. Extra seating is only one area where the X4 delivers more than most expect.
WHAT KIND OF UTV IS THE DOMINATOR X4 LT?
It's a sport-utility machine that has utility capability like Polaris Rangers and Honda Pioneers with the 14 inches of suspension travel you normally only see on pure sport UTVs. The Dominator also comes with a long list of features that are optional on other UTVs and some that aren't available on other vehicles, like a windshield that slides into the roof. Other features include seating for five, a power dump bed, mirrors, adjustable seats, a winch, power steering, doors, front and rear bumpers, turn signals, and an LED light bar.
HOW DOES COST COMPARE?
The Dominator X4 800 LT is $13,695. Can-Am's Commander Max 800 DPS is $15,299. Honda's Pioneer 1000-5 Deluxe is $17,199. The Polaris Ranger Crew XP 900-5 EPS is $16,499.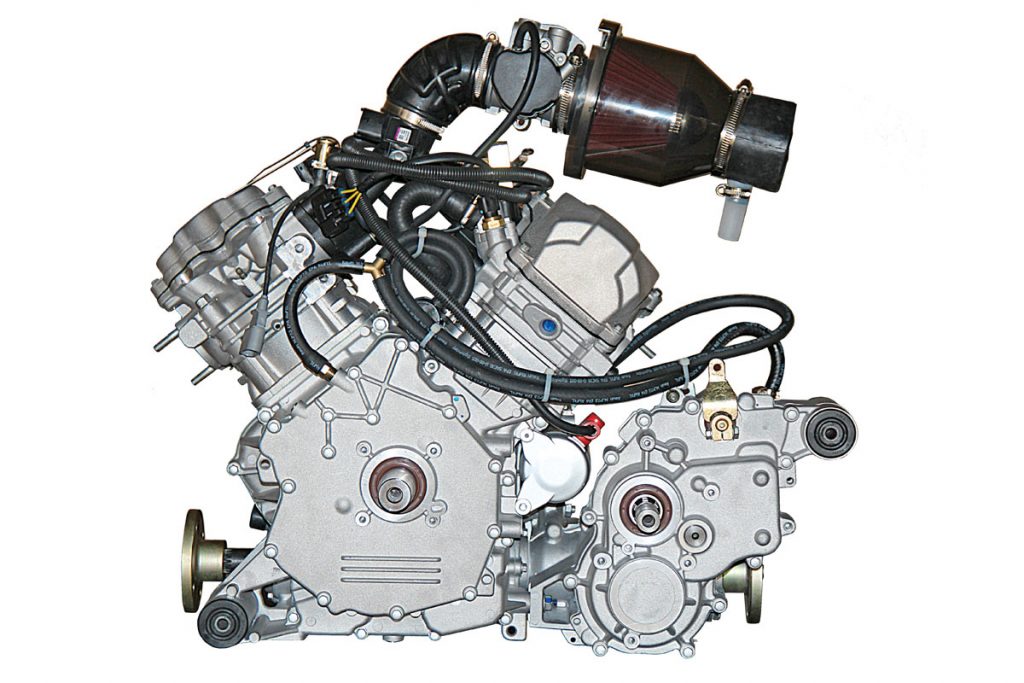 WHAT POWERS IT?
An 800cc, single-overheadcam, eight-valve V-twin with 60
horsepower. There are two fans on the radiator to assure adequate cooling in severe conditions.
WHAT KIND OF TRANSMISSION DOES IT HAVE?
A fully automatic, dual-range, belttype continuously variable transmission (CVT) with a CVTech clutch. The CVTech clutch uses a small oneway bearing on the primary clutch to achieve low gearing for quick starts while allowing high top speed.
WHAT KIND OF 4WD SYSTEM DOES IT HAVE?
Selectable 2WD/4WD with front differential-lock mode. The selector switch looks just like what you'd find on a Yamaha Grizzly ATV. It works well, and it's easy to tell what mode you're in.
HOW FAST IS IT?
It moves well for a five-seat recreation utility rig, but you won't scare away similar-sized sport-utility or sport machines. Top speed is 50 mph, which is impressive.
HOW IS THE POWER DELIVERY ON THE TRAIL?
Smooth and strong. The 800 has enough power to conquer steep, challenging trails, and it's tractable enough to crawl through tough, technical terrain with very good control. The throttle response isn't as crisp and solid as a Kawasaki Teryx4 or a Can-Am Commander 800, but the Dominator can deliver more speed than most riders need, even with all five seats full.
WHAT KIND OF SUSPENSION DOES IT HAVE?
Square-section dual A-arms front and rear with spring preload- and air-pressure-adjustable shocks. Travel is 14 inches front and rear.
HOW DOES THE SUSPENSION WORK?
It's plush and comfortable. We started out with zero pressure in the air-adjustable shocks, and the rear end bottomed frequently on rough trails with four people in the X4. We set the shocks to their 80-psi maximum, which ended the bottoming, and the ride quality was excellent. The suspension was compliant even at low speeds on technical trails with good control for higher speeds.
HOW DOES IT HANDLE?
It's stable and easy to handle. The X4's 64-inch width makes cornering secure, even in challenging off-camber terrain. There's some body roll due to the long-travel suspension, but the rear sway bar keeps it in check. Power steering gives the Dominator easy handling without taking away useful steering feel. The X4 is a large vehicle, but it's not hard to maneuver thanks to a fairly tight turning circle.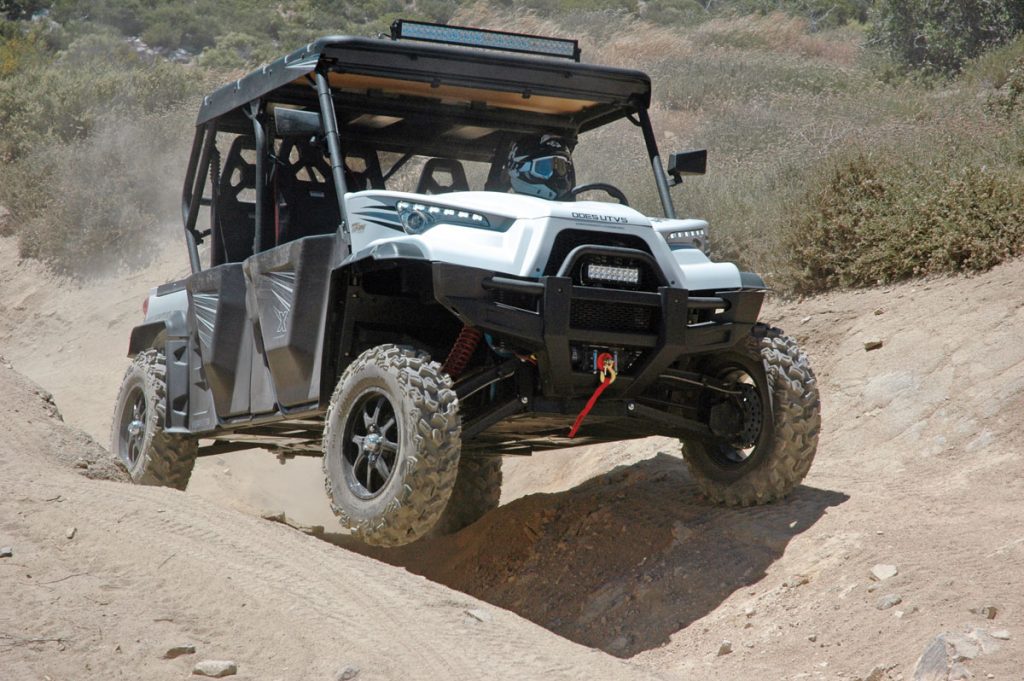 HOW IS IT ON HILLS?
Very capable. When trails offer difficult climbs on the route, the Dominator is ready. The 800 feeds its power to the ground predictably, and the 4WD system finds plenty of grip. The Odes' wide stance keeps the machine steady on technical hills, and plenty of ground clearance stops momentum-robbing snags from slowing your progress. There's no automatic engine braking, but the four-wheel disc brakes can stop the X4 with ease.
HOW ARE THE DETAILS?
Very impressive, especially at the X4's price. Odes has included many of the features UTVers add as standard equipment, and the seating for five means more riders can join the fun. Odes' two-year warranty shows this American company is confident in its products. There are some rough edges, like the intake noise in the cabin at full throttle and front tires contacting the front bumper trim during hard cornering in bumpy terrain.
WHAT IS OUR FINAL ANSWER?
Odes' Dominator X4 800 LT is a fully accessorized, long-travel, fiveseat UTV that costs about the same as some brands' base two-seaters. If you like to enjoy the trail with friends or family in a nicely outfitted UTV, you need to consider this machine.
SPECS
ODES DOMINATOR X4 800 LT
ENGINE/TRANSMISSION
Engine type ……..Liquid-cooled, 8-valve, SOHC V-twin
Displacement ………………………………………. 800cc
Bore x stroke ………………….. 91mm x 61.5mm (x2)
Compression ratio …………………………………10.3:1
Lubrication system ……………………………Wet sump
Additional cooling ……………………………………….Fan
Induction …………………………………………43mm EFI
Starting/back-up …………………………… Electric/none
Starting procedure ………………. Turn key to the right
Idle adjustment ………………………………………. None
Air filter:
Type …………………………………………………..Foam
Access ………………………….Remove console cover
Transmission ……………… Dual-range CVT w/ reverse
Reverse procedure……….Move range selector to "R"
Drive system …….. Selectable 2WD/4WD w/ diff-lock
Final drives …………………………………………..Shafts
DIMENSIONS/CAPACITIES/WEIGHTS
Fuel capacity ………………………………………… 9 gal.
Wheelbase ……………………………………………..110"
Overall length/width/height ……………… 150"/64"/79"
Ground clearance ……………………………………….16"
Dry weight ……………………………………….. 1792 lb.
Bed weight limit…………………………………… 800 lb.
Hitch …………………2" receiver with hitch and 2" ball
Towing limit………………………………………. 2200 lb.
ROLLING CHASSIS
Frame …………………………………………… Steel tube
Suspension/wheel travel:
Front …………….. Dual A-arm w/ adj. air pressure &
spring preload shocks/14"
Rear ……………… Dual A-arm w/ adj. air pressure &
spring preload shocks/14"
Brakes/actuation:
Front …………………………Hydraulic discs/left pedal
Rear ………………………… Hydraulic discs/left pedal
Steering ………………. EPS, rack & pinion w/ tilt wheel
Tires:
Front ………………………………… 29×8-15 Marsway
Rear ……………………………….. 29×10-15 Marsway
ELECTRICAL
DC Outlet………………………………………….. Console
Lighting:
Front ……………………………………. 2 LED headlights
Rear …………………………….Dual LED brake/taillights
DETAILS
Instrumentation ……… Speed/odo/trip/fuel/gear/clock/
2WD-4WD
Colors ……………………………………….. White, camo
Minimum recommended operator age ………………16
Suggested retail price ………………………….$13,695
Contact ……………………..ODES, www.odesutvs.com