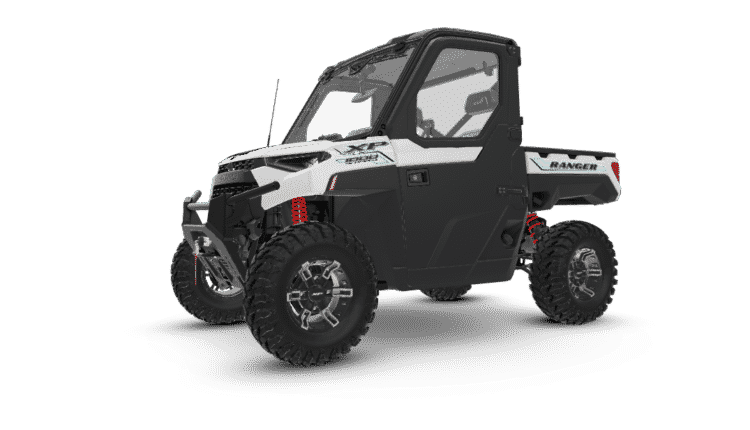 2021 POLARIS RANGER XP 1000 NORTHSTAR PREMIUM/ULTIMATE/TRAIL BOSS
2021 POLARIS RANGER XP 1000 NORTHSTAR PREMIUM/ULTIMATE/TRAIL BOSS
The 2021 Polaris Ranger XP 1000 Northstar Premium/Ultimate/Trail Boss Editions feature a full cab with air-conditioning and heat for all season comfort. For 2021, a new, more durable clutch and front drive handles hard use with less maintenance. The Premium Edition includes 27 inch tires on 14 inch cast aluminum wheels, a 4500 pound Polaris winch and a cab with Lock & Ride Sport Roof, glass windshield with wiper and washer, glass rear panel, dome light and crank window doors. The NorthStar Ultimate comes with 29 inch tires on 14 inch cast aluminum wheels, a 4,500 pound Polaris winch, Ride Command with GPS, Bluetooth connectivity, Plow mode, ride sharing features and a cab with tip-out windshield and power windows. The Northstar Edition Trail Boss adds Trail Boss' self leveling rear suspension, engine braking, active descent control, high clearance arched A-arms and 6-Position Polaris Pulse Bus Bar to the Northstar Ultimate package.
See UTV Action's full test of the Polaris Ranger XP 1000 here: https://utvactionmag.com/test-polaris-ranger-xp-1000-eps/
See all the 2021 Polaris Rangers here: https://ranger.polaris.com
Motor type 999cc liquid-cooled, 8-valve EFI I-twin
Transmission Dual-range CVT w/rev. & EBS
Drive system 1WD/2WD/4WD
Suspension/travel:
  Front Dual A-arm/11"
  Rear Dual A-arm/11"
Brakes: f/r Dual disc/Dual disc
Fuel capacity 11.5 gal.
Towing capacity 2,500 lb.
Bed capacity 1,500 lb.
Length/width/height 120"/65"/78"
Tire sizes: f/r 27×9-12/27×11-12
Claimed dry weight 1,875 lb.
Colors Matte Navy, Burgundy Metallic, Ghost White, Polaris Pursuit Camo/Matte Navy, Burgundy Metallic, Ghost White, Polaris Pursuit Camo/Ghost White
Price: $23,999/$26,999/$28,499