Polaris is watching us UTVers, and they have been for years. We're glad. Way back when the first RZR was released, its trail-friendly, 50-inch width made it an instant hit. In the next instance, performance suspension sources came up with long-travel kits for the RZR. After that, Polaris offered the first RZR S—a wider, longer-travel version of the original. The RZR S 570 is a long-travel version of the fun, affordable RZR 570, but it's not just less expensive than adding long-travel suspension to a 570; it also comes with power steering, 27-inch Maxxis Bighorn tires on cast-aluminum wheels and painted bodywork.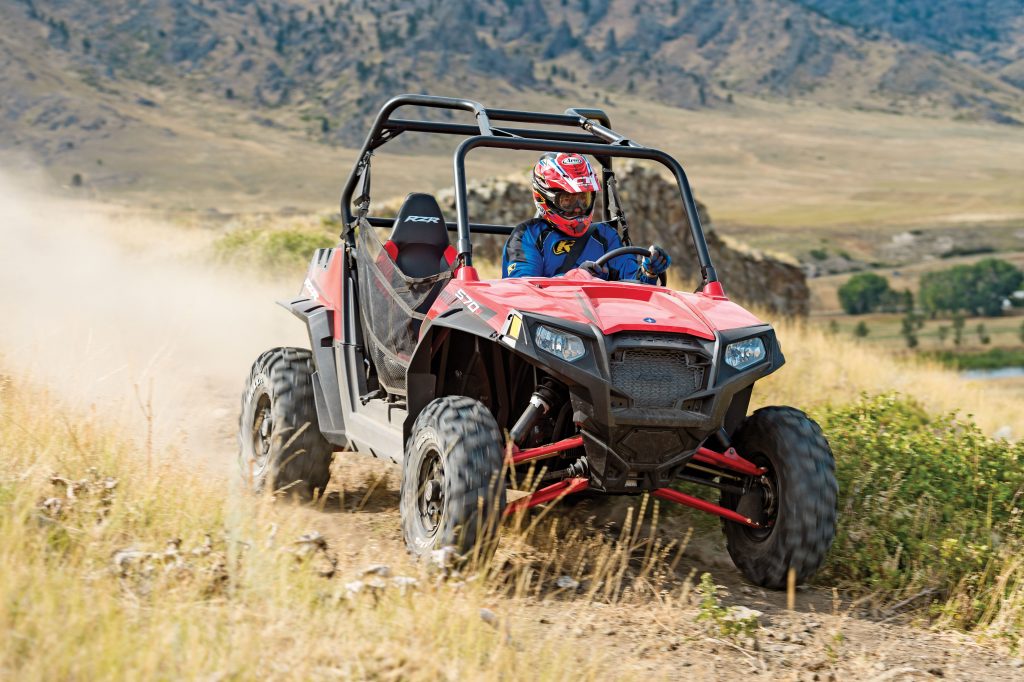 HOW DOES COST COMPARE?
The RZR S 570 is $12,999, or $2700 more than the RZR 570. Its real competition is other 60-inch-wide, long-travel machines. Price-wise, the  next closest Polaris RZR S model is the $14,699 RZR S 900. Arctic Cat's 700cc Wildcat Sport XT EPS is $14,599, the Wildcat Sport Limited EPS is $15,999 and Can-Am's Maverick 1000 xc is $15,699.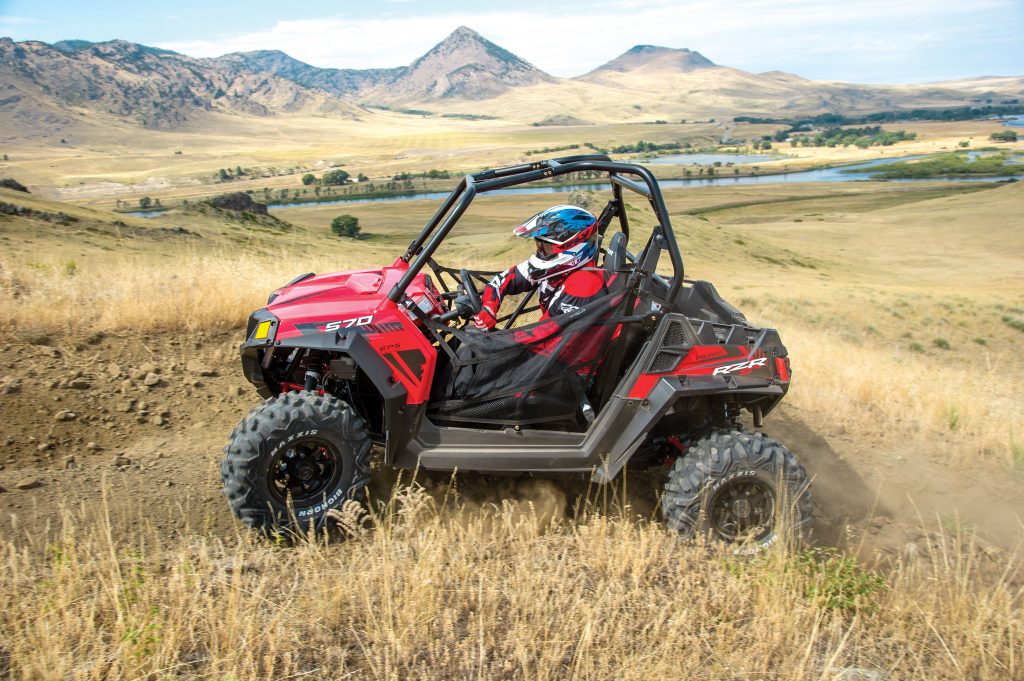 WHAT POWERS IT?
A single-cylinder, double-overhead-cam, four-valve, 567cc engine with 45 horsepower. The Prostar single is a high-performance engine with a broad powerband, and it's one reason this RZR is so light—just 1,130 pounds dry.
WHAT KIND OF TRANSMISSION DOES IT HAVE?
A fully automatic, dual-range CVT. The automatic is so easy to use, learning drivers can enjoy the RZR, but the clutch tuning is sporty enough to satisfy skilled, aggressive drivers.
WHAT KIND OF 4WD SYSTEM DOES IT HAVE?
The same system as the larger RZRs. It includes selectable 2WD/4WD with an automatic-locking front differential. When you switch to 4WD, the system remains in 2WD until the speed-sensing differential detects the rear wheels turning faster than the fronts. It responds so instantly, you won't notice it activate, except for the huge increase in traction.
HOW FAST IS IT?
Fast enough to have fun with, and it feels respectably quick compared to other small-displacement UTVs. If you take a minute to consider that it's a 567cc engine propelling a 60-inch-wide, long-travel UTV, the 570 is pretty impressive.
HOW DOES THE POWER DELIVERY WORK ON THE TRAIL?
Keeping in mind it's a 570, extremely well. Polaris matched the engine and clutch tuning perfectly, so the 570 pulls strongly even from low speeds, and it has respectable top-end power. The reality of most rides is, you only use a fraction of the power big-bore UTVs have, which means the S 570 has more than enough motor to go everywhere the big machines go, like in the woods and on desert trails. The S 570 can be fun in the dunes, too, but it lacks the power to climb the really big faces.
WHAT KIND OF SUSPENSION DOES IT HAVE?
Double A-arms front and rear with 12 inches of travel up front and 12.5 inches out back. Simple, preload-adjustable, low-pressure, gas ZF Sachs shocks control the travel. A rear sway bar helps keep body roll in check.
HOW DOES THE SUSPENSION WORK?
It's very impressive, especially if you're used to a machine with 10 inches of travel or less. Long travel makes it easier to provide plush response on small impacts and plenty of bottoming resistance for big bumps and jump landings. The RZR S 570 also swallows whoops like no short-travel machine can. We rode a variety of trails with the S, including slow, technical, rocky routes and fast fire roads and were always comfortable and in control.
HOW DOES IT HANDLE?
It's willing and sure-footed. Light weight, impressive stability and manageable power make the S 570 simple to chuck into turns, and the chassis has no trouble coping with the machine's power and speed. On the right kind of trails, the kind that are too twisty to open up a high-horsepower rig, the 570 can easily stay with 1000s and even turbos.
HOW IS IT ON HILLS?
The S 570 climbs well and handles steep terrain confidently. Its four-wheel disc brakes provide very good power and control on downhills, but there's no automatic engine braking in extended throttle-off riding conditions. When engine braking engages, it acts only on the rear wheels, which can cause them to lose traction on slippery terrain.
HOW ARE THE DETAILS?
Very good, especially considering this machine's price point. We like the seats, and the cabin is roomy enough for two adults. The 570 also has a spacious cargo bed for a sport UTV and a 1.25-inch hitch receiver. Passengers get a T-bar hand grip to hang onto in rough-going. The floor has handy drains to ease cleaning. The 570 is pleasantly quiet, quiet enough to carry on a conversation with a passenger as you motor along.
What could be improved? Doors would be better than the nets, and better shocks would bring a more refined ride, but both would push the price up. It's cool that Polaris lets you pick them up when you want them.
WHAT'S OUR FINAL ANSWER?
For $2700 more than a RZR 570, you get the feel and look of the larger RZRs for a little more than half the price of the most expensive models.
POLARIS RANGER RZR S 570
ENGINE/TRANSMISSION
Engine type Liquid-cooled, 4-valve, DOHC 4-stroke single
Displacement 567cc
Bore x stroke 99mm x 73.6mm
Compression ratio 10:1
Lubrication system Wet sump
Additional cooling Auto fan
Induction 40mm EFI
Starting/back-up Electric/none
Starting procedure Turn ignition switch
Air filter:
  Type Paper pleat
  Access Tool-less, undo 2 clips
Transmission Dual-range CVT w/ reverse
Reverse procedure Move range selector to "R"
Drive system Selectable 2WD/4WD w/ auto diff-lock
Final drives Shafts
DIMENSIONS/CAPACITIES/WEIGHTS
Fuel capacity 7.25 gal.
Wheelbase 81"
Overall length/width/height 107.5"/60"/69.8"
Ground clearance 12"
Claimed dry weight 1130 lb.
Bed weight limit 300 lb.
Hitch 1.25-inch receiver
Towing limit 1500 lb.
ROLLING CHASSIS
Frame Steel square tube
Suspension/wheel travel:
  Front Dual A-arm w/ prel.-adj. shocks/12"
  Rear Dual A-arm w/ prel.-adj. shocks/12.5"
Brakes/actuation:
  Front Hydraulic discs/left-side pedal
  Rear Hydraulic discs/left-side pedal
Parking Lever on console
Tires:
  Front AT 27×9-12 Maxxis Bighorn
  Rear AT 27×12-12 Maxxis Bighorn
ELECTRICAL
DC outlet Console
Lighting:
  Front 2 35W headlights
  Rear Dual brake/tail lights
DETAILS
Instrumentation Speed/odo/trip/hour/rpm/fuel/gear/
clock/2WD-4WD
Colors Indy Red
Minimum recommended operator age 16
Suggested retail price $12,999
Contact Polaris, (800) POLARIS