— Checking out the new go-anywhere machines —
Argo has been producing Xtreme Terrain Vehicles (XTVs) in Ontario, Canada, for more than 50 years, and most of its XTVs are amphibious. This has attracted hunters, first responders, government agencies, militaries from around the world, and even NASA to its six- and eight-wheeled off-road vehicles. Ontario Drive and Gear (ODG) built its first six-wheel Amphicat in 1962, and by 1967, ODG was mass-producing the Argo, which is short for the Argonaut of Greek mythology. So, for 2019, Argo expands its Frontier, Conquest and Avenger series and introduce the all-new Aurora and Bigfoot series.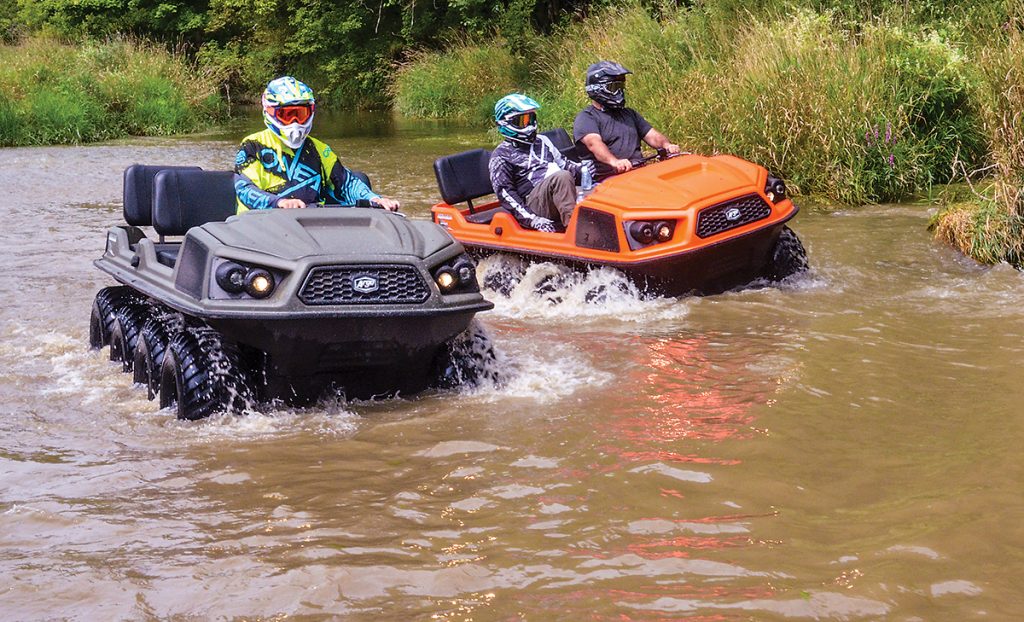 Aurora-series XTVs have so many innovations and upgrades that they only look like the three existing series. The all-new Aurora line includes the 800, 800 SX, 800 SX Hunt Master, 800 Limited and 950 SX. The all-new Bigfoot Series includes the 800 MX6 and 800 MX8 mud machines with mud tires, Jensen stereos and many innovations and upgrades from the Aurora line.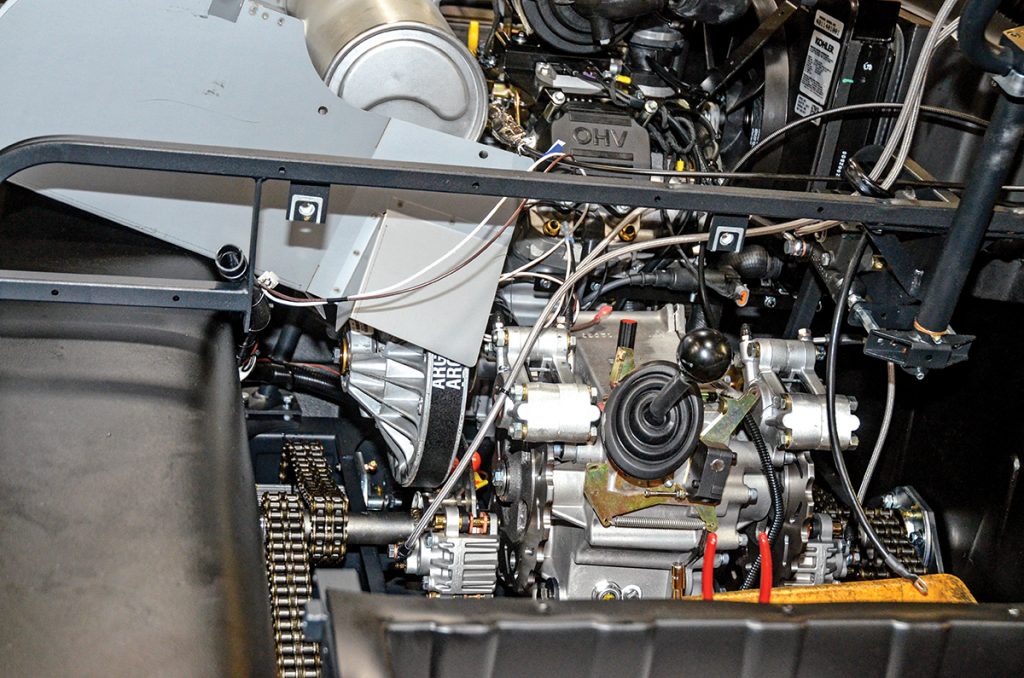 AURORA XTV SERIES NEWS
Argo strived to make the all-new Aurora series more like conventional UTVs with new ergonomics, including left-hand steering, start-in gear with upgraded controls, in-dash shifting, analog/digital gauges, a new body with automotive-style hood latch, dual-bench seating, projector headlights, LED taillights, new tires and bead-lock rims, and new insulation for the 30-horsepower, liquid-cooled OHV or 40-horsepower, fan-cooled, 993cc V-twin engines.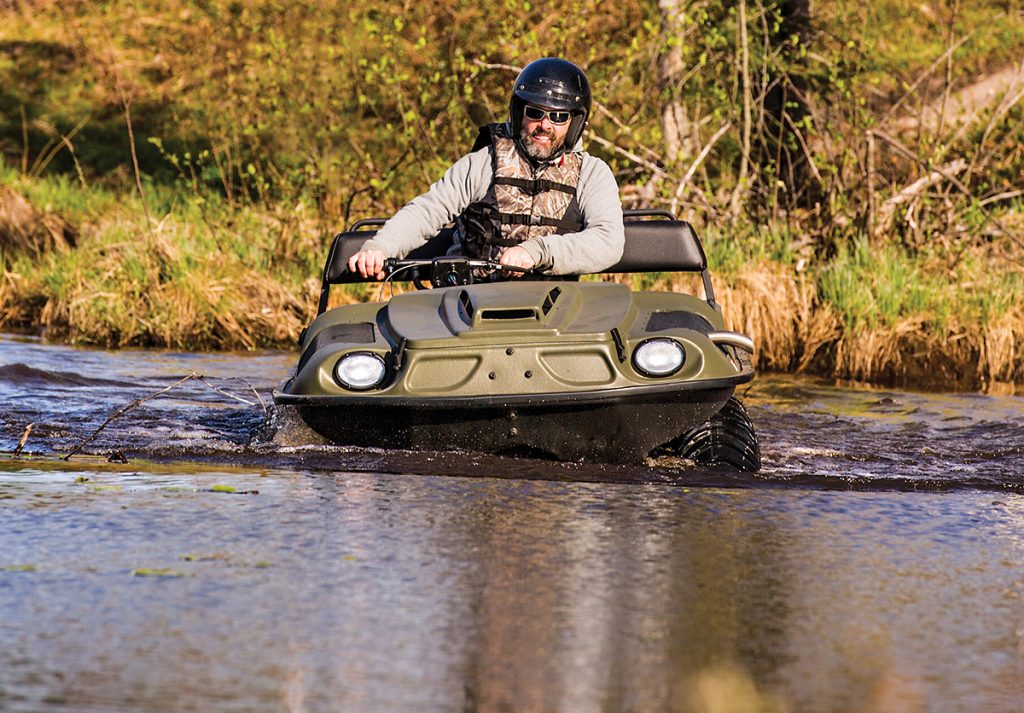 Admiral CVTs transfer power to eight new 25-inch, 30-paddle tires via three differentials with left- and right-side brake rotors for steering and jackshafts to chain-drive six of the eight tires. Admiral dual-range CVTs come in either High-Torque or Standard transmissions, with HTs having a top high-range speed of 17 mph/27 kph and STs topping out at 20 mph/32 kph. Aurora XTVs also get Argo Progressive Steering (APS), which steers like an automobile with minimal input and like a skid-steer machine with more steering input. The APS system uses two Hayes brake master cylinders with spring preload on each, and the springs provide less left/right steering braking until they reach coil binding, providing more progressive steering.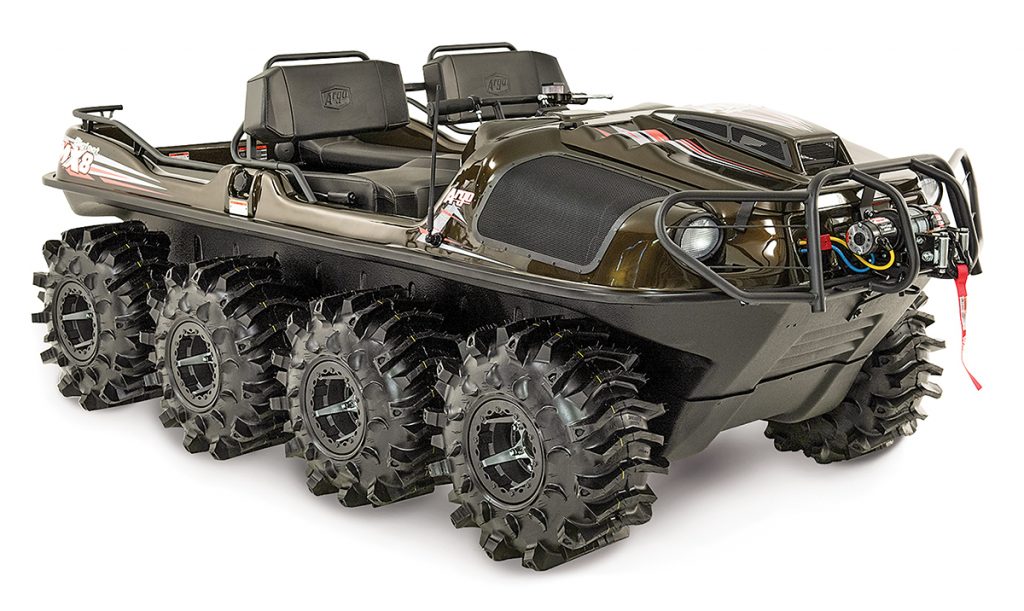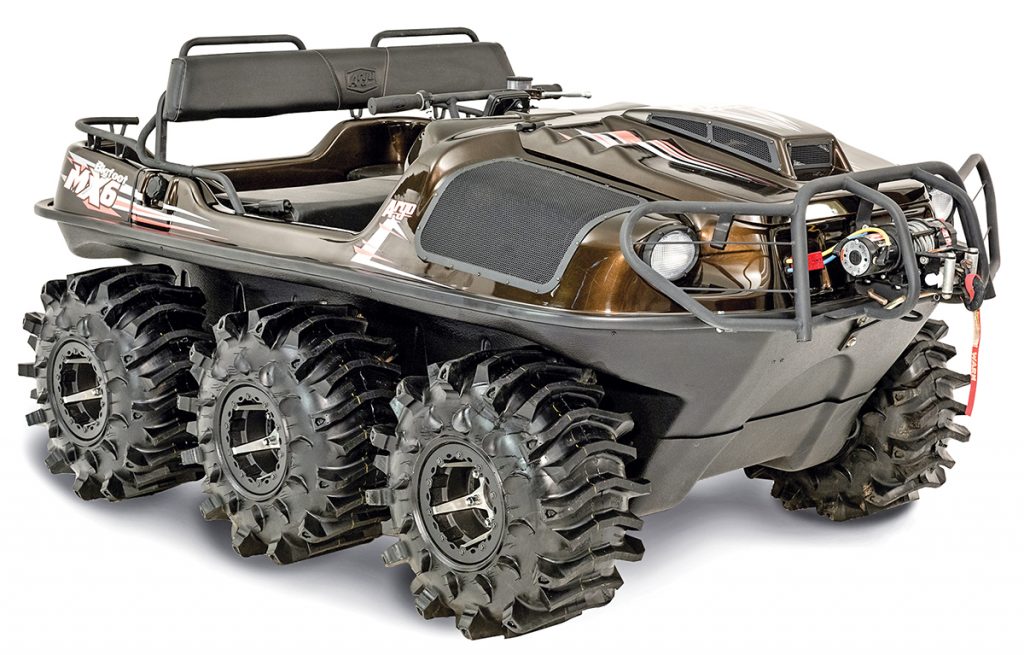 All this rides up front, and the Aurora line has multiple body panels instead of a one-piece upper body like the Frontier, Conquest and Avenger models. The Aurora boasts a new dash with F/N/R shifter, high-/low-range selector and an ATV-style gauge. The handlebar also includes a left-side cluster with e-start button, light switch, kill switch and brake master cylinder with parking brake. Aurora models also have a trigger throttle like a PWC, while existing lines have a twist throttle. Only Auroras have start-in-gear capability.
The base 800 sports steel rims with new XT117 tires, while the 800 SX, 800 SX Hunt Master and 950 SX have steel beadlock rims and XT117 tires. All Auroras but the base 800 have a 3500-pound winch with synthetic rope and brush guard, and the 800 Limited sports aluminum dual beadlock rims. Beadlocks allow running tire psi at 1.5–1.7 for better ride quality, and the new rims can be reversed for running treads, greatly cutting down on conversion time.
All other Argo models have the handlebars and controls on the right, like a boat, while some commercial Conquest Pro models have a slide and locking steering stem for steering anywhere.
BIGFOOT 800 SERIES NEWS
Bigfoot 800s sport a 30-horsepower, EFI-inducted, liquid-cooled V-twin with attached radiator and belt drive for the Admiral transmission with High-Torque gearing but no APS. The transmission is very complex, with dual-side brake rotors to provide steering on the top drive shafts and separate diffs on two output shafts, which rotate with a 3:1 ratio in high. Trick aluminum bead-lock rims clamp six or eight aggressive 25-inch mud tires, and Bigfoots also sport a Jensen audio system with marine-grade speakers, a 3500-pound Warn winch with steel rope, and a heavy-duty brush guard for the winch and headlights. 
UTV BUYER'S GUIDES> https://utvactionmag.com/buyers-guides/utv/
GET YOUR $25 GIFT CARD> https://hi-torque.com/product/utv-action-holiday/
.
.