PRICING ANNOUNCED ON HONDAS 2020 FOUR SEAT TALON
Honda has decided that they want to go full throttle and catch up with or possibly surpass the rest of the industry. We all had our worries that they would claim a new utility vehicle as their cool new 2020 model, but Honda delivered what we were hoping for. As of September first, we are finding dealers posting prices on all models. It looks like the 2-seaters will stay with the 2019 pricing at $19,999 and $20,999. The four seat prices are below.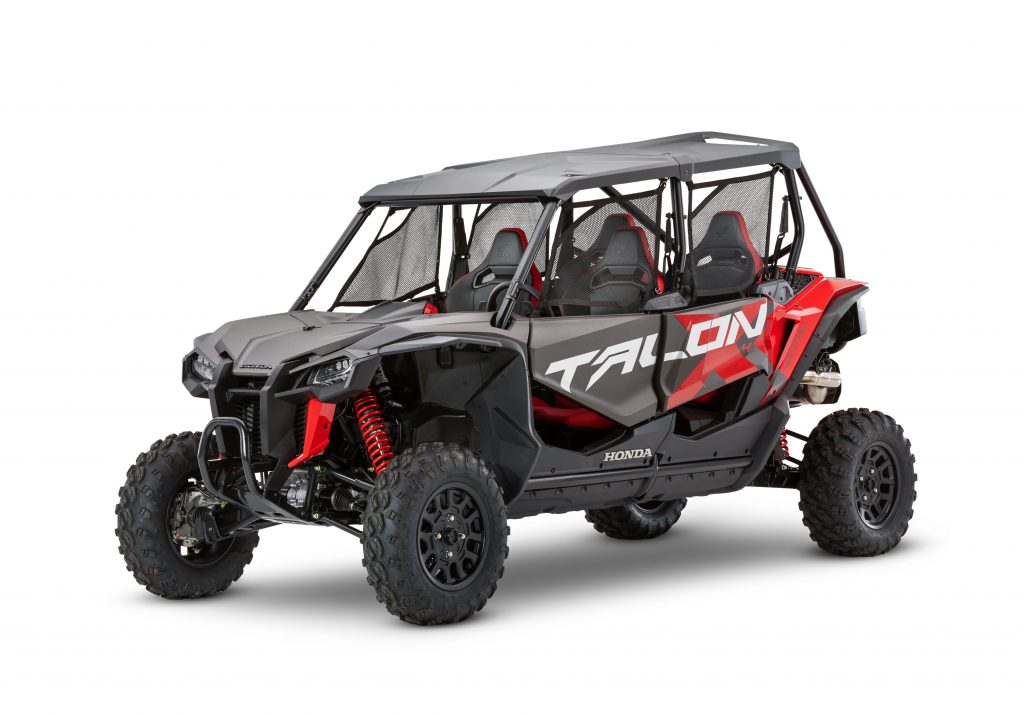 Within a month of releasing the Talon, numbers showed that it gained the #2 spot of all naturally aspirated sport UTV sales in the US. With that much success it made sense for Honda to release the new Talon X4 and Talon X4 Fox Live Valve edition.
That's right folks, a four seat Talon. They decided to stick with the X platform because despite the 'long travel' craze, 64″ machines are statistically the best seller overall. Here's what you need to know:

-It is the same 999cc I-4wd platform, no turbos yet.
-88% of the parts on the X4 are the same as the original Talon X, making it easy to get and swap parts.
-Both four seat models have approximately 14.5″ of front travel and 15″ of rear.
-Stadium seating gives passengers more room, and a better view of the action
-The Talon x4 gives you 116.3″ of wheelbase
Fox Live Valve system is all new and exclusive to Honda developed with Bosch. Although we might be able to compare it to the Dynamix system used by Polaris, it is not the same. The electronic suspension adjustment is controlled by a Bosch ECU using 6 different data points to change the settings. A five axis IMU, similar to the one that your phone uses to flip the screen from vertical to horizontal, tells the ECU how the machine is positioned. It also takes input from steering, throttle, braking, speed, and drive mode to determine shock feedback. Firmer settings are used for cornering, jumping, whoops, and braking. Softer settings help with straightaways, rocks, and low speeds. Rather than choosing between soft, sport, and firm the modes are narrowed to normal and sport.


Another feature added to the X4 live valve is the all new Launch Mode, so now you can drag race your buddies or just feel the force for yourself.  It comes in some new color ways, and also comes with color match powder coated cage, tubes, and suspension making it look far more aggressive than the subtle black components of the other Talons.


These new machines are still in a prototype phase so we were able to see physical models but we have not had any drive time yet. We are excited to try it out, and do some comparison tests. To learn more about the original Talon X and R you can visit these links: Special Report & Talon R 
and keep up with future developments by checking back here and on our social media: @utvactionmag