— Testing a handy product from Harbor Freight —
Harbor Freight's Viking compact power pack/jump-starter uses a lithium battery to supply 221 amps of starting current and 450 peak amps in a 6 1/4 x 3 1/8 x 1 5/8-inch device. That's enough to jump-start UTVs or cars with engines up to eight cylinders. This device has a powerful built-in flashlight and can also power or charge personal electronics from its 5-volt/2-amp USB output and supply 12-volt power from its 12-volt output. Jumper cables, car and wall chargers, a USB charging cable, a 12-volt power supply cable with lighter socket, and a carry case come with the kit. It's $79.99. Other compact jump-starters with similar power cost $95 or more.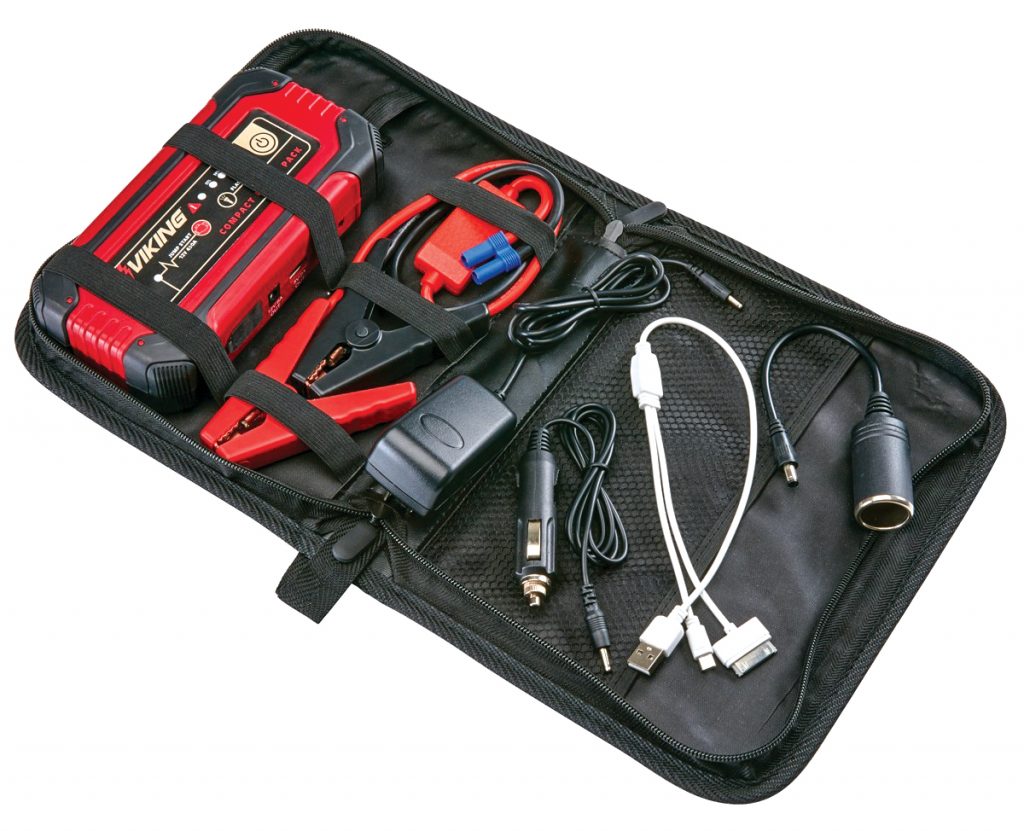 PERFORMANCE
We let the battery on a Kawasaki Teryx4 die, and the Viking power pack easily jump-started it. While using the device for jump-starting and other jobs, we found several things we like about it that we haven't seen on other jump-starters, including more expensive models: The 17-inch jumper cables are longer than the ones some jump-starters come with, which makes it easier to securely attach the clamps. The 12-volt power supply cable with a lighter socket, which lets us power a small compressor and take it anywhere we needed it. Rear tires on trucks and trailers are often beyond the reach of the compressor's cord when it's plugged into the truck dash. The case has shock absorbing rubber corners like a cell phone case. The input and output sockets are clearly labeled in large type that is easy to see, even in low light. After months of use and storage, the Viking power pack is working as well as ever.
THE VERDICT
Harbor Freight's Viking compact power pack/jump-starter offers more power than most jump-starters in its price range and offers several useful features we haven't seen on models that cost considerably more.
CONTACT: Harbor Freight Tools stores or www.harborfreight.com
RATING: ★★★★★
PRICE: $79.99
.
.