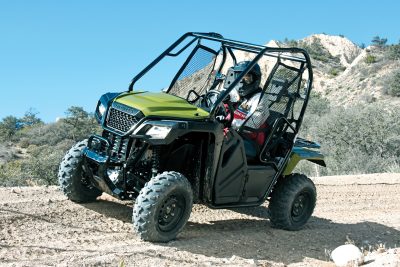 SMALL UTVS FOR HUNTING
Dear Sarge,
Several of our group are trying to decide on the joint purchase of a small 500cc UTV for getting to and back from our hunting camp in the Adirondack Mountains. We have narrowed the choices to two models. We wanted small and maneuverable due to the terrain we will be in. If it was more open, we would look at the 4 seaters but during our test drives, we decided it would be better to make several trips into camp and still be able to get to where we could haul any deer out. So, our choices that we test drove are the Honda 500cc Pioneer and the Polaris Ranger 570. Both have bench seats that we all thought would be more useful than buckets. Your opinion would be appreciated Sarge.
Dennis Magster
Cortland, New York
Private 30 Round, If you did indeed drove both Zooters, it should have been obvious that the Pioneer is quieter, if that matters to your group. And, even though the Ranger has a dump box, I think it would be a challenge to put an 8-point in the box. I think the open tube rack on the Pioneer would be easier to strap down an 8-point. Also note, although this point may not be of importance to you, the Ranger takes more real estate to turn around. The Ranger does have superior suspension,more power and a higher top speed. Again, if it matters to your group, the Ranger's CVT automatic transmission operates more smoothly but the Pioneer's 5-speed transmission offers automatic and manual modes, is more efficient and doesn't use a drive belt. So Boot, I can't give you my overall opinion because your requirements are a bit vague. I suggest you all double-time into camp with full packs and then decide! Dismissed!
See UTV Action's full test on the Pioneer 500 here: TEST: 2017 HONDA PIONEER 500 – UTV Action Magazine