ATVing is a new sport for many enthusiasts, so it may seem hard to believe that Suzuki is celebrating its 30th anniversary making four-wheelers and its 50th year in America. Suzuki made three-wheelers more than 30 years ago and was the first of today's major manufacturers to offer quads. Suzuki didn't just lead the ATV industry with the first four-wheeler, they made many trendsetting machines along the way. Let's look at the milestone Suzuki models that changed the sport and the world!
1983 LT125 QuadRunner
In 1982, Suzuki shifted the entire ATVing world from three-wheelers to four-wheelers with the innovative Suzuki LT125 QuadRunner, which was released as a 1983 model. It had an air-cooled, 125cc, singleoverhead- cam, two-valve engine and a foot-shift, five-speed transmission with a convenient automatic clutch. The tires and thick, soft seat provided the suspension, but the LT125 had electric starting and reverse, rare luxuries on ATVs in the early '80s.
1985 LT250R QuadRacer
Until 1985, high-performance, twostroke three-wheelers dominated ATV racing. The liquid-cooled, two-stroke QuadRacer 250 changed ATV racing and high-performance ATVs forever. The LT250R was a pure performance machine, with a manual clutch, five-speed transmission, no reverse and kickstarting for maximum performance with minimum weight, just 325 pounds! Honda followed Suzuki's lead in 1986 with the legendary TRX250R high-performance quad.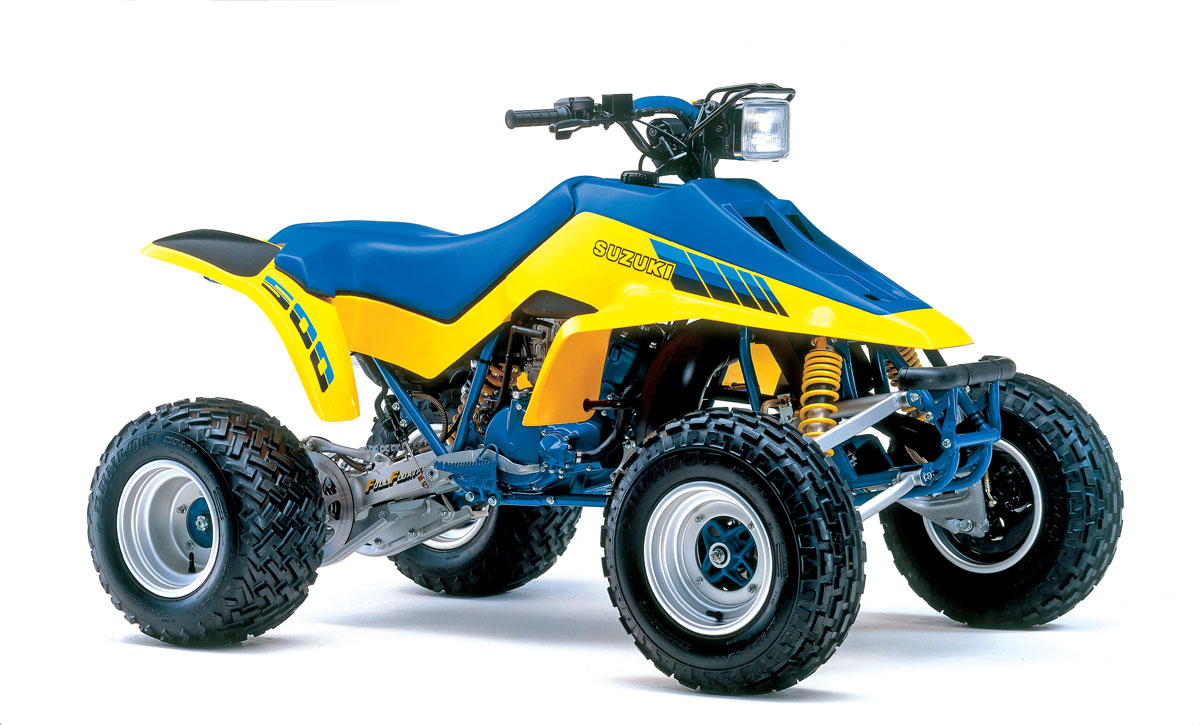 1986 LT500R QuadRacer
As if the shock wave the LT250R created in the high-performance sport ATV class wasn't enough, Suzuki released the amazing 500cc, two-stroke LT500R just a year later, rewriting the rules for the big-bore sport ATV class and paving the way for outlandish open-class sport machines like the Raptor 700. The mighty 500's liquid-cooled engine featured a variable exhaust port, just like state-of-the-art motocross bikes of the day. A pure sport machine, this kickstartonly beast had no reverse and a manual-clutch, five-speed transmission. The 500's monsterous power earned it a cult following that continues today—and the nickname "Quadzilla."
1991 LT280 KingQuad
It may be hard to believe that an air-cooled, 280cc, single-cylinder machine could rock the 4×4 ATV world, but in 1991, a 280 was big, and the first KingQuad's impact can still be felt today. This was the first four-wheeler to come loaded with features that are considered must-haves on modern 4WD machines. It had independent rear suspension when solid-axle rear ends were the norm, selectable 2WD/4WD when 4WD was rare, and selectable 2WD/4WD was almost unheard of. The KingQuad also featured a lockable front differential, a key feature found only on today's best-equipped 4WDs. The first KingQuad's foot-shift, automatic-clutch transmission had high and low ranges for its five speeds, giving the 280 impressive pulling power, speed and versatility.
2002 LTZ400 QuadSport
In 2002, Suzuki reenergized the midsize sport segment with the LTZ400, one of the best-performing, most versatile sport quads ever released. Rugged, nimble and easy to ride with enough performance potential for serious racing, the liquidcooled, double-overhead-cam machine worked great for a huge range of riders. Electric starting and reverse made it an instant hit with trail riders and woods racers. Modified, it won national motocross championships. A winner since its introduction, the Suzuki Z400 steadily improved and was seriously upgraded in 2009 with fresh styling, fuel injection and adjustable piggyback-reservoir front shocks to go with its piggyback-reservoir rear shock. It's still one of the best allaround sport ATVs available.
2006 LT-R450 QuadRacer
Suzuki took the high-performance ATV concept to another level with the LT-R450, the first production motocross-width competition quad. Its popularity spawned similarly equipped race machines from Yamaha, Can-Am and KTM. The 450's highly tuned, radically over-square, fuel-injected, doubleoverhead- cam engine was set in a chassis with 50-inch-wide A-arms and axles—motocross-spec parts racers had to buy and add to other high-performance quads. Excellent ergonomics and handling and raceready ruggedness make the LT-R450 a prized race machine today, even though Suzuki discontinued the model in 2009.