TEST: 2017 HONDA PIONEER 500
Honda's Pioneer 500 is known as one of the most fun small UTVs for a number of reasons, but the biggest is its paddle-shift five-speed transmission. It may sound strange, but adding the option not to shift makes the smallest Pioneer even more fun. We tested the 2017 Honda Pioneer to get a feel for both shifting modes and the machine's other changes.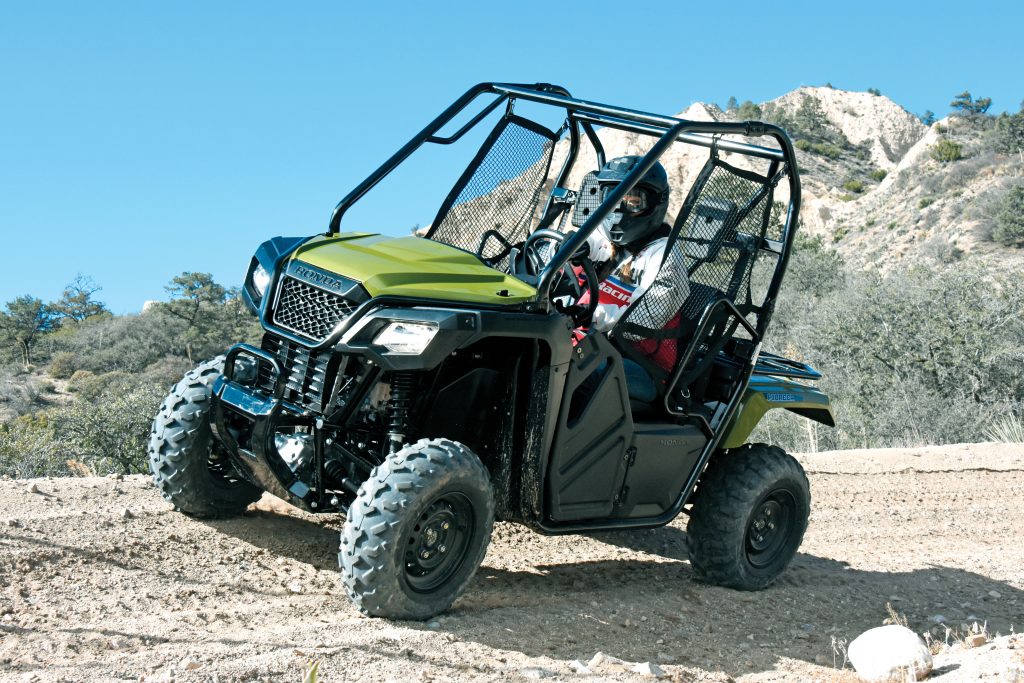 HOW DOES COST COMPARE?
The Pioneer 500 starts at $8999. The camo version is $9599. The Polaris Ranger 500 is also $8999. The Polaris Ace 500 is $6999 and the Ace 570 is $8499. Cub Cadet's Challenger 500 is $8499. Hisun's Strike 550 is $8999.
WHAT'S NEW FOR 2017?
A fully automatic shift mode is added to the manual paddle-shift mode for the Pioneer's geared five-speed transmission. You select modes with a knob on the dash, and you can also shift manually when in automatic mode. As before, the clutch is automatic, so you don't have to think about it when pulling out, stopping or shifting. The transmission doesn't use a drive belt like the continuously variable transmissions on most UTVs. The 2017's front and rear shocks are spring preload adjustable. Previous models had non-adjustable front shocks. New dual-rate suspension springs are used to offer a more compliant ride on small bumps with better bottoming resistance for big hits.
WHAT POWERS IT?
A 475cc, fuel-injected, four-valve, pushrod engine. The engine is mounted longitudinally with the crankshaft in line with the drive shafts for efficient power transfer.
WHAT KIND OF 4WD SYSTEM DOES IT HAVE?
It has selectable 2WD/4WD but no front differential lock. The 500 has an open front differential to reduce steering effort in 4WD. This type of differential doesn't provide the traction limited slip or locking front differentials can.
HOW FAST IS IT?
It's fast enough to be fun. The 475cc engine isn't overwhelming by any stretch, but it's responsive and pulls well. The 500's 37-mph top speed is plenty for tight trails, though more speed would be nice for open country.
HOW IS THE POWER DELIVERY ON THE TRAIL?
The Pioneer 500's power delivery is what makes it so much fun, and the paddle-shift five-speed transmission is the key to controlling the power. Being able to pick and hold the gear you want allows you to let the engine rev for crisper response than you get from machines with continuously variable automatic transmissions. The transmission is designed to be shifted without backing off the throttle, so shifting doesn't interrupt the flow of power.
Not all riders like to shift and those that do don't like to shift all the time, so the automatic shift mode makes the Pioneer easy to enjoy for more riders than the original paddle-shift-only models. You feel the upshifts as you accelerate and the downshifts as you slow down, so the five-speed isn't as smooth as a CVT, but it does a good job of picking the right gears for hills and turns on the trail.
WHAT KIND OF SUSPENSION DOES IT HAVE?
Double-A-arm independent front and rear suspension with a rear sway bar to control body roll. Spring preload-adjustable front and rear shocks offer 5.9 inches of travel at each end.
HOW DOES THE SUSPENSION WORK?
It offers a smooth, well-controlled ride for most trail-riding situations, especially considering there's just 5.9 inches of front and rear travel. The suspension will bottom on big bumps or whoops if you're carrying too much speed, but once you learn the suspension's limits, you can get down the trail at an entertainingly quick pace. The 500 can even handle jumps as long as you don't get too crazy.
HOW DOES IT HANDLE?
Extremely well. Full of fuel, the Pioneer 500 weighs only 1025 pounds, so it has an outstandingly light, agile feel. There's no power steering, but we never missed it, even in 4WD on tight, twisty trails. Short suspension and great weight distribution make the Honda impressively stable for a 50-inch-wide machine, stable enough to slide securely on slippery surfaces, and it feels nicely planted on off-camber terrain. The 50-inch width also gives the 500 access to trails drivers in wider machines can't enjoy.
HOW IS IT ON HILLS?
Surprisingly capable. The Pioneer 500 may not win many races to the tops of tough, hilly trails, but it can go where most bigger machines go. We climbed steep terrain in automatic and manual mode and both worked well, though we chose to shift more often just because we could. On downhills, the Pioneer's engine braking helps slow the machine, and it provides four-wheel engine braking in 4WD, so you don't have to concentrate so much on the brakes as you negotiate the trail. The Pioneer's dual front disc and single rear disc brakes are strong and have good feel.
HOW IS IT FOR WATER AND MUD?
The 500 can handle mud and water obstacles as long as they're on a smaller scale than what the big machines are doing. Deep ruts can use all of the Honda's 8.5 inches of ground clearance, but the compact 500 can sometimes travel inside other vehicles' ruts. The Pioneer 500's 4WD system lets the machine go nearly anywhere, though a locking front differential or limited-slip differential would work even better in really ugly terrain. The Honda's intake is just below the front of the rear rack, which means it will keep running even in seriously deep crossings.
HOW ARE THE DETAILS?
Impressive, especially for an entry-level machine. Honda quality shows in the 500's fit, finish and feel. The clever knob that releases the doors and nets together is more convenient than the separate releases on the larger, more expensive Pioneers. There is storage space under the seats and under the hood, and the cabin is surprisingly roomy for such a small vehicle. The contoured seats are comfortable and offer enough support for sporty driving. The 500 fits easily in a full-size pickup.
WHAT IS OUR FINAL ANSWER?
For us, the option to shift gears makes Honda's Pioneer 500 one of the most fun, small UTVs around. The 2017's new automatic shift mode just made this machine fun for all those drivers who don't care to shift, and the 500 is still very affordable.
HONDA PIONEER 500
ENGINE/TRANSMISSION
Engine type Liquid-cooled, push-rod, 4-valve,
4-stroke single
Displacement 475cc
Bore and stroke 92mm x 71.5mm
Compression ratio 9.5:1
Lubrication Dry sump
Induction 35mm EFI
Starting/back-up Electric/none
Choke location N/A
Starting procedure Turn ignition key
Air filter:
   Type Reusable oiled foam
   Access Remove airbox lid (4 clips)
Transmission Paddle-shift 5-speed w/ automatic clutch
& automatic mode
Final drive Shaft
DIMENSIONS/CAPACITIES/WEIGHTS
Fuel capacity 4.1 gal.
Wheelbase 73.1"
Overall length/width/height 102.6"/50"/71.3"
Ground clearance 8.5"
Wet weight 1025 lb.
ROLLING CHASSIS
Frame Steel round and square tube
Suspension/wheel travel:
   Front Dual A-arms w/ prel. adj. shocks/5.9"
   Rear Dual A-arms w/ prel.-adj. shocks/5.9"
Brakes/actuation:
   Front Dual 190mm hydraulic discs/left pedal
   Rear Single 200mm hydraulic discs/left pedal
Parking brake Mechanical/hydraulic
Tires:
   Front 24×8-12
   Rear 24×10-12
Bed capacity 450 lb.
Towing capacity 1000 lb.
DETAILS
Lighting
   Front (2) 37.5W headlights
   Rear Tail/brake light
Instruments Fuel gauge, speedometer, indicator lights
(4WD, etc.)
Colors Red, olive, Honda Phantom Camo
Minimum operator age 16
Suggested retail price $8999, $9599 (camo)
Contact American Honda, (310) 532-9811