— 2019 High-performance UTV test —
Polaris never rests. The company is constantly developing new products to deliver vehicles as close to what the customer wants as possible. Since the release of the Can-Am X3, Polaris customers have been begging for a long-travel RZR to match the X3 X rs. Polaris listened and one-upped Can-Am by not only widening its current turbo machine like Can-Am did, but strengthening the frame, suspension components and clutching, building a better product—not just a wider one. The original Turbo S (released in November 2018) is a high-end machine. It comes with electronically adjustable shocks, a navigation system, Sparco steering wheel, a roof and full doors. Those features come at a cost that takes the machine well over the $30,000 mark for the four-seat version. Now, only months after the Turbo S' debut, Polaris is offering a stripped-down version with about a $2600 price drop, coming in at $28,399. That new version is called the 2019 Polaris RZR XP Turbo S Velocity edition. It's available in two- and four-seat versions.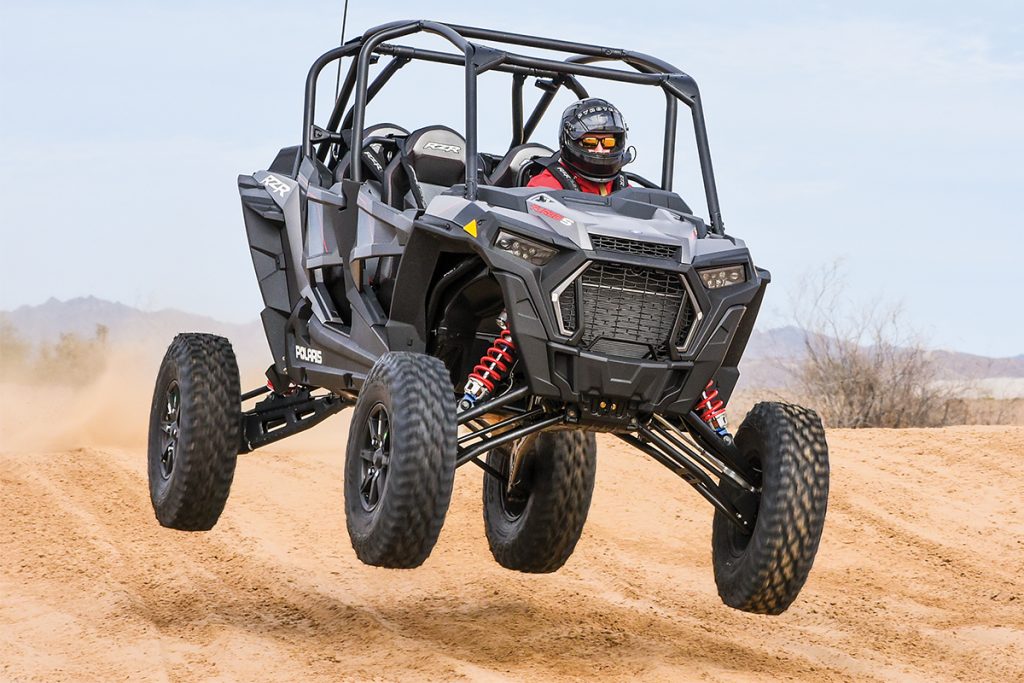 HOW DOES THE PRICE COMPARE? 
At $28,399, the four-seat Velocity RZR is $2600 less than the original Turbo S4 and $1500 less than the Can-Am Maverick X3 Xrs Max four-seater. On the Can-Am, you do get a roof and beadlock wheels.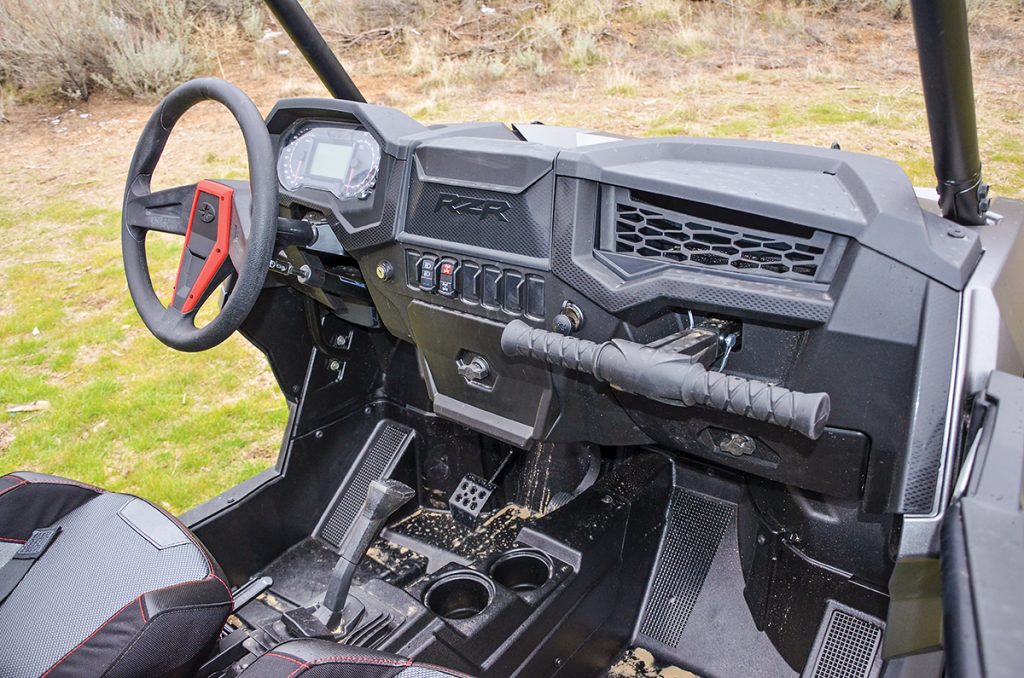 WHAT IS DIFFERENT?
When we say "stripped down," we don't mean the important parts. Even the big change in the shock department isn't a downgrade. Sure, the electronically adjustable Fox Shox have been replaced with Walker Evans Velocity shocks, but the WEs are just as good and even better in some cases. This model is lacking a roof, lower door quarters and doesn't feature the Polaris Ride Command navigation console or rear-facing camera. It still has 32-inch ITP Coyote tires, massive wheel travel, four-point harnesses and a 168-horsepower Turbocharged engine. About the only thing that feels downgraded from the driver's seat is the steering wheel. Gone is the nice Sparco wheel and in its place is the standard plastic steering wheel, which isn't all that bad.
HOW FAST IS THE ENGINE?
This is arguably the fastest four-seat, high-performance UTV you can buy. Can-Am claims its X3 has 4 more horsepower, and both manufacturers claim their machines weigh around 1850 pounds. However, the ITP Coyote tires hook up way better than the standard Big Horns that most vehicles come with stock, including all X3s. In stock trim, the Velocity four-seater will accelerate harder and is electronically governed to top out at 80 mph.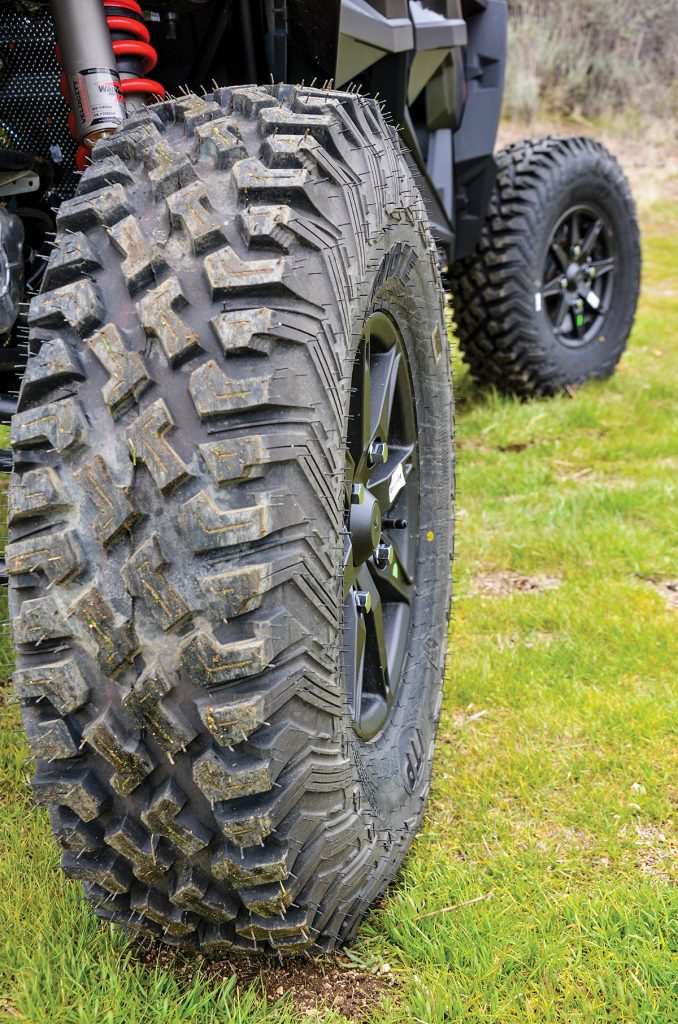 HOW ABOUT THE DELIVERY & DRIVETRAIN?
According to Polaris, this machine has 20-percent-better CVT belt cooling than the standard XP Turbo. The clutch action is also improved, so the car doesn't feel one bit slower than a narrower, lighter XP Turbo. When you stab the throttle, all three of your passenger's helmets will be pushed into the seat backs. Thankfully, there is a grab handle for everyone, because they will all be locked on with white knuckles. Whether you start from a standstill or accelerate from a rolling start, the Turbo S hits smooth but strong, providing thrills to all. On concrete, in 2WD, you can light the back tires up easily! On dirt, all four spin.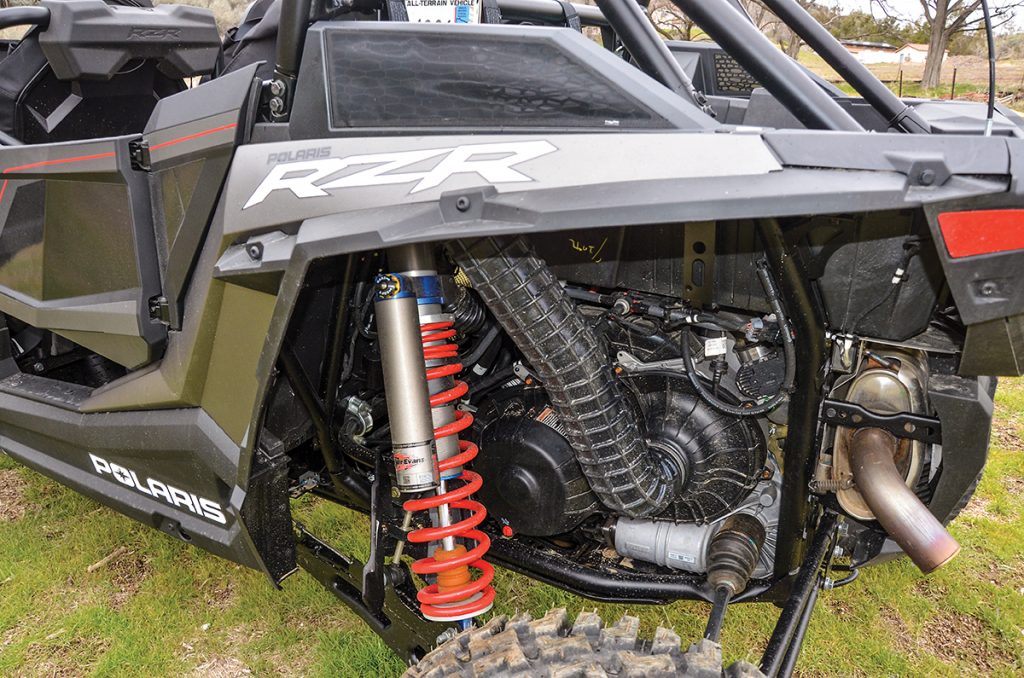 HOW DOES IT HANDLE?
The 117-inch wheelbase is nearly perfect for a vehicle of this weight and width. Most 800-horsepower Trophy Trucks and big Class 1 off-road race cars are built with only a slightly larger 125-inch wheelbase, so this measurement is much better in a wide variety of conditions when compared to the 135-inch wheelbase of the X3 Max. Cornering is still precise for a four-seater. This car has a true 16 inches of ground clearance, so it doesn't drag its belly when going down ledges or through deep whoops at slower speeds. 
WHAT ABOUT THE SUSPENSION & SHOCKS?
At cruising speed, the shocks soak up everything. We played with the clickers, and they are close to what you get with the Dynamix setup. Full stiff is rather rigid, but full soft is more comfortable than the comfort setting on the Dynamix cars. We guarantee Walker Evans will be offering a spring and crossover kit for this car before you even get done reading this article. That will add even more plushness at slow speeds and more options for those who like to make precise adjustments. 
The WE Velocity shocks are just as big as the Fox's at 2.5 inches in the front and 3.0 inches in the rear. What we really like is that the car's ride height doesn't change or adjust as you drive, so you know how the car will handle through a particular turn every time. There is 19 inches of travel in the front and 21 inches out back.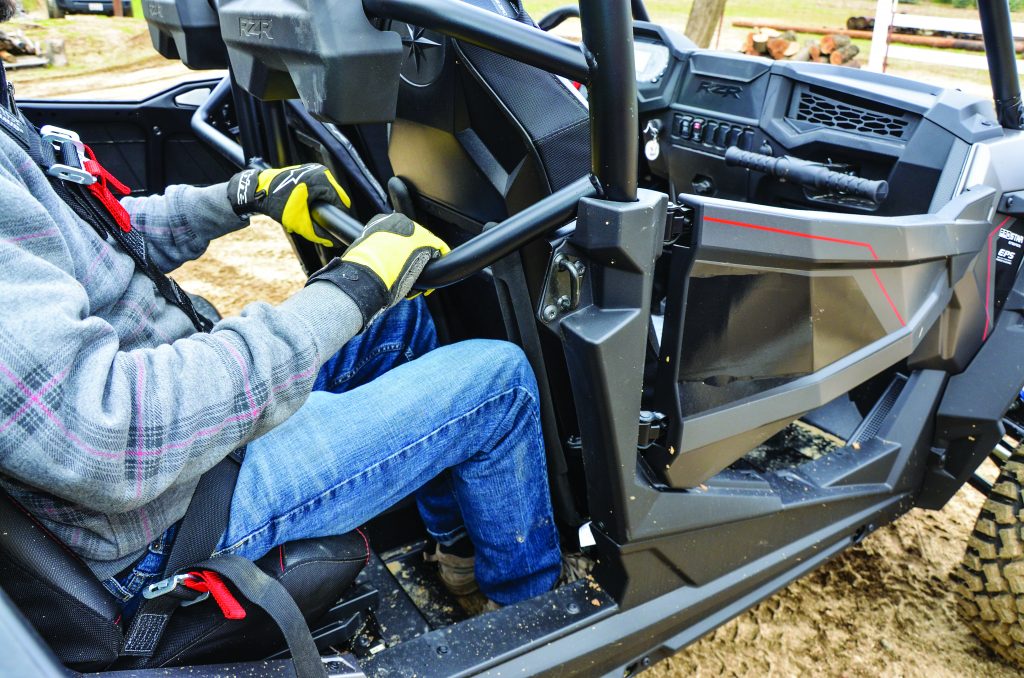 HOW STRONG ARE THE BRAKES?
The brakes aren't bad, but they are a weak point. The ITP tires have such good grip that the brakes are being worked harder than with a Big Horn tire that slides easier. At times the brakes feel spongy, but they do slow the car down plenty quick to be safe. Polaris actually increased the braking force from the standard Turbo model to this one. Both two- and four-seat machines now get larger rotors and the three piston calipers in the front.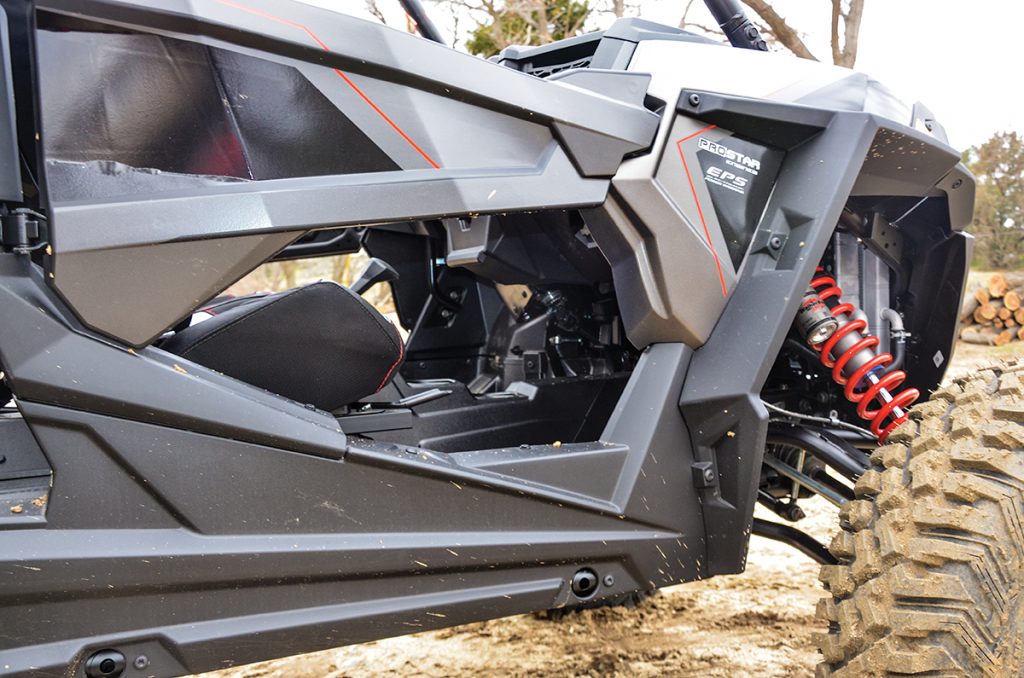 WHAT ABOUT PASSENGER COMFORT?
Polaris has redesigned the roll cage on the Turbo S models to help the rear passenger feel safer. All four seats get adjustable four-point harnesses with a sternum strap. The rear passengers get an added cover that goes over the mounts for the front-seat harness mounting points. The pad keeps the back-seat passengers from grabbing anything sharp with their hands or hitting anything solid with their helmets. There is enough room for a 6-foot-tall back passenger, but that's the limit before he or she would feel cramped. Up front, there is an extra storage box in place of the Ride Command System that is perfect for gloves, phones, cameras or a set of binoculars.
WHAT IS OUR FINAL ANSWER?
We like saving money just as much as we like to customize our ride. The Velocity Edition 2019 Polaris RZR Turbo S 4 is the perfect model to base a build around. After we put an initial 1000 miles on our machine, we are going to look into the Walker Evans spring kit, a roof, and aluminum doors, and will mount a GPS system of our own. We will get the exact car we want. But, until then, this machine is perfect to go have fun in with the whole family just as it is.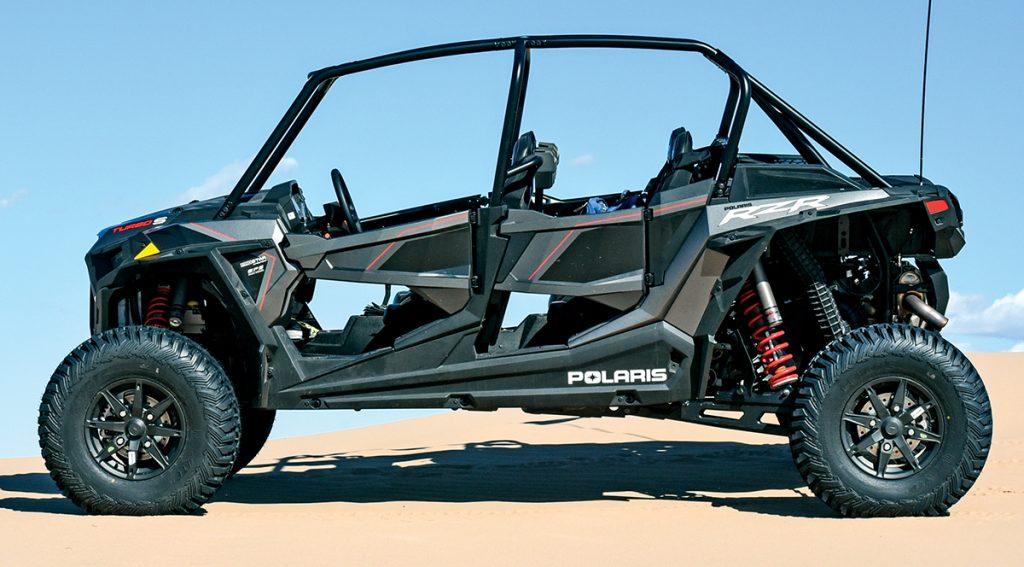 SPECS:
2019 POLARIS RZR XP 4 TURBO S VELOCITY
ENGINE/TRANSMISSION
Engine type Liquid-cooled, 8-valve, DOHC 4-stroke twin
Displacement 925cc
Horsepower 168hp
Lubrication system Wet sump
Additional cooling Auto fan
Starting/back-up Electric/none 
Starting procedure Turn ignition switch w/brake on
Air filter:
  Type Paper pleat
  Access Behind panel in cargo tray, tool-less 
Transmission Dual-range CVT w/ reverse
Reverse procedure Move range selector to "R"
Drive system Selectable 2WD/4WD w/ auto diff-lock 
Final drives Shafts
DIMENSIONS/CAPACITIES/WEIGHTS
Fuel capacity 9.5 gal.
Wheelbase 117"
Overall length/width/height 149"/72"/76.5"
Ground clearance 16"
Claimed dry weight 1914 lb
Bed weight limit 300 lb.
Hitch No
Towing limit N/A
ROLLING CHASSIS
Frame Steel round tube
Suspension/wheel travel:
  Front Dual A-arm w/2.5" WE shocks/19"
  Rear IRS Trailing-arms w/3.0" WE shocks/21"
Brakes/actuation:
  Front Hydraulic discs/left-side pedal
  Rear Hydraulic discs/left-side pedal
Parking Lever on console
Tires:
Front 32X10-15 ITP Coyote
Rear 32X10-15 ITP Coyote
ELECTRICAL
DC Outlet Console
Lighting:
  Front 2 LED hi/lo headlights w/accents
  Rear Dual LED brake/tail lights
DETAILS
Instrumentation Speed/odo/trip/hour/rpm/fuel/gear/
clock/2WD-4WD
Colors Titanium Gray
Minimum recommended operator age 16
Suggested retail price $28,399
Contact Polaris, (800) POLARIS