— Cub Cadet is a big name in power equipment that is also very serious about UTVs. Established in 1961, the American company has 1400 dealers, and its utility UTVs are rugged and affordable. Cub Cadet entered the recreation/utility class with its Challenger 500 and 700 in 2015, and the new Challenger 550 and 750 join the line with more performance, comfort and standard features. We tested the new 750 to see what it's all about.
WHAT'S NEW?
The Challenger 750 isn't an updated Challenger 700; it's a whole new vehicle with new styling, more power, more suspension travel and numerous upgrades to improve comfort and usability. The engine is larger, and the chassis is longer and narrower than the 700's.
A new formed cab over the ROPS cage features an integrated roof, and it creates a frame for the sealed windshield and the doors. The cab can be weather sealed in minutes with the optional upper doors and rear window. Sculpted seats, a tilt wheel and automotive-style analog instrumentation located in front of the steering wheel give the vehicle a car-like feel.
In addition to the roof, windshield and doors, the base Challenger 750 includes premium features, including a 3500-pound winch, aluminum wheels, side mirrors, LED headlights and turn signals. Power steering is available as an option, along with numerous accessories, and there is a power steering model on the way.
HOW DOES COST COMPARE?
The Challenger 750 is $10,999 or $11,299 in camo. Honda's Pioneer 700 Deluxe is $11,899. Kawasaki's Mule Pro-FX is $11,999. Polaris' Ranger XP 900 starts at $12,299. Hisun's Sector 750 is $9999.
WHAT POWERS IT?
A single-cylinder, single-overhead-cam, five-valve, 735cc engine with 35.8 horsepower. The engine is based on the Challenger 700's. The bore is the same at 102mm, and a 6mm-longer stroke boosts the displacement and power.
WHAT KIND OF TRANSMISSION DOES IT USE?
A dual-range, belt-type, fully automatic continuously variable transmission with engine braking. A centrifugal clutch on the primary clutch provides the engine braking and protects the belt in severe driving conditions.
WHAT KIND OF 4WD SYSTEM DOES IT HAVE?
Selectable 2WD/4WD with lockable front and rear differentials. Lockable front differentials are pretty common on UTVs, and they come in handy when you need more traction than standard 4WD can provide. Unlocking the rear differential lets the vehicle turn tighter, and it protects delicate turf.
HOW FAST IS IT?
It's fast enough to maintain a quick pace on the trail and powerful enough for tough hills and obstacles. Like many recreational utility machines, the 750 isn't a rocket; top speed is 45 mph.
HOW IS THE POWER DELIVERY?
The Challenger 750 has smooth, strong, low and midrange power and enough top-end pull for relaxed cruising at higher speeds. It's a good, usable combination for steep, difficult trails littered with turns and obstacles. The machine also pulls well in soft, power-sapping sand. The Challenger isn't tuned for snappy throttle response like sport UTVs, so it's reluctant to break the rear wheels loose and slide around turns.
WHAT KIND OF SUSPENSION DOES IT HAVE?
Double A-arms and sway bars front and rear with compression, rebound and spring preload-adjustable Sair piggyback reservoir shocks. Travel is 9 inches up front and 8.1 inches in the rear, which is typical for recreational utility rigs.
HOW DOES THE SUSPENSION WORK?
It's excellent. You don't see fully adjustable piggyback reservoir shocks as standard equipment on recreational utility UTVs very often, but the good they do for sport machines they also do, too, for the Challenger 750. High-capacity, high-pressure gas shocks have numerous advantages over more, basic components, and the Cub Cadet's are also tuned well for this machine's mission. You can't hammer through whoops like a long travel sport machine, but the Challenger 750 delivers a compliant, well controlled ride in a wide range of conditions. Bottoming resistance is also very good.
HOW DOES IT HANDLE?
It's stable, predictable and surprisingly easy to handle. The Challenger 750 has a nicely balanced feel in a straight line and in corners, and the front and rear sway bars help the machine turn without excessive body roll. The machine also feels confidently planted on off-camber trails. We're so used to power steering, we expected the Challenger to be somewhat challenging to handle on tight, twisty trails, but it wasn't. It requires more steering effort, but it's not at all annoying unless the front differential is locked. Like any machine without power steering, bumps send some kick through the steering wheel that power-steering systems filter out.
HOW IS IT FOR HILLS?
It's up to the Challenge. The 750's torquey, controllable engine and versatile 4WD system provide plenty of climbing power for difficult hills. Engine braking and the Cub Cadet's impressively strong brakes make downhills no sweat.
HOW ABOUT MUD AND ROCKS?
Locking front and rear differentials and the Challenger 750's 12 inches of ground clearance let it motor through mud and rocks without snags, and the under-hood air intake provides plenty of clearance for deep crossings. This machine's bodywork also provides excellent splash protection.
HOW ARE ITS WORK CREDENTIALS?
Solid. The 750's tilting bed can carry 500 pounds, and the machine can tow 1200 pounds from its 2-inch hitch receiver.
HOW ARE THE DETAILS?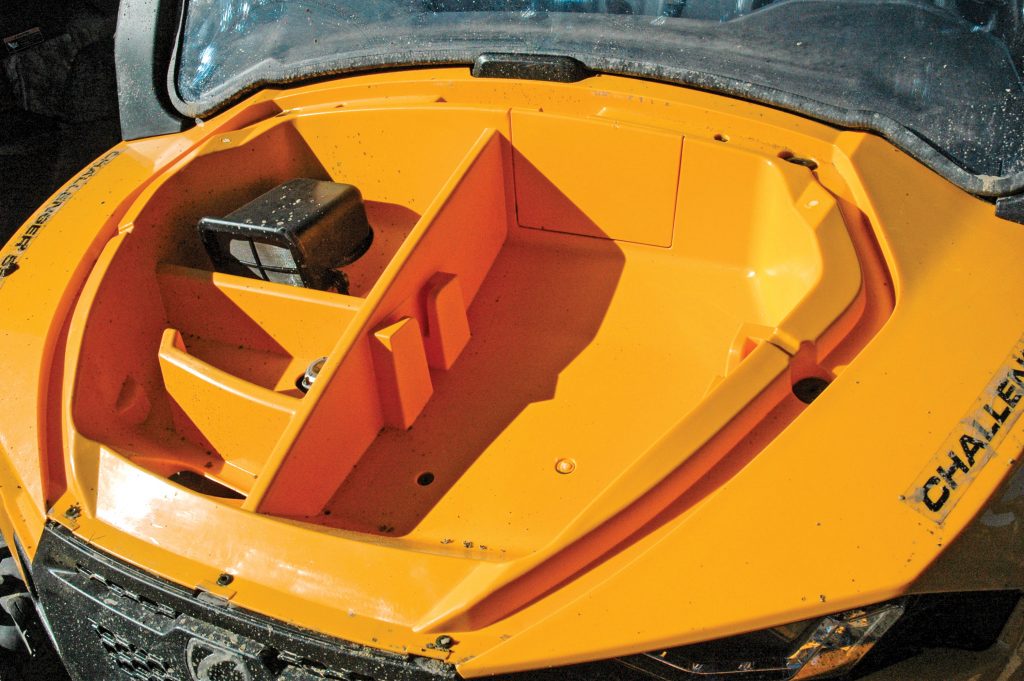 Most are very impressive, especially for a machine at this price. The range selector has a vague feel at times, but the Challenger 750 is otherwise free of rough edges. The sealed, quick-release windshield is slick, and the sculpted seats are comfortably shaped and well padded. The Challenger's doors are sturdy, open and close well, and easily accept upper sections to create a sealed cab. The automotive-like instruments are among the best on any UTV. The battery and air filter are easy to access under the seat. Getting a roof, winch, aluminum wheels, mirrors and turn signals is great, but getting them on a machine that costs only $10,999 is outstanding.
WHAT IS OUR FINAL ANSWER?
Cub Cadet's Challenger 750 offers top-notch suspension performance and comfort, an outstanding list of standard features, and a remarkably affordable price.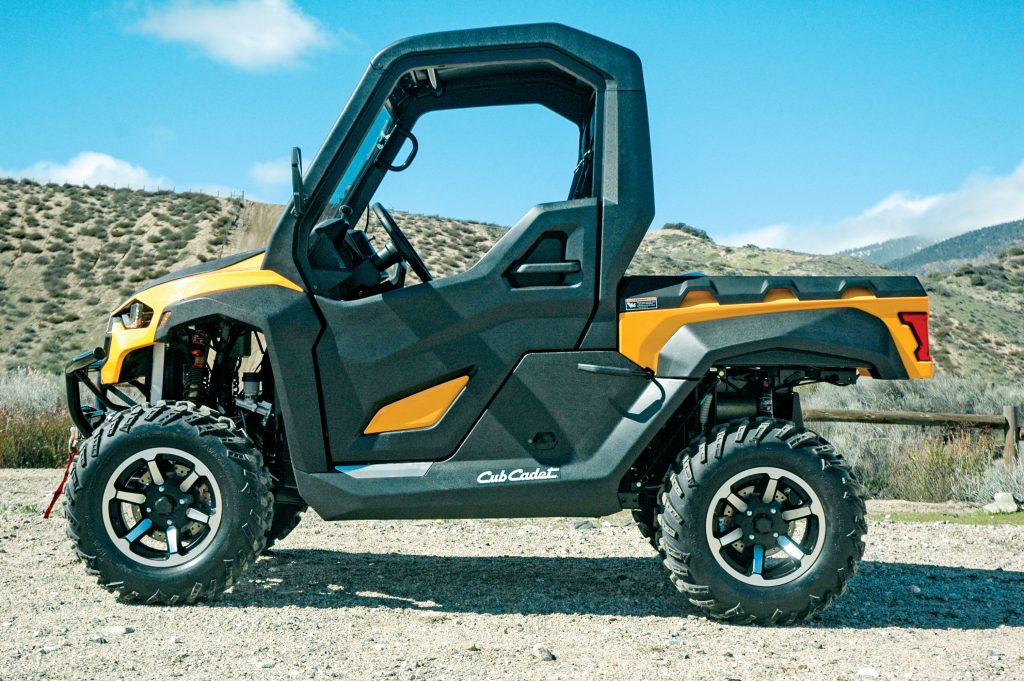 CUB CADET CHALLENGER 750
ENGINE/TRANSMISSION
Engine type Liquid/oil-cooled, 5-valve, SOHC 4-stroke
Displacement 735cc
Bore x stroke 102mm x 90mm
Compression ratio 9.7:1
Lubrication system Wet sump
Additional cooling Auto fan
Induction Delphi EFI w/ 41mm body
Starting/back-up Electric/none
Starting procedure Turn ignition key
Choke location N/A
Air filter:
  Type Washable foam
  Access Tool-less, lift seat and undo clips
Transmission Dual-range CVT w/reverse
Reverse procedure Move range selector to "R"
Drive system Selectable 2WD/4WD w/ diff-lock & EBS
Final drives Shafts
DIMENSIONS/CAPACITIES/WEIGHTS
Fuel capacity 7.6 gal.
Wheelbase 76.8"
Overall length/width/height 118"/61.4"/79.7"
Ground clearance 12"
Wet weight 1,648 lb.
Bed weight limit 500 lb.
Hitch 2" receiver
Towing limit 1,200 lb.
ROLLING CHASSIS
Frame Steel tube
Suspension/wheel travel:
  Front Dual A-arms w/ prel./comp./reb. adj. shocks/9"
  Rear Dual A-arms w/ prel./comp./reb. adj. shocks/8.1"
Brakes/actuation:
  Front Hydraulic discs
  Rear Hydraulic discs
Parking Lever on console
Tires:
  Front AT26x9-14 Wanda
  Rear AT26x11-14 Wanda
ELECTRICAL
DC outlet Console
Lighting:
Front LED headlights
Rear LED brake/taillights
DETAILS
Instrumentation Speedometer, tachometer, coolant
temp, clock, fuel level, drive mode indicators
Colors Yellow, red, camo
Minimum recommended operator age 16
Suggested retail price $10,999; $11,299 (camo)
Contact www.cubcadet.com, (877) 428-2349