HISUN SECTOR 250
UTV TEST
— Many standard features for $4799 —
— Hisun's Sector 250 isn't like most youth UTVs. It's a recreation utility machine rather than a sport model, and it's better equipped than many full-size machines. It's affordably priced too. Let's check it out!
HOW DOES COST COMPARE?
The Sector 250 is $4799, the same price as a Polaris RZR 170. The Sector's standard features make it stand out. It comes with a roof, a windshield, mirrors, aluminum wheels, full instrumentation, a 2500-pound winch, a horn and turn signals. It's also available in three color choices or camo for another $300.
IS THE SECTOR 250 JUST LIKE FULL-SIZE UTVs?
No. Like other youth UTVs, the Sector 250 is 2WD, with chain drive to the rear wheels and swingarm rear suspension. Most full-size UTVs are 4WD and have independent front and rear suspension.
WHAT POWERS IT?
A fuel-injected, liquid-cooled, single-overhead-cam, 229cc engine. Most youth UTVs have air-cooled engines from 170 to 200cc.
WHAT KIND OF TRANSMISSION DOES IT HAVE?
A dual-range, fully automatic, belt-type continuously variable transmission. All youth UTVs have automatics, but most are single range. With low and high range, the Hisun has the potential for more climbing power and more top speed. Low range wasn't very low on our test machine. The latest models have a lower low range than our test machine.
HOW FAST IS IT?
It's fast for a youth UTV. The Sector 250 accelerates well, and top speed is over 40 mph. You can easily limit the speed with the adjustable throttle stop on the gas pedal.
HOW IS THE POWER DELIVERY?
It has enough power to handle pretty challenging trails, but it's not intimidating for learning drivers. There's enough power to slide the machine as long as there's not too much traction. Low range felt like high on our test machine, but the latest models will have a lower low that will add climbing power and make high more useful for relaxed cruising.
WHAT KIND OF SUSPENSION DOES IT HAVE?
Unlike some youth machines, the Hisun has double-A-arm front suspension that creates less bumpsteer than simpler single-A-arm setups, a front sway bar to reduce body roll in corners and spring preload-adjustable shocks. As with other youth UTVs, swingarm suspension is used in the rear. Travel is 6 inches in front and 5 in the rear, about average for a youth UTV.
HOW DOES THE SUSPENSION WORK?
It's impressive for a youth UTV. The ride is reasonably smooth, and the suspension only bottoms when you catch an unusually big bump at speed. The machine is predictable and easy to control because the suspension works so well.
HOW DOES IT HANDLE?
The Hisun doesn't feel like a toy. Its handling is very much like a big UTV. The double-A-arm front end gives the Sector a predictable feel, and the front sway bar keeps it flat in turns.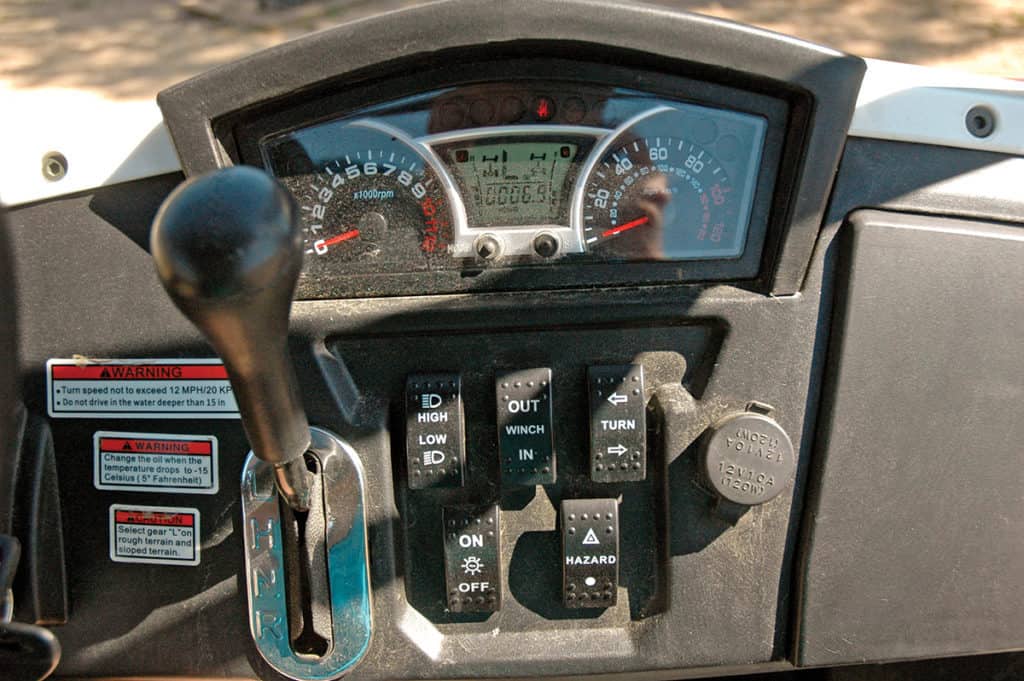 HOW DOES IT HANDLE TOUGH TERRAIN?
The Sector 250 is 2WD, but there's enough traction to go almost anywhere, and you can rescue yourself or others with the winch if you get stuck. There's only 5.8 inches of ground clearance at the rear sprocket, so rocky or rutted terrain can create some snags.
HOW ARE THE DETAILS?
The Sector 250 comes with more features than most full-size UTVs, and it has a tilt bed like full-size recreation utility machines, so it can be a fun, useful, small, recreation utility machine for kids or smaller adults. The dual-range transmission has the potential to give the machine more climbing power and top speed than typical youth UTVs. The fit and finish are very good too. Some areas need work. Checking the oil and coolant levels could be easier.
WHAT IS OUR FINAL ANSWER?
The Hisun Sector 250 is a fun, useful recreation utility machine that kids and smaller adults can both enjoy.
SPECS:
HISUN SECTOR 250
ENGINE/TRANSMISSION
Engine type Liquid-cooled, OHC single-cylinder 4-stroke
Displacement 229cc
Bore x stroke 65.5mm x 68mm
Compression ratio 9.7:1
Lubrication system Wet sump
Additional cooling Auto fan
Carburetion EFI
Starting/back-up Electric/none
Starting procedure In any range, turn key with brake on
Idle adjustment N/A
Air filter
  Type Paper
Access Remove airbox cap
Transmission Dual-range CVT w/ reverse
Reverse procedure Move range selector to "R"
Drive system 2WD
Final drive Chain
DIMENSIONS/CAPACITIES/WEIGHTS
Fuel capacity 3.5 gal.
Wheelbase 68.2"
Overall length/width/height 94"/48.8"/56"
Ground clearance 5.8"
Dry weight 725 lb.
Bed capacity 50 lb.
Hitch No
Towing capacity N/A
ROLLING CHASSIS
Frame Steel tube
Suspension/wheel travel:
  Front Dual A-arms w/ sway bar, preload-adj.
shocks/6"
  Rear Swingarm w/ preload-adj. shocks/5"
Brakes/actuation:
  Front Hydraulic discs/left pedal
  Rear Hydraulic disc/left pedal
Parking Lever on console
Tires:
  Front Wanda AT 22×7 –10 Radial
  Rear Wanda AT 22×10 –10 Radial
DETAILS
Instruments Speedometer/odometer, trip meter, clock
Lighting:
  Front 2 35W headlights
  Rear Tail/brake lights
Colors Black, red, greed, Vista Camo
Minimum recommended operator age 12
Suggested retail price $4799
Contact Hisun, (909) 989-3366, www.hisunmotors.com