— Lots of people who would love to own a UTV don't because they don't think they can afford one. They glance at the prices of high-end new models and come away convinced that $15,000 to $20,000 is what they probably need to spend. If you've been hoping for an affordable UTV that's fun and able to get work done, we have good news for you. Kymco's UXV 450i starts at $7999.
HOW DOES THE PRICE COMPARE?
The UXV 450i starts at $7999 and ranges up to $8799 for the UXV 450i LE, which comes with matte black or matte silver painted bodywork, a 3000-pound winch, aluminum wheels and a roof. Our camo test unit is $8499. Honda's Pioneer 500 starts at $8999, and the camo Pioneer 500 is $9599. The Polaris Ranger 500 is $8999, but it's not available in camo.
WHAT KIND OF UTV IS THE UXV 450i?
It's a recreational utility UTV with bench seating and a tilting bed that can carry 440 pounds. It's fast enough for fun trail riding, but it's not a pure sport model with long-travel suspension. The UXV 450i is 56.7 inches wide, so it's too big for 50-inch ATV trails, but it fits easily in the bed of a full-size pickup.
WHAT POWERS IT?
A four-valve, single-overhead-cam, 443cc, fuel-injected, single-cylinder engine. It's a proven engine that's been powering Kymco's Maxxer 450i sport 4×4 ATV and the MXU 450i 4×4 ATV for years.
WHAT KIND OF TRANSMISSION DOES IT HAVE?
It's a fully automatic, belt-type continuously variable transmission (CVT) with high, low, neutral and reverse. A centrifugal clutch on the drive clutch protects the drive belt and provides engine braking.
WHAT KIND OF 4WD SYSTEM DOES IT HAVE?
The same system as many high-end UTVs—selectable 2WD/4WD and a lockable front differential.
HOW FAST IS IT?
Fast for a 450. Considering the engine size, it's remarkable how well the UXV 450i moves. The secret is its well-matched engine, clutch tuning and light weight. With only about 1100 pounds of machine to move, the right kind of power goes a long way.
HOW IS THE POWER ON THE TRAIL?
It's powerful enough to handle tough trails, and the power delivery is responsive and fun. We had a blast sliding the 450 around slick corners, and this machine can maintain a quick pace on the trail; you just use more throttle than you do on bigger UTVs. When you need torque and tractability, the 450 has that covered too. It conquered the same technical sections as bigger machines.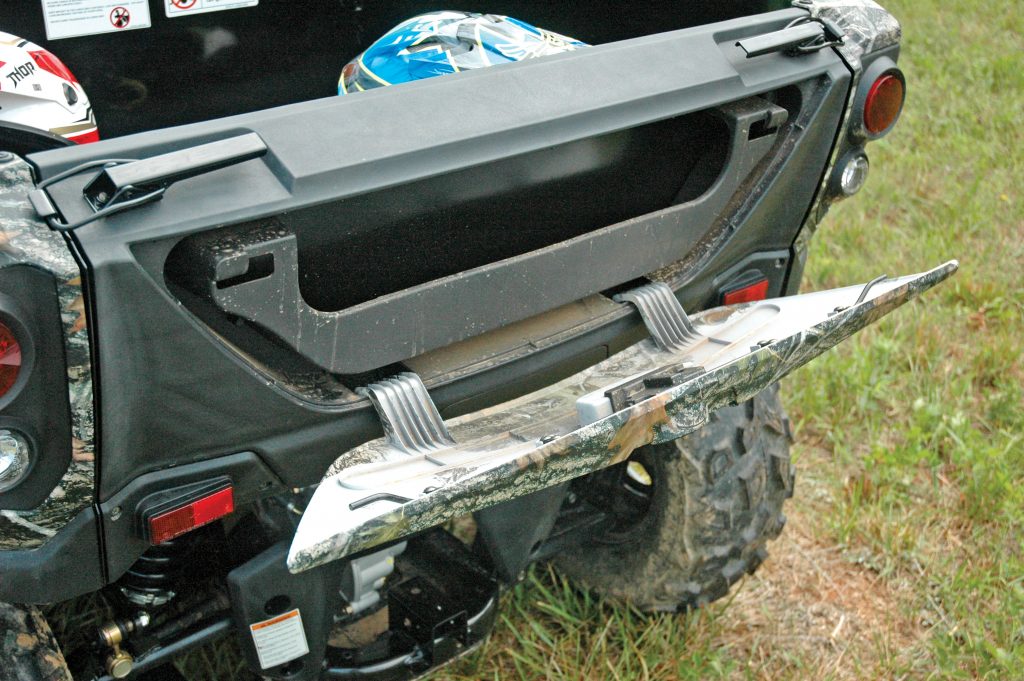 WHAT KIND OF SUSPENSION DOES IT HAVE?
Spring preload-adjustable shocks provide 7.5 inches of travel on the double-A-arm front and rear suspension. A rear sway bar limits body roll.
HOW DOES THE SUSPENSION WORK?
It delivers a comfortable, well-controlled ride, even at pretty quick trail-riding speeds. The 450 is set up more for comfort than speed, but its light weight keeps it from overworking its suspension. We rode it on parts of the rough Big Buck GNCC course in South Carolina, and the suspension handled it well, as long as we respected its limits.
HOW DOES IT HANDLE?
Easily and predictably. The UXV 450i goes where you point it willingly. It doesn't have power steering, but the steering has a light, accurate feel, and it doesn't get confused in bumpy terrain. The 450's compact size makes it perfect for tight trails, and it has very good stability on steep and off-camber trails.
HOW IS IT ON HILLS?
Better than some bigger UTVs. The 450 won't out-climb any large-displacement machines on hills that call for huge amounts of horsepower, but it has enough guts for the challenging hills most trails throw at you. On the way down is where the Kymco has an edge. Engine braking, which many large UTVs don't have, makes steep downhills simple on the UXV 450i, because you can concentrate on the hill rather than controlling the brakes. When you need the UXV's brakes, the front discs and single driveshaft-mounted rear disc are up to the task.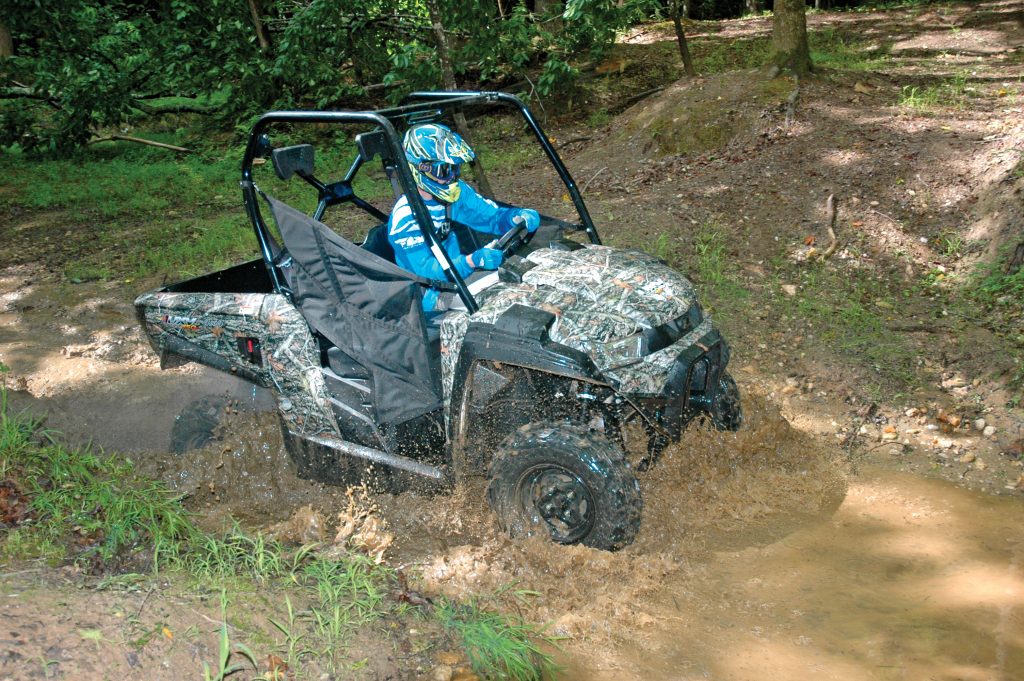 HOW IS IT IN MUD AND WATER?
It's comfortable with getting dirty. The Kymco's small size gives you extra room to maneuver in water crossings and mud, and the 4WD system with front differential lock provides plenty of traction. The UXV 450i's bodywork provides better splash protection than most sport UTVs too.
HOW ARE THE DETAILS?
Impressive, especially for a machine that starts at $7999. The UXV 450i's nets aren't as nice as doors, but they do their job. For a small UTV, the 450 is roomy, and the seating is comfortable. There's storage under the hood, under the seat and in the tailgate, as well as two cup holders and a locking glovebox.
WHAT IS OUR FINAL ANSWER?
If a smaller UTV with a smaller price is what you need to get into the fun of UTVing, Kymco's UXV 450i is a great way to go that's about half the price of many big vehicles.
KYMCO UXV 450i CAMO
ENGINE/TRANSMISSION
Engine type Liquid-cooled, SOHC, 4-valve, 4-stroke
single cylinder
Displacement 443cc
Bore x stroke 89mm x 71.2mm
Compression ratio 9.3:1
Lubrication system Wet sump
Fuel metering 38mm Synerject EFI
Starting/back-up Electric/none
Starting procedure In neutral or any gear with brake
engaged
Choke N/A
Air filter access Remove hood & 4 clips on airbox lid
Transmission Dual-range fully automatic CVT w/
reverse and engine braking
Reverse procedure Move range selector to "R"
Drive system Selectable 2WD/4WD w/ lockable
front diff
Final drives: f/r Shaft/shaft
DIMENSIONS/CAPACITIES/WEIGHTS
Fuel capacity 8.5 gal.
Wheelbase 72"
Overall length/width/height 106.3"/56.7"/72.8"
Ground clearance 10"
Dry weight 1080 lb.
Hitch 2" receiver
Towing limit 1200 lb.
Bed capacity 440 lb.
ROLLING CHASSIS
Frame Round steel tube
Suspension/wheel travel:
  Front Double A-arms w/ preload adj. shocks/ 7.5"
  Rear Double A-arms w/ sway bar and preload adj.
shocks/7.5"
Brakes:
  Front Hydraulic discs
  Rear Hydraulic disc
Parking brake Dash-mounted hand lever and
transmission park position
Tires:
  Front 25×8-12
  Rear 25×10-12
ELECTRICAL
DC outlet Waterproof automotive-style plug
Lighting
  Front Two LED/halogen grill-mounted headlights
  Rear Dual tail/brake lights
DETAILS
Instruments Speedometer, odometer, clock,
fuel gauge, neutral, reverse, hi-temp indicator
Color True Timber New Conceal Camo
Suggested retail price $8499
Contact Kymco, www.kymcousa.com