— A new Jeep for $15,549 —
Mahindra is most famous for tractors and sponsoring the Rush Limbaugh radio show, but they've been building UTVs since 2015. For 2018 Mahindra unleashes the Roxor, the first turbo diesel adventure UTV and the first production UTV to look like the famous WWII Willys Jeep.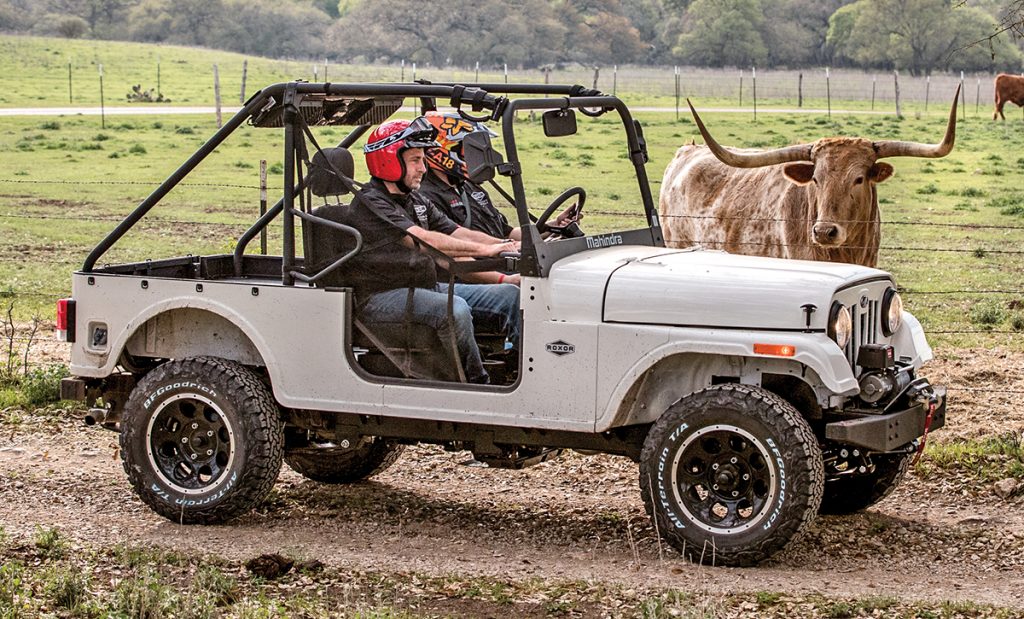 WHAT'S A MAHINDRA ROXOR?
Mahindra Automotive has been around for 70 years and built Willys Jeeps (in India) for the army during WWII (to reduce shipping times and costs). Mahindra joined forces with International Harvester in 1963 to produce the 1965 ITC B275 tractor. By 1971 the International Tractor Company morphed back to Mahindra, which released its mPact XTV line in 2015. For 2018, Mahindra unleashes a sportier Retriever UTV line and now the Roxor, an off-road variation of the WWII Willys Jeep. And why not? The Willys Jeep was the original off-road vehicle of the U.S. Army, and soldiers returning home from WWII turned to Willys Jeeps, Harley-Davidson and Indian motorcycles, and stripped-down automobiles to feed their newfound off-road appetites.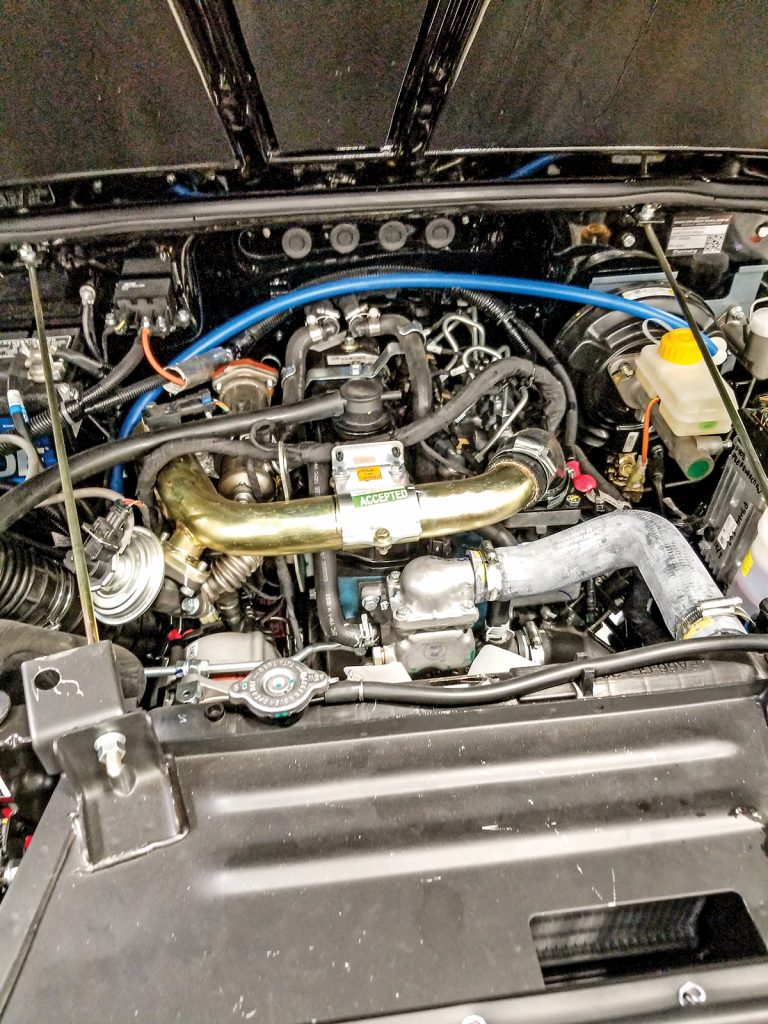 The Roxor sports a four-cylinder, 2500cc, turbocharged diesel producing 62 horsepower and 144 pound-feet of torque. It uses a manual five-speed transmission to drive the two-speed Dana T-18 transfer case. Front and rear drive shafts couple with front and rear solid-axle drive lines to turn 16-inch wheels shod with 235/70R16 car tires. The box-steel frame is based on light-truck design and uses Willys-like leaf-spring suspension and hydraulic dampers. The width is 62 inches and the wheelbase is 96 inches. The bodywork is sheet metal, so the Roxor will take off-road abuse like no other UTV.
Also, it tows 3490 pounds—more than its body weight (3035 pounds) and the most of any UTV.
There is a base model with steel wheels and four color choices, and aluminum wheels are an option. There is also a Dune Edition in Beige Sand with a whip, spare tire and heavy-duty front bumper. The Limited Edition includes a Bestop Bikini top, 40-inch KC Hilites LED light bar, Warn 8000-pound winch, heavy-duty front bumper with mounting plate for an AMG battery, rear-mounted MTX AM/FM Bluetooth sound bar, side- and rear-view mirrors, and ROPS-mounted grab handles. There are also plans for a gasoline-powered Roxor in the future, as well as versions with an automatic clutch. Dump beds and Power Take Off (PTO) will be future options.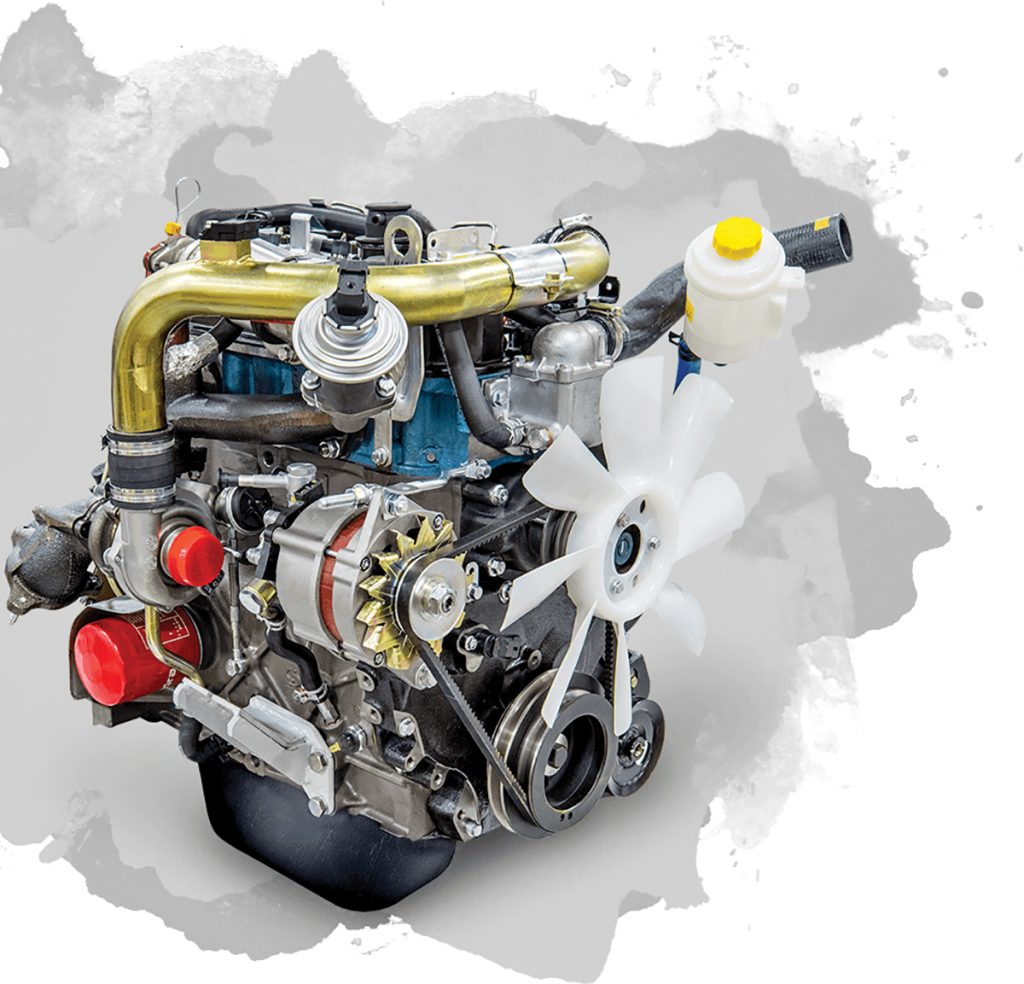 HOW DOES COST COMPARE?
The Roxor costs $15,549, and the Limited Edition is $18,999. The 71-horsepwer Can-Am Commander 800 starts at $11,999 and goes up to $15,599 for the XT. The 85-horsepower Commander 1000 DPS is $14,599, and the Hunting LE is $18,899. The Can-Am Defender HD10 is $13,799, or $15,299 to $16,099 with EPS. Honda's Pioneer 1000 is $14,499 without EPS and $15,699 with it. The 82-horsepower Polaris Ranger XP 1000 starts at $15,299. The High Lifter SE is $18,999, and the Northstar HVAC SE is $23,999. Textron's 80-horsepower Stampede 900X is $14,799, while Kawasaki's Mule Pro-FXR EPS is $14,999. The 2018 Jeep Wrangler starts at $26,995.
HOW FAST IS THE ROXOR?
Diesel-fast. The 62-horsepower m2DiCR turbo diesel doesn't build revs very quickly, and it's limited to 45 mph in high range to discourage street use. Top speed is 15 mph in low range and fifth gear. The Retriever 1000 Gas is much quicker and faster on top. Mahindra claims the turbo sips diesel fuel, getting 32 to 34 mpg, for a range of up to 350 miles. That's serious range for long-distance UTV exploration.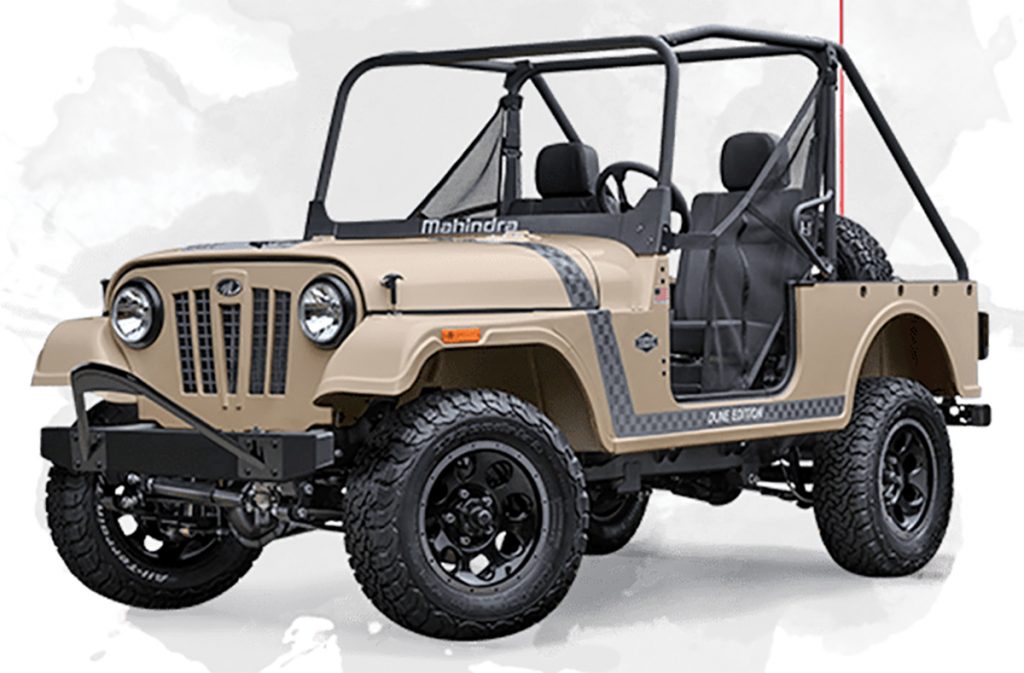 WHAT ABOUT THE MANUAL DELIVERY?
It requires a lot more skill than most UTVs. The manual clutch and five-speed transmission will be totally foreign to anyone who hasn't driven a car with a manual clutch and transmission, more so than a Yamaha YXZ1000R. Whereas the Yamaha has sequential shifting (back for faster, forward for slow), the Roxor has an automotive five-speed H-pattern and reverse, plus another shifter for the high/low transfer case. It's not as slick as a YXZ1000R shifter, clutch and 2WD/4WD system, either. While we may seem harsh, the Roxor is intended to be a sport UTV, as it has no dump bed.
HOW DOES THE ROXOR HANDLE?
Slowly but surely. Whereas the WWII Willys Jeep weighed 1975 pounds empty (up to 2453 with a combat load), the Roxor weighs 3035 pounds. With that much weight and a 96-inch wheelbase, the Roxor handles much more slowly than a Maverick X3. It has a front torsion bar to fight body roll and an automotive steering box, and the truck-style boxed-steel frame is super rigid. It goes straight very well, but it doesn't want to carry a power-slide. It can drift into corners and be steered with the throttle, but it takes a deft right foot and proper gear selection.
HOW DOES THE SUSPENSION WORK?
Rudimentary, dear Watson! Sealed, non-adjustable hydraulic dampers slow impacts and rebound, and Jeep-like leaf springs suspend the UTV over heavy axles. The ride quality is due mainly to the weight of the vehicle, as standard settings are plush for slow-speed work and prone to bottoming when pushed hard. With 5 inches of wheel travel, there is only so much the Roxor can take at speed.
HOW STRONG ARE THE BRAKES?
Army-strong, sir! Front brakes are automotive 9-inch rotors with hydraulic twin-piston calipers, and rear brakes are 11-inch hydraulic drums. The car brakes are backed up by 18.6:1 diesel compression braking, plus a parking brake. Also, there are five lug nuts instead of four, so this is more car-like than most UTVs.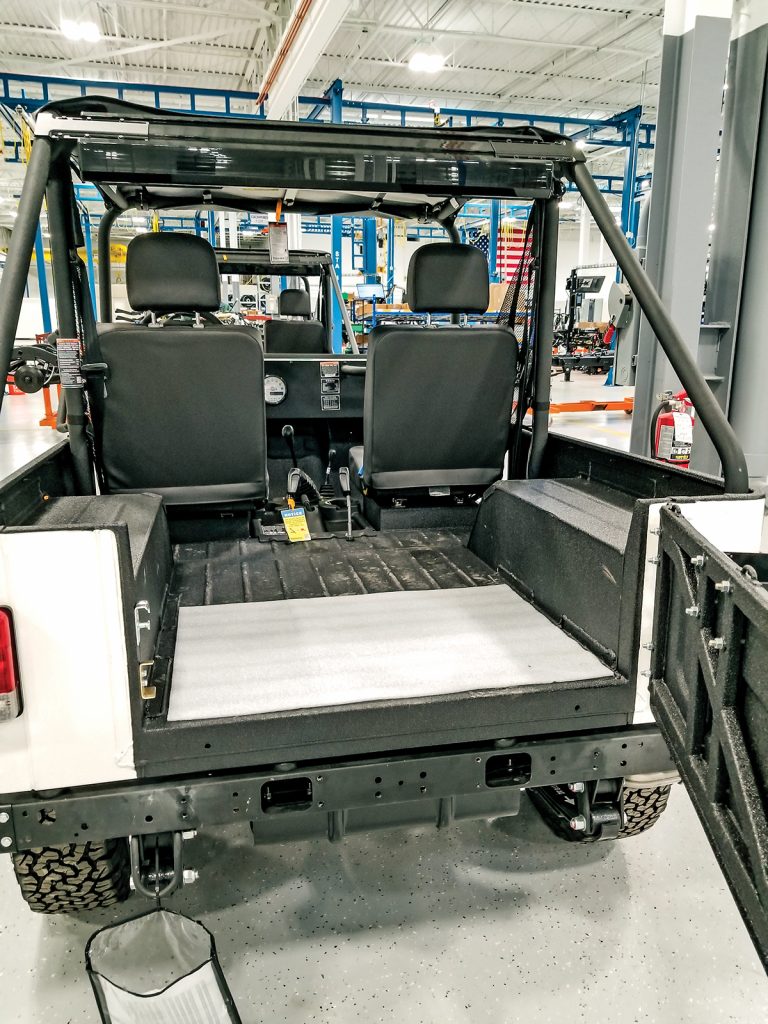 WHAT ABOUT ROCKS AND MUD?
These are the Roxor's strong points. While too heavy and slow for serious dune work, the Roxor is more of an exploration and adventure vehicle. Low gear in low range is great for crawling over rocks and fording streams and mud pits. Sure, UTVs with more travel and ground clearance articulate better, but this is where off-roading began. Despite its weight, the Roxor doesn't have a full-length skid plate, only a small plate for the transfer case. The front fenders let mud fly onto the hood and into the cab, and so do the side nets.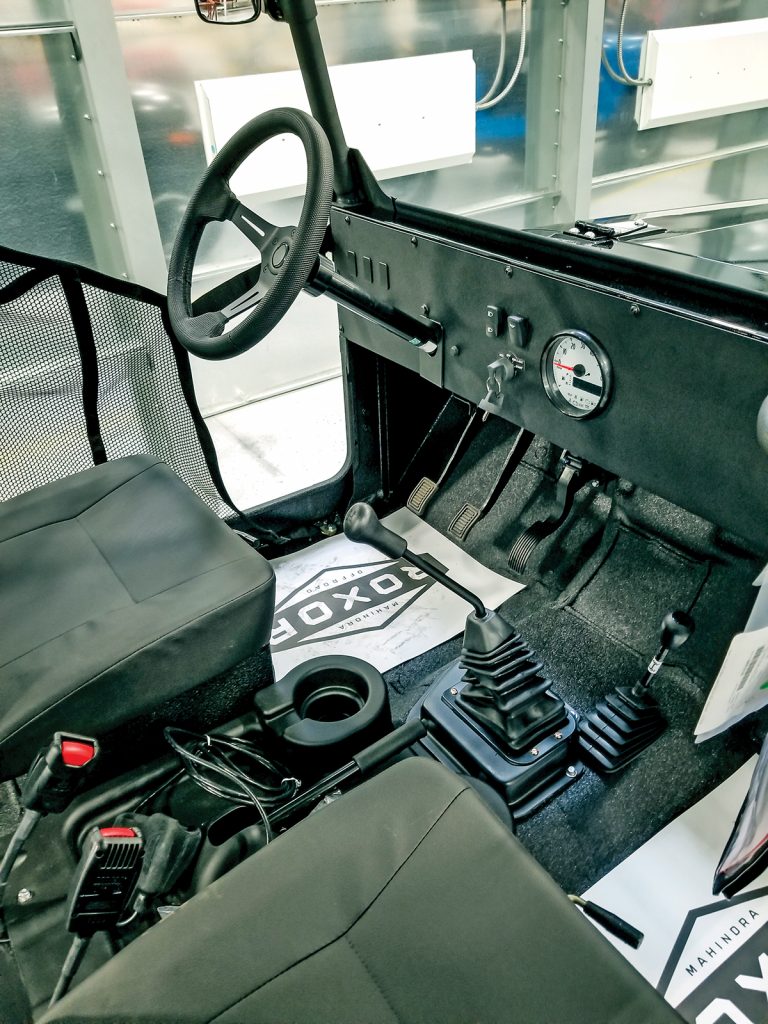 WHAT ABOUT CAB COMFORT?
Bucket seats with headrests and shoulder belts are standard UTV fare. The driver's seat is adjustable, but the steering wheel doesn't tilt. The large wheel has a leather cover, and steering is hydraulic. Nets with one plastic fastener each and shoulder-bolster loops are also standard equipment on the Roxor, as on many utility UTVs and the Maverick Trail. The Roxor has plenty of elbow- and legroom, and the bed holds 349 pounds of cargo. The tailgate hinges on the right side and swings out of the way like a Jeep's. There are no bed tie-down points or bodywork between the bed and seats, only a rough-surface bed liner that coats the cabin floor as well. There are loops on the bodywork. It has an automotive exhaust system that exits behind the right-rear tire, so engine noise in the cabin is reduced somewhat. There is an analog speedometer with a small digital inset in the center of the dash, and an over-molded passenger hand-hold loop is placed high above a 12-volt power port. There are also two switches for headlights and 2WD/4WD above the ignition key, and that's it.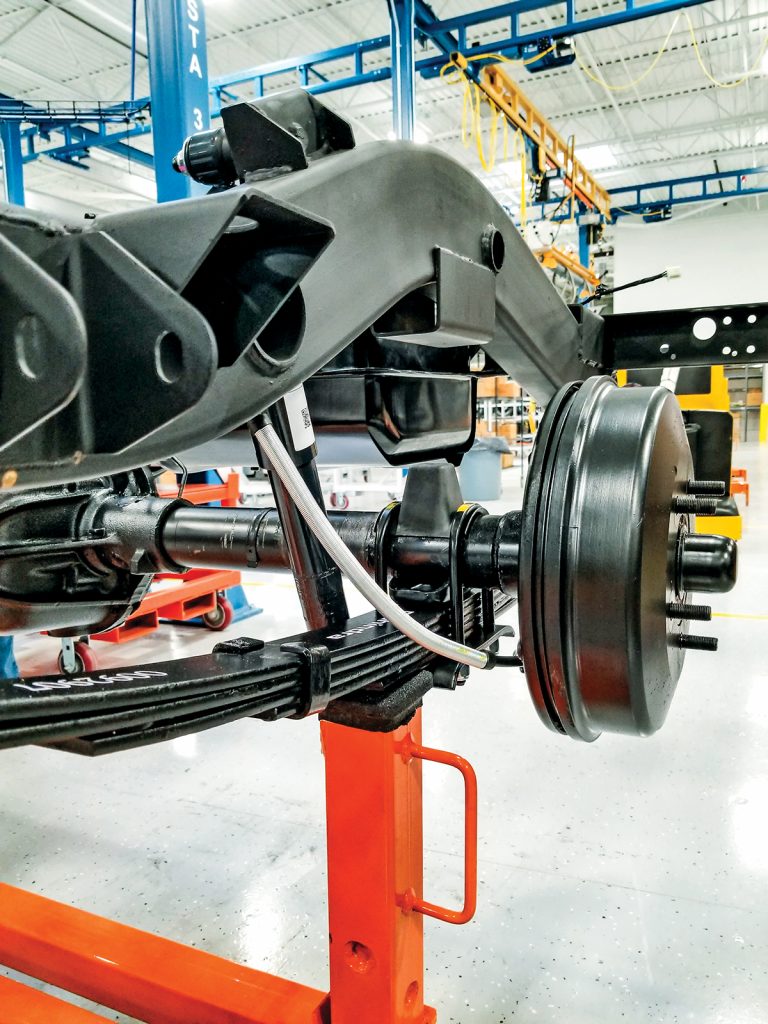 WHAT'S OUR FINAL ANSWER?
Mahindra offers a faster, sportier UTV—the Retriever 1000 Gas; however, we're sure the Roxor will have a fan base with older 4×4 fans who would never jump a dune or throw a rooster tail over a berm. In roughly half the states, UTVs can be licensed for the street, and the Roxor will be a huge hit in farm country, especially the Plains States and Northwest. Its huge fuel range will also appeal to a lot of UTV fans, as will its durability. Whereas a 2018 Jeep Wrangler starts at $26,995, weighs 3955 to 3970 pounds and is almost 74 inches wide, the Roxor is much more off-road-capable at $7996 to $11,466 less. It'll also be right at home at Moab's April Jeep and May UTV jamborees.
SPECS:
2018 MAHINDRA ROXOR TURBO DIESEL
ENGINE/TRANSMISSION
Engine type Liquid-cooled, 4-cylinder turbo diesel
Displacement 2500cc
Bore x stroke 88.9mm x 101.6mm (x4)
Compression ratio 18.6:1
Lubrication system Wet sump
Additional cooling Auto fan
Induction Turbocharged, direct injection (x4)
Starting/back-up Electric/none
Starting procedure Turn ignition switch
Air filter:
  Type Paper pleat
   Access Tool-less, undo two hood straps
Transmission Five-speed manual w/ reverse
Reverse procedure Depress clutch, move shifter to "R"
Drive system Selectable 2WD/4WD
Final drives Shafts
DIMENSIONS/CAPACITIES/WEIGHTS
Fuel capacity 12.0 gal.
Wheelbase 96.0"
Overall length/width/height 148"/62"/75"
Ground clearance 9"
Claimed dry weight 3,035 lb.
Bed weight limit 349 lb.
Hitch Yes
Towing limit 3,490 lb.
ROLLING CHASSIS
Frame Steel round tube
Suspension/wheel travel:
  Front Dual rigid leaf springs w/shocks/9"
  Rear Dual leaf springs w/shocks/9"
Brakes/actuation:
  Front Hydraulic discs/left-side pedal
  Rear Hydraulic drums/left-side pedal
Parking Lever on console
Tires:
  Front 235/70R16 BF Goodrich T/A
  Rear 235/70R16 BF Goodrich T/A
ELECTRICAL
DC outlet Console
Lighting:
Front 2 Halogen hi/lo headlights
Rear Dual LED brake/taillights
DETAILS
Instrumentation Speed/odo/trip/hour/rpm/fuel/gear/
clock/2WD-4WD
Colors Fire Orange, Tahoe Blue, Classic White,
Carbon Black
Minimum recommended operator age 16
Suggested retail price $15,549; LE, $18,999
Contact Mahindra, (877) 449-7771