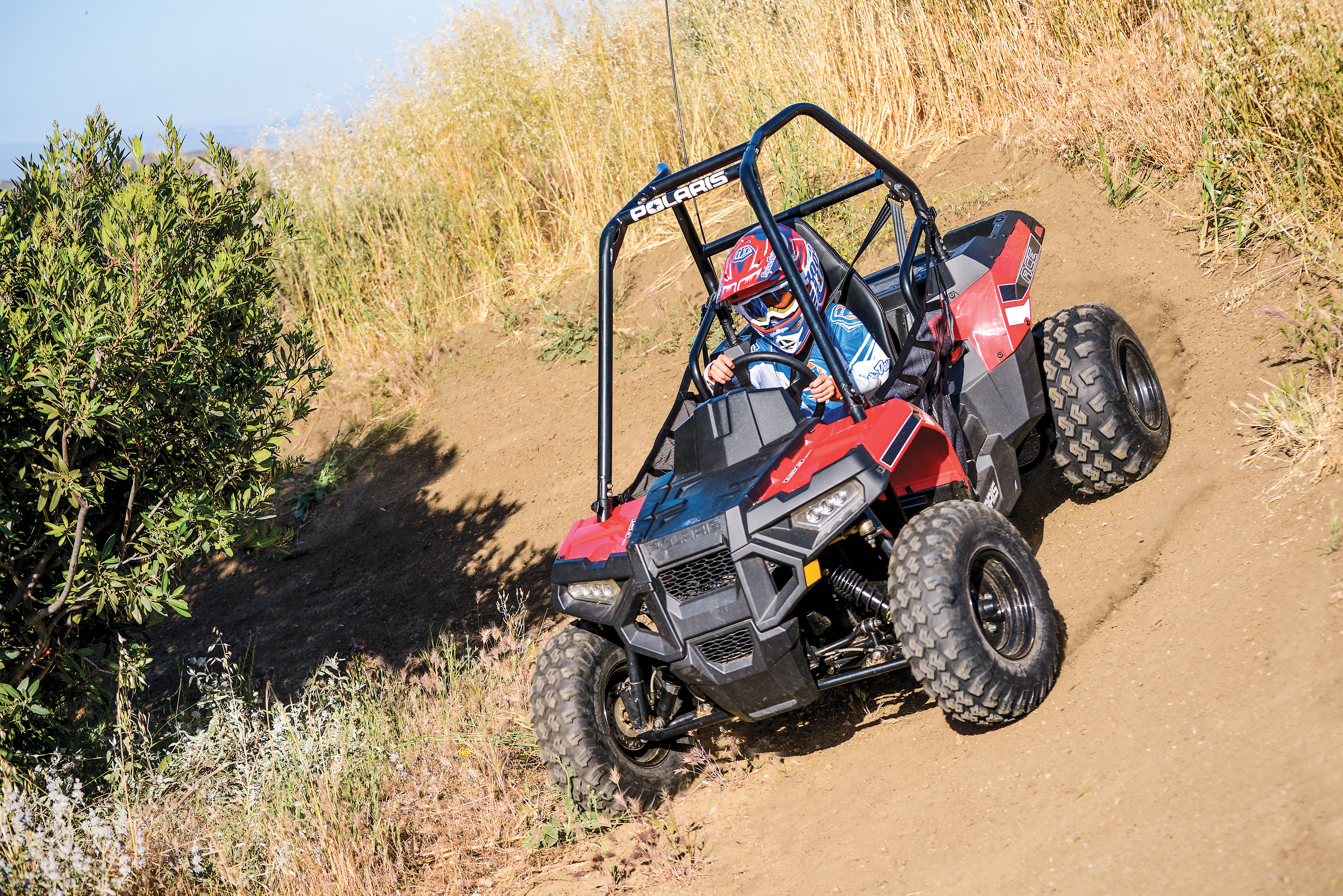 — Polaris realized that drivers 16 and over shouldn't have all the fun, so it created the Ace 150 for the 10-and-up crowd. We tested one of the new machines to see what it can do.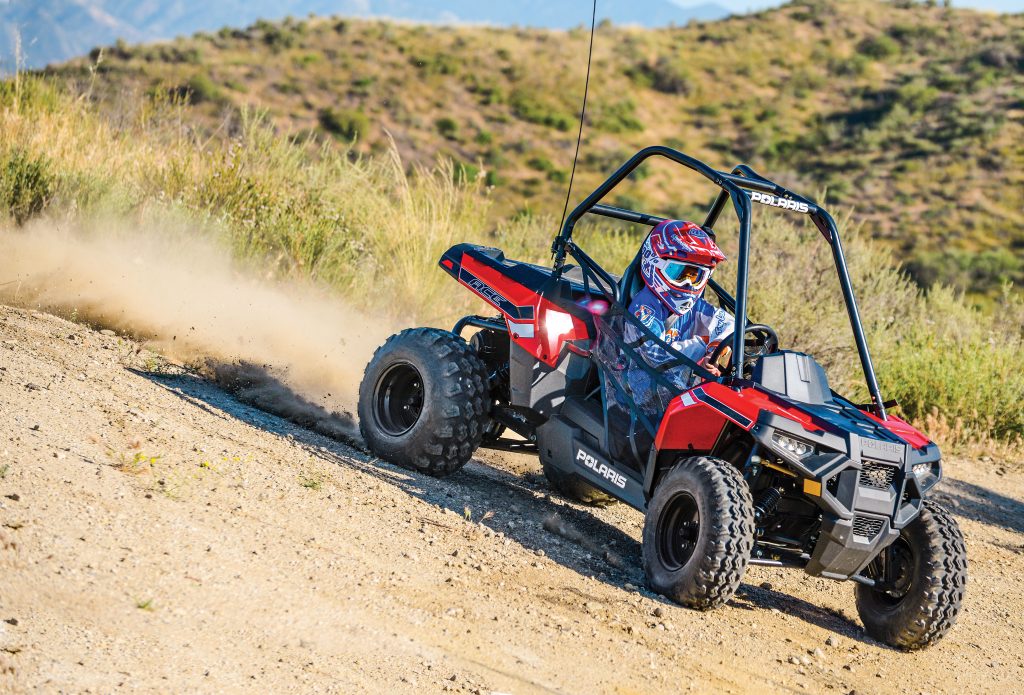 HOW DOES COST COMPARE?
The Ace 150 is $3799. At the moment, it's the only single-seat youth UTV on the market. Polaris' RZR 170 is $4799. Hisun's Strike 250 is $4699. Hisun's Sector 250 is $4799. Odes' Blazer 170 is $3795.
ARE YOUTH UTVs DIFFERENT THAN BIG UTVs?
Yes. Like other youth UTVs, the Ace 150 is two-wheel drive with chain drive to the rear wheels. It has independent front suspension and a solid-axle swingarm rear suspension.
Most big UTVs have four-wheel drive with shaft final drive and independent suspension front and rear.
WHAT POWERS IT?
A fuel-injected, single-cylinder, single-overhead cam, two-valve, fan-air-cooled, 150cc engine.
WHAT KIND OF TRANSMISSION DOES IT HAVE?
A fully automatic, belt-type, continuously variable transmission with forward, neutral and reverse.
HOW FAST IS IT?
That's up to you. The Ace 150 has a clever electronic speed-limiter system so parents can adjust the machine's performance to their liking. The position of the speed-limiter fuse in the fuse box sets the machine's top speed to 10, 15, 22 or 29 mph. Strangely, the single-seat Ace 150 is 79 pounds heavier than the two-seat RZR 170, which doesn't help its acceleration.
HOW IS THE POWER DELIVERY?
The Ace 150 has smooth, controllable power, which is perfect for learning drivers. It's very mild in the lower speed settings, which also limit power, so you need to stick to packed, level dirt with a small rider. When uncorked, it's still smooth and controllable, and it has enough power to accelerate well and climb hills. It can even move a 200-pound adult at a decent pace, but anyone 6 feet tall or more will hit their helmet on the cage. On slippery dirt, the 150 has enough punch to slide around tight turns. It's fun!
WHAT KIND OF SUSPENSION DOES IT HAVE?
Double-A-arm front suspension with a sway bar and 5.1 inches of travel and swingarm rear suspension with 6 inches of travel. The front and rear suspension systems are unusual. The front suspension's upper A-arms are actuated by tall struts so they're hidden by the front fenders. The engine and transmission move with the swingarm. The front and rear shocks are spring preload adjustable.
HOW DOES THE SUSPENSION WORK?
It's a little bouncy, but it handles bumps well. The Ace 150's suspension keeps the machine comfortable and in control on ruts and rocks, and small jumps aren't out of the question. The Ace 150 has an inch more rear travel than the RZR 170.
HOW DOES IT HANDLE?
Just the way you'd want a learner's machine to, with plenty of stability and predictability. The Ace 150 is 48 inches wide, just like the RZR 170, and its low, centered seating position makes it feel securely stuck to the ground around turns and on uneven terrain. Steering effort is a little higher than we expected on a small 2WD machine, but there's almost no harsh feedback through the steering from bumps, which is nice.
HOW IS IT FOR HILLS?
It makes the grade. In its full-power setting, the 150 has enough power to tackle hills on average trails. There's no engine braking feature, but the transmission stays engaged momentarily when you lift off the throttle. The strong hydraulic front and rear disc brakes slow the machine easily.
HOW IS IT FOR MUD AND WATER?
You can have some fun splashing around, but don't follow any big RZRs  into deep, rutted crossings. The Ace 150's engine and transmission intakes are above the rear tires, but the engine-fan intake and the transmission exhaust are several inches lower. Thanks to its taller tires, the 150 has more ground clearance than the RZR 170, but ground clearance at the rear sprocket is only about 6 inches.
HOW ARE THE DETAILS?
Impressive. For safety, the Ace 150 comes with a youth helmet, safety flag and daytime running lights. The seat slides to adjust, and the steering wheel has four tilt settings. The range selector and the parking brake are easy to use. The gas gauge is in the gas cap, and the only instrumentation is a row of lights indicating check engine, forward, neutral and reverse, but they do the job. The air filter is easy to get to, and the engine has a convenient spin-on filter.
WHAT IS OUR FINAL ANSWER?
The sooner you can afford a youth UTV, the sooner you and your kids can enjoy it, and the new Ace 150 gets you $1000 closer to getting your young drivers behind the wheel than the RZR 170.
POLARIS ACE 150
ENGINE/TRANSMISSION
Engine type Fan, air-cooled, single-overhead-cam,
two-valve four-stroke
Displacement 149cc
Bore & stroke 57.4mm x 57.8mm
Compression ratio 9.5:1
Induction EFI 32mm
Lubrication Wet sump
Starting/back-up Electric/none
Choke Location N/A
Starting procedure In neutral or any gear with
brake applied
Air filter:
  Type Reusable oiled foam
  Access Two clips on airbox
Transmission Fully automatic CVT w/ F/N/R
Final drive 520 O-ring chain
DIMENSIONS/CAPACITIES/WEIGHTS
Fuel capacity 2.5 gal.
Wheelbase 65"
Overall length/width/height 85"/48"/58"
Dry weight 572 lb.
ROLLING CHASSIS
Frame Steel round tube
Suspension/wheel travel:
  Front Dual A-arms w/ preload-adj. shocks/5.1"
  Rear Swingarm w/ dual preload-adj. shocks/6"
Brakes/actuation:
  Front Hydraulic discs
  Rear Hydraulic disc
Tires:
  Front Wanda 22×7-10
  Rear Wanda 22×10-10
DETAILS
Lighting
  Front Dual front running lights
  Rear Tail/brake light
Instruments Check engine, F/N/R lights
Colors Red
Minimum operator age 10
Suggested retail price $3799
Contact www.polarisind.com