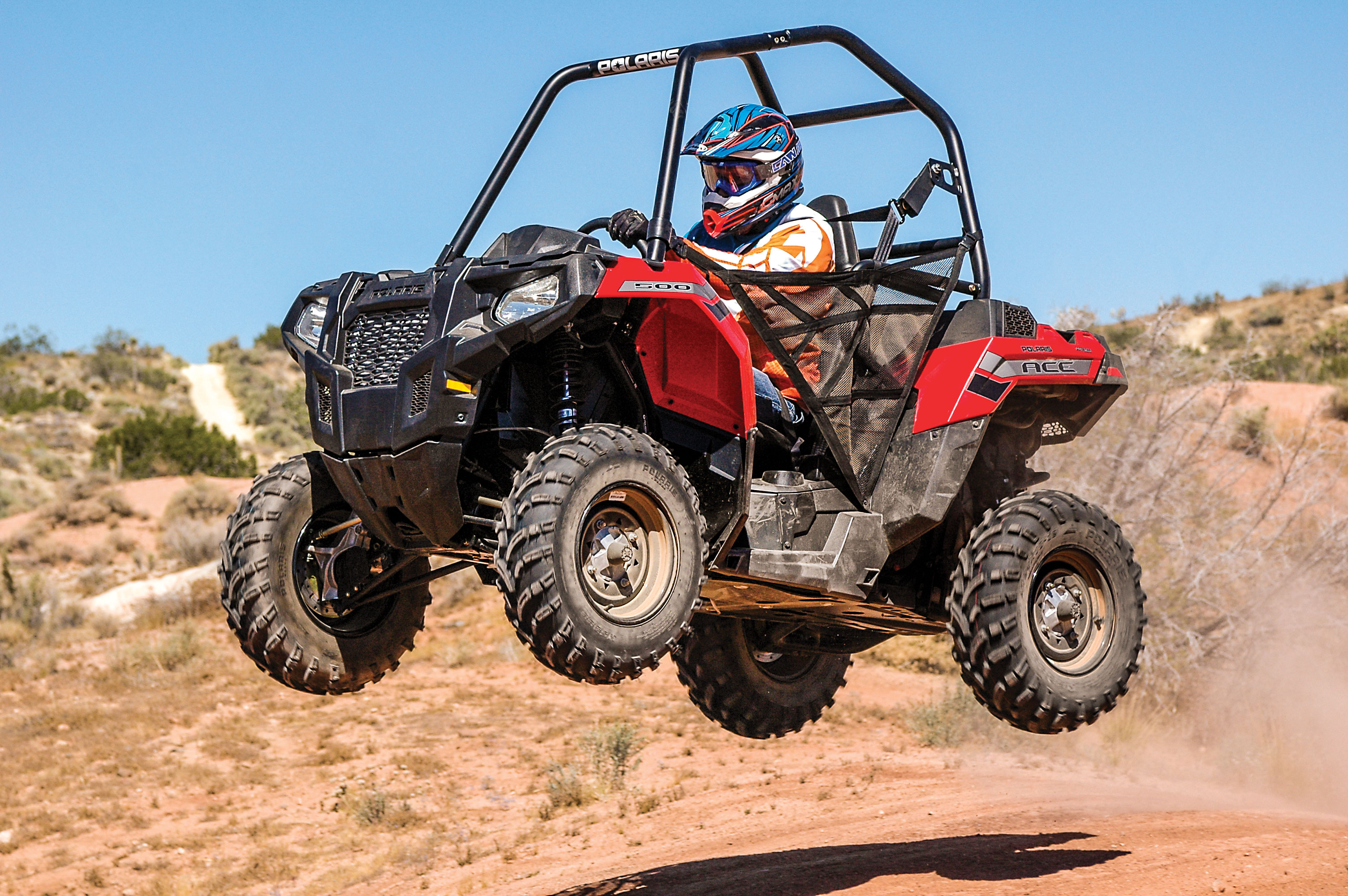 — LOADS OF FUN FOR UNDER $7000 —
When the first Polaris Ace was introduced in 2014, it gave off-road enthusiasts a whole new way to enjoy UTVs. Single-seat sport machines have a lot of great characteristics, and one of the most desirable is affordability. The new Ace 500 takes the original concept and improves on it with a 500cc engine rather than a 325 and an even lower price—$6999 instead of $7499.
HOW DOES THE PRICE COMPARE?
At $6999, the Ace 500 is the lowest-priced adult-size machine in Polaris' line of Ace single-seaters. The Ace 570 is $8499. The Ace 570 SP is $9999, and the Ace 900 XC is $12,999. The lowest-priced RZR, the RZR 570, is $10,299. For now, there aren't any single-seat UTVs from other manufacturers.
WHAT KIND OF UTV IS THE ACE 500?
The Ace is a trail-width sport UTV with a small cargo bed and a 1.25-inch trailer hitch. Its 48-inch width makes it even more compact than 50-inch-wide trail machines. It's easy to transport in a full-size pickup, so you don't need a trailer as with wider, larger UTVs.
WHAT'S NEW?
The 500 is a new model for 2017. Like other 2017 Aces, it has more legroom, it's easier to enter and exit, has more storage in the cabin and new digital instrumentation.
WHAT POWERS IT?
A single-cylinder, 500cc, single-overhead-cam, four-valve engine.
WHAT KIND OF TRANSMISSION DOES IT HAVE?
A belt-type, fully automatic, dual-range continuously variable transmission. The transmission isn't equipped with an engine braking system.
WHAT KIND OF 4WD SYSTEM DOES IT USE?
It has selectable 2WD/4WD with an automatic-locking front differential. In 4WD the speed-sensitive differential  keeps the Ace in 2WD until the rear wheels slip. The instant the front differential detects rear-wheel slip, the front differential locks and all four wheels are driving.
HOW FAST IS IT?
It's faster than you probably expect a 500cc UTV to be. The 500 isn't massively powerful, but at 844 pounds dry, it's about 150 pounds lighter than the smallest RZR, which doesn't just help acceleration, it does good things for the handling and braking too.
HOW IS THE POWER DELIVERY ON THE TRAIL?
Fun and easy to use. The 500 makes the same 32 peak horsepower as the original 325cc Ace, but with more low and midrange power, so it feels stronger and quicker in some situations. The 500 pulls as soon as you get into the throttle, so you don't need to keep the engine revving or rely on momentum as much as with the 325. Strong low-end power makes slow, difficult sections easy to deal with on the 500, and it can maintain a respectably quick pace on twisty trails and in hilly terrain.
WHAT KIND OF SUSPENSION DOES IT HAVE?
The Ace has MacPherson-strut front suspension. The non-adjustable struts offer 8.2 inches of travel, enough for a 48-inch-wide machine.
There are double A-arms with spring preload-adjustable shocks and a sway bar in the rear. Travel is 9.5 inches.
HOW DOES THE SUSPENSION WORK?
Surprisingly well. The 500 isn't designed to conquer whoops at high speed, but the suspension delivers a comfortable ride and very good control on trails. The 500's suspension is firmer and more bouncy than UTVs with more travel, but we were impressed at how well it absorbed square-edged ruts and even jumps. You can drive this little machine pretty hard, and the suspension handles it!
HOW DOES IT HANDLE?
Like it weighs nothing and every trail is suddenly wider, which means it's one of the most fun UTVs you can drive on tight, twisty trails. The Ace 500 doesn't have power steering, but it feels like it does because the vehicle is so light, and the unassisted steering has very good feel with no annoying kickback from bumps. The Ace even has the stability to slide securely thanks to front and rear sway bars, though you have to supply some restraint because the machine is just 48 inches wide.
HOW IS IT FOR HILLS?
Impressive. Bugs can climb walls without massive horsepower because they have a lot of traction and weigh so little. The Ace can't climb walls, but it operates on the same principle, so the hills on most trails are no problem. There's no engine braking, but the Ace's low weight and big brakes provide sure control on downhills. 
HOW IS IT IN WATER AND MUD?
It's fun. The 500 has enough power, traction and ground clearance to conquer the mud pits and water crossing on most trails. You just have to remember not to follow taller, more powerful machines into crossings that they barely make or get stuck in. The Ace's bodywork provides more splash protection than some sport machines too.
HOW ARE THE DETAILS?
Impressive for the machine's price. The Ace is roomy enough for a 6-foot adult, and it's easier to get into and out of than some larger UTVs. The seat adjusts forward and back, the wheel tilts, and there's also a cup holder, full instrumentation and storage wells in the dash. There's more storage under the front rack. The Ace comes with nets rather than doors, but Polaris and aftermarket sources have doors for it.
WHAT IS OUR FINAL ANSWER?
Single-seat UTVs are light, quick, compact, easy to handle, easy to transport and far less expensive than most larger machines. The new Ace 500 is more powerful and less expensive than the original Ace that started the single-seat craze. For a first UTV, it's all good. 
SPECS:
POLARIS ACE 500
ENGINE/TRANSMISSION
Engine type Single cylinder, liquid-cooled, SOHC,
4-valve, 4-stroke
Displacement 500cc
Bore x stroke 99mm x 73.6mm
Lubrication system Wet sump
Fuel metering 42mm EFI
Starting/back-up Electric/none
Starting procedure In neutral or any gear w/ any
brake engaged
Choke NA
Air-filter access Remove access panel in bed and
2 clips on airbox lid
Transmission Fully automatic, dual-range CVT
w/ reverse
Reverse procedure Move range selector to "R"
Drive system Selectable 2WD/4WD
Final drives f/r Shaft/shaft
DIMENSIONS/CAPACITIES/WEIGHTS
Fuel capacity 5.25 gal.
Wheelbase 61.5"
Length/Width/height 90"/48"/67.5"
Ground clearance 10"
Dry weight 844 lb.
Rack weight limits f/r 120 lb./240 lb.
Hitch Yes
Towing limit 1500 lb
CHASSIS
Frame Square steel tube
Suspension/wheel travel:
  Front MacPherson Struts w/ sway bar/8.2"
  Rear Double A-arms w/ prel.-adj. shocks and
sway bar/9.5"
Brakes/actuation:
  Front Hydraulic discs/left pedal
  Rear Hydraulic disc/left pedal
Parking brake Park position on transmission range selector
Tires:
  Front 24×8-12 Polaris by Wanda
  Rear 24×10-12 Polaris by Wanda
ELECTRICAL
DC outlet Waterproof automotive-style plug
Lighting:
  Front Two 27W grill-mounted headlights, single 50W
handlebar-mounted headlight
  Rear Single tail/brake light
DETAILS
Instruments Speedometer, odometer, trip odometer,
tachometer, hour meter fuel gauge, clock
Color Red
Recommended operator age 16
Suggested retail price $6999
Contact Polaris, (800) POLARIS