POLARIS RZR XP 4 1000 EPS
— Testing the most cost effective Polaris 4-seater —
Polaris has many irons in the fire, and one of them is the Polaris Adventure subsidiary we've reported on previously. Contributors Jack and Shane Trittler have invested in Mojave Adventures (760-495-2474) with a small fleet of 2019 Polaris RZR XP 4 1000 EPS units in Black Pearl, so we have spent many days and gone many miles with them. On one particular tour, we got a chance to ride with Damon Bradshaw, multi-time AMA Motocross and Supercross champion and Monster Energy Monster Jam champion. Although not a UTV champion (yet), Bradshaw is definitely a wheel man. Here is what he—and we—think of the 2019 Polaris RZR XP 4 1000.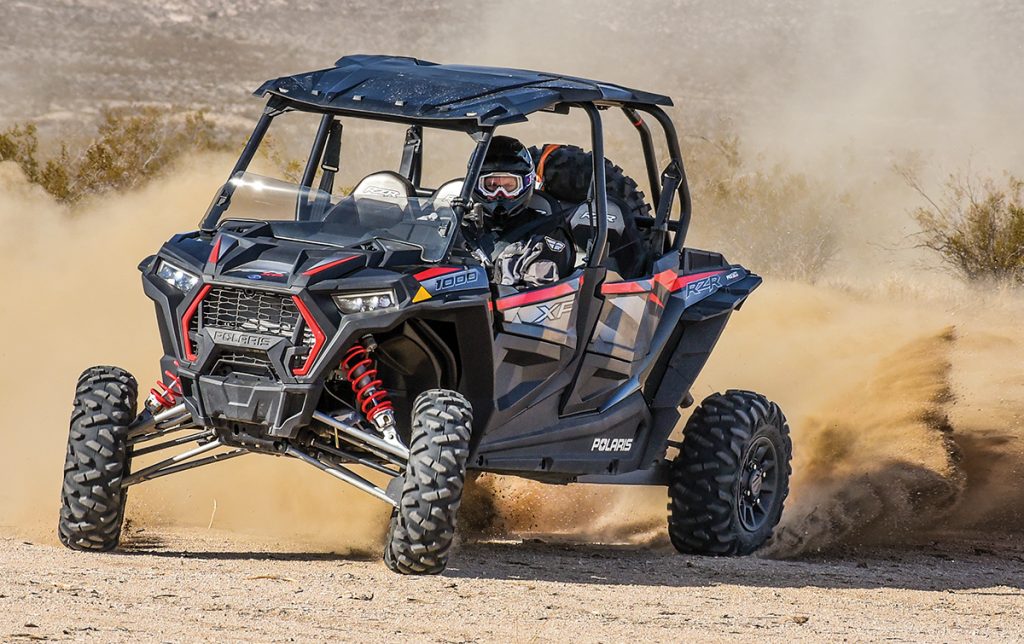 WHAT'S NEW FOR 2019?
For 2019, all RZR XPs got new, more-aggressive front and rear fascias and grills, with Turbos and Special Editions getting LED eyebrows and 1000s getting highlight inserts. They also go the new dash from the Turbo S with new center storage bins on the top and bottom, with the top bin replacing the Turbo S Ride Command screen, plus a new cubbyhole with rubberized mesh above the adjustable T-bar and large glove box.
The XP 4 also gets the same analog/digital instrument panel as the Turbo S, but it doesn't tilt with the steering wheel like the RZR RS1 unit does. Large analog needles on each side indicate speed and rpm, while the center LCD readout can be set to show engine temperature or other parameters with red or blue backlighting.
Rear seats get the T-Rail adjustable top seat-belt mount, and only the driver's seat has fore-aft adjustment via a slider frame.
Polaris Adventure XP 4 1000s also get accessory lower-door insert kits with tubular frames (#2879942, $849.99) for more comfort and confidence. Being rental UTVs, they also get GPS tracker units.
HOW DOES COST COMPARE?
The 2019 RZR XP 4 1000 EPS is $20,499. The RZR S 4 1000 goes for $19,599, and the RZR XP 4 Turbo is $23,699. Can-Am's 2019 Maverick Max Sport 1000 DPS is $18,999, and the base Maverick X3 Max is $21,999. The Maverick Max X3 X ds is $27,899, and the Max X3 X rs is $29,899. Textron discontinued the Wildcat 4X 1000, while the Polaris General 4 starts at $21,799 and jumps to $23,999 for the Ride Command Edition.
HOW FAST IS THE PROSTAR 1000?
Plenty fast. While it doesn't have the yank of a Turbo or two-seat XP1K, the XP 4 is torquey enough to be fun from turn to turn and up hills. The 110-horsepower ProStar twin has 11.0:1 compression and great throttle response with two 48mm EFI throttle bodies. It will propel the 1,659-pound machine up to 77–78 mph in high range. More power can be easily extracted with a performance exhaust and ECU flash, too.
WHAT ABOUT THE CVT/AWD DELIVERY?
It's also quick yet predictable. Polaris does a good job tuning the CVT clutch for rapid, aggressive engagement, yet it isn't too aggressive for delicate rock-crawling situations. The CVT engagement is well matched to the EFI throttle map, and the front diff also engages smoothly when sensors detect one or both rear wheel(s) losing traction. The XP 4 1000's diff isn't as stout as the XP 4 Turbo's higher-grade unit, though, and neither are the 1000's CVT and belt.
HOW AGILE IS THE XP 4'S HANDLING?
Good for a four-seat UTV. With a wheelbase of 117 inches, compared to 90 inches for the two-seat XP1K, the handling is a lot more sedate at speed, yet it turns better than a Maverick X3 Max. Bradshaw said, "We pre-ran XP 4s in Baja, and the longer wheelbase is much better for the high speeds and rough terrain." Aggressive driving pays off in the XP 4, as drifting the rear end out to set up for turns is a smooth and efficient technique; otherwise, the front wants to push. Polaris' On-Demand 4WD system rewards this driving style and lessens the 4WD push compared to Can-Ams and other UTVs with all-time 4WD.
HOW ABOUT THE WALKER EVANS SUSPENSION?
It's dated. When the Walker Evans Racing 2.0 front and 2.5 rear needle shocks were first released, the ride was considered good, but Can-Am and Arctic Cat surpassed the XP 4's ride quality with true dual-rate springs and longer travel. The RZR's short top springs are ineffective without the proper length and cross-over rings, making the fronts, especially, top-out springs. Ride quality can be improved relatively cheaply with true dual-rate spring kits from Shock Therapy, Eibach or Hyperco. With spring rates and cross-over heights dialed, the WER 16-position, compression-damping adjusters can fine-tune the ride and fight bottoming. We backed off the compression clickers all the way in the back and to four out up front for a plusher ride without too much front-end dive; dual torsion bars fight body roll in turns. 
HOW STRONG ARE THE BRAKES?
They're good but not the strongest. The XP 4 1000 has twin-piston hydraulic calipers squeezing 248mm rotors at all four corners, but the XP 4 Turbo has triple-piston front calipers. Braking power is decent with these brakes and 29-inch Bighorn tires. They have to be good, because there is no Engine Braking System (EBS) or Active Descent Control (ADC). And trailing throttle only slows the rear wheels on steep hills due to the On-Demand AWD system.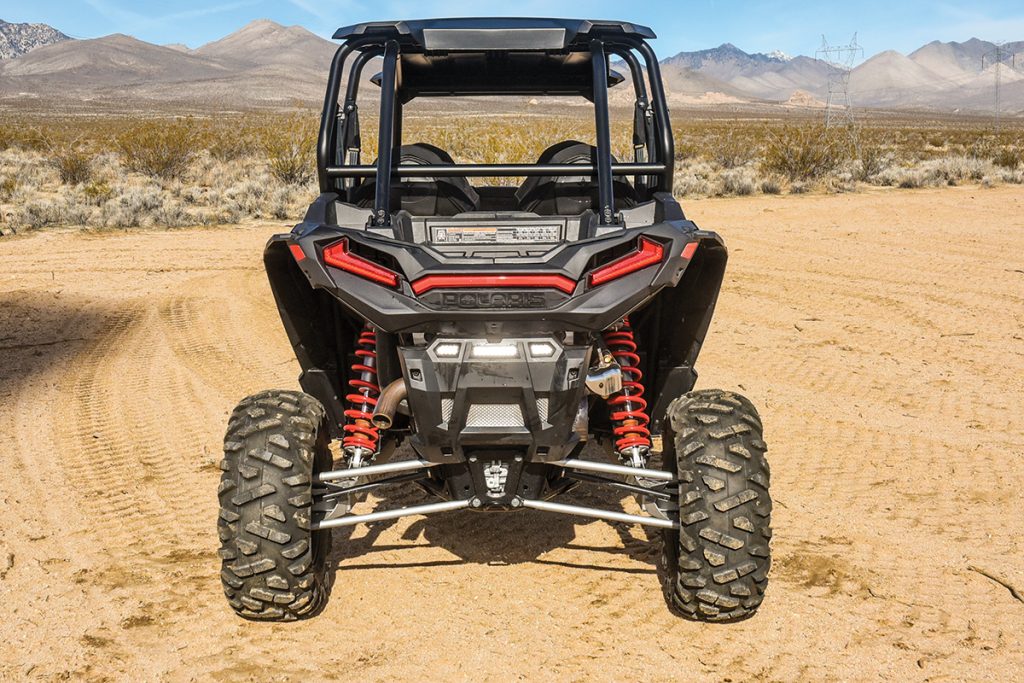 WHERE IS THE XP 4 HAPPIEST?
Seeking adventure at speed. The XP 4 is much more stable over rough terrain than the XP1K and carries more people. Many people prefer the longer wheelbase for rock crawling, too, as it offers better traction on really steep rock faces. It's also a great duner with the WER needle shocks cranked in to handle the G-outs.
WHAT ABOUT TRAIL COMFORT?
The RZR XP 4 1000 is an off-road limo, especially with the Pure Polaris lower-door kit. All four seats provide a secure seating position and are high on comfort. The adjustable passenger T-bar, driver's seat and T-Rail rear seat belts add comfort, too. The new dash adds convenience, and the new driver-side instrument pod is much easier to read. The Polaris Adventure XP 4's roof and half windshield also add comfort, especially on cold and rainy days. Vibration and noise levels are low in the cabin. While the dated suspension can be improved, it's possible to coax good ride quality out of the piggyback needle shocks.
WHAT'S OUR FINAL ANSWER?
The 2019 RZR XP 4 1000 EPS is the most cost-effective way to have family fun for up to four people, but it also has a lot of other advantages over the two-seat XP1K. Fitted with a roof and the lower-door kit, the XP 4 is more than ready for any adventure with a great engine and CVT transmission, good turning and stability, and a very comfortable cabin. There are faster machines and ones with better suspension components, but they also cost a lot more. Besides, with Polaris Adventures having franchises across the country and planet, family adventures can be had in a different XP 4 and location every week, with an army of experts doing the machine prep!
SPECS:
2019 POLARIS  RZR XP 4 1000 EPS
ENGINE/TRANSMISSION
Engine type Liquid-cooled, 8-valve, DOHC 4-stroke twin
Displacement 999cc
Bore x stroke 93mm x 73.5mm (x2)
Compression ratio 11.0:1
Lubrication system Wet sump
Additional cooling Auto fan
Induction 48mm EFI (x2)
Starting/back-up Electric/none 
Starting procedure Turn ignition switch
Air filter:
  Type Paper pleat
  Access Tool-less, undo 4 clasps
Transmission Dual-range CVT w/ reverse
Reverse procedure Move range selector to "R"
Drive system Selectable 2WD/4WD w/auto diff-lock 
Final drives Shafts
DIMENSIONS/CAPACITIES/WEIGHTS
Fuel capacity 9.5 gal.
Wheelbase 117.0"
Overall length/width/height 146"/64"/73.75"
Ground clearance 14.0"
Claimed dry weight 1,659 lb.
Bed weight limit 300 lb.
Hitch No
Towing limit N/A
ROLLING CHASSIS
Frame Steel round tube
Suspension/wheel travel:
  Front Dual A-arm w/prel./comp.-adj. 2.0 WER 
shocks/16"
  Rear IRS Trailing-arms w/prel./comp.-adj. 2.5 WER 
shocks/18"
Brakes/actuation:
  Front Hydraulic discs/left-side pedal
  Rear Hydraulic discs/left-side pedal
Parking Lever on console
Tires:
  Front AT 29×9-14 Maxxis Bighorn
  Rear AT 29×11-14 Maxxis Bighorn
ELECTRICAL
DC outlet Console
Lighting:
  Front 2 LED hi/lo headlights
  Rear Dual LED brake/taillights
DETAILS
Instrumentation Speed/odo/trip/hour/rpm/fuel/gear/
clock/2WD-4WD
Colors Black Pearl, White Pearl, Sky Blue 
Minimum recommended operator age 16
Suggested retail price $20,499
Contact Polaris, (800) POLARIS