— Testing a mini UTV for young off-roaders —
Manufacturers don't need to make youth UTVs more exciting to get kids interested; they're crazy about them already. SSR did it anyway. Cool stying, aluminum wheels, LED lights, big bumpers and useful features like a spare tire, mirrors and instrumentation make the SSR SRU170RS stand out. We tested one to see if its performance is as impressive as its looks.
HOW DOES COST COMPARE?
The SSR SRU170RS is $3949. An upgraded version with restyled headlights and taillights, a bumper-to-cage reinforcement bar and improved nets is also available for $4199. The Polaris RZR 170 is $5299. The Polaris Ace 150 is $3999. Hisun's Strike 250 is $5199.
WHAT POWERS IT?
A carbureted, 168.9cc, single-overhead-cam, air-cooled, two-valve single-cylinder engine. Fuel injection has become common on youth UTVs, but the SSR's carburetor has an automatic choke that makes starting just as easy. Carburetors are simpler for most home mechanics to service, too.
WHAT KIND OF TRANSMISSION AND DRIVETRAIN DOES IT HAVE?
The SSR has the same setup as most youth UTVs, a  fully automatic, belt-type, continuously variable transmission with forward, neutral and reverse. The machine has chain drive to the rear wheels only and a solid rear axle.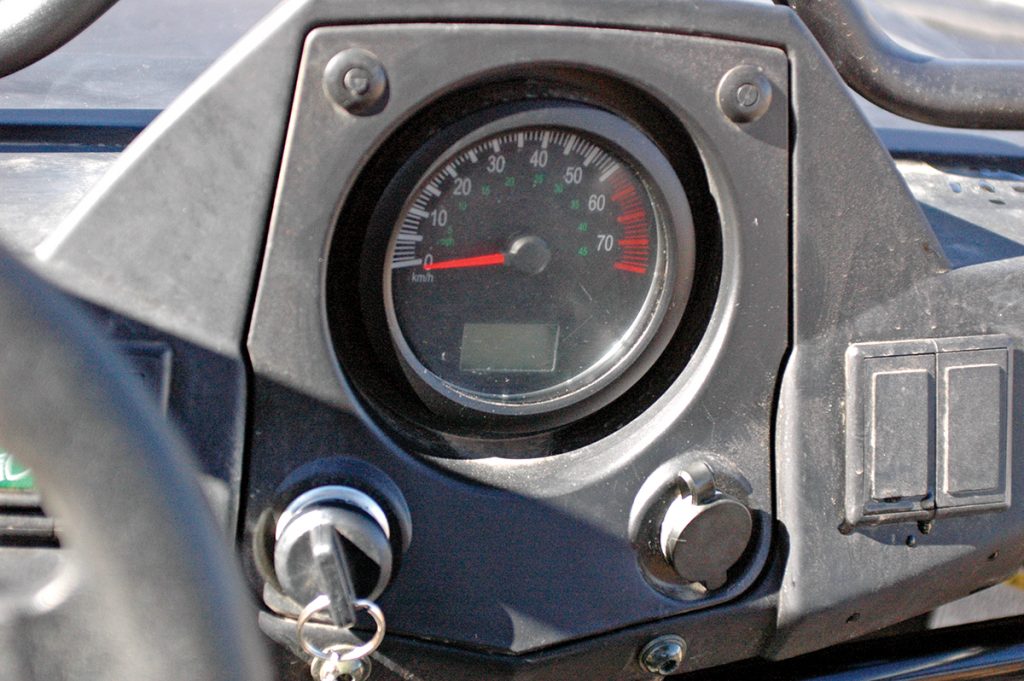 HOW FAST IS IT?
The SRU170RS' speed and acceleration is impressive. It's one of the stronger-running 170cc youth UTVs. Parents can adjust the amount of power with the adjustable throttle limiter on the gas pedal.
HOW IS THE POWER DELIVERY?
The 170 is powerful and responsive enough to be fun for skilled kids without being intimidating for learners. It can follow full-size UTVs on average trails and in sand, and there's enough performance on tap for aggressive drivers to get the machine sideways and tackle hills.  
HOW IS THE SUSPENSION?
It's fine for having fun on trails. Many youth UTVs use single-A-arm front suspension, but the SSR has double-A-arm front suspension like a full-size UTV, so the machine's steering is more precise in bumps. The solid-axle swingarm rear suspension is similar to what most youth UTVs use. It isn't as plush as the independent rear suspension full-size UTVs have, but it works well for the small, light 170. There's 7 inches of travel front and rear, enough to handle a decent pace on rough trails, and it rides comfortably. Performance-minded drivers can upgrade to King shocks from SSR for $1499.
HOW DOES IT HANDLE?
It's easy to handle for kids, and the SSR's predictable cornering and stability make it surprisingly like a big UTV, just scaled down, and that's good.
HOW ARE THE DETAILS?
With a wheelbase 7 inches longer than a RZR 170, the SSR has more room for larger kids or adults that want to join their young driver. A fabric roof is standard, the seats are comfortable, the driver's seat slides to adjust, and the steering wheel tilt is adjustable. There's a speedometer with a gas gauge, and the fuel valve has a reserve position you can use if you ignore the gauge. Daytime driving lights make the SSR more visible, and the headlights and rack-mounted LEDs make night rides possible. Rear-view mirrors add safety, and aluminum wheels give the SSR extra style. The passenger grab bar works as a lug-wrench handle if you need to install the spare tire, which is standard equipment.
WHAT IS OUR FINAL ANSWER?
SSR'S SRU170RS proves that less can be more. It's more than a thousand dollars less than a RZR 170, and it delivers impressive performance, handling and comfort, as well as a long list of useful standard features.
SPECS:
2019 SSR MOTORSPORTS SRU170RS
ENGINE/TRANSMISSION
Engine type Air-cooled, OHC, single-cylinder 4-stroke
Displacement 168.9cc
Bore x stroke 61 x 57.8
Compression ratio 9.2:1
Lubrication system Wet sump
Additional cooling Auto fan
Carburetion 22mm
Starting/back-up Electric/none
Starting procedure In any range, turn key with brake on
Idle adjustment On carburetor
Air filter:
  Type Paper
  Access Remove airbox cap
Transmission CVT w/ reverse
Reverse procedure Move range selector to "R"
Drive system 2WD
Final drive Chain
DIMENSIONS/CAPACITIES/WEIGHTS
Fuel capacity 2.9 gal.
Wheelbase 72"
Overall length/width/height 98"/48"/60"
Ground clearance 7"
Dry weight 540 lb.
Bed capacity N/A
Hitch No
Towing capacity N/A
ROLLING CHASSIS
Frame Steel tube
Suspension/wheel travel:
  Front Dual A-arms, preload-adjustable shocks/7"
  Rear Swingarm, preload-adjustable shocks/7"
Brakes/actuation:
  Front Hydraulic discs/left pedal
  Rear Hydraulic disc/left pedal
Parking Lever on console 
Tires:
  Front 21×7–10
  Rear 22×10–10
DETAILS
Instruments Speedometer/odometer, trip meter, clock
Lighting:
  Front Daytime running lights, LED lights
  Rear Tail/brake lights
Colors Matte Blue, Matte Black
Minimum recommended operator age 12
Suggested retail price $3949 
Contact SSR, www.ssrmotorsports.com/store/sxs
.
.