— A HIGHER PERFORMANCE VERSION OF THE STAMPEDE —
Crossover UTVs come with power and suspension you could only find on the most serious sport models not long ago, and they can work as hard as the best utility machines. Arctic Cat's Havoc X is the newest vehicle in this cool, new category, so we couldn't wait to see how it performs.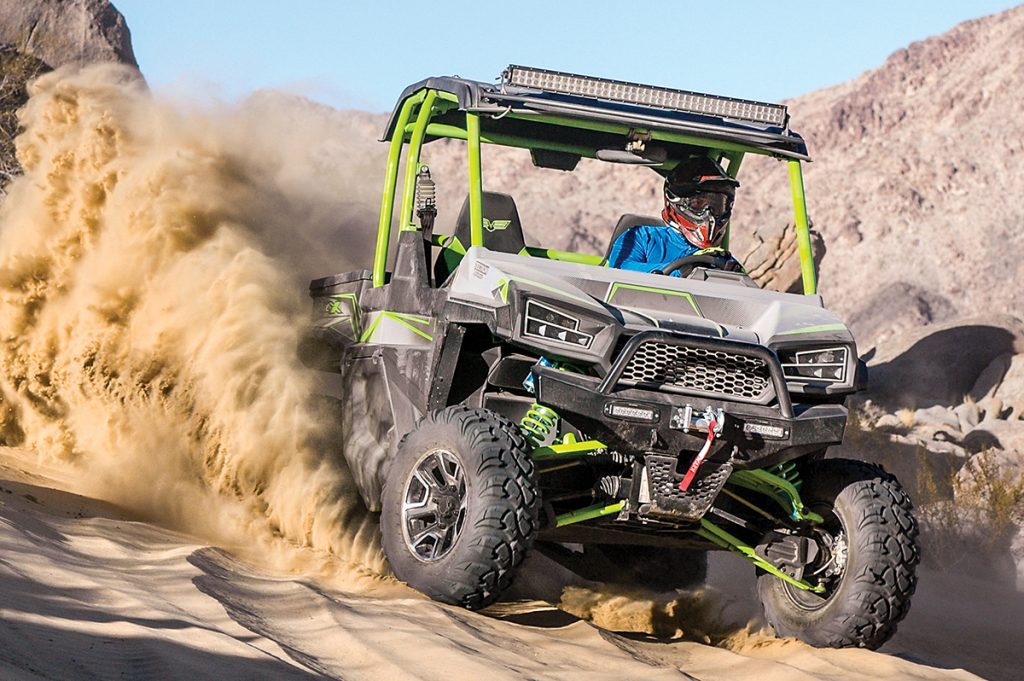 WHAT'S NEW?
The Havoc X is based on the Stampede, but it's so heavily upgraded, it's practically a new machine. A larger, more powerful engine, longer travel suspension; sport seats; a roof; a winch, color-matched A-arms and suspension springs; and larger ITP Ultracross tires on aluminum wheels set the Havoc X apart from the Stampede 900.
HOW DOES COST COMPARE?
The Havoc X is $17,299, and it's only available as a two-seater for now.  The two-seat Stampede 900 starts at $13,999 and goes to $14,799 for the Stampede X. The four-seat Stampede 4 900s start at $15,199 and range to $15,999 for the Stampede 4X. Two-seat Polaris General 1000s start at $16,299 and go to $21,499 for the EPS Ride Command Edition.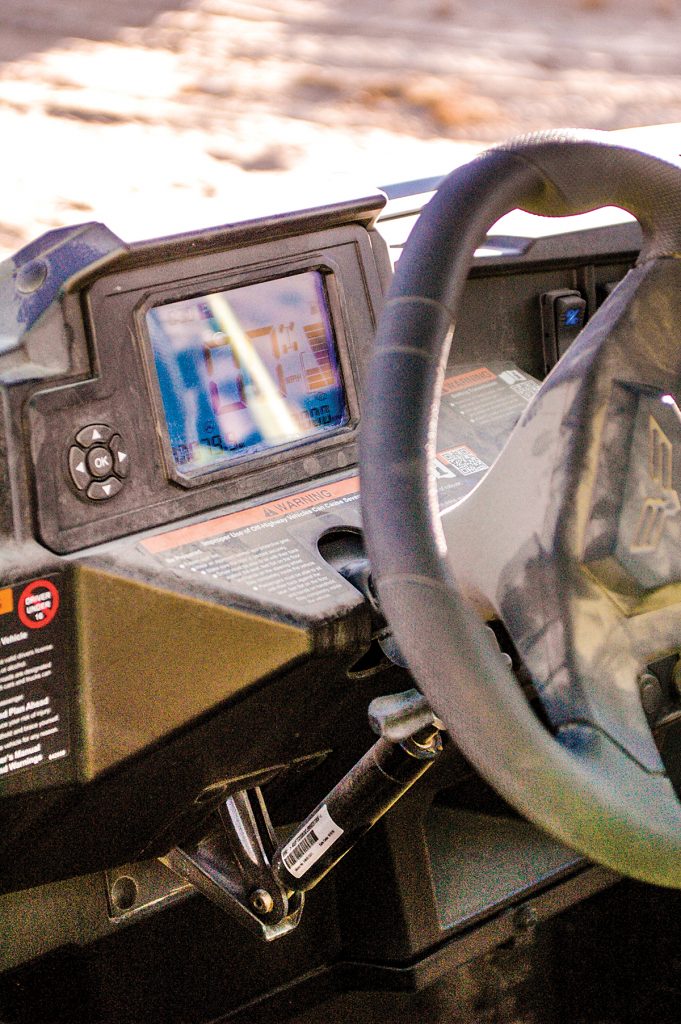 WHAT POWERS IT?
A 957cc, single-overhead-cam, eight-valve inline twin with 100 horsepower. Stampede 900s have 846cc twins that put out 80 horsepower. The Polaris General 1000's inline twin also generates 100 horsepower.
WHAT KIND OF TRANSMISSION DOES IT HAVE?
A fully automatic, dual-range, belt-type CVT. It doesn't have automatic engine braking, but the transmission remains engaged almost continuously in low and briefly in high to offer some engine braking in off-throttle situations. The dash-mounted range selector is conveniently placed, and it has a more positive action than the last Stampede we tested. We got some grinding from the transmission while selecting ranges on our early-production test machine, but our contacts at Textron tell us the problem will be handled before Havocs reach the public.
WHAT KIND OF 4WD SYSTEM DOES IT USE?
The Havoc has selectable 2WD/4WD with an automatic-locking front differential. The spool-type rear differential is continuously locked. Stampedes have a lockable rear differential.
HOW FAST IS IT?
It moves! Get into the throttle and you won't mistake the Havoc X for a regular recreation utility rig. With 100 horsepower on tap, the Havoc X can even accelerate away from some smaller sport UTVs. Having enough power for mud, sand and big hills is not a concern with the Havoc.
HOW IS THE POWER DELIVERY?
It's aggressive and fun without being too abrupt. The Havoc X has the kind of solid throttle response and strong top-end pull sport-minded drivers want; it goes when you want it to go, but the machine is also easy to control when you're more gentle with the gas pedal. The Havoc is very cooperative on difficult sections of trail and in precise maneuvers when doing chores.
WHAT KIND OF SUSPENSION DOES IT HAVE?
The Havoc X has double-A-arm front and rear suspension with compression and spring preload-adjustable 2.5-inch King piggyback reservoir shocks. The A-arms are longer on the Havoc X than on Stampede models, giving the machine a 64-inch width with 12.8 inches of travel up front and 12.9 inches in the rear. There are also front and rear sway bars to control body roll. In case you're counting, the Polaris General has 12.25 inches of front travel and 13.2 inches in the rear.
HOW DOES THE SUSPENSION WORK?
It's really good. Arctic Cat must have done much testing, because the Havoc has an exceptionally smooth ride at low and medium speeds, with very good control and bottoming resistance when you feel like seeing how fast you can cover rough ground. If you spend most of your time driving aggressively, you can increase the compression damping on the shocks for more bottoming control.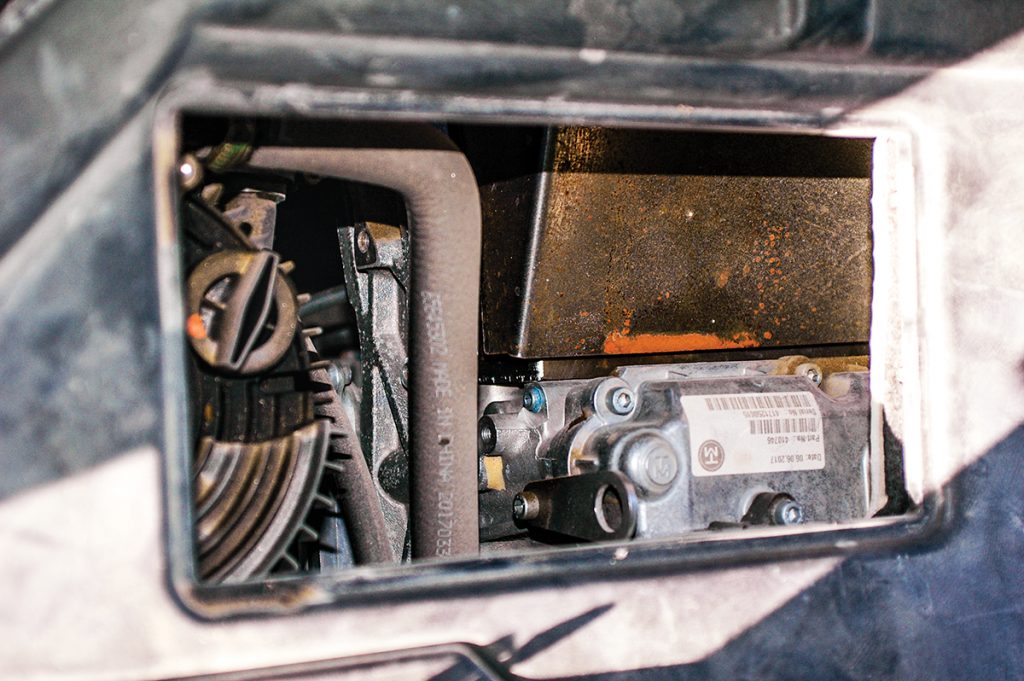 HOW DOES IT HANDLE?
It's agile for its size and weight. The Havoc X is an 1850-pound machine, so it's not quite as athletic as a sport UTV, but its chassis and suspension give it good moves in corners and predictable stability even on bumpy straights. Front and rear sway bars keep the Havoc flat in hard turns, and the King shocks give the vehicle good control in bumps and at higher speeds.
The Havoc's power steering also helps by lightening steering effort and fighting kick from bumps while retaining good steering feel.
HOW IS IT ON HILLS?
It handles them with power and control. The Havoc's engine has the muscle to top serious climbs, even in power-sapping sand. UTVs that go up must come down, and the Textron is easy to control on difficult downhills because transmission offers very good engine braking in low range, and the four-wheel disc brakes have very good power and feel.
HOW ARE THE DETAILS?
Most are great while a few need work. Textron tells us they've already solved the range selector issue we experienced, so we won't grind on them for that. The seats need help too. They're sport seats that offer good support, and they have cool-looking two-tone covers, but the seat base is a little short for most adults. They're not bad, but comfort could be better. Gripe number three is legroom. There's plenty for people up to 6 feet tall, but taller folks will probably want more.
Everything else is pretty sweet. The cab has plenty of elbowroom, and there's a large glove box and plenty of storage in the dash. Like the Stampede, the Havoc has an extended cab storage area forward of the cargo box. The engine is smooth and the noise level in the cab is low. The large multi-function LCD display is easy to read. A roof, doors, 28-inch ITP Ultracross tires on 14-inch aluminum wheels and a 4000-pound Warn winch are standard equipment.
WHAT IS OUR FINAL ANSWER?
Textron's Arctic Cat Havoc X offers impressive sport performance with most of the serious utility capabilities of the more work-focused Stampede. It does exactly what a crossover UTV should do, and we're looking forward to seeing if it does it better than the Polaris General.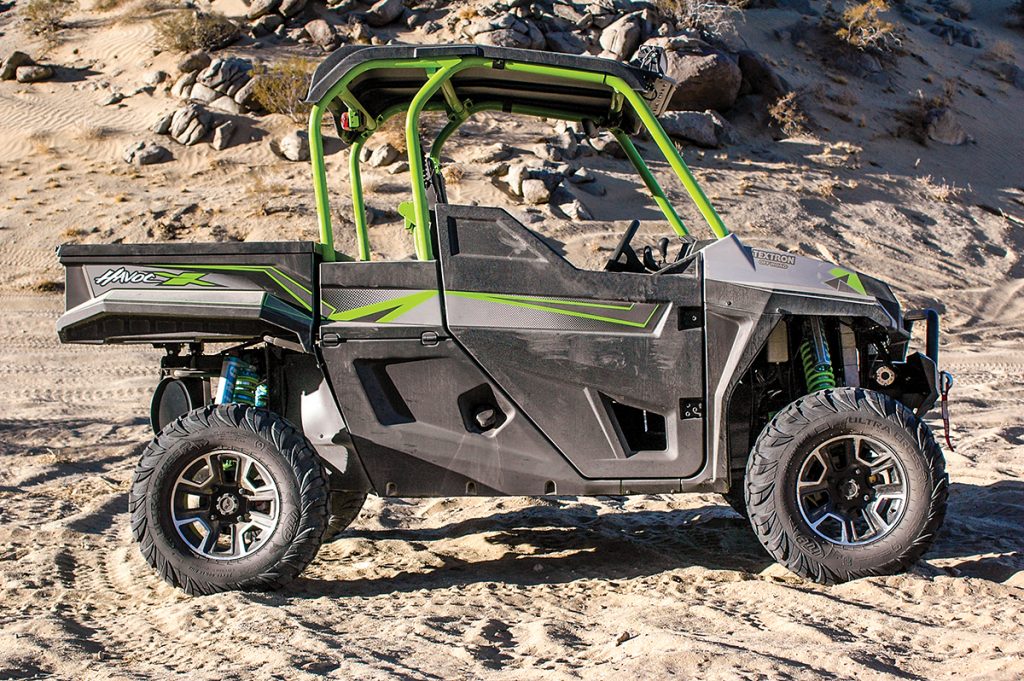 SPECS:
ARCTIC CAT HAVOC X
ENGINE/TRANSMISSION
Engine type Liquid/oil-cooled, 8-valve, OHC 4-stroke
Displacement 957cc
Bore x stroke 89.0 x 68.0mm (x2)
Compression ratio 11.5:1
Lubrication system Dry sump
Additional cooling Auto fan
Induction EFI w/ 44mm body
Starting/back-up Electric/none
Starting procedure Turn ignition key
Air filter:
  Type Pleated paper
Transmission Dual-range CVT w/rev.
Reverse procedure Move range selector to "R"
Drive system Selectable 2WD/4WD w/ front & rear
diff-lock
Final drives Shafts
DIMENSIONS/CAPACITIES/WEIGHTS
Fuel capacity 9.5 gal.
Wheelbase 85.2"
Overall length/width/height 126"/64"/77"
Ground clearance 13"
Wet weight 1850 lb.
Bed weight limit 600 lb.
Hitch 2" receiver
Towing limit 2000 lb.
ROLLING CHASSIS
Frame Steel round tube
Suspension/wheel travel:
  Front Dual A-arms w/ King compression-adjustable
piggyback reservoir shocks/12.8"
  Rear Dual A-arms w/ King compression-adjustable
piggyback reservoir shocks/12.9"
Brakes/actuation:
  Front Twin-piston hydraulic discs/left-side pedal
  Rear Hydraulic discs/left-side pedal
Parking In transmission
Tires:
Front 28×10-14 ITP Ultracross
Rear 28×10-14 ITP Ultracross
ELECTRICAL
DC/USB outlet Console
Lighting:
  Front (4) 60W halogen headlights
  Rear 21/5W brake/taillight
DETAILS
Instrumentation LCD w/speedo, odo, dual trip, fuel,
hour, gear, EBS, EFI
Colors Silver
Minimum recommended operator age 16
Suggested retail price $17,299
Contact www.textronoffroad.com
.
.