THE EVOLUTION OF THE HONDA PILOT
This may come as a surprise to some UTV Action readers, but the Polaris Ace wasn't the first single-seat UTV. The Pilot was the most advanced version of Honda's single-seat machines that first appeared as the Odyssey in 1976! Introduced in 1988 as a 1989 model, the Pilot was so high tech and well equipped, UTV enthusiasts are still enjoying prized examples of the machine today.
HUMBLE BEGINNINGS
The first-generation Odyssey was fun but very basic. It was a two-wheel-drive machine with a pull-start, air-cooled, 250cc, two-stroke engine, and the single-range, belt-type automatic transmission had no reverse. It had a trailingarm front suspension with less than 4 inches of travel, drum front brakes and no rear suspension!
By 1985 the Odyssey had evolved into a machine much like modern UTVs. It was still a 2WD vehicle, but it featured electric starting, a fully automatic transmission with reverse, and independent front and rear suspension.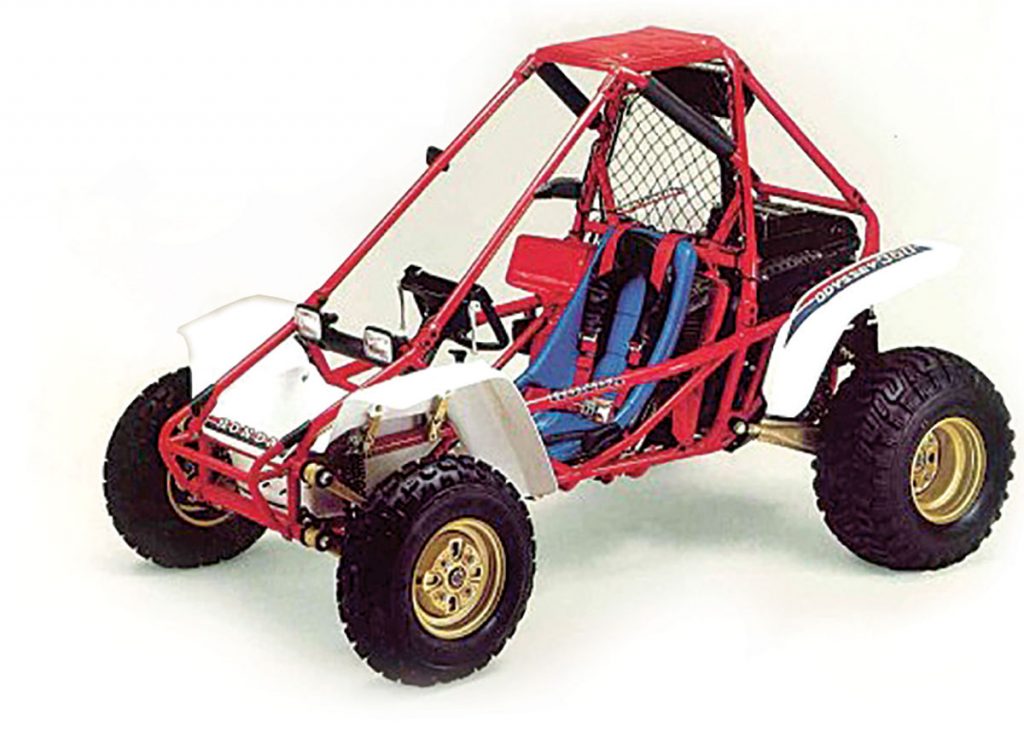 WHAT MAKES THE PILOT LIKE, AND UNLIKE, TODAY'S UTVs?
For a vehicle produced 27 years ago, the Pilot's design shares a lot with modern single-seat sport UTVs, though, like the Odysseys, it was 2WD. It was powered by an electric-start, 397cc, liquid-cooled, single-cylinder engine with a belt-type, fully automatic, continuously variable transmission with forward, neutral and reverse. The big difference is the Pilot's powerplant was a twostroke. It also had a backup pull-starter.
The Pilot's chassis design is like a pattern for today's machines. It has double-A-arm suspension front and rear with gas-charged rear shocks with remote reservoirs. The travel—5.9 inches up front and 7.1 inches in the rear— doesn't sound like much now, but it was impressive for the time. Its 59.5inch width is a close match for today's 60-inch-wide woods-width UTVs, and it made the Pilot very stable.
Amazingly, some of the Pilot's features beat what we see on similar machines today. Shoulder harnesses and rear-view mirrors were standard equipment, and the Pilot weighed just 592.5 pounds. A Polaris Ace is 830 pounds.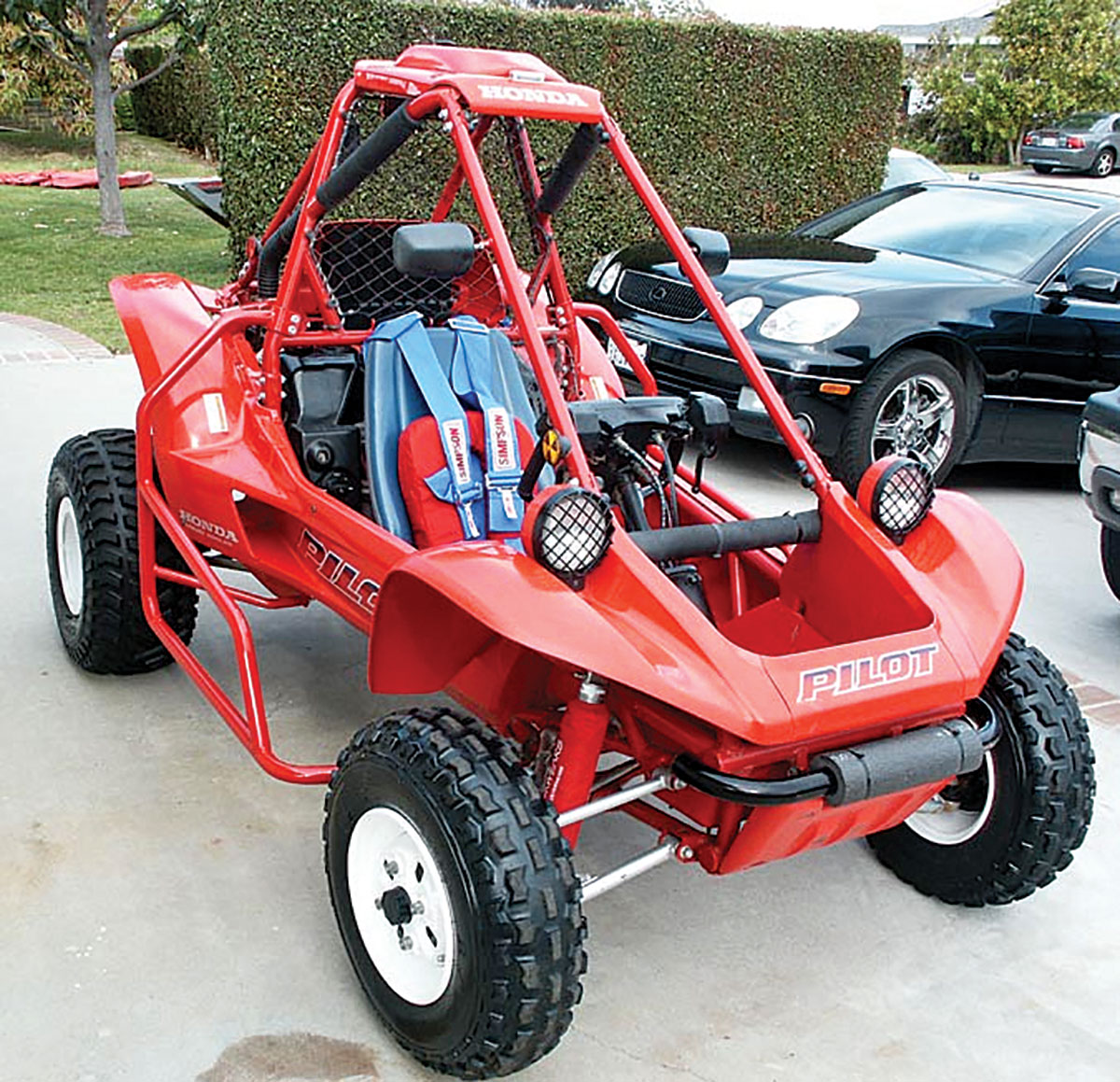 DIFFERENT IN SOME WAYS, WEIRD IN OTHERS, AND A LITTLE DATED
Honda wasn't kidding when it said the Pilot "doesn't fit into a class; it creates one." In 1989 UTVs were still a new idea, and the Pilot was full of ideas that still seem new today. Instead of a steering wheel, the Pilot had an aircraftlike yoke, and rather than pedals, the throttle and brake controls were on it. The yoke also had wrist restraints to keep hands and arms safely inside the vehicle. Safety has never been so creepy. The Pilot's front brakes were drums, a style of stopping technology you won't find on modern UTVs.
SHORT RUN, BIG IMPACT
As remarkable as it was, the Pilot was discontinued after the 1990 model year, and the '89 and '90 models were mechanically the same with slightly different graphics. Today, single-seat UTVs are the perfect choice for enthusiasts looking for something less expensive and more compact than conventional two-seat vehicles. In 1989 and 1990 the Pilot's sophistication made its price—$5998—too big to fit into most off-roaders' budgets. At that time the Pilot was the only sport UTV offered by a major manufacturer—there were no sport two-seaters, and the hottest sport quad on the planet, Honda's 250R, sold for $4098!
HONDA PILOT SPECS
Engine…….397cc, liquid-cooled, reed-valve two-stroke
Starting system………………………..Electric and recoil
Transmission………..Fully automatic CVT with forward, neutral, and reverse
Front suspension/travel……………Double A-arms, 5.9"
Rear suspension/travel…………….Double A-arms, 7.1"
Length……………………………………………………86.4"
Width…………………………………………………….59.5"
Height…………………………………………………….57.2"
Wheelbase………………………………………………62.2"
Dry weight………………………………………….592.5 lb.