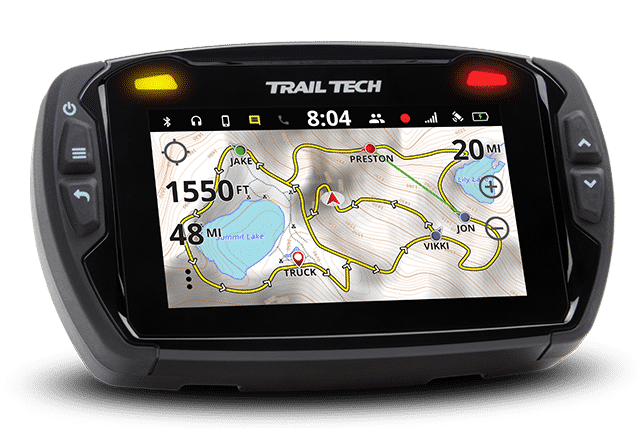 A GPS THAT TALKS TO FRIENDS WITH RIDE COMMAND
A GPS THAT TALKS TO FRIENDS WITH RIDE COMMAND
  Do you have friends using the Group Ride feature in their Ride Command equipped Polaris machines? Have you wanted to use this feature but don't own a compatible Polaris machine? Now, with the latest software updates and the use of a Trail Tech antenna, no matter what brand UTV, ATV or motorcycle you own,  the Voyager Pro GPS unit from Trail Tech talks to Polaris Ride Command.
With the $599.95 Voyager Pro mounted in any UTV, you can not only have access to thousands of miles of trails at your finger tips, you can use the Buddy Track feature to see other Voyager units or Polaris Ride Command equipped machines. 
Buddy Tracking or "Group Ride" uses localized VHF/FM radio signals (not available in Europe) and can support up to 20 riders in a single group. You can view members of your ride group on the map screen allowing you increase your following distances and track or share your ride for next time. Unlike the free Ride Command App that works good, when you use the Voyager's Buddy Track or a vehicle mounted Ride Command machine, cell reception is not required.  
The 4" glove friendly color touchscreen display is visible in all conditions, including direct sunlight. Rated IP67 for anti-dust/water intrusion, it's built to withstand the harshest elements that come with extreme riding conditions.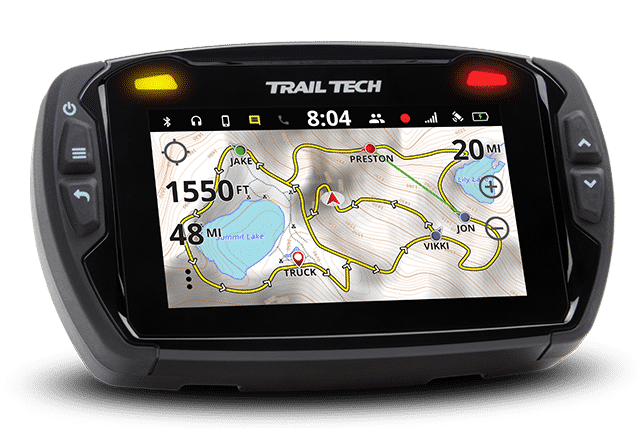 Voyager Pro also integrates with your vehicle using standard Trail Tech sensors providing vital ride data such as engine temperature, RPM, battery voltage, speed/distance and more. Both model specific (ATV/MC) and universal UTV or automobile kits are available. Contact Trail tech at (360) 687-4530 and tell them UTV Action Magazine sent you.