TOP 10 HONDA TALON UPGRADES
TOP 10 HONDA TALON UPGRADES
The Honda Motor Company hit a bases-loaded home run with the Talon 1000R/X engine and six-speed Dual Clutch Transmission (DCT). Basically, the Pioneer 1000 lower end was mated with a top end from Honda's Africa Twin adventure bike and fine-tuned into the ultimate normally aspirated sport UTV over years of testing and tuning. During development, weight was reduced 25 percent over the original design. The resulting production machine is always in the right gear to keep the 126-horsepower inline twin perched over the powerband's sweet spot. We rarely have to override the ECU's gear selection, and racers not only love the overall performance but also its open and easy-to-work-on design. UTV Action's guide to the top 10 Honda Talon upgrades shows you the best ways to improve this popular machine.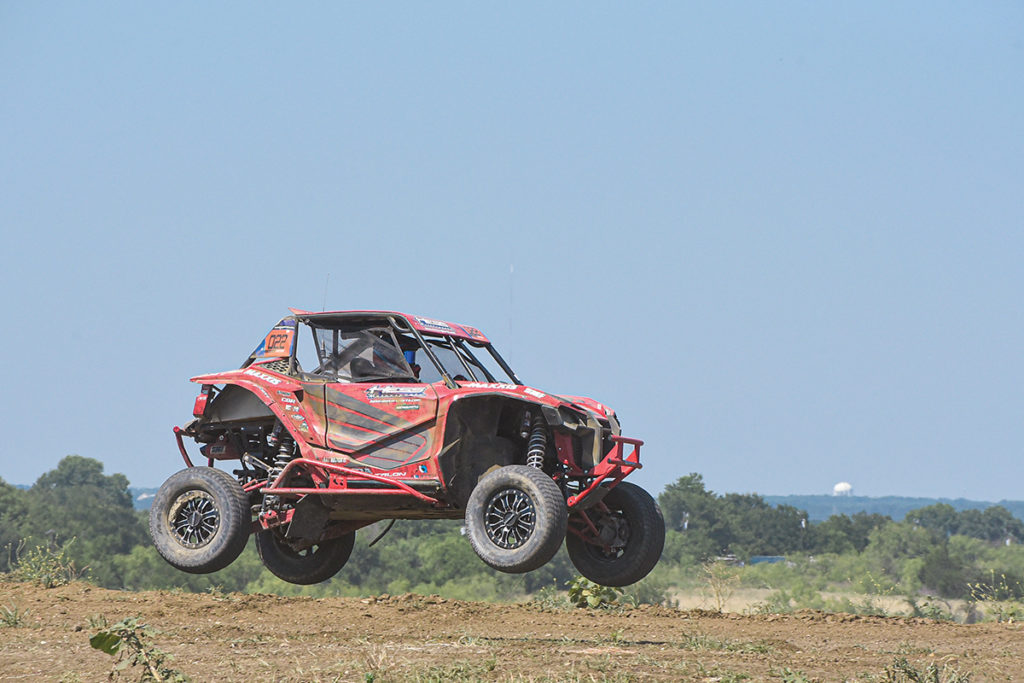 Having raced the Yamaha YXZ1000R in cross-country and short-course competition, Glenn and Shawn Hess attended the Honda Talon dealer demo and were immediately hooked. They bought a 1000X and a 1000R and started race development. Justin and Ernie at Shock Therapy snagged an early 1000R and pre-ran the Baja 1000 in it. They couldn't say enough about the power plant, delivery, EPS assist, fit and finish, and durability of the new Talons. Honda is at the top of the durability-testing food chain, and the engine shows it.
However, the Talon's ride on the brutal Baja 1000 course was "the stiffest of any UTV." Honda tuned the Fox Podium QS3 shocks for staying flat over whoops, not bottoming in dunes and other G-outs, and also for long-term durability over ride quality. Bottoming the rear end was impossible. Also, they found the 1000X's turn radius to be all right, but the 1000R has "less than a Max X3." Shock Therapy set out to increase ride quality and develop other suspension and handling upgrades for desert and duning. Hess Motorsports set out to develop and test products to turn Talons into short-course and woods racers, as have Weller Racing and others. When the 2020 racing season was over, Shawn Hess and Honda had won the AXCC Pro NA 1000 championship. Shawn also finished second in the 2020 Texas UTV Race Series Pro NA 1000s with five podiums, so he found the Talon's weak spots that pro-level racing brings out. Here are the top 10 Honda Talon upgrades for racing and duning.
1) HESS TALON RADIATOR RELOCATE
Thus far, only the Polaris RZR RS1 and 2019-and-newer Yamaha YXZ1000Rs have bed-mounted radiators. Hess Motorsports radiator relocation kit is among the top 10 Honda Talon upgrades because is puts an end to mud and roost clogging the front-mounted radiator, which results in overheating.  Hess Motorsports developed its Talon radiator relocate kit to prevent clogging and overheating without obscuring rear-view mirrors for sport drivers. With an oversized CBR radiator and two high-output fans, the radiator relocate increases coolant capacity, cooling airflow and more. The kit includes radiator with fans, mounting brackets, hoses, clamps, caps, wiring including a fan-over-ride switch, and all hardware needed for installation, all for $1050. It fits all Talon models. See www.hess-motorsports.com or call (940) 759-4597.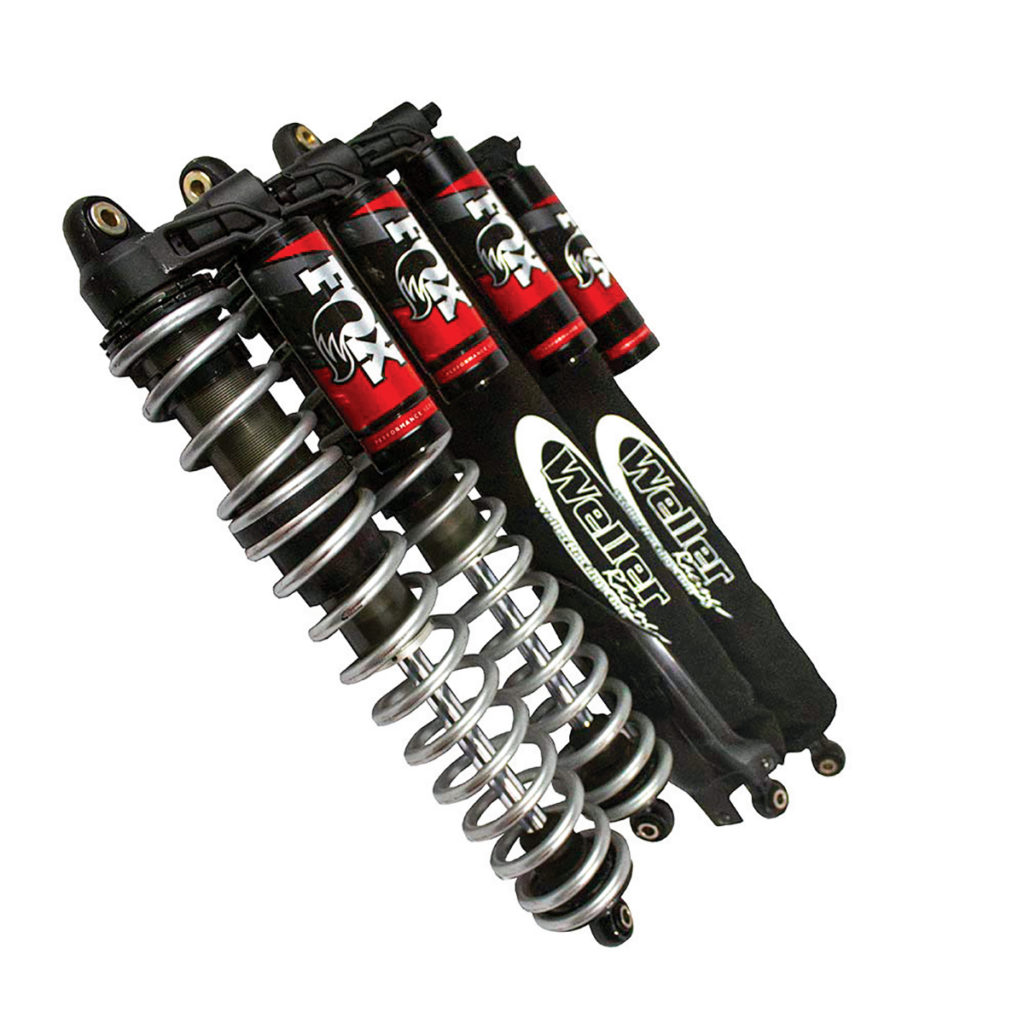 2) INCREASING TALON RIDE QUALITY
Suspension tuning high on the list of the top 10 Honda Talon upgrades because stock Talon damping and spring rates really stiff, and only the two-seat 1000R has true dual-rate springs with adjustable cross-overs for fine-tuning ride quality versus bottoming resistance. Talon 1000X's have two springs per shock but no cross-overs. Shock Therapy and Weller Racing both offer Dual-Rate Spring kits (DRS) to increase ride quality while still having bottoming resistance. Weller's DRS kits are $260, and the WR Edition 1000R DRS and Internal Shock Modification package with cross-over and preload settings is $1240. The same WR Edition total-tune package for the 1000X includes cross-over rings for $1320.
Shock Therapy's Talon 1000R DRS kit is $599.60 and is custom-ordered for 21 weight variables. All their springs are made in the USA and have lifetime warranties. ST's goal is to raise ride height, smooth the ride on chop, improve bottoming resistance and stop rear-end bucking. ST's Talon Ride Improvement System (RIS) modifies internals and increases flow through pistons, shafts, adjusters and bypass tubes, and they modify bump-stops and extension spring sliders for $749.95. ST also has iQS on-the-fly adjusters of QS3 Talons for $2075 and a Fox Podium RC2 IBP piggyback shock upgrade for $4995.95.
3) UPGRADING WHEELS AND HUBS
Honda builds its own wheels, and all Talons have wide 28×11-15 rear tires on 33mm (5.25+2.75) offset rims. We've tested tires up to 33 inches on Talons, and most racers want to upgrade to stronger wheels with bead-locks and front-width tires on the rear. Short-course racers run narrow rears for better rotation in turns, and desert racers like spares taking up less bed room and the easier stocking of chase trucks. Hess went to race wheels, but none have thus far built 5.25+2.75 offsets, and 5+2s at the back reduces rear width and causes the front end to plow. To get back balance and rotation, Hess went to 1.5-inch spacers on the rear. Hess is machining aluminum rear hubs with extra 1.5-inch width for those going to 5+2 race wheels all around.
4) IMPROVE HANDLING WITH SWAY BARS AND LINKS
Eibach has Pro-UTV anti-roll three-way adjustable rear sway bars for Talons, and they're stiffer than stock to fight body roll. MSRP is $219 and includes mounts with Zerk fittings for maintenance. Eibach also has adjustable hex sway-bar links with Aurora Bearing 10mm rod ends and precision misalignment spacers for $160. Eibach is also developing Pro-Series dual-rate spring kits for Talons; Eibach's Stage 2 DRS kits for RZR Fox Dynamix shocks are $893. Eibach's cross-over lock rings start at $26. Shock Therapy also upgrades the Talon ride quality and handling with ST three-way-adjustable sway bars for $200.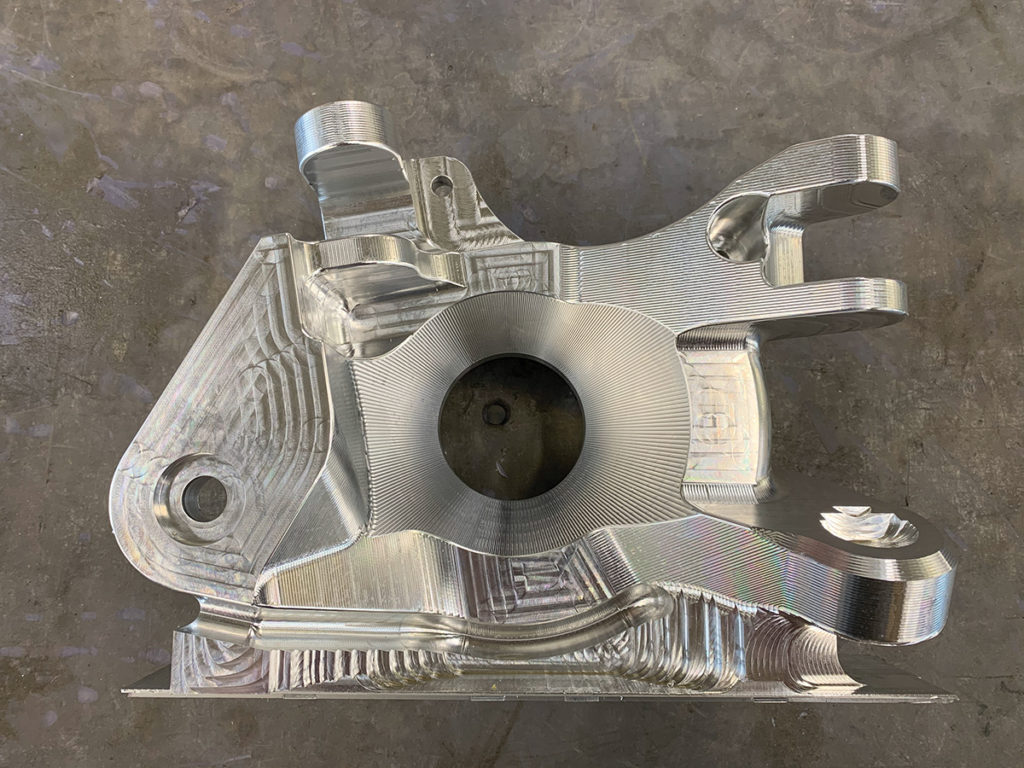 5) HESS FRONT AND REAR BILLET KNUCKLES
Hess Motorsports is working on billet-aluminum front knuckles, as Shawn has broken OEM cast knuckles at the lower ball joint. The OEM cast knuckle is thin at the lower ball joint, so the CNC billet-aluminum knuckles have more material at the ball-joint and tie-rod mounts. Because they're aluminum, they're lighter as well as stronger than stock for $800 each.
Hess has also been developing billet-aluminum rear knuckles (top left) to eliminate the weak single-shear top radius-rod mount, which duners and racers have been bending and breaking. The rear knuckles are double shear with more material in key areas, and they're lighter than stock. MSRP is $1,000 each.. If you don't have the budget for rear knuckles, Weller Racing has brackets to make the top-mount double shear for $25.
6) STRONGER TIE-RODS FOR RACING
Hess has broken several OEM Talon tie-rod ends. They taper down from 12mm on the rod end to 8mm threads, and they snap at the base of the 8mm threads upon big impacts. Hess Motorsports upgrades to Toyota truck tie-rod ends with 12mm studs, and machines stronger sleeves and lock nuts with cotter-key slots. Hess is also making tie-rods with heim ends.
7) MORE TALON FUEL RANGE
At 7.3 gallons, the Talon's fuel tank is among the smallest in the sport UTV class. Hess sells a 10-gallon fuel cell that accepts the OEM pump and cap and replaces the 7.3-gallon OEM tank under the passenger seat. It includes all mounting hardware and costs $399.
8) MORE STEERING FOR THE 1000R
Hess Motorsports' specialty is their steering quickeners, and the 2:1 Talon steering quickener retains full-tilt range and the stock steering wheel and paddle shifters. The housing is billet aluminum and installs with no modifications for $650. On the other end of the steering column, Hess has developed the Hess steering rack with increased travel to tighten the 1000R steering radius. The rack's pinion gear rides on two bearings with moly-filled bushings for the 27-percent-larger rack gear. The Hess rack has 6061 billet-aluminum housing and is anodized for a lasting finish. It's fully rebuildable and greaseable, and the modular design allows bushings to be changed without rack removal. The Hess steering rack is $900 or $980 with Hess's rack support ($100 separately).
Bigger pilots will notice the lack of cabin room with the Talon, and the Hess quickener moves the steering wheel closer. Hess sells a flat steering wheel for $90, and the quick-connect hub is also $90. Hess also eliminated the plastic paddle shifters in his race car. When ordering the steering quickener, you can choose the push-button shifter kit for $150. It includes buttons with wiring harnesses and the plate with a push-to-talk button mount included; separately, the button kit retails for $250.
9) STAGE 2 POWER UPGRADES
Hess has hired a motor man to develop a Stage 2 engine package, which starts at $2000. Hess Motorsports' Stage 2 package includes porting and polishing the cylinder heads with a five-angle valve job, valve refacing, head surfacing, a performance camshaft, ECU tune and OEM Honda head gasket. The package increases flow by 30 cfm and claims a 30-percent horsepower gain at the rear wheels, which is about 163 horsepower total. Options are 10.5:1 or 11.5:1 CP pistons ($475), heavy-duty head studs ($300), and/or valve springs and retainers ($395). The ECU tune optimizes the fuel map and ignition timing for 91-93 octane, increases speed limit to 95 mph, improves shifting, and is tunable for tire size. Hess also has spark plug-cap retainer plates for $40; big air can detach the caps.
10) HIGH-PERFORMANCE EXHAUST
HMF Performance has slip-on and full exhaust systems for all Talons. HMF's Titan 5-inch slip-on saves 9 pounds of weight and adds 3 horsepower and 3 pound-feet of torque. The XL Titan slip-on is 5 decibels louder than stock at idle, while the Titan QS is only 2 decibels louder. The Titan slip-on or Quiet Core starts at $499.95 and goes to $549.95 for brushed finish.
HMF's full exhaust for Talons include HMF Performance head pipes and dual 5-inch canisters in either the Performance or Titan series. The 4-inch aluminum Performance system reduces weight from stock by 10 pounds and adds 4 horsepower and 4 pound-feet of torque. The Performance duals start at $899.95. Titan full systems have 5-inch steel mufflers and are available in QS and XL internal core designs with a weight reduction of 5 pounds. Racers will want the XL for 7.5 more horsepower and 3.8 pound-feet of torque with 6 decibels of more noise than stock at idle. For public lands, the QS system is 4 decibels louder. MSRP starts at $984.95.
All HMF Talon systems require an ECU reflash, and Hess' Stage 2 Performance kit numbers are with HMF's dual-muffler full system.
See UTV Action's full test on the Honda Talon X-4 here: 2020 HONDA TALON 1000X-4 – UTV Action Magazine